If you read this blog, then you know that I am a huge fan of Everyday Carry items. And, of all the EDC items I like to keep on me, paracord is my favorite. There are literally hundreds of uses for paracord, like fixing a broken boot lace. You are probably already familiar with the paracord bracelet as a way to always have paracord on you at all times. But bracelets are just one of many cool paracord projects you can make. Check out these paracord projects which are as useful as they are cool.
*Important: Not all cord is real paracord, and not all real paracord is the same. For most uses, 550 paracord is the best choice. If you aren't familiar with paracord, including what it is exactly, the types of paracord, and how to spot fake paracord, then read this post about paracord first.
Paracord Belt
What's better than a paracord bracelet for survival? How about a paracord belt! You can get a lot more cordage on a belt, plus there are many survival uses for belts without even having to unravel the cordage. The only real downside of this project is that, once you unravel the belt to use the cordage, you are going to have a hard time keeping your pants up.
Paracord Bull Whip
In this full-length tutorial, you'll learn how to make a really cool paracord bull whip. Use your imagine to think up all the ways you could put it to use in a survival situation 😉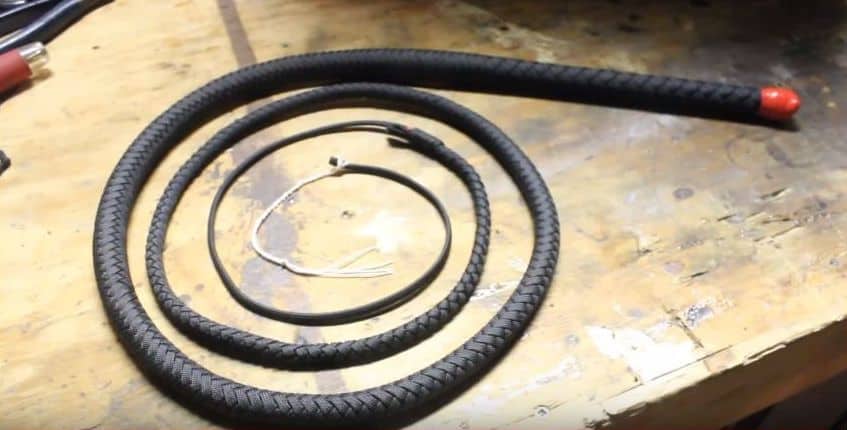 Paracord Rifle Sling
I've got to admit that this isn't the most comfortable sling to use for your rifle. But, if you are ever get lost in the woods while hunting or have an emergency – such as needing cord to make a splint for a broken leg – you will be really glad that you did this paracord project.
Paracord-Wrapped Backpack Handle
I really hate to unravel an entire bracelet or keychain just to get a little bit of cord for a small task. So, it is nice to wrap paracord around handles – such as your backpack handles or straps. This paracord project is really easy. Just go straight around and finish with half stitches on each end to the narrower web that runs through the middle.
Paracord Jeep Handles
This paracord project I really love. The guy put paracord around the back of each headrest in the jeep so backseat passengers would have something to hold on to. You can also wrap paracord around the grab bar of your jeep, or any other handle you have in your vehicle.  What a great addition to your vehicle emergency kit.
Paracord Monkey Fist
This knot is called the monkey fist, or sometimes also called the monkey paw. It has been around a long time and has a few good uses (aside from the paracord it is made of). The ball shape of the knot makes it easier to throw, so sailors would make a monkey fist on the ends of their ropes for easier docking.   A monkey fist can also be used as a weapon, such as if you were to put it on a long piece of rope and spin it over your head – though it will be a lot more effective as a weapon if you put a metal ball inside of it. And this paracord project can be purely for fun if you ever need to use the monkey fist as a golf ball or baseball.
Paracord Keychains
If you haven't done so already, make a bunch of these DIY paracord keychains and put them on all the items you keep with you at all times (such as your keys, multi-tools, etc.). There isn't too much cordage in each of these keychains, but every little bit counts when you are in a situation where you need it.
Cute Paracord Keychain
As a father of a small girl who loves everything pink and pretty, I understand the value of this paracord project. She might not be so excited about wearing a paracord bracelet, but she loves having the paracord "dolls" on her bags.
Paracord Water Bottle Sling
This is another one of my favorite paracord projects because it is so useful. With the right knot (instructions here), you can carry any water bottle easily. Again, it isn't very comfortable to just make a 1-cord sling. The cordage would start to dig into your shoulder as you carried it. But you could get more creative with the design. For example, knot up a paracord strap and attach this to the water bottle sling.
Paracord Flashlight Handle
You can find flashlights that come with handles built onto them. In my opinion, these flashlights are really badly designed. The handle sticks out, which means they take up a lot more space than necessary and are difficult to pack. Because the handle sticks out, it is likely to break. Instead of buying a flashlight with a weak, plastic handle, make your own paracord flashlight handle.
Paracord Webbing
If you have a pannier and want to keep things better organized, then try this DIY project. It only requires about $4 worth of material. Once you are done, you can put the items you need most in the webbing for easy access.
Paracord Dog Collar and Leash
I take my dog with me on most backpacking and hunting trips. So, why not utilize her to carry some more paracord for me? These cool paracord dog collars and leash do take a while to make, but it is worth it.
What cool paracord projects can you think up? Let us know in the comments or join us in our FB group.