How confident are you about preparedness?
At Primal Survivor, we've made it our mission to research and think through disaster scenarios and put our knowledge to the test.
We then pass this information on to you so you can take smart steps towards disaster survival.
Our products include:
All Access Pass | Book Bundle | Courses | Checklists | Individual Books
---
Prepper eBook Bundle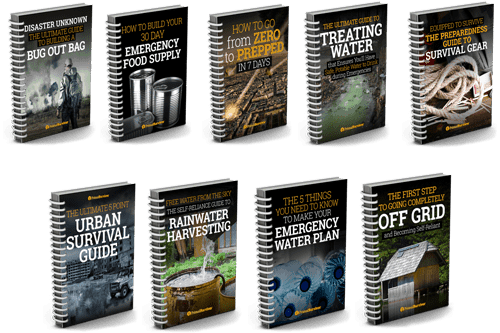 Our PDF book bundle includes full-color, in-depth guides with plenty of photos.
By the time you finish a book, you will know how to handle survival situations like bugging out or starting a 30 day food stockpile.
Topics covered:
Getting started
Bug out plan and bags
30 day emergency food stockpile
Long term food storage
Water storage and treatment
Survival gear
Urban survival
Rainwater Harvesting
Off-grid living
And more!
All Books Available Now For $37
---
Checklists
Do you have all of the supplies you need? Do you know what steps to follow during a disaster?
If you have any doubt, then you need our checklists bundle. These emergency checklists ensure that you:
Stay organized
Get the right gear
Don't forget supplies
Have a clear plan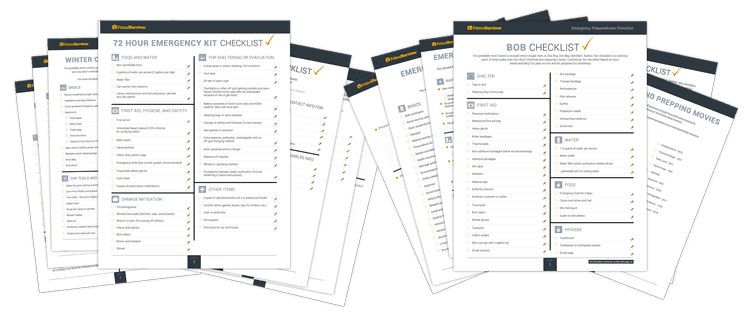 Each checklist covers a specific issue, such as first aid items or bug out bags.
This allows you to focus on one aspect of prepping at a time so you don't get overwhelmed.
Just complete the checklists and you'll be ready!
---
Zero to Prepped Course
We know that prepping can be overwhelming.
Our course Zero to Prepped is designed for beginner preppers.
It breaks down disaster prep into distinct topics such as food, water, hygiene, and evacuation. You'll learn what to expect during a disaster and steps for getting prepped quickly.
Take the course over your own pace. At the end of each module, you will get a checklist of action steps to take.
By the end of the course, you will be confident in your ability to survive through a disaster.
7 Modules, 26 lessons. Downloadable checklists and progress sheets.
---
Best Value – All Access Pass
Our All Access Pass provides you with eBooks, checklists, videos, and action steps so you can get prepared quickly, completely, and without headaches.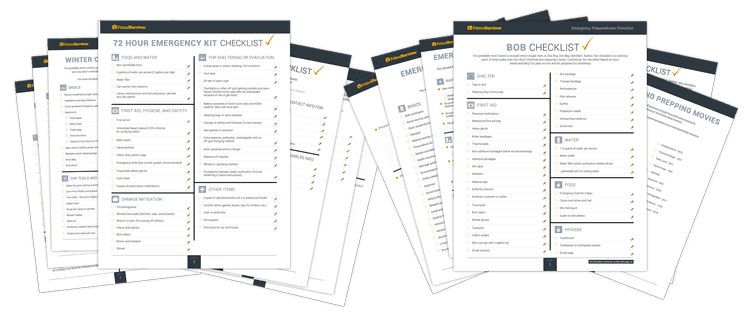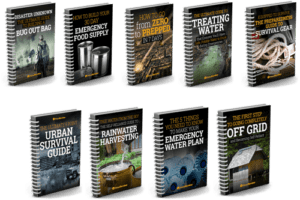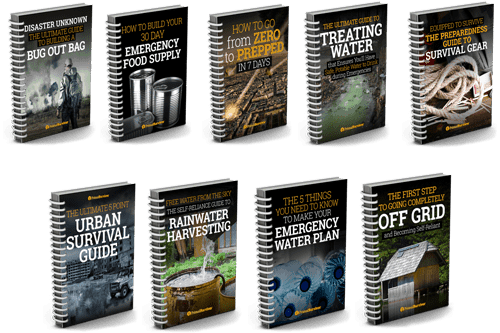 What's Included?
The All Access Pass includes eBooks, videos, a step-by-step course, and checklists that cover all the core survival concepts.
The information is presented in a way which is easy to understand and implement in your everyday life.
The Complete Preparedness Library
Supplies Lists
Emergency Instructions Checklists
Survival Video Vault
Zero to Prepped Survival Course
Exclusive Content
All of these resources usually sell for $208. For a limited time, you can get access for just $137. That's a saving of $68.
You'll also get access to all the content we'll be adding in 2019.
---
Not ready for the entire pass? You can purchase products individually.
---
Individual eBooks
Need help with a specific aspect of disaster prepping?
Our eBook library has titles that cover important aspects of prepping. These eBooks are suitable for beginner and advanced preppers alike.
All eBooks are in PDF format, full-color with images, and print ready. Buy individual titles and download instantly.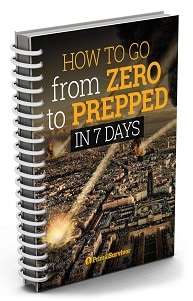 How to go From Zero to Prepped in 7 Days
Start your Prepping journey the right way. This book will give you a solid foundation in the 7 core areas of survival.
The Ultimate Guide to Bug Out Bags and Bugging Out
Choose the right Bug Out location and build the best Bug Out Bag for your situation.
---
How to Build Your 30 Day Emergency Food Supply
Build a 30 day long term emergency food supply you can rely on.
The Ultimate Guide To Treating Water
Ensure you'll have safe, potable water to drink during emergencies.
---
Guide To Survival Gear
To ensure you are adequately prepared for all survival situations, there is certain gear you will need. Here we will go over the most essential.
5 Point Urban Survival Guide
Cities are considered the worst place to be during a disaster. It isn't the city itself which is dangerous. It is the fact that most people who live in cities are unprepared.
---
Free Water From The Sky: Rainwater Harvesting Guide
Here we will introduce you to the fundamentals of rainwater harvesting and explain how to set up a simple DIY rainwater harvesting system using barrels.
Make Your Emergency Water Plan
All information you need to make an emergency water plan for your family. You will always have clean water available in a disaster situation.
---
Going Off Grid And Becoming Self Reliant
Learning your options and envisioning the possibilities is the first step towards achieving the self-reliance that you dream of.
---
Who Are We?
Primal Survivor is a small team of strong-minded people who've made it their mission to think about disaster preparedness scenarios.
We believe that preparedness is about having necessary supplies, know-how, an emergency plan, and the mental preparedness to make smart decisions in tough situations.
Unlike many other survival resources, we don't believe in sensationalism. All of our content is created for real people who want to get prepared, but without it taking over their lives.
With us, there's no hype. No fear-mongering. No doomsday craziness. Just useful information and practical steps you can take to be prepared for any disaster.
What do members think about the All Access Pass?
---
"Everything you need to get started"
It has a LOT of information laid out in an easy to read format with links to even more information. It covers most everything from A to Z in regards to being prepared for a worst-case scenario.
— Melissa Glorioso
"I love this course!"
This is a solid, comprehensive course for the beginner prepper. Beginners can walk through step-by-step at their own pace learning what's important and how to incrementally take the necessary steps to Prep successfully.
— Rob Casey

---
Get the All Access Pass Now
This one-time purchase gets you access to all of our survival content, including the Library, Checklists, Video Vault, and Zero to Prepped Course plus all future content!
Get Lifetime Access Here
---
30 Day Money-Back Guarantee
We're confident you'll love our resources. However, if you're not happy for any reason, we'll give you your money back – no questions asked.
---
FAQs
Who is this for?
The All Access Pass is designed for beginner preppers. If you are overwhelmed by all the information out there and not sure where to start, then this Pass is for you.
However, we do cover some advanced concepts in our eBook library. If you are already an experienced prepper and only need to improve on a specific area, you can purchase eBooks individually.
Do I get access to new books?
We are regularly added new titles to the survival library. If you have purchased the All Access Pass, then you will get lifetime access to the library, including all new eBooks.
If you purchased the eBook bundle, you will not get access to future eBooks. You only get the ones included in the bundle when you purchased it.
Why buy this?
We worked really hard to create a resource center which will be useful for beginner preppers. So far, the response from members has been great. If you don't like it for whatever reason, we'll refund your money.