Ready to get your forage on?
Discovering the world of edible and medicinal plants is exciting, but you can't go in blind. It's essential to learn some basics beforehand and continuously educate yourself along the way.
As a seasoned forager and ravenous reader, I've compiled a must-read list of the 19 best foraging books I know. Authored by credentialed experts, these books are a goldmine of information that can help anyone find, harvest, cook, and wildcraft their way to success.
General Foraging
The Skillful Forager
By Leda Meredith | 296 pages
This book offers a fresh take on an ancient practice. It features profiles and pictures of 40 common edibles, including all the ways to use and prepare them for various purposes. Meredith focuses on foraging as a skill, and her book is far more than a simple reference guide. It teaches field dressing techniques, proper storage principles, and the ethics of sustainable harvesting.
A skilled ethnobotanist, Meredith helps readers hone their abilities and add finesse to their forays. She also writes books about gardening, cooking, and homesteading that everyone interested in self-reliance should read.
Edible Wild Plants: Wild Foods From Dirt To Plate
By John Kallas | 416 pages
This is the perfect book for beginner foragers. Kallas has created a handy resource in a refreshingly different way, focusing on just 12 plants. Though the number may seem small, these edibles are common throughout almost every US region. They serve as an easy, approachable starting point for those hoping to jump into foraging immediately.
How to Eat in the Woods
By Brad Angier and Jon Young | 320 pages
This book is an excellent resource for foragers in the survival niche. It discusses emergency foraging, describes the anatomy of common edibles, and explains how to test them with minimal risk. You'll also find information on how to prepare wild food and avoid poisonous plants.
While the sections on hunting and trapping might not interest you, the book has more than enough practical plant-gathering advice to qualify as a fantastic resource. The authors clearly outline actionable steps to achieving the best nutrition in the worst circumstances, empowering readers to thrive in harsh conditions rather than simply survive.
Backyard Foraging
By Ellen Zachos | 240 pages
This book is another amazing beginner-friendly resource covering over 65 common edible plants. It emphasizes the practical part of foraging, encouraging the reader to begin immediately by learning to recognize plants in familiar territory.
Zachos also provides a hearty dose of ethical and safety information. She outlines foraging bags and various habitats, teaching the reader how to identify region-specific flowers, trees, and roots along the way. Each entry features beautiful color photographs, and there are even a few recipes thrown in for good measure
---
Regional Foraging
Sam Thayer's Field Guide to Edible Wild Plants
By Samuel Thayer | 736 pages
This book is the most comprehensive field guide on the market, covering over 700 edible species growing in the eastern and central US. It arranges plants by habitat and growing season, offering photographs, field maps, calendars, and charts outlining where and when you'll find them.
Like all Thayer works, this book is incredibly well organized. It contains modern information and is even designed to function with various ID apps and digital media. While it is region-specific, many of these plants can be found elsewhere, so this is a worthy buy for foragers in temperate regions worldwide.
Southwest Foraging
By John Slattery | 320 pages
This book teaches you how to identify and harvest 115 plants from the deserts of Oklahoma, Texas, Arizona, New Mexico, Nevada, and Utah.
It details foraging in harsher regions and explains how to find and identify edibles in river valleys, cactus forests, grasslands, desert plains, and other specific climate zones in the southwest. Slattery also includes a detailed harvesting calendar and color photographs, so you can start foraging any time of year.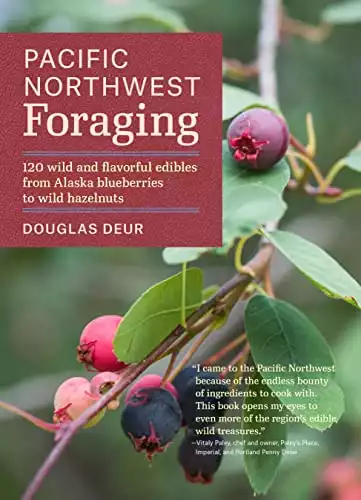 Pacific Northwest Foraging
By Douglas Deur | 292 pages
This book outlines 120 wild edibles of Alaska, Oregon, and Washington. It eliminates the guesswork of identification with a litany of color photographs and teaches you exactly where to find food with detailed information on habitat and growing conditions. You'll also get tips for harvesting sustainably and a few tricks for preparing and preserving your finds.
Many of these plants grow along hiking trails in the Pacific Northwest, so this book is the perfect companion to bring on those popular PNW wilderness treks.
Mountain States Foraging
By Briana Wiles | 338 pages
This book outlines 115 unique wild edibles in the mountainous regions of Montana, Idaho, Utah, Wyoming, Colorado, Oregon, Washington, and Nevada. You'll find a calendar detailing what and when to harvest and tips for preserving your food for times of scarcity. The high-quality color photographs eliminate lingering doubts about your IDs, making this the perfect book for beginners and experts alike.
Stalking the Blue-Eyed Scallop
By Euell Gibbons | 332 pages
This book offers both information and inspiration for foraging America's coastal regions. It outlines a vast array of crustaceans, bivalves, and seaweeds that can be found on any shore, offering drawings and descriptions to help with identification.
Gibbons gives delectable recipes for foraged finds, even if they are somewhat butter-heavy. He infuses practical information with humor and nostalgia, turning a simple foraging guide into a real page-turner.
It's important to note that the book was published in the 1960s, and not all harvesting advice remains practical or legal. Look up regulations for seaside foraging in your area and purchase any necessary licenses before embarking on your journey.
Foraging Mushrooms
100 Edible Mushrooms
By Michael Kuo | 344 pages
When I first became a fungus fan, mushroom expert Michael Kuo was my go-to resource for positive identification. I was ecstatic to discover he'd written a guidebook, and it is one of the most comprehensive and intelligently crafted pieces of edible mushroom literature I've ever come across. True to its name, the book details the habitat and growing conditions of 100 edible shrooms.
It includes colored illustrations and additional pictures to help separate look-alikes and toxic shrooms from delicious edibles. You'll find fungi divided into foraging categories from beginner to advanced, and discover a few tried-and-tested recipes in the back. Plus, you'll be entertained by Kuo's humorous and somewhat snarky writing style along the way.
Mushrooms Demystified
By David Arora | 1,056 pages
This book is for true mycophiles with experience under their belts. It's a classic field guide, profiling over 2,000 species and referencing thousands more. You'll find taxonomic keys arranged in a usable and sensible style, over 950 photographs, and comprehensive written outlines of distinguishing features.
As a bonus, you'll also get practical advice for cooking, a complete term glossary, and diagrams demystifying fungal anatomy.
It's a thick tome, but Arora's relatable and sometimes hilarious writing style keeps you entertained. The only downside is that it's pretty dated. Some information is no longer correct, but it remains a solid field resource nonetheless.
---
Cooking and Wildcrafting
Forage, Harvest, Feast: A Wild-Inspired Cuisine
By Marie Viljoen | 480 pages
This text is both a cookbook and a loving celebration of wild food. Inside, you'll find chapters on various plants, instructions on foraging them, and tips for harvesting. Detailed recipes accompany each entry, teaching you how to make everything from ramp pasta to fiddlehead tarts.
Delicious yet common treasures are the real stars for Viljoen, who chooses to highlight plants most people can find in their neighborhood rather than exotic rarities. Entries have high-quality color photographs of the dishes and wild plants, so even inexperienced foragers may discover something edible nearby.
Radical Mycology
By Peter McCoy | 672 pages
This book is best for those with a deep interest in mycological medicine. It lays the groundwork for genuine mushroom appreciation by explaining fungi's ecological and cultural importance, then dives into proper identification via macro and microscopic features. In these pages, you'll find a wealth of information on how mushrooms interact with our bodies to treat and cure disease.
McCoy describes distinct types of fungi, where to find them, and their various applications. He deconstructs the often-obtuse language around mycology, turning these complicated concepts into an easily understood resource accessible to everyone.
The Wildcrafted Cocktail
By Ellen Zachos | 240 pages
The intersection of craft cocktails and foraged foods has been woefully underexplored, but this delightful liquor-centric cookbook changes the game. It features secret recipes and techniques for crafting syrups, bitters, and garnishes from wild edibles. The book highlights eccentric and delicious flavors while teaching mixologists how to find, harvest, and prepare ingredients themselves.
You'll discover 45 cocktail recipes and gorgeous photos illustrating the finished products. The book also dives into the anatomy of a palate-pleasing cocktail, explaining how to build one from scratch with ingredients growing nearby.
The Modern Herbal Dispensator
By Thomas Easley and Steven Horne | 376 pages
This book teaches you how to wildcraft your foraged plants into medicine with easy-to-use recipes for over 250 herbal remedies. You'll discover when and how to harvest plants to optimize your herbal treatments and learn methods for making potent extractions, tinctures, capsules, and other healing products.
The book also breaks down the terminology and covers various herbal concepts, giving you a knowledge base so you can craft your own medicines beyond the scope of the text.
No matter what kind of forager you are, these books will help you gain confidence and expand your skill set. Now that you know about the 19 best foraging books available, you can hit the bookstore and purchase your ticket to a successful harvest today!