Oklahoma is no stranger to natural disasters, having faced a wide range of severe weather events and other environmental crises over the years.
This article covers what natural disasters occur in Oklahoma, the worst natural disasters to hit the state since 2000, and what residents can do to prepare.
Is Oklahoma At Risk of Natural Disasters?
Compared to the rest of the United States, Oklahoma has a very high risk of natural disasters. Excluding COVID, Oklahoma has had 150 disaster declarations since 2000. Of these, 52 were declared major disasters.
Oklahoma is also frequently hit by natural disasters, which cause more than $1 billion in damages. Since 2000, there have been more than 78 separate $1-billion events. Most of these were severe storms.
Worst Natural Disasters in Oklahoma By Cost (Since 2000)
2012 Drought and Heat Wave: $39.3 billion
February 2021 Winter Storm and Cold Wave: $25.6 billion
2022 Drought and Heat Wave: $22.2 billion
Spring-Summer 2011 Drought and Heat Wave: $16.2 billion
Spring-Fall 2002 Drought: $15.1 billion
Worst Natural Disasters in Oklahoma By Deaths (Since 2000)
April 2011 Tornado Outbreak: 321 deaths
February 2021 Winter Storm and Cold Wave: 262 deaths
May 2011 Tornado Outbreak: 177 deaths
Spring-Fall 2000 Drought and Heat Wave: 140 deaths
2022 Drought and Heat Wave: 136 deaths
*Cost and death tolls are for the entire disaster, including in other states affected.
Most Common Natural Disasters in Oklahoma
1. Wildfires
Oklahoma is one of the most at-risk states in the country for wildfires. Since 2000, Oklahoma has been affected by 6 billion-dollar wildfires and has had to declare disaster over 90 times because of fires.
Not only does Oklahoma have many wildfires each year, but the fires tend to be very large. Drought conditions throughout the state mean there is lots of dry debris, so wildfires can ignite and spread quickly.
Because of climate change, the risk of wildfires in Oklahoma is growing. By 2050, an estimated 88% of all properties in the state will be at risk of wildfire.
Oklahoma Wildfire Stats
Acres burned in 2021: 113,235
Number of fires in 2021: 1,727
Number of properties currently at risk of wildfire: 1,901,846
Which Areas of Oklahoma Are Most At-Risk for Wildfires?
There are over 1.6 million housing units in Oklahoma. Many of these are located in high-risk areas for wildfires. An estimated 9% of all Oklahoma properties are at high or extremely high risk for wildfires, and another 21% are at moderate risk.
The Oklahoma counties with the highest concentration of properties at risk are:
Latimer
Cherokee
Delaware
Pushmataha
Adair
There are also thousands of properties at risk in major cities in Oklahoma, including 13 thousand in Tulsa.
Largest Wildfire in Oklahoma's Recent History
The Northwest Oklahoma Complex in 2017 was one of the largest wildfires in the state's recent history. It had consumed more than 779,300 acres by the time it was extinguished.
2. Tornados
Oklahoma averages 68 tornadoes per year, which makes it third in the USA for average number of tornadoes. However, because of the severity of tornadoes, Oklahoma is considered the most at-risk state for tornado disasters.
Since 2000, Oklahoma has had two F5 tornadoes, twelve F4 tornadoes, and dozens of F3 tornadoes. Some of these tornadoes have been particularly destructive, such as the F5 tornado in May 2013, which killed 24 people, injured 207, and caused $2 billion in property damage. Since 2000, 86 people have died in Oklahoma because of tornadoes, and over 1,400 have been injured.
Because the risk is so high, Oklahoma residents need a dedicated storm shelter and an NOAA emergency radio with alerts set for tornadoes.
3. Earthquakes
Oklahoma is one of the most earthquake-prone states in America. Unlike other states with lots of earthquakes, though, the majority of the earthquakes in Oklahoma are caused by human activity and not tectonic activity.
The primary cause of earthquakes in Oklahoma is wastewater disposal, a process in which waste from oil and gas production is injected deep underground. While not as common, fracking can cause earthquakes in Oklahoma. These practices can shake old fault lines in the region loose, making earthquakes more likely.
Some of these human-caused earthquakes can be very large. There have been at least four magnitude 5.0 or higher quakes in Oklahoma – most of which occurred in very recent history.
The worst earthquake in Oklahoma was the 5.8 magnitude quake near Pawnee in 2016. It was also one of the strongest earthquakes to ever occur in the eastern part of the USA. The quake caused significant damage in some areas and at least one injury.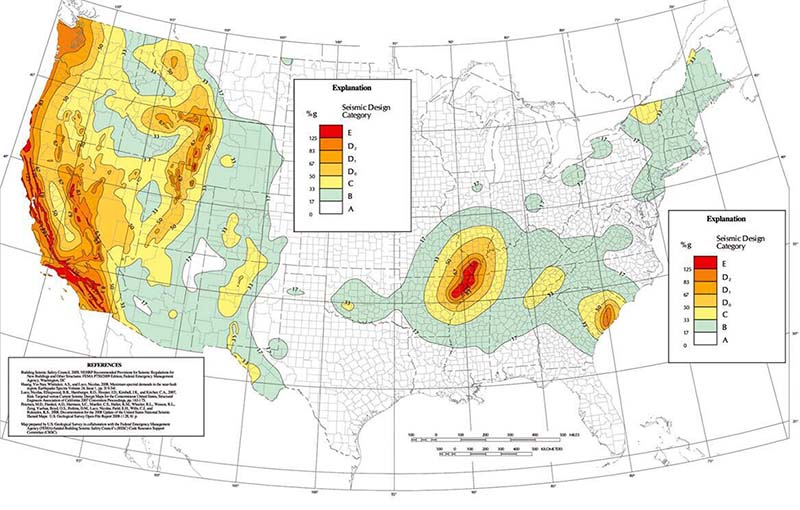 4. Flooding
Oklahoma is at risk for flood disasters. The state has over 78,000 miles of rivers and streams. Heavy rains and storms can cause rivers to swell and flood. Oklahoma is also at high risk for flash flooding because the state has clay soil that cannot absorb heavy rains. Debris flows and mudslides also occur.
In most areas of the United States, the risk of flooding is increasing due to climate change. However, the risk of flooding in Oklahoma is expected to decrease slightly. Currently, 7.6% of all properties in the state are at substantial risk. By 2050, the number is expected to drop to 7.5%.
Oklahoma Flood Stats
168,900 properties at substantial risk in 2020
222,800 properties at risk by 2050
166,200 properties at substantial risk by 2050
49,800 properties at almost certain risk by 2050
74,200 FEMA flood damage claims since 2000
Which Areas of Oklahoma Are Most At-Risk of Flooding?
Floods can occur in all parts of Oklahoma, but some areas of the state are particularly at-risk. Below are the areas of Oklahoma with the greatest percentage of properties likely to experience flooding (based on 2020 calculations).
Copeland: 40%
Bixby: 31%
Jenks: 23%
Pawhuska: 22%
Grove: 21%
Chickasha: 19%
In addition to these areas, there are also many major cities and towns in Oklahoma where thousands of properties are at risk of flooding. This includes over 21,000 properties in Tulsa, nearly 9,000 properties in Oklahoma City, and over 3,000 properties each in Norman and Broken Arrow.
5. Freezing Rains
Oklahoma doesn't have freezing rain as frequently as states in the Northeast, but freeze events do occur. Some areas of Oklahoma can expect approximately 6-12 hours of freezing rain per year.
Freezing rain most frequently occurs during December and January, but fall and spring freeze events also happen.
Rain-induced icy road conditions cause accidents and injuries. Freezing rain also results in power outages, leaving thousands without heat during the coldest months.
6. Heat Waves and Droughts
Oklahoma is part of the "Extreme Heat Belt" in the central United States. This region is very at risk of what the National Weather Service calls "dangerous" and "extremely dangerous" heat days. A "dangerous" heat day is defined as one where the heat index is 103F, and an "extremely dangerous" day has a heat index of 124F or above, which is considered unsafe for all people for any amount of time.
By 2053, Extreme Danger days will affect an estimated 107 million people in the Extreme Heat Belt. In Oklahoma, more than 120,000 are considered vulnerable to extreme heat.
Currently, Oklahoma sees an average of 50 days per year of dangerous heat. However, this number is going to increase over the next few decades. By 2050, Oklahoma is expected to see 90 dangerous heat days yearly. This makes Oklahoma one of the most at-risk states in the country for heat.
Droughts often accompany heat waves. As an agricultural state, droughts can have a substantial economic impact on Oklahoma. Droughts also increase the risk of wildfires in the state.
7. Hail
Oklahoma is one of the most at-risk states for hail storms. From 2018 to 2021, the state experiences 236 hail events per year. Many of these were destructive. In total, hail causes an estimated $80.4 million in damages per year, ranking Oklahoma as #3 in the state for hail damage.
One of the worst hail storms in Oklahoma history occurred in 2012. During this event, both tornadoes and hail storms hit Oklahoma City. Total damages from the event were $400 to $500 million.
8. Lightning
Oklahoma experiences more than 1 million lightning strikes each year. In 2019 alone, there were over 6 million strikes.
When you factor in the size of the state, Oklahoma ranks in the top 5 in terms of lightning density. Deaths from lightning strikes are not common in the state, though. In the period from 1959 to 2016, there were 100 lightning deaths.