Many architectural firms are making modern prefab homes. That means you can order your house and move in almost immediately.
Are these off grid homes perfect? No. Would it be better to build your own off grid home to your specifications? Probably.
But these prefab homes show that getting off the grid is easier than you probably thought.
---
Want to become more self-sufficient but not sure where to start?
Check out these articles
---
Jamaica Cottage Shop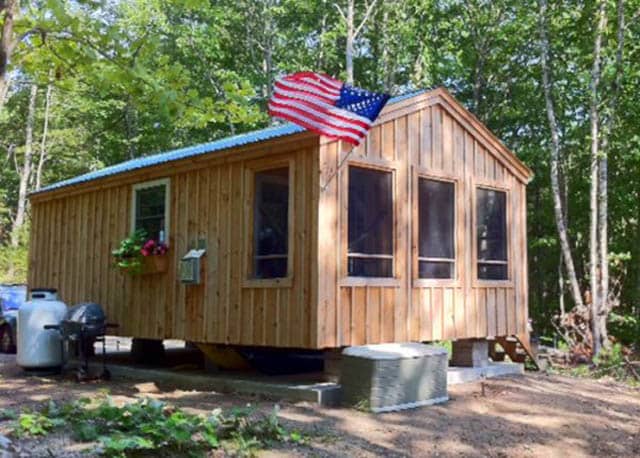 This is a cool prefab home company based in Jamaica, Vermont. They specialize in tiny homes, cabins, and storage spaces.
As for off-grid options, the Solar Cabin is one of the best offerings. It has a wood stove, gray water sink system, and other features that allow it to be 100% off-grid. Prices start at $29,800. They also have other 100% off-grid prefab homes.
Their homes can be delivered to the continental USA and parts of Canada. Learn more here.
---
Plant Prefab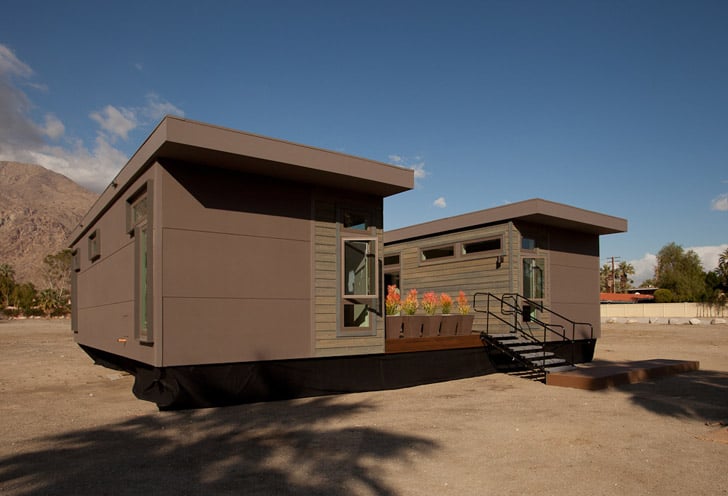 This firm offers a vast selection of prefab homes that are designed to be eco-friendly. They aren't off-the-grid by default. However, they have a "Zero 6" vision in which they work to get a home's energy and waste loads down to zero. This makes it easy to turn one of these prefabs into an off grid home. Learn more here.
---
Method Homes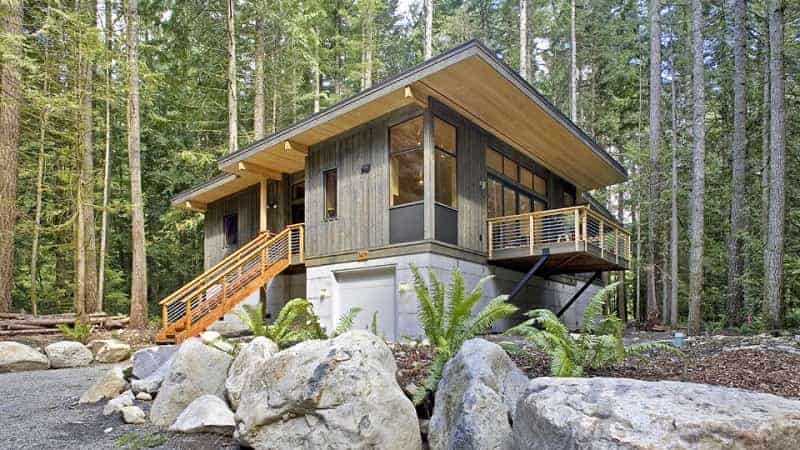 These prefab homes target the eco-movement, which is great for those wanting to live off grid. They are prewired for solar and made with super-efficient features. There are options like grey water, off grid septic, and more. Learn more here.
---
Ark Shelter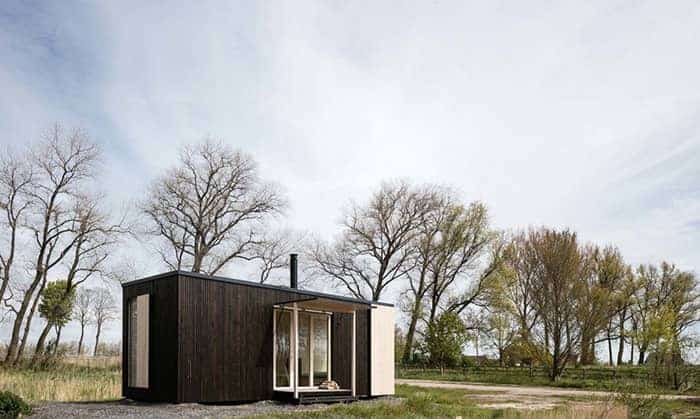 This prefab cabin can be shipped almost anywhere in the world. Aside from being portable, it includes off grid features like rainwater catchment and a wood stove and is designed to last a lifetime. Learn more here.
---
Ferris Off Grid Homes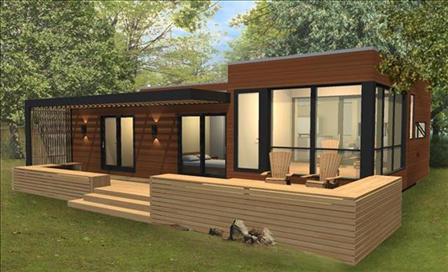 Ferris makes prefab custom homes in California. Their off grid home option includes solar and is zero-net. No longer available.
---
Green Modern Kits Solar Homes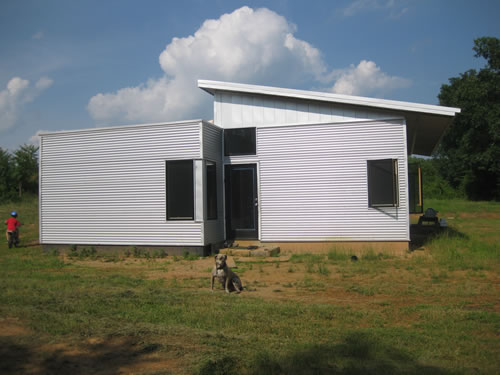 If you are on a tight budget and want an off grid cabin, consider Green Modern Kits. Their prices are around just $30,000. For that price, you can get a Zero-Net home with solar. Learn more here.
---
Plant Prefab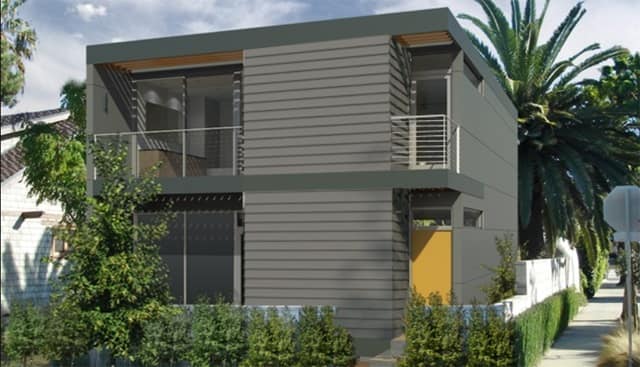 This is a spinoff of Living Homes. The way that it works is that you first choose one of their prefab home designs. Then, you work with your architect or one of their design partners to adapt it.
The original prefab designs aren't entirely off-grid (the focus is energy efficiency). However, you can adapt them to be off-grid if you wish. You can learn more here.
---
Nugget by Modern Tiny Living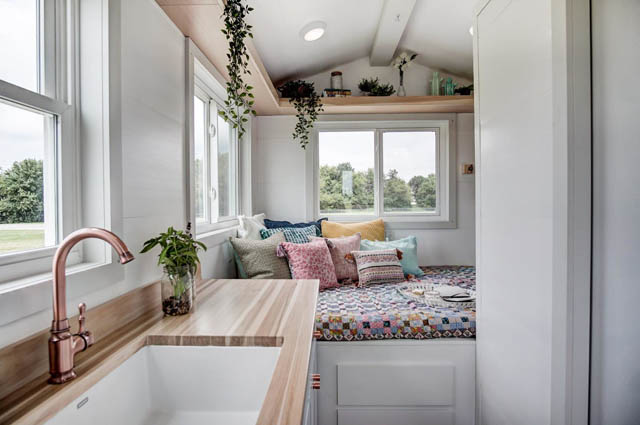 The prefab home company Modern Tiny Living specializes in tiny homes. Their layouts are practical and have cool features like transporting your home as a trailer.
The Nugget is their only prefab design with a complete off-grid package. It includes a 100-gallon fresh water tank, propane heater, solar system, and energy-efficient building.
It's only 12 square feet but includes a kitchen with sink and cabinets, shelves, storage, and a stowaway bed. The price starts at $39,000. Learn more here.
---
Backcountry Hut Company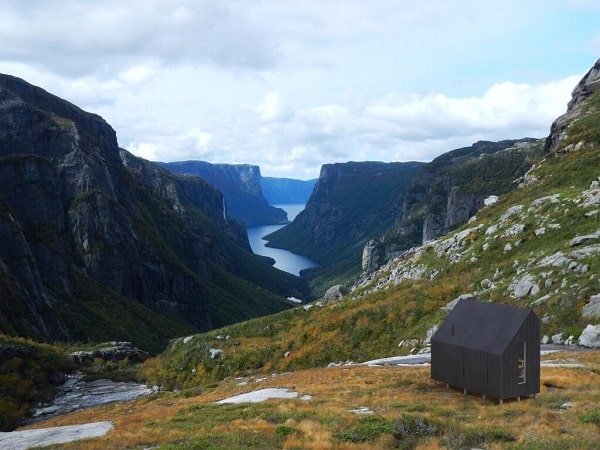 This Canadian company delivers your home stacked on a pallet (like you'd get IKEA furniture). There is a modular system, so you can adjust the size from 1 module (206 square feet) to 4 modules (845 square feet).
They deliver to almost all over North America. They'll even deliver the home with a helicopter if your location is hard to access.
Prices start at around $77,000 (USD). Learn more here.
---
Ecocapsule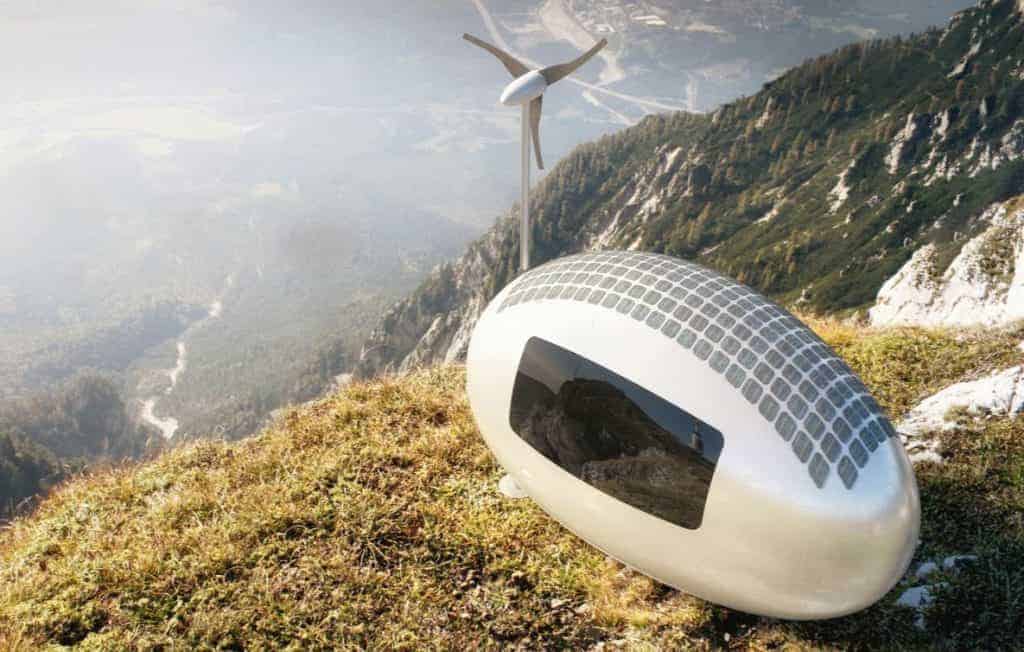 Is the world ready for off grid living in a tiny egg-shaped home? I guess so because the Slovak company that makes Ecocapsule has been a big success.
The Ecocapsule doesn't need to be plugged in because it runs entirely off the grid on solar and wind and collects rainwater. It costs 79,000 Euros to buy, plus VAT and shipping/customs fees if you are outside of the EU. Learn more here.
---
ZeroHouse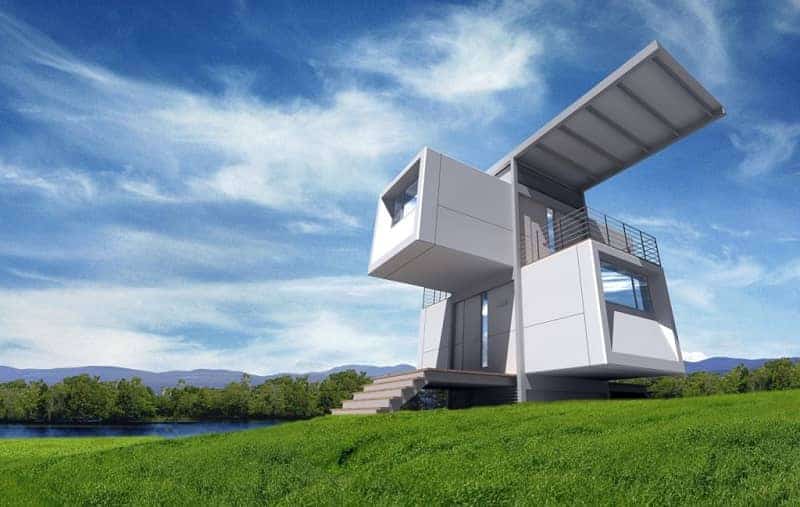 ZeroHouse is a small, prefabricated off grid house that can be shipped and assembled quickly. Some of the cool off grid features of this home include: Solar panels, a power bank, a Rainwater collection system, and a "Digester" below the home that turns waste into compost, and all off grid features run automatically and are fully customizable.
---
Shelter-Kit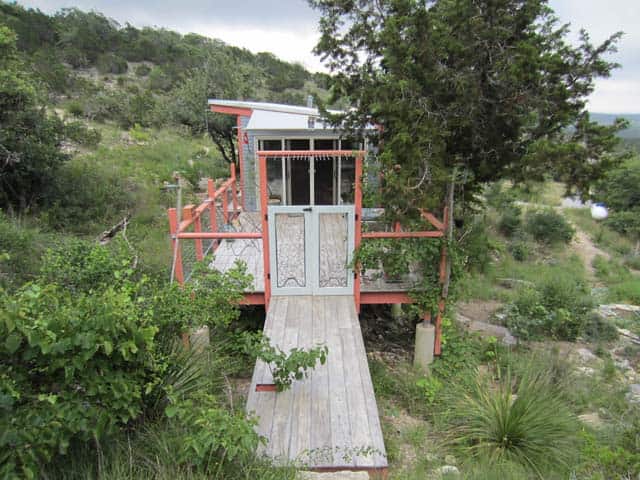 This company has been around for 45+ years. They have a lot of different prefab kits, plus allow for many customizations. If you are looking for a tiny home, you'll need to visit their "cabin" section. Models start at 144 sq. feet and go up to 1500 sq. feet. Learn more here.
---
Bungalow in a Box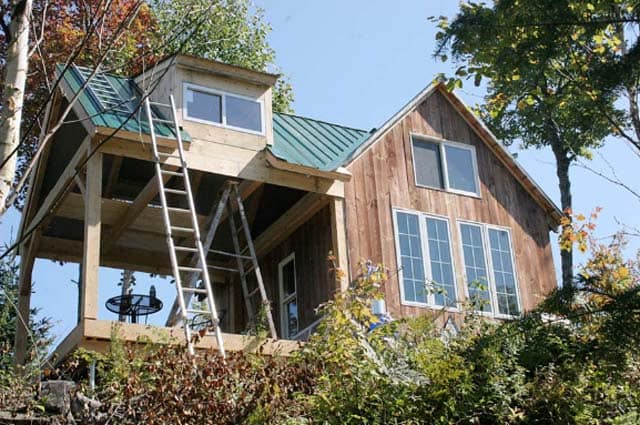 This is a smaller, family-run company based out of Maine. They have many options, and their prices are quite affordable. Learn more here.
---
Green Magic Homes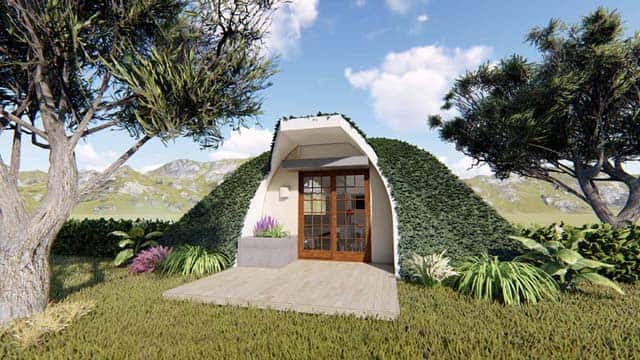 These are a very different type of home. The tunnel homes come as reinforced frames that can be put into the earth. Or you can literally grow plants over the home. That means you save on insulation plus get a cool hobbit-looking home. Note that these are not DIY assembly! You'll need to use one of their certified builders. Learn more here.
---
kitHAUS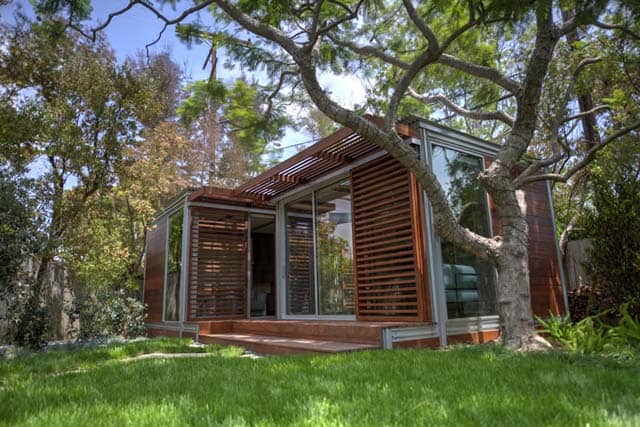 If you are looking for a more modern-style of prefab off grid home, this is a great company to choose. They've been around since 2005 and make systems out of aluminum impervious to rust. The homes are designed for energy efficiency and can be constructed in a few days. Prices start at $27k. Learn more here.
---
Bamboo Living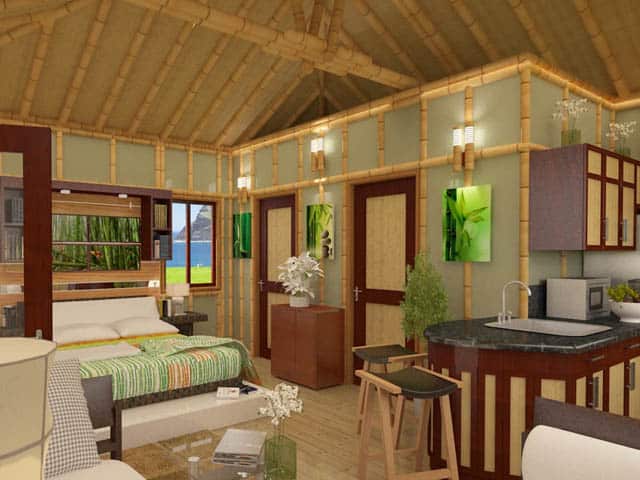 These prefab bamboo homes are designed to be eco-friendly and sustainable. There are single-wall options for warm climates and double-wall solutions with insulation for colder climates. The Zen 400 (shown here) starts at $30,320. Note that these are not turnkey solutions – you'll need your own fixtures. Learn more here.
---
Solid Build Wood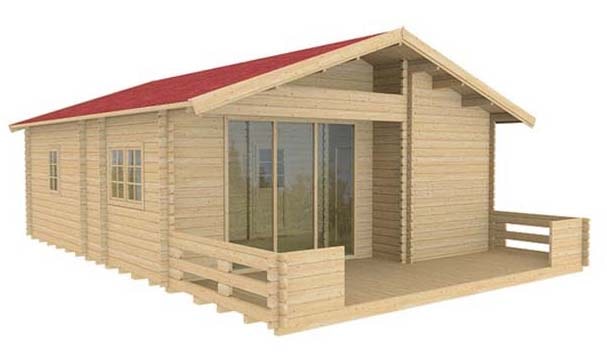 Available in the continental USA, these cabin kits are made from real wood. You get the shell delivered and assemble it yourself. According to their website, the parts aren't very heavy and it only takes about 8 hours for two people to build a small shed. Learn more here.
---
Cornerstone Tiny Homes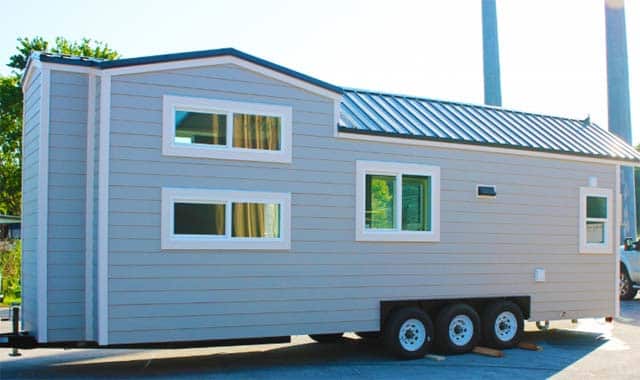 This company has built in Virginia, Florida, Illinois and the Bahamas. They boast that their homes even went through Hurricane Sandy with very little damage. They've got a good selection of prefab homes, including models on wheels. Full builds start at $65k. Shells can be purchased for much less. Learn more here.
---
Moveable Roots

This company offers 4 models of tiny homes on wheels. You choose a model and then choose customizations to suit your needs. They will also do completely custom builds. The use of lofts means that these homes are suitable for families. To get an idea about costs, the Henderson model starts at $95k. Learn more here.
---
Titan Park Models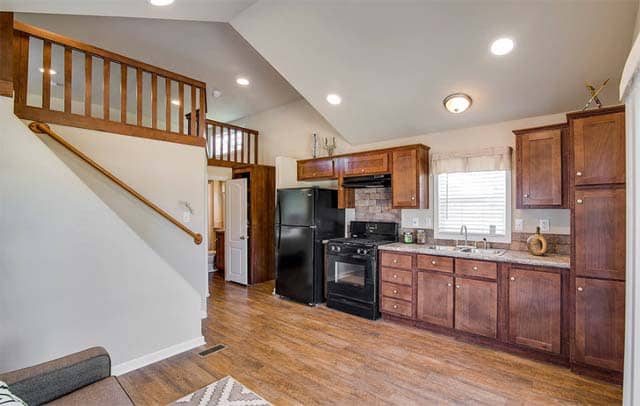 These are technically "recreational park trailers," but are far from your standard trailer. They have gorgeous designs and smart layouts. They use green construction methods and have features that allow you to save energy. There are numerous models to choose from (all of which are 399 sq. ft.), with prices starting at $40,000. Learn more here.
---
Zip Kit Homes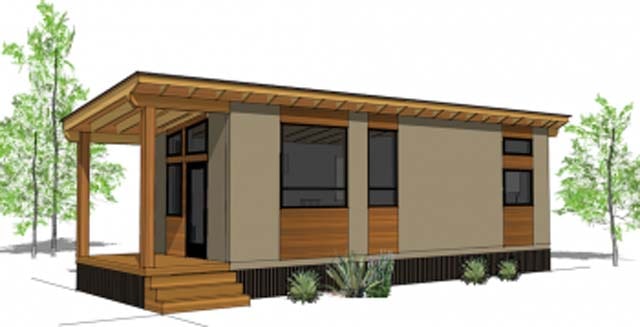 Based in Idaho and Utah, this company has been around for 20 years. They mainly focus on prefab homes. Because homes are delivered and built on-site, they only serve: Colorado, Idaho, Wyoming, Montana, Utah, Arizona, Nevada, Oregon, California and western Canada. Learn more here.
---
Pratt Homes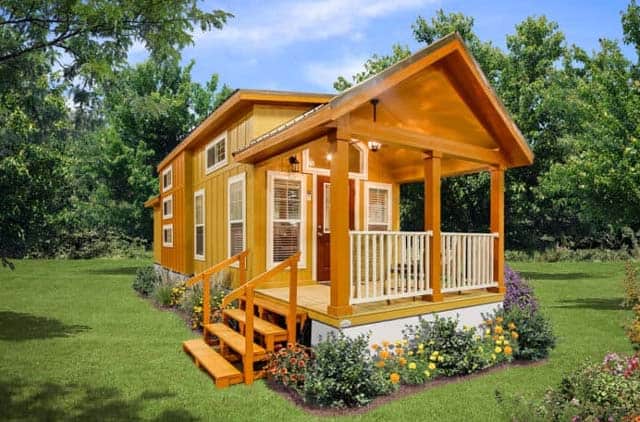 Based in Texas, this company delivers its tiny and modular homes to: Texas, Louisiana, Oklahoma, and Arkansas. I personally love the designs of their tiny homes. They are attractive both inside and out. They also give many customization options and allow you to go the DIY approach with as much as you want. Learn more here.
---
Discontinued
Since the publication of this post, several of these companies and suppliers have gone out of business. We will leave them here as they remain interesting as concepts.
Maisons Conteneur High Cube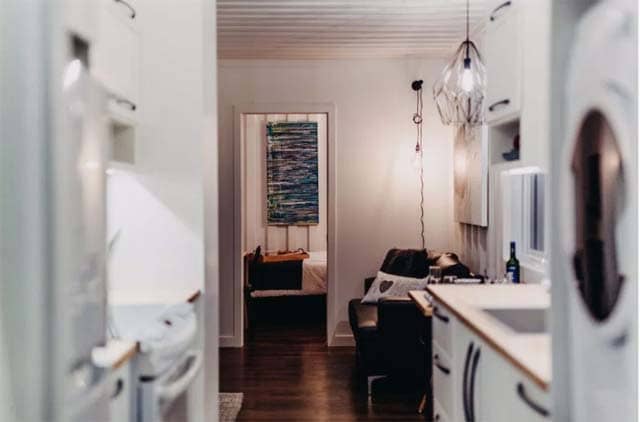 From the outside, these container homes don't look like much. But, once you enter, the homes are gorgeous. Even the basic options come with cabinets, wardrobes, counters, and mechanics. You can get customizations like bed platforms added on. The company is based in Quebec. Prices start at about $60k.
Hive Modular Prefab Homes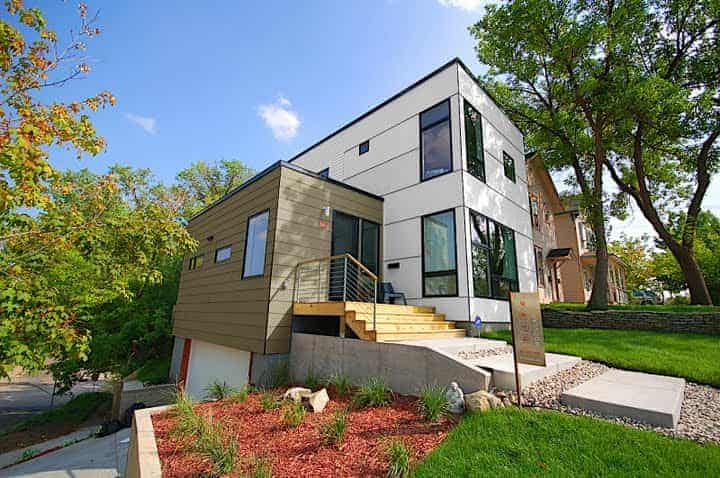 Hive Modular homes have gotten much attention in architectural magazines because of their unique design. Even though they are compact, the design makes them seem large. The homes are marketed for their eco-friendly materials and process, but you can also get off-grid features as add-ons. These include Geothermal, solar, green roofs, and rainwater collection. This company appears to be out of business – the website is unreachable.
Cabin Fever Prefab Homes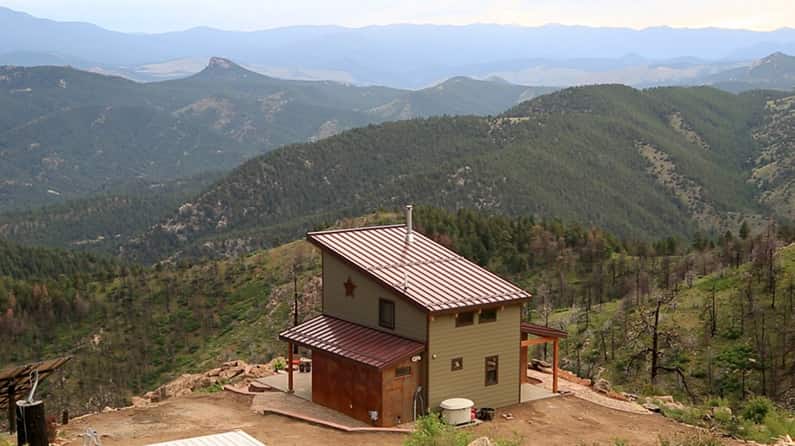 The company Cabin Fever makes prefabricated homes and commercial buildings. They offer an Off-the-Grid package with options like a house battery bank, rainwater catchment system, compost toilets, solar panels, solar water heaters, and windmill. The build time is typically just 6-8 weeks. This company appears to be out of business – the website is unreachable.
Minim Homes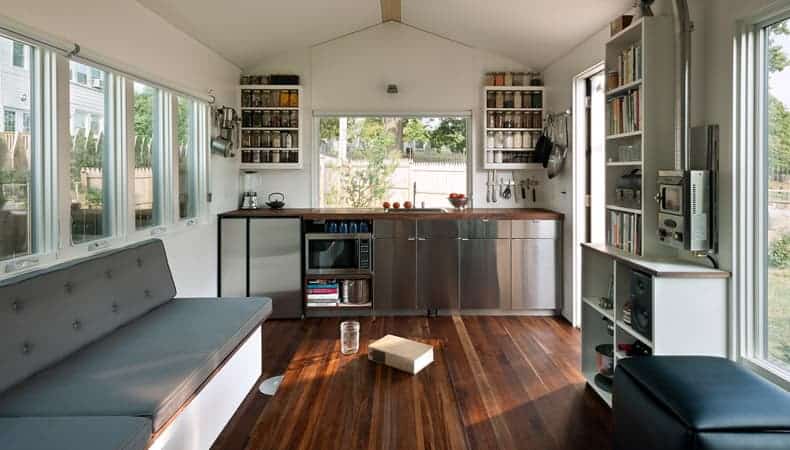 A basic Minim Home is estimated to cost about $70,000. That includes everything for the home, including shipping the container. Aside from being sustainably small, there are off grid options like water, sewer, and electric. This company now appears to be out of business. They are not taking orders, and the website hasn't been updated recently.