More and more people are choosing prefab tiny houses. As someone who grew up in a large home but now lives in a tiny home, I understand why.
The home I grew up in was 2,800 sq. feet. There were only four of us living there, which meant that we could all be home yet in completely different rooms (so much for family bonding!). We had a giant living room, a playroom, a computer room…
Heck, we had three different rooms which only got used on holidays or when guests came!!!
Then I moved to Europe. Instead of thousands of square feet, I found myself in a small space. Living in a tiny home was a big adjustment, but it came with some great benefits:
A lot of extra money: Since the utility bills were so much lower, I had lots of money for travel and fun. And that's even before we get started on the price of a mortgage for a large home!
Less hoarding: Without hundreds of square feet dedicated solely to storage, I am not able to hoard lots of junk. Every year, I do a "purge" and get rid of things I don't need. Not having lots of crap around you is very refreshing. You really do feel lighter!
More functional space: When a tiny home is designed well, it is a lot more functional. For example, I can literally be eating dinner and just swivel around to reach something in the refrigerator. Or that laundry doesn't have to be hauled up/down flights of steps.
Easier to clean: Which means you save a lot of time and energy.
More time spent outdoors: When you don't have a lot of space indoors, you'll find yourself doing things like going for walks and making BBQs more often.
See our apartment prepping tips.
Today, my own family of 4 lives in a 350 square foot apartment. We didn't get it prefabricated (we inherited the apartment and renovated it). However, with so many good prefab tiny homes out there, it often makes sense to go the prefab route.
Check out these prefab tiny home companies (USA and Canada) below. They have some awesome designs and many are even off-grid capable.
Jamaica Cottage Shop
Based in Vermont, this prefab home company specializes in tiny living and cottages. They have many options including tiny homes on wheels and off-grid homes. They ship their homes to the continental USA and parts of Canada. Visit them here.
Shelter-Kit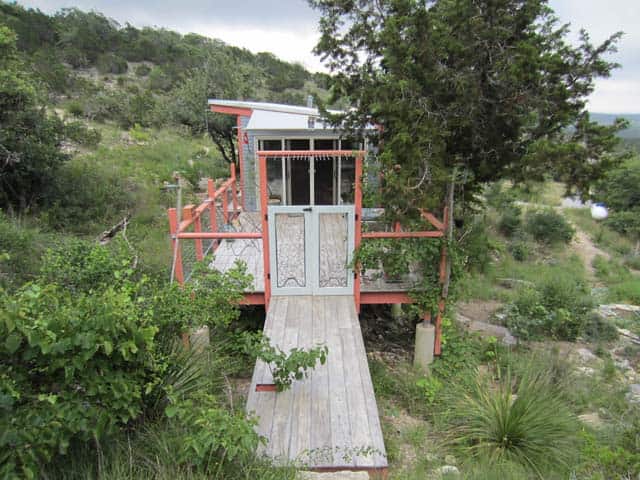 This company has been around for 45+ years. They have a lot of different prefab kits, plus allow for many customizations. If you are looking for a tiny home, then you'll need to visit their "cabin" section. Models start at 144 sq. feet and go up to 1500 sq. feet. Learn more here.
Tiny Modern Living
These prefab tiny homes are a bit on the pricier side, but come completely equipped with everything – like built-in benches and beds, kitchen units, showers and more. Basically, you can move in immediately. Plus, the design of these tiny houses is better (IMO) than what most other companies offer. Learn more here.
Plant Prefab/Living Homes
Plant Prefab and its offshoot Living Homes offers two tiny prefab homes: The Living Homes AD1 which is 400 sq. ft. (layout shown in the picture) and the Yves Behar (625 sq. ft.). These are definitely luxury homes (and the price reflects it!) but the designs are drool-worthy and they are off-grid capable.
Bungalow in a Box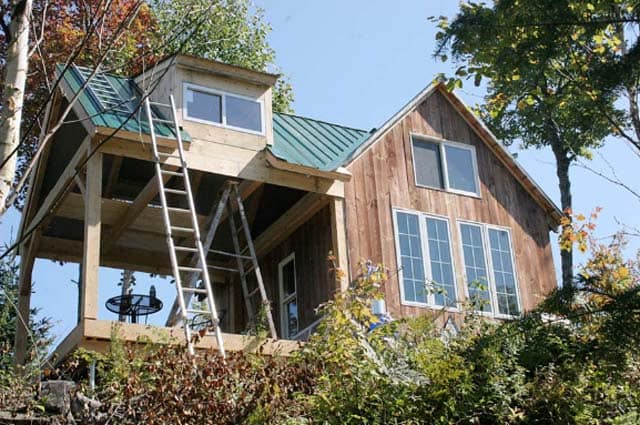 This is a smaller, family-run company based out of Maine. They don't have too many tiny house models, but their prices are quite affordable. Learn more here.
Land Ark RV
We talked about this company in our post on rugged RVs. The company was founded by a couple who built and lived in their own custom RV. They now offer two models of RVs based on their own design. The prices are currently $144,900 (Draper) and $139,900 (Drake). The RVs come completely outfitted with amenities and are ready to live in upon delivery. Learn more here.
Green Magic Homes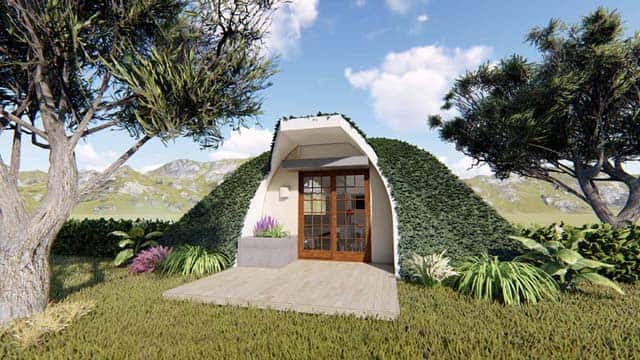 These are a very different type of tiny home. The tunnel homes come as reinforced frames which can be put into the earth. Or you can literally grow plants over the home. That means you save on insulation plus get a cool hobbit-looking home. Note that these are not DIY assembly! You'll need to use one of their certified builders. Learn more here.
kitHAUS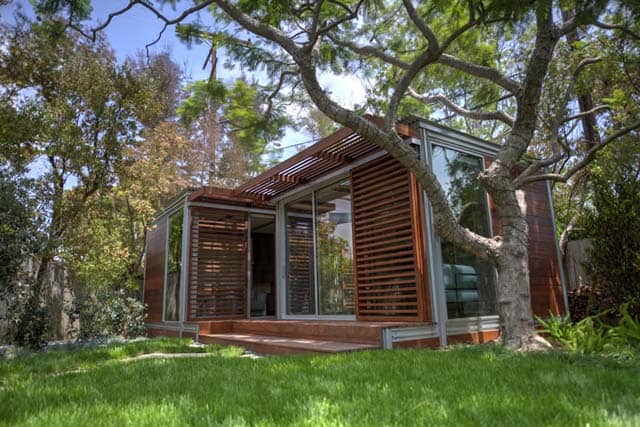 If you are looking for a more modern-style of prefab tiny home, this is a great company to choose. They've been around since 2005 and make systems out of aluminum that is impervious to rust. The homes are designed for energy efficiency and can be constructed in just a few days. Prices start at $27k. Learn more here.
WheelHaus
These luxury tiny homes on wheels can be delivered anywhere in the USA or Canada. They are finished off-site and arrive ready to be lived in. Their designs maximize space by creating lofts and even using the roof for living space. These are turnkey solutions – you only need furniture. Most models are around 400 square feet and cost around $100k. Learn more here.
Bamboo Living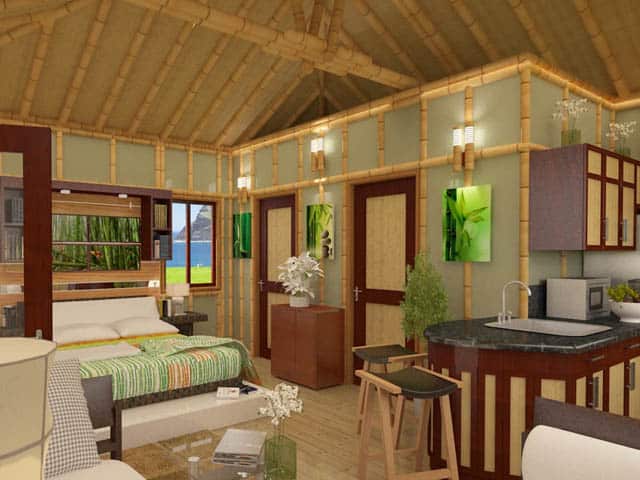 These prefab bamboo homes are designed to be eco-friendly and sustainable. There are single wall options for warm climates and double-wall solutions with insulation for colder climates. The Zen 400 (shown here) starts at $30,320. Note that these are not turnkey solutions – you'll need your own fixtures. Learn more here.
84 Lumber
84 Lumber is a store which has embraced the tiny living movement. They currently have 4 tiny home models that are all under 210 square feet and on wheels. What's cool about them is that they give you three options: Build yourself (just buy the plans), buy a shell, or buy a fully-outfitted home. The Degsy shell, for example, costs approximately $25k. Learn more here.
Arched Cabins
This company makes cool-looking pods that can be used for everything from sheds to guest rooms to tiny homes on wheels. You can DIY (which will run around $5k). Or you can get it built on-site with features like staircases and lofts (which will run around $20-52k, depending on size and features). Learn more here.
Solid Build Wood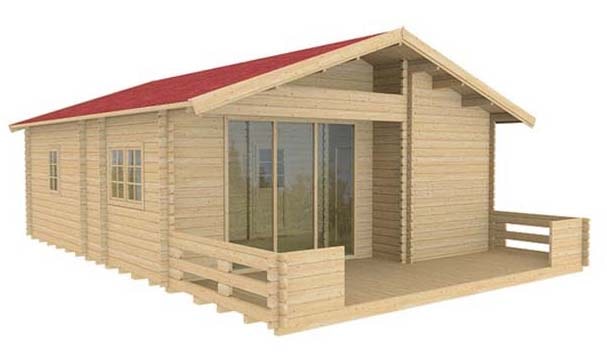 Available in the continental USA, these cabin kits are made from real wood. You get the shell delivered and assemble it yourself. According to their website, the parts aren't very heavy and it only takes about 8 hours for two people to build a small shed. Learn more here.
Cornerstone Tiny Homes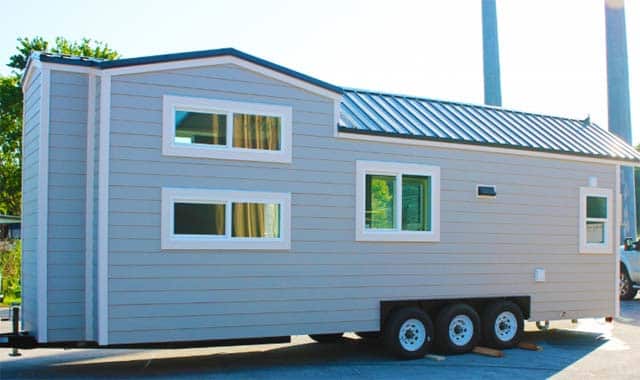 This company has built in Virginia, Florida, Illinois and the Bahamas. The boast that their homes even went through Hurricane Sandy with very little damage. They've got a good selection of prefab tiny homes, including models on wheels. Full builds start at $65k. Shells can be purchased for much less. Learn more here.
Moveable Roots

This company offers 4 models of tiny homes on wheels. You choose a model and then choose customizations to suit your needs. They will also do completely custom builds. The use of lofts means that these homes are suitable for families. To get an idea about costs, the Henderson model starts at $95k. Learn more here.
Titan Park Models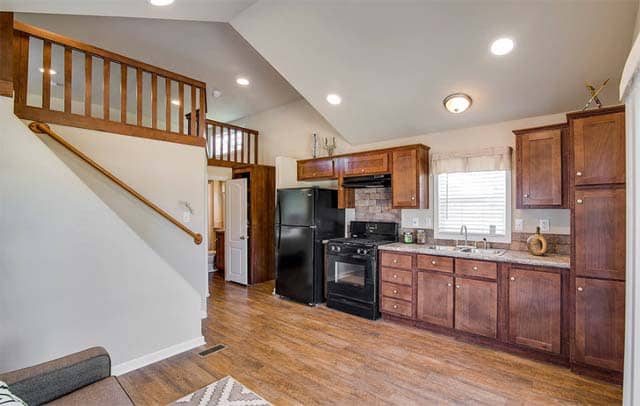 These are technically "recreational park trailers," but are far from the standard trailer you'll find. They have gorgeous designs and smart layouts. They use green construction methods and have features which allow you to save energy. There are numerous models to choose from (all of which are 399 sq. ft.) with prices starting at $40,000. Learn more here.
Maisons Conteneur High Cube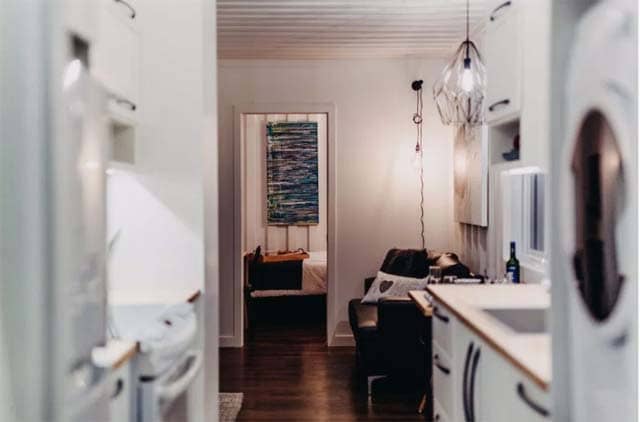 From the outside, these container homes don't look like much. But, once you enter, the homes are gorgeous. Even the basic options come outfitted with cabinets, wardrobes, counters, and mechanics. You can get customizations like bed platforms added on. The company is based in Quebec. Prices start at about $60k. Learn more here.
Zip Kit Homes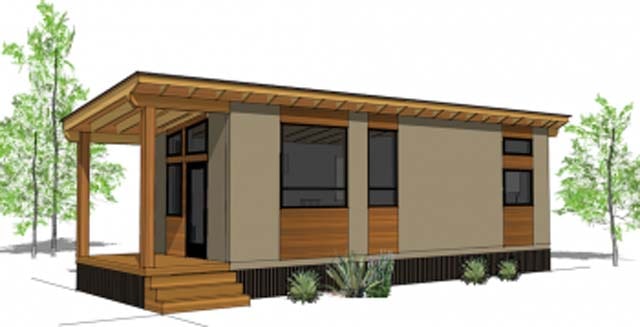 Based in Idaho and Utah, this company has been around for 20 years. They now focus on prefab homes, with a couple of tiny home models. Because homes are delivered and built on-site, they only serve: Colorado, Idaho, Wyoming, Montana, Utah, Arizona, Nevada, Oregon, California and western Canada. Learn more here.
Pratt Homes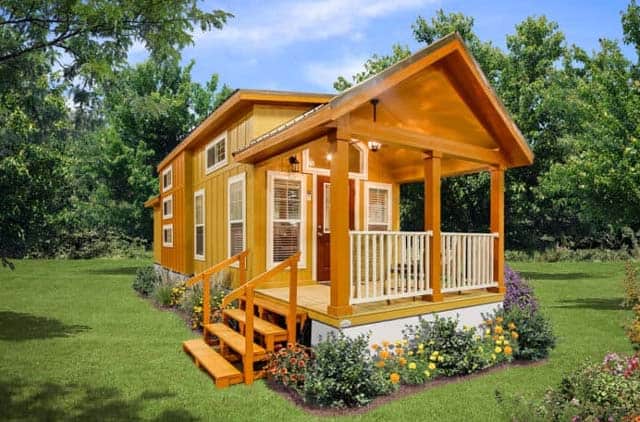 Based in Texas, this company delivers its tiny and modular homes to: Texas, Louisiana, Oklahoma, and Arkansas. I personally love the designs of their tiny homes. They are attractive both inside and out. They also give lots of options for customizations and allow you to go the DIY approach with as much as you want. Learn more here.
Do you live in a tiny home? If so, let us know how you like it in the comments section below!