Matches may seem a little outdated, but they still have a place in your bug-out bag.
Why?
Because you can ignite stormproof matches in conditions that most survival lighters can't handle.
Weatherproof matches will strike even when the temperature drops below freezing, which butane lighters, like the infamous Bic, won't. They can also handle high altitudes better than most lighters, which may prove difficult to ignite.
Stormproof matches come either in a standard cardboard box or with a carrying case to protect them in transit. You can also buy cases separately.
Having searched high and low for reputable products, studied numerous reviews, and watched too much Youtube, I've come up with a small selection of waterproof matches and match kits worth adding to your bug-out bag.
If it's not on this list, it's either been discontinued or is not up to standard.
Our Top Picks
Best Waterproof Matches
UCO Titan Stormproof Matches
These four-inch-long matches burn for 25 seconds even if you submerge them in water. They are easy to ignite, will burn in any conditions, and are long enough that you won't burn your fingers.
Best Waterproof Match Kit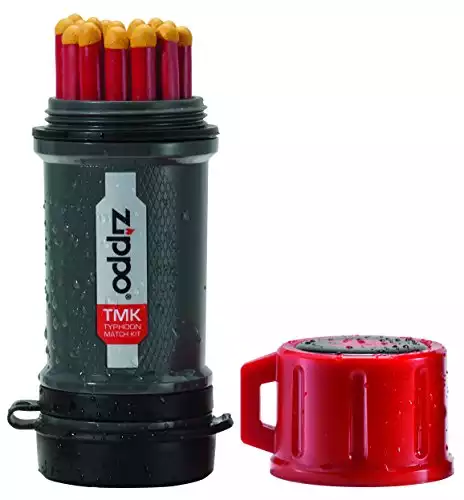 Zippo Typhoon Match Kit
These waterproof matches have a 30-second burn time and come with a heavy-duty case and enclosed strike pad.
Reviews of the Top Waterproof Matches (Without Cases)
#1 UCO Titan Stormproof Matches
These waterproof matches ignite easily and produce a hot flame that stays lit in the harshest conditions. They have a longer burn time than most other stormproof matches, partly due to their length but also because of the size of the large match head.
Once you strike a UCO Titan Stormproof match, you'll get a scorching flame that burns for 25 seconds. The flame is so strong you can't blow it out. Not even submerging it in water will douse this powerful flame. Even when soaking wet, these matches will ignite and burn.
The only downside is that they get so hot that they can be tricky to hold. As they may also throw out a hot cinder or two, the best approach is to strike it close to your fire and then let go.
If you still doubt the reliability of these matches, you only have to read some of the reviews to put your mind at rest.
The one that caught my eye described camping at 11,000′ at 0ºF. Even in these extreme conditions, the UCO Titan Stormproof match ignited and burned for long enough to light a liquid fuel stove!
They may not be cheap, but knowing you'll be able to make a fire in any circumstance makes them worth the investment.
Each box contains 25 matches and three strikers.
Pros:
4in long
25-second burn time
Cons:
The flame burns so hot that the match can be difficult to hold
---
#2 Industrial Revolution UCO Stormproof Matches
Slightly cheaper than UCO Titan Stormproof matches, this is a similar product that differs only in quality. You get 25 matches and spare strikers, just as you do with UCO Titan matches.
These matches will also light when soaking wet and stay alight in water. That's where the similarities end, however.
These stormproof matches measure 2 3/4 inches long and have a burn time of just 15 seconds. That's 10 seconds shorter than the UCO Titan match.
While 10 seconds isn't long, it could be the difference between having heat and a hot meal or shivering in your tent while munching on survival food bars.
These UCO stormproof matches aren't quite as reliable as the Titan alternative, being both difficult to light and burning out too fast. On the other hand, some people prefer the shorter length as it makes them easier to transport.
The Industrial Revolution matches weigh considerably less than the UCO Titan ones. A box of 25 weighs just 2 oz, compared to the UCO Titan matches that weigh 3.3 oz, but that will not significantly impact the weight of your bug-out bag. The box is also slightly larger than the UCO Titan matchbox.
Sure, you can save a few dollars by opting for these, but they won't give you the same peace of mind as our top pick.
Pros:
Affordable
Stay alight in water
Cons:
Difficult to light and burn fast
---
#3 Coleman Waterproof Matches
If you're looking for a bargain, you've come to the right place. For less than the price of one box of UCO Titan Stormproof matches, you can get four packs of Coleman's, each of which contains 40 matches.
That may sound like a good deal, but Coleman doesn't specify the length or burn time of its product, which makes me somewhat suspicious. These matches will stay alight when submerged in water, but beyond that, there's little to recommend them.
While they are a similar length to the UCO Titan matches, they have small heads similar to those you'd find on a standard match, which suggests a weaker flame and short burn time.
On the plus side, they're light and compact.
Pros:
Stays lit underwater
Lightweight and compact
Cons:
No length or burn time specified
---
Reviews of the Best 4 Waterproof Match Kits
#1 Zippo Typhoon Match Kit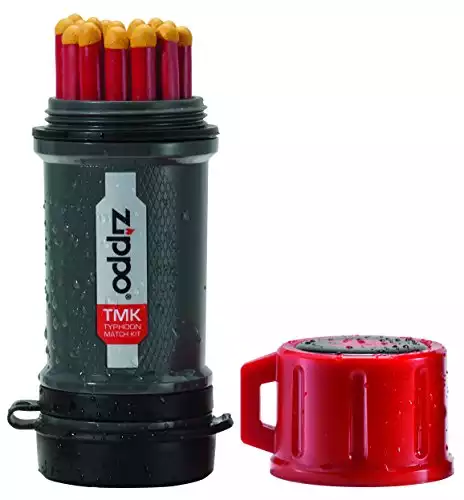 The highlight of the Zippo Typhoon Match Kit is its container. Many match containers have the strike pad on the outside, whereas Zippo placed theirs on the inside to ensure it never gets wet.
Not only is the container water-resistant, but it also floats and can be attached to your bug-out bag or belt.
This kit contains just 15 matches, but each one will burn for 30 seconds, giving you plenty of time to light a fire in the wet.
Should your strike pad get worn or wet, you can still light these strike-anywhere matches, which gives them a significant advantage over the competition.
Compared to other products on the market, the Zippo Typhoon Match Kit is one of the most expensive, but it's more durable than most. The container is a little on the large side, but as it can be attached to the outside of your bag, it won't take up any valuable space.
Pros:
30-second burn time
Floating, water-resistant container
Cons:
---
#2 UCO Titan Stormproof Match Kit
This product gives our top pick a real run for its money and only just loses out on that number-one spot.
The burn time of these matches is a little short than the Zippo's at just 25 seconds, but that's still long enough to get a fire going. The waterproof case floats just like the Zippo one and comes with a lanyard cord that you can use to attach to your belt or bag.
Overall, it's slightly heavier than the Zippo match kit but also marginally smaller. It also contains three fewer matches than the Zippo kit but costs a few dollars less, making it equally cost-effective.
Unlike on the Zippo kit, the strike pad is on the outside of the container, so it could get wet, making it harder to ignite the matches, especially as they are not strike-away products. Nevertheless, you can remove the strike pad and slip it inside the container for extra protection.
Pros:
25-second burn time
Lanyard cord included
Cons:
Strike pad on the outside of the waterproof container
---
#2 Coghlan's Windproof Storm Matches
Coghlan's windproof storm matches are affordable, lightweight, and compact. Unfortunately, they will only burn for around 10 seconds, which doesn't give you much time to get your fire started, especially not if it's pouring rain.
However, they're easy to ignite and will burn in most circumstances. They are shorter than the best waterproof matches, so you may need several to get your fire going, making them less cost-effective than our top picks.
If you really soak these matches, they will go out, unlike other otions that keep burning even when fully submerged.
It's still a good product, but more suited to camping than survival.
Pros:
Lightweight and compact
Lower price range
Cons:
Short match = short burn time
---
#3 Safety Weatherproof Matches w/ Waterproof Case by Frog & CO
These weatherproof matches are safely stashed in a waterproof container, but the strike pad is on the lid, which means it's constantly exposed and could get damaged.
The strike pad isn't easy to remove either, which makes it challenging to stash inside the container.
As these are safety matches, you won't be able to strike them anywhere. If the strike pad is wet or damaged, your chances of getting fire are limited.
Another drawback to this match kit is that the matches themselves are somewhat flimsy, which is how they presumably managed to squeeze 20 into such a small container.
You need to be a confident fire starter if you think you can use these matches in harsh weather conditions with their 15-second burn time.
This kit has a good design, but not good enough to compete with the best. On the plus side, it's a few dollars cheaper, but who wants to save a few dollars when their lives could be at stake?
Pros:
Waterproof container
Lower price range
Cons:
Flimsy matches with short burn time
---
#4 UCO Stormproof Match Kit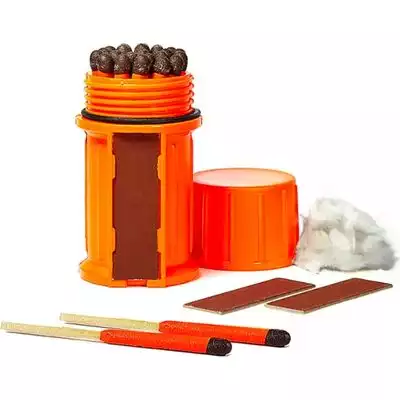 This stormproof match kit only just managed to sneak into our mini-review section due to problems with inconsistency. Sometimes they light, sometimes they don't, although they will prove more reliable than conventional matches when the weather turns bad.
If you can get these matches to light, you'll get 15 seconds of steady flame, which will withstand high winds and keep burning even if you drop them.
The kit contains 25 matches and three strikers, which makes it good value for money if only the matches themselves were more reliable.
Lightweight and compact, they're suitable for camping and outdoor adventures, but you probably wouldn't want to rely on them in a survival situation.
Pros:
Contains 25 matches and extra strikers
Good value for money
Cons:
Matches can be difficult to ignite
---
Critical Features to Look for in Waterproof Matches and Match Kits
When shopping around for waterproof matches or match kits, you always want to find the best value for money, but none of these products will break the bank. Whether you spend $7 on 15 matches or $16 on 25, it won't make that much difference.
As far as I'm concerned, there are only two critical features you should look for:
Ignitability
There's no point in having a match that can burn for 30 seconds if you can't get it to light in the first place.
You can ignite the best waterproof matches by rubbing them against any rough surface, be it a designated strike pad, rock, or even your pants!
The only strike-anyway waterproof matches we found were those included in the Zippo Typhoon Match Kit.
All other stormproof matches come with at least one striker, but the best include extra strikers in sealed containers to improve your chances.
Burn Time
The longer the burn time of a stormproof match, the better your chances of getting a fire going; it's as simple as that.
Zippos have the longest burn time of any waterproof matches, lasting for an impressive 30 seconds. The shortest is just 10 seconds, which is only a couple of seconds longer than a conventional match.
Conclusion
Even if you know how to start a fire without matches or a lighter, waterproof or stormproof matches still have a role to play, especially if you opt for one of our top picks.
The UCO Titan Stormproof Matches and the Zippo Typhoon Match Kit will work effectively in conditions that render other fire lighters useless, including high altitudes, pouring rain, and freezing temperatures.
They are easy to ignite and give you a long enough burn time to get a fire going under any circumstances.