If you want to store gas, be it for a short or long time, you have to abide by certain safety protocols to ensure no accidents happen. Gas is a hazard, after all, and storing it appropriately is crucial.
The most important of all gas storing rules is keeping it in proper containers. OSHA regularly reminds us of the safest containers, and in this article, we'll be listing the best gas cans for both long-term and short-term storage while following these rules.
Reviews of the Best Gas Cans
Best Overall
Justrite Safety Can (5-Gallon)
Justrite's Type I gas cans have a single spout for pouring and filling. They're made from high-grade steel, and they follow all OSHA regulations. Because of this, they're completely leakproof.
A feature you won't find with most gas cans is Justrite's pressure vent, which prevents explosions by keeping the gas from building up. The can also comes with a flame arrester, preventing flashback ignition.
Because it isn't large or heavy, this can is ideal for transport, and you also get a specialized funnel that makes pouring easy.
Overall, this is the best can there is, but I wouldn't recommend it for long-term gas storage because it only has one spout, which can cause problems with pressure over a longer period of time.
Pros:
OSHA approved

Leakproof

5-gallon capacity

Specialized funnel for pouring included
Cons:
Only for short-term gas storage
---
Best Budget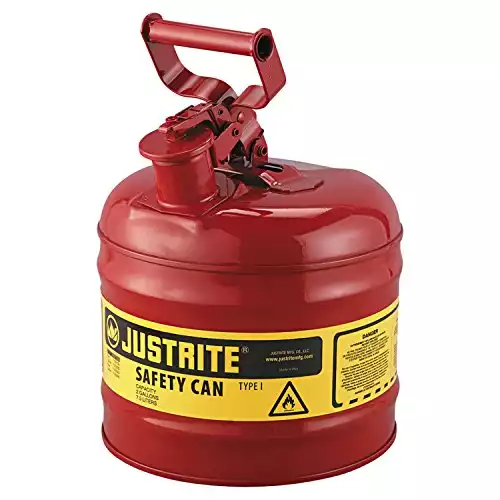 Justrite Safety Can (2-Gallon)
If you're looking for something cheaper, look no further than the two-gallon option. It's identical to the five-gallon Type I gas can, but with noticeably smaller capacity.
This can be a problem for anyone who wants to store larger amounts of gas, but if you're looking for something to keep around just in case, it doesn't get better than this.
Additionally, because of its size, it's the most portable gas can on the list!
Pros:
OSHA approved

Leakproof

Portable
Cons:
2-gallon capacity

Funnel not included

Short-term use only
---
Most Reliable and Durable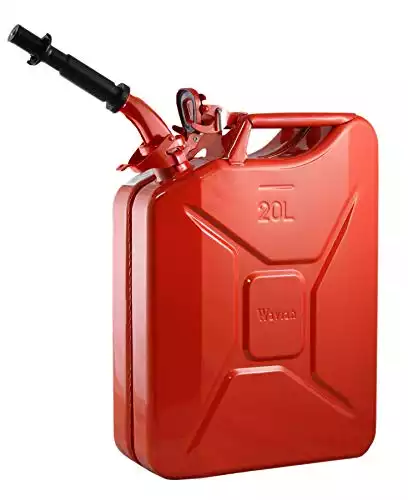 Wavian Jerry Can
The jerry can is the one of the oldest gas cans still in circulation, and it's been proving its worth ever since the Second World War.
These cans are nothing if not durable. The design implemented during the 1940s has been improved several times, and people use them to store not only gas, but all types of fuel, oil, water, and even animal feed.
Modern jerry cans have an extra-safe spout that prevents splashes during pouring. Their capacity has increased slightly over time (5.28 gallons), and because of their design, you can stack them on top of one another perfectly!
Some jerry cans have been in circulation for decades with no signs of decay, and that's what makes them the most durable gas cans in history.
Pros:
Extremely portable

5.28-gallon capacity

Splash-proof spout

Very durable

Capable of storing gas, water, and other things
---
Best Long-Term
Justrite AccuFlow (5-Gallon)
The biggest difference between gas cans for long-term and short-term storage is the way they handle pressure. Over time, pressure builds in a gas can due to temperature changes. Gas cans with only one spout can't release this pressure.
Justrite's Type II gas can has two spouts, unlike the Type I, and it releases pressure every time you pour gas. By releasing pressure, it prevents buildup and unwanted accidents.
Aside from the fact that it has two spouts, the Type II can is almost identical to the Type I. It has a capacity of five gallons, the steel is high-grade, and you can easily fit it in the trunk of your car.
Because of the trigger that controls the pour and the metal hose (not a funnel), which come included with the product, this gas can is easier to use than the Type I.
With all of this in mind, it's no wonder this can is so expensive, which is why I'd only recommend buying it if you're looking for a long-term option. Your wallet will be better off with the Type I can if you need a short-term option.
Pros:
OSHA approved

Leakproof

Additional spout for releasing pressure

Safe long-term storage

Metal hose and pour trigger for safe pouring

5-gallon capacity
---
Best High-Capacity
Vevor Fuel Caddy
VEVOR has a wide range of high-capacity gas cans, but this one is the most appropriate for home use. With a capacity of 16 gallons, it easily outmatches every other gas can on the list.
Unlike other cans, which you have to carry, this can comes with wheels that allow you to roll it around (otherwise you'd have to carry a 16-gallon tank, and I don't recommend trying that).
It follows all regulations and comes equipped with a long hose and two shut-off valves, ensuring safe pouring.
The tank itself is tough, so you don't have to worry about denting it, and it's resistant to temperature change and UV radiation. You can safely store gas, kerosene, and diesel.
Overall, it's the ideal gas can if you need a lot of gas at home on a regular basis.
I need to point out two things though.
First, this gas tank isn't a good option for long-term storage. Notice that it's the only polyethylene can on the list, which isn't good for gas on a long-term basis because it'll start to break down.
Second, once you fill it up, the tank will be difficult to transport. You can push it around because of its wheels, but loading it up into a truck will be difficult, so it's not an easy transport option.
Pros:
16-gallon capacity

Leakproof

Long pouring hose

Comes with wheels

Temperature-resistant materials
Cons:
It's massive, heavy, and difficult to transport when full

Hardened plastic isn't good for long-term storage
---
Gas Can Buyer's Guide
Quality
The first thing you need to look out for is the manufacturer. All manufacturers on this list follow industry regulations and make safe products, but this isn't the case all around the world. Make sure the gas can you're buying won't blow up in your face (literally). Also, make sure the manufacturer has made a gas can that meets OSHA regulations.
When you receive your gas can always check the lid. The vast majority of gas cans and their lids will be in mint condition, but some lids can get banged up during transport.
Intended Use
The right gas can for you will depend on what you intend to use the gas for. If you just want to keep a few gallons of gas in the trunk in case you run out, you don't need VEVOR's 14-gallon tank.
However, if you have a power generator and you're worried about self-sufficiency, a large-capacity tank is exactly what you need.
Furthermore, you'll need a different type of gas can for short-term use than you will for long-term storage.
Storage
Few gas cans are intended for long-term storage. If you're determined to store gasoline long term, you'll need to buy an appropriate can. Plastic gas cans, such as VEVOR's tank, aren't suitable for storage longer than six months.
Since pressure will build up over time due to temperature changes, especially in a long-term scenario, you need to release it, and that's impossible without a second spout or a pressure-release valve. Most gas cans are made for short-term use, and you won't find either of those things.
Finally, when it comes to storing, don't ever, under any circumstances, store gas in your house. No matter how safe the gas can is, accidents still happen, and you don't want a five-gallon gas can exploding in your basement. Always store gas in sheds, garages, or other enclosed structures.
Material
When we're talking about short-term and long-term storage, the first thing to keep an eye out for is the gas can material. Gas and plastic react over time, after which plastic starts to break down.
This will ruin your gas, which is why I would never recommend buying plastic gas cans for long-term storage.
Metal gas cans (specifically steel gas cans) are the only acceptable solution for long-term storage.
Final Thoughts
Justrite's Type I and Type II are by far the two best gas cans that will take care of most of your gas storage needs. Unless you want to stack cans on top of one another or you need copious amounts of gas, these cans are the perfect fit.
They're durable, leakproof, OSHA-approved, and have reasonable flame resistance, making them the best choice.