A quality knife will last you a lifetime – if you look after it.
There are two good reasons why you should oil your knife:
A knife's worst enemy is rust. This will likely be a particular issue if you live near the coast or your knives get anywhere near saltwater.
Lubricating the pivot on a folding knife will keep the opening mechanism operating fluidly so your knife snaps open.
There are plenty of different oils and lubricants available. Some are designed for kitchen knives, others specifically for folding knives.
In this article, we've rounded up the best knife oil for every application.
Best Knife Oil Reviews
Best for Fixed Blade Knives
Yoshihiro Pure Tsubaki Knife Oil
If you use your knife for pretty much anything involving food, then you want to make sure that the oil you're using on the blade is food safe.
This knife maintenance kit comes with a 3.4 oz bottle of Tsubaki oil – a popular choice for kitchen knives.
The oil is viscous enough that you can squeeze just a drop out of the bottle, which is enough to coat one side of a large knife. Rub the oil over a clean, dry blade and you're done!
Also included in the kit is a cloth and a small rust eraser. The eraser is a bit of a gimmick (a full-size one will be more effective), but together with the oil, they form a neat little kit that's small enough to keep in your car emergency kit or, at a push, your Bug Out Bag.
Pros:
Food-grade oil

Protects blades from rust

A little goes a long way

Cloth and rust eraser included
Cons:
Expensive compared to mineral oil
Best for Folding Knives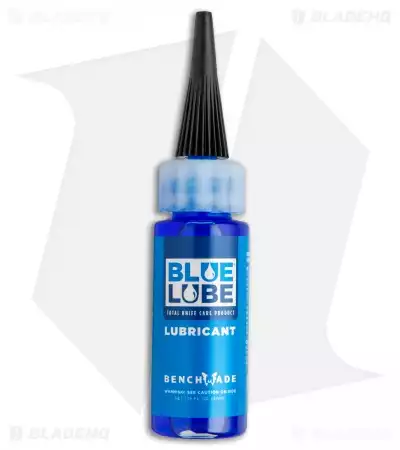 Benchmade Blue Lube
This is the lubricant of choice for many knife enthusiasts, who swear by it for keeping their blade action super snappy.
It comes in a small 1.25oz bottle, but a little bit goes a long way. As is perhaps obvious from the name, the lube is blue, meaning it's easy to spot where you've applied it (it dries clear).
It has a good balance of viscosity – it won't run away but it's fluid enough to slip between washers – and it doesn't leave a sticky residue, meaning it won't pick up dust and dirt.
Benchmade claims it also prevents rust and corrosion, so it can be used as an all-in-one product, however, there isn't much evidence to back this up.
It's also not food safe so you may want to refrain from using it on blades. As a knife oil for folding or assisted opening knives though, it can't be beaten.
Pros:
Extremely effective at smoothing pivot mechanisms

Odorless

Doesn't pick up dust

Cheaper than some comparable products
Cons:
The nozzle could be thinner
Folding Knives (Runner Up)
Knife Pivot Lube Original Knife Oil
KPL is another popular pivot lube for folding knives. There's not much to choose between it and the Benchmade Blue Lube other than the Benchmade being slightly cheaper.
However, the KPL is made in America by a small family firm, so you may feel it is worth the trade-off.
In terms of performance, the needle applicator allows for very precise oiling even in tight spaces, and you should only need a couple of drops to keep the pivot mechanism running smoothly.
It also smells good – so good you might find yourself sniffing your knife just to get another whiff.
It is quite a thin lube, which some people dislike. If you're looking for something more viscous, check out the KPL Heavy.
Pros:
Excellent applicator

Only need a small amount

Smells nice

Made in America
Cons:
Some users find it a bit thin
Budget Pick
NSF Certified Food Grade Mineral Oil
There's a surprisingly simple – and cheap – solution for keeping knife blades oiled and rust-free. Food-grade mineral oil is colorless, odorless and tasteless. It's non-toxic, won't go rancid and you can buy it in bulk.
As well as using it to look after your knife blades, it's also great for wooden-handled knives. Rubbing mineral oil into the handle will prevent the wood from cracking.
Mineral oil has multiple purposes around the house, from restoring and protecting butcher blocks and wooden countertops to oiling soapstones.
Is there a downside?
Although it has some lubricating properties, they're not as effective as some of the specialist pivot-lubes. It's also low-viscosity, so applying it is more difficult.
Pros:
Food-grade oil

Inexpensive

Multiple uses

Good for wooden-handled knives
Cons:
Not as effective at lubricating pivots as specialist oils
Best High Viscosity Lubricant
Knife Pivot Lube (Heavy + Original)
The KPL Heavy is a higher viscosity version of the best-selling KPL Knife Pivot Lube. It's designed specifically for lubricating knife detents and detent tracks.
Because it's more gel-like, the lube sits in and around the detent, refreshing the lubricant on the detent ball every time you open and close your knife.
Pros:
Specifically designed for detents and detent balls

Gives a smooth, gliding action

Doesn't need to be applied every day

Made in America
Cons:
Not suitable for all-around use
Best to Prevent Rust
Aegis Solutions EDCi Everday Corrosion Inhibitor
High carbon steel keeps an edge longer than stainless steel, but it's not so good at resisting corrosion. It'll rust quicker, particularly if exposed to acids or saltwater. Even if you don't live near the sea, you may struggle to keep your knife dry enough to prevent rust build-up.
That's where the Aegis Solutions corrosion inhibitor comes in. It coats your blade in a water-repellent layer that protects your knife and prevents corrosion from getting a grip on the steel. Just spray it on, rub it in and wipe it off.
If you're not convinced, check out this video, which shows the impact of salt water on your knife blade and how EDCi can prevent rust from developing.
The corrosion inhibitor isn't cheap, so it's best saved for expensive knives made from steels vulnerable to rust. It's also a good option to protect knives that you don't use very often.
Pros:
Effective at preventing rust and corrosion

Quick and easy to use

Doesn't leave an oily film that'll attract dust
Cons:
Not guaranteed food safe

Not a lubricant – i.e. it's not the best oil for pivots and screws
Pick the right oil for the job
We've covered different oils for different jobs in our reviews above. If you're looking for one product to do everything (or don't like the look of our recommended products!), here are a couple of things to bear in mind:
If you're oiling a kitchen knife or any knife you could use for food preparation, you'll want to use a food-grade knife oil. This means it's odorless, flavorless and non-toxic.
Synthetic oils are generally better than organic oils (such as olive oil). Dust and fluff stick to organic oils, whereas synthetic oils repel dirt. Olive oil can also go rancid over time.
Not all oils are designed as lubricants, and you may be better off using a different product to keep your blades rust-free than to lube the joints of your folding knives.
See here for more on how to clean a pocket knife.
Conclusion
Knife maintenance doesn't have to be time-consuming or onerous, but it's better to stay on top of it to prevent rusting or blades locking up.
In addition to cleaning and oiling, you'll also want to keep your knives sharp. Find the best tools to do that in our guide to the best knife sharpeners.