Humans made it to where we are today because of our ingenuity and tools, but one outweighs all of the others in importance and significance.
No, it's not beer (but that's pretty darn important, too); it's the edged weapon.
By knapping at the edges of flint and obsidian, and other stones, we created the first edged weapons for hunting and defense, like spear tips and knives.
Imagine the fear our ancestors felt in the night when wolves surrounded the camp. Now imagine that fear countered with a stiff lip and a sharpened point to defend against predators. Even the wolves learned to back off and fear that edge.
Today's predators tend to walk around on two legs but are just as vicious as the wolves of our past; we owe our survival to strong steel sharpened to a razor's edge.
At A Glance: 10 best self defense knives on the market today
Click the links to go directly to the review.
Our Top Knife For Self Defense
Fixed Blade

The CKRT Folts Bowie Neck Knife is discrete, easy to handle and packs a decent punch in a tight spot.Check On BladeHQ
---
Folding Blade
The Zero Tolerance Assisted is incredibly sharp and beautifully balanced allowing for exceptional control at close quarters. Check On BladeHQ
---
The "You Better Think Twice About That" Disclaimer
Using a knife as self-defense is, of course, a last-ditch effort.
With a firm grip on self-defense basics, you'll know that the use of a knife is dangerous in many ways, and I'd be doing you a disservice if I didn't tell you exactly why you want to reconsider using a knife.
They're Dangerous for Everybody
Simple enough, if you have a knife, you're going to want to use it. Trading punches with an assailant can result in broken bones, black eyes, and a smattering of legal trouble, but using a knife can be a fatal option.
A few slashes and stabs to your attacker can result in permanent injury and even death, which is super permanent.
And what if your assailant gets their hands on the knife you tried to stab them with? To quote the late, great Bill Paxton in Aliens, "Game over, man!"
They're a Deadly Weapon…
… especially in the eyes of the law.
Throwing fists with someone is trouble enough, but whipping out your knife is an entirely different ballgame.
No matter who started what, the fact that you chose to stab and slash your way out of a scenario makes you guilty of a litany of crimes.
Besides that, you could kill somebody.
That's not something to take lightly.
They Could Be Illegal
Every state, county, and country has its own laws on what you can and can't carry.
Check your local laws before you start strutting around town with a butterfly knife flipping between your fingers, or you could get busted for having the blade on your person.
Many establishments won't allow weapons of any kind, even if they're legal otherwise, so leave that neck blade in the car when you go clubbing.
Then Why Am I Carrying a Knife?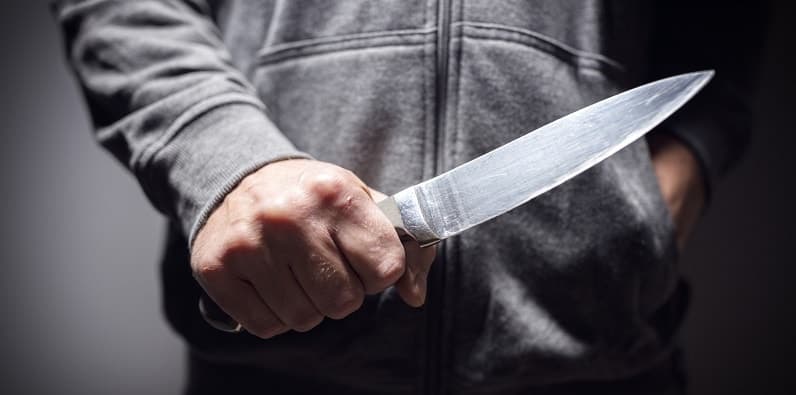 I can sum that up in three words: knives are effective.
If somebody puts you in the corner, taking out a knife can be all it takes to deter an attacker.
If you're targeted by a mugger looking for easy cash, removing your knife and preparing for war can be enough to send most opportunist attackers on the run.
These criminals tend to look for easy targets that are soft and won't fight back. Brandishing a knife with the intent of going down slashing and stabbing is not an easy target.
But before you start getting all stabby-stabby, brush up on these thoughts and considerations. You won't be able to refer to this when you're in a situation, so familiarize yourself with it now and act accordingly.
What Does the Situation Warrant?
Is this a drunk at a bar intent on causing trouble? Maybe it's a jilted lover angry at you for finding a new flame. It could be a potential rapist, a handsy bartender, or a tough guy with a show to put on.
Every one of these situations demands a different tactic, but you can rest assured that the only time to consider using your knife is when you or your life is in danger.
A knife is a very permanent solution to your problems.
Is It Worth Going to Jail Over?
A friend of mine threatened a belligerent drunk with a knife. No contact was made by either party, but the police showed up. Guess which one got into legal trouble?
The one with the knife.
We really can't overstate the importance of using a knife for only the most dangerous scenarios. It could result in fines, jail time, or more.
Selecting a Self-Defense Knife
In short, you want to consider a few basic ideas for your knife selection.
#1 Folding or Fixed Blade
This is a matter of endless contention for even casual knife enthusiasts, so let's cut that discussion down to its basic principles.
A fixed-blade knife is more robust and easier to handle defensively. Retrieve it from its safe place (around your neck, belt, holster, etc.) and get ready to defend yourself.
Fixed-blade knives are more difficult to conceal but tend to be stronger than their folding-blade counterparts.
Folding-blade knives are far easier to conceal on your person, and it's simple to carry multiple knives as backup.
The downside is that you need to withdraw them like a fixed-blade knife, but you also need to open the darn thing.
Each one has advantages, but for what it's worth, I'm a folding-blade guy when it comes to self-defense.
#2 Type of Blade
Let's keep this one short too.
Blades designed for slashing are great when you've got room for these actions. If you're in tight quarters or have an assailant weighing down on it, a knife designed for stabbing is the superior choice.
Try to keep blade length short; I rarely carry anything longer than 2 ½" long. These blades are easier to conceal and won't make you overextend yourself on the attack or defense.
#3 Cost
Simple enough, you get what you pay for.
If you're buying a knife for self-defense, don't skimp. You want something reliable that you know you can trust.
Cost does not always equate to its quality, but it's a good idea to pick a middle-of-the-road price option.
#4 Utility
What if you need to use that knife for more than defending against bad guys?
Using it for everyday purposes is an excellent way to become familiar with the knife and how it handles and also lets you get more bang for your buck.
Our Selections – Fixed Blade
We've broken our reviews down into fixed and folding blade sections, check each out and consider what we've talked about above.
CRKT Folts Minimalist Bowie Neck Knife
Overall Length: 5″ | Blade Length: 2" | Weight: 1lb 9oz | Made In: China
---
I'm not big on buying something because it looks cool, but sometimes it's an added bonus to an otherwise smart and worthwhile purchase; that's the case with this CRKT knife.
It is designed to be worn around the neck, and its handle fits your grip perfectly. Once you grab hold of it, you won't wanna let it go.
The steel isn't the best quality, but the design and structure, and ease of sharpening make up for that drawback.
I especially like the groove on the back of the blade for your thumb; this knife stays in your hand, and you'll not worry about losing it.
Pros
Awesome grip if it fits your hand
Good overall size and a just-right blade length
Sold as neck knife but can be carried on the hip
Cons
Terrible grip if it doesn't fit your hand
Steel is reportedly "soft" and requires regular sharpening
Check On AmazonCheck On BladeHQ
---
Boker Magnum Spike Karambit
Overall Length: 8.5″ | Blade Length: 3.75" | Weight: 7.34oz | Made In: China
---
I'll start by saying that I am not a fan of these knife shapes and designs. I feel like it's something that should be on the shelf of a collector and not the hands of a serious self-defense-minded person.
That said, this blade is pretty exceptional.

The blade is way more sturdy than I expected it to be, and it's sharp as can be. I imagine it would do significant damage to an assailant, which is reason enough to reconsider adding it to your EDC collection.
The sheath is nice but is singularly focused in its design; you won't be able to modify it without a lot of rigging and improvising.
Pros
Great ergonomic feel to the grip
Sturdy sheath minimizes wear and tear
Steel spike on butt of blade can be used as a striking point
Cons
Unorthodox blade shape requires getting used to
Definitely grabs attention
Check On AmazonCheck On BladeHQ
---
Gerber LMF 2 Infantry Combat Blade
Overall Length: 10.59″ | Blade Length: 4.84" | Weight:11.55oz | Made In: USA
---
If the SHTF, there's one, and only one knife I would need at my side, and that's the Gerber LMF 2.
This is the best knife I've ever had my hands-on, and it's the perfect model for not only self-defense but just about any other purpose you need a knife for.
I'm biased on this one, and I'm not afraid to admit it. Pick this knife up and you will not regret it.
It's a bit larger to use for EDC, but it's a perfect blade for no-nonsense, straight-forward, my-life-depends-on-this action. Check the full review of the LMF 2.
Pros
Strong and sharp blade
Built-in sharpener on secure sheath
Grip is stellar
Multiple uses for the blade outside of self-defense
Cons
None; buy this knife
Just kidding; it's too large to use as an EDC and is limited to field and backpack use
Check On AmazonCheck On BladeHQ
Top Picks – Folding Blade
Zero Tolerance Assisted
Overall Length: 7.6″ | Blade Length: 3.25" | Weight: 6.2oz | Made In: USA
---
This bad boy has a hefty price point for a pocket knife, but I'll be damned if it's not the best pocket folding knife I've ever put my hands on.
The blade is incredibly sharp; be careful with this because it comes shaving-sharp right out of the box.
Opening the blade is a breeze, and it closes with equal ease and precision.
The blade is a nice length. Take my word for it and go with the carbon fiber handle over the titanium one.
That extra grip and tactile feel go a long way towards a comfortable, reliable blade, especially when it's wet.
Pros
Beautiful and very high-quality blade
Excellent handle with reversible clip
Super sharp right out of the box
Cons
Seriously, this thing is super sharp as soon as you get it, be careful!
On the pricey side of the spectrum
Its "deep carry" feature makes it more difficult to withdraw quickly
---
Kershaw Chive Assisted Opening
Overall Length: 4.8″ | Blade Length: 1.94" | Weight: 1.8oz | Made In: USA
---
A reliable brand of knives with an inviting price point, Kershaw tends to combine solid performance with a durable, quality product.
I love the thumb stud on this blade; I've handled them before and am always impressed with the responsiveness of the opening action.
The length of this knife's blade and overall size make it perfect for discretely carrying in your front pocket, where it is easy to draw.
The non-serrated blade is handy for self-defense, but it has more limited multi-purpose uses than a half-serrated blade.
Pros
Awesome as an EDC for anything you'd need a knife for
Super fast opening from the thumb stud
Reversible pocket clip
Cons
Can be difficult to open safely because of its small size
Not super sharp out of the box
Check On AmazonCheck On BladeHQ
---
Boker Tech-Tool
Overall Length: 6.5″ | Blade Length: 2.75" | Weight: 2.1oz | Made In: China
---
A no-nonsense knife is the knife for me, and this one by Boker gets right to the point.
It's got a simple and straight blade, but the best part of this Tech-Tool is its built-in glass breaker and reversible pocket clip.
That way, you can carry its blade tip up or down based on your preference.

It's lightweight and slim, just the design you want for stowing the blade somewhere safe and discrete.
Pros
Good quality knife with a built-in glass-breaker gives it added functionality
Great for EDC
Nice steel for the price
Cons
Manual opening is less than ideal when in a tight spot
---
Buck Momentum
Overall Length: 7.75″ | Blade Length: 3.25" | Weight: 4.15oz | Made In: USA
---
No knife roundup would be complete without an endorsement for a Buck knife. They're an icon where I grew up, and I admit my bias towards these knives wholeheartedly.
The Momentum is one I haven't used personally, but a friend has been using it for some time and boasts about the reliability and performance.

The blade length is about perfect, and it opens smoothly and efficiently. The rubber-coated aluminum handle offers exceptional grip, essential in defense scenarios.
For more info, check out our Buck Knives Guide.
Pros
Made in the USA
Great opening draw action
Sharp and good-quality blade
Cons
Not sharp out of the box
---