I'm picky about everything, from the chilies on my meal to the feel of the cuff of my sleeve, but nothing irks my sensibilities and tastes more than a poor-quality knife.
When you're in a pinch, a cheap one will do, but if you're expecting a blade to stand up to punishment and serve you reliably for years to come quality pays.
Recommended Reading: Best Survival Knife Guide
I've torn through my fair share of knives, fixed blade and not, and have only found two knives that I'd keep at my side in any situation. The one we're talking about today is the Gerber LMF II, a fixed-blade knife built to last through a trip to Hell and back again.
Specs and Buying Options
Blade Length: 5″ | Total Lengh: 11″ | Weight: 11.7oz

Primal Rating: 4.8\5.0
The knife is available at several retailers. Check the links below to compare prices.
---
If it's a weekend outing or an all-hands-on-deck SHTF scenario you're going to be happy you've got this knife at your side. You'll find some naysayers who pick at the specs of the Gerber LMF II on paper, but first-hand experience says this knife is built to last and to perform.
This is a review based on more than six or seven years experience with the LMF II.
Just Right, Right Out of the Box
I'd considered purchasing this knife for more than a year before I did. I like to think things through and make sure I'm actually ready before I dump any amount of cash on a single purchase.
Some folks would call me cheap, and they'd be right.
When I made it to the store and actually handled the LMF II I was instantly sold, and immediately regretted waiting so long to purchase it. It was really as simple as holding the knife to make that decision.
Handle and Blade Specs
The grip and handle are an awesome feel, a textured rubber and width that seemed like it was built for my mitt.
The LMF II is a hefty knife and weighs in at almost 12 ounces (23 with the sheath), but it's more of a reassuring weight than a cumbersome one.
The blade is sharp out of the box and durable. Its weight is robust and adds to the full feel of the thing, truly a solid piece of craftsmanship that guarantees reliability.
The blade is 420 steel, strong and almost full-tang (more on that later).
But enough about specs and details. You can read that crap anywhere. You're here to see a hands-on, tried-and-true review by somebody who has actually put this thing through the grinder.
Straight Into the Field
When I purchased the Gerber LMF II I was at a high point in my camping life. Every weekend was another trip out fueled by beer, an open sky, and the earth underneath my body.
I needed a knife that I could rely on for constant abuse, and that's what the LMF II has provided me. It's been useful for cutting rope and other material, has whittled more improvised ground pins than I can count, and has even been used to sharpen pencils when the situation demanded it.
The heavy weight of the blade and the perfect handgrip makes the blade perfect for wood chopping. Even with a hatchet nearby, I'd rather use the LMF II for chopping through wood.
It is relatively light weight compared to a hatchet, and the heavy, thick, and sharp blade chops like a beast.
Need to cut open a can of food? Use the LMF II.
Have a piece of firewood too large for the firepit? Bam, power, Gerber LMF II.
Cut after cut through rope and manmade materials? The LMF II is what you need.
These are all excellent endorsements for the knife by itself, but its situational uses are where it really shines.
Special Purposes
Most knives have a special note that says:
"Don't use as a hammer, or for any purpose beyond its intended use."
The Gerber LMF II seems like it was made to say "Get bent" to all of those others knives and practically invites the wielder to abuse the hell out of the thing. I know I've done that (repeatedly) and have almost definitely voided any and all warranties the knife was sold with.
The handle and base of the knife are made to be used as a hammer. Literally. When I was slumming it, I used this knife as a hammer for two years (the damage you see near this hammering cap is from banging nails into walls).
Although I've never tested it, the base of the handle is intended to be a glass breaker. Situational, sure, but that's incredibly useful in the right circumstances.
Lashing Point
The knife has a quirky bonus purpose; it features holes in the handle and the butt of the knife to be used as lashing points for a spear.
Now if I were in a survival situation, I'd think twice about using my primary knife as an easily lost and damaged spear, but hey… I've never needed to hunt a wild boar, so this feature can be life-saving in the right situation.
I have lashed the knife to use as a spear point purely for experimental purposes. It is a heavy knife and I've had dubious results with it, but that's no reason to say it wouldn't work in the right application.
Full Tang?
Its handle is not full-tang. Now hold on, don't turn back yet! There's a reason for that.
For practical purposes it is a full-tang knife, but maybe closer to ⅘ tang.
There's a purpose for this; the knife was built and designed to be used by United States Special Operators in wartime uses. The blade is strong enough (and designed for) cutting through power cords and similar constructs.
By removing that full tang the knife becomes safe to handle for these potentially life-threatening purposes. Suddenly that full tang ain't so worthwhile.

And the sheath? Well, man… that's an entirely different feature by itself.
Containing It All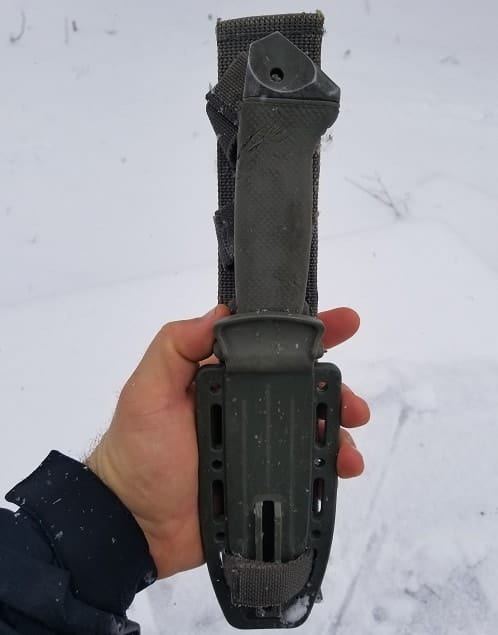 The Gerber LMF II was designed for US Special Operators, so the sheath is as much a work of art as the knife itself.
Besides the built in sharpener (it's good, I've sharpened kitchen knives successfully with it) the sheath has attachments designed for molle straps and an alice pack. It's built to be used by people parachuting into enemy territory, so the sheath holds the knife firmly in place.
Sometimes it's too firm of a grip. Removing the knife requires a firm grip and some effort. I saw an early YouTube reviewer who admitted he cut his hand on the knife while removing it from the sheath the first time, so I've been careful from day one.
You'll notice in my photographs that the snap closures intended to hold the handle to the sheath are simply neglected by me. The sheath holds the knife securely in place and locks it solidly into a stable position. It's so secure that it makes the snap closures overkill.

I've put the sheath through about as much hell as the knife itself and it has survived perfectly intact. There are a few minor stains, scratches, and burns, but all things considered it's in impeccable condition.
That is an excellent feature; a knife without a sheath is dangerous at the least. The LMF II comes with a sheath that's as functional, durable, and trustworthy as the knife itself.
This sheath is going to last your through thick and thin and remain at your side, knife safely secured.
What Else Makes the Gerber LMF II Worthwhile?
One of my paranoias is cutting open my hand on a knife blade while in the field.
The handle of the LMF II makes that a practical impossibility. It's a textured grip, wide and flat; it fits perfectly in the hand and the handguard is an appropriate size to prevent slippage.
The blade is partially serrated, but don't let that scare you away. On paper a plain straight edge is ideal, but the LMF II's serration has been incredibly useful. It's sharp and cuts through man made material like it's nobody's business.
Even with a built-in sharpener the blade hasn't required much care over the years. I've run it through the sharpener a handful of times and have never experienced a dull or ineffective performance.
In one camping session that knife has gone from chopping wood to sharpening pencils to opening cans of food to hammering in tent stakes to an unforgiving ground.

Worth Your Time and Your Money
The knife gets two thumbs up from me, and it'd get three if I had 'em.
I'm not an intentionally careless person with my gear, but I've tried abusing this knife repeatedly and have found minimal cosmetic damage over more than five years of regular use.
All it's going to take is for you to get a feel for how it sits in your hand, and you'll be hooked.
I guarantee it.
Specs and Buying Options
Blade Length: 5″ | Total Lengh: 11″ | Weight: 11.7oz
The knife is available at several retailers. Check the links below to compare prices.
---
All images © Primal Survivor. May not be reproduced without permission