A quiet generator provides vital power without busting your eardrums. The best one for you will depend on your energy needs, budget, and unique situation.
We've compared the decibel level of various products against their power output to determine just how quiet they really are. By examining other factors like cost, convenience, and efficiency, we've compiled a list of the five best quiet generators on the market.
Each product suits specific requirements, so read on to discover the best quiet generator for your needs.
Our Top Pick
Honda EU2200i Super Quiet Portable Inverter Generator
The Honda EU2200i is a whisper-quiet generator with an impressive power output that won't set you back a fortune. With mobile-control capabilities and a carbon monoxide protection system, the EU2200i is a safe and convenient way to meet your power needs.
Best Budget
Champion Power Equipment Portable Inverter Generator
The Champion 2500-Watt is a lightweight powerhouse that puts out efficient, steady energy at home or on the road. With numerous clean power outlets and convenient cost-saving features like Economy Mode, users can rest assured their Champion provides the biggest bang for the smallest buck.
Reviews of the Best Quiet Generators
1. Best Overall: Honda EU2200i
Max power: 2200 watts | Noise level: 48 dB | Fuel type: gasoline | Weight: 44 pounds
The Honda EU2200i is a capable yet quiet generator perfect for powering multiple appliances in close quarters.
The Honda EU2200i is the holy grail of quiet gas-powered generators. Starting at just 48 decibels (dB), this unit sounds like silk and honey compared to other standard generators. That's all thanks to Honda's patented Eco-Throttle technology, which automatically adjusts the engine's speed to match its power draw.
The legendary GXR120 Commercial Series engine helps a lot, too. It's a four-stroke engine rather than a two-stroke, so it fires just once and keeps noise levels to a minimum.
The EU2200i puts out 2200 surge watts and 1800 running watts, which should be enough to meet the energy needs of any RV or camp. It's also sufficient to run several home appliances simultaneously, like a fridge and a modest HVAC unit.
You can expect 8.1 hours of run time at 25% capacity on a full 0.95-gallon gas tank. The small fuel tank may irritate some people, but it's a very efficient option.
You also get a CO-minder feature that shuts the unit off if it detects excessive carbon monoxide, plus you can monitor and control everything remotely with a smartphone app. The EU2200i certainly tops the list in modern conveniences, and all these technological advancements fit inside a surprisingly small frame.
Weighing just 44 pounds, this unit is a beast wrapped in a neat little portable package. The only downside is that it can't power an entire full-sized residential home, but you're sacrificing that power for serenity.
It's also worth noting that the EU2200i is not a cheap generator. You'll pay a steeper up-front cost, but you should get at least a decade's use from this model.
Pros:
Extremely quiet
Smartphone controls
CO monitor/shutoff
Cons:
Not for whole house
Small fuel tank
---
2. Best Quiet Budget: Champion Power Equipment 200951
Max power: 2500 watts | Noise level: 53 dB | Fuel type: gasoline | Weight: 39 pounds
The Champion 200951 is a sturdy and surprisingly robust generator perfect for those on a budget.
True to its name, the Champion 200951 is a warrior delivering way more than you would expect for the price.
While it doesn't have the same bells and whistles as the Honda, the Champion makes up for its simplicity in pure power.
Putting out 2500 surge watts and 1850 running watts, this unit provides more energy at a fraction of the cost. It's also a quiet unit starting at just 53 dB, so you won't sacrifice your ears for the additional wattage.
The 1.1-gallon tank will run continuously for 11.5 hours at 25% capacity, and the Economy Mode setting will help offset fuel costs even more.
You can toggle the convenient eco-switch any time you aren't using that much power. Economy Mode allows the engine to idle when the draw is lower, reducing noise and power consumption at the same time.
Cool features on the Champion include USB ports, electric outlets, and a clip-on "parallel ready" kit.
The kit allows you to attach a second Champion to the first one for additional power needs. This may be a better and cheaper option than buying a larger generator, especially since the Champion weighs less than 40 pounds.
Transportation will never be an issue, but you won't get any smartphone control capabilities or CO monitoring—you'll need to keep an eye on emissions yourself.
Pros:
Efficient
Budget friendly
Powerful
Cons:
Not smartphone compatible
No CO monitor
---
3. Quiet Solar: Jackery Solar Explorer 1000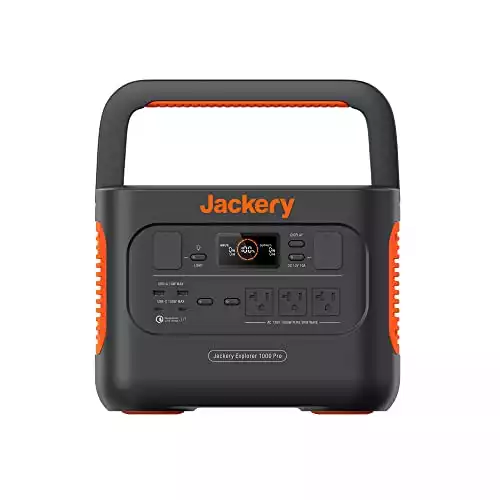 Max power: 2000 watts | Noise level: almost none | Fuel type: solar | Weight: 22.04 pounds
The Jackery 1000 generates near-silent solar power for campers, RVers, and industrious homesteaders.
The Jackery Solar Explorer 1000 is the king of silence. Since solar generators don't have an engine or any moving parts, they produce no noise except the gentle hum of the inverter.
They also utilize free energy from the sun, so you won't ever need to pay for fuel again. Like most people, I prefer not to pay for things. I also prefer not to hear annoying generator noises.
With all that said, why isn't the Jackery at the top of the list? It's clearly the quietest and most cost-effective in the long run.
However, the initial cost of buying this unit is very high. It won't be affordable for everyone. Additionally, it won't handle high-wattage appliances. With 2000 watts of surge power and 1000 watts of running power, it just can't meet the power needs of every camp.
If it does fit into your specifications, you'll be pleased to find that the Jackery is a solid piece of equipment.
It's an all-inclusive solar generator kit and portable power station that arrives ready to set up and use. It has USB, USB-C, regular outlets, and a car outlet for you to choose from. Depending on your needs, you can order it with one or two solar panels.
You'll need to wait 11 hours for a full charge on one panel, while two should charge the Jackery within 6.5 hours. However, that's assuming you have full sun.
If you don't have sun, you can charge your unit with a built-in car charger or wall outlet. Because you can simply charge it at home before going on a trip, the Jackery is a versatile and flexible choice for camping and RVs.
Pros:
Free energy
Panels included
Runs silently
Cons:
Expensive
Requires sunlight
Lower wattage
---
4. Quiet Dual-Fuel: Westinghouse iGen 4500DF
Max power: 4500 watts | Noise level: 52 dB| Fuel type: gasoline or propane | Weight: 104.7 pounds
The Westinghouse iGen runs quietly on gas or propane, generating enough energy for the whole camp.
Westinghouse is a trusted brand known for quality equipment, and the iGen 4500DF Generator is no exception. Its noise level starts at just 52 dB, so it's perfect for the garage or campground.
Since you can run it off both gas and propane, you'll never be out of luck in a fuel shortage. And with USB ports, regular wall outlets, and a 30-Amp RV-ready outlet, this puppy is convenient and versatile.
The Westinghouse outputs 4500 watts of surge power and 3700 running watts. That's enough to power a trailer, hunting camp, and many of your home's appliances in a power outage.
Like the Honda, this unit has a throttle control that automatically adjusts the power output to match the draw. This allows for incredible fuel efficiency, especially considering the wattage capacity.
You can run the 3.4-gallon gas tank continuously for 18 hours at 25% capacity, and the powerful four-stroke engine ensures a steady, stable, and quiet source of electricity.
Switching to propane is as easy as toggling a switch. You don't even need to turn the generator off. Plus, the unit comes with a hose and regulator for hooking up your tank.
Want to start your genny from afar? This one comes with a remote-start key fob. It also boasts an intuitive LED Data Center overview that monitors and displays fuel levels, voltage, and remaining run time. The Westinghouse isn't the cheapest unit available, but its capabilities match the price.
Pros:
Automatic throttle control
Large capacity
30-Amp outlet
Cons:
Heavy
Not smartphone compatible
---
5. Best Whole-House Backup: GENMAX 9000iE
Max power: 9000 watts | Noise level: 62 dB | Fuel type: gasoline | Weight: 259 pounds
The GENMAX 9000iE is the perfect generator for those wanting a whole-house backup without the deafening roar.
What if you need to power every single electric appliance you own at the same time? No judgment here. The GENMAX 9000iE is the unit for you. Delivering 9000 watts of surge power and 7600 watts of running power, this puppy provides enough energy to support the entire workings of a single-family residential home.
You might think a genny that powerful would create quite a commotion. And it is true that the GENMAX is louder than other units. However, compared to other units comparable in power output, the GENMAX is a purring kitten. Generators in this category generally start at around 67–69 dB, while the GENMAX starts at just 62 dB.
The low noise level isn't the only thing the GENMAX has going for it. Its 6.9-gallon tank will run for 10 hours at 50% capacity, so it's comparable in fuel efficiency to other units.
Plus, this puppy is packed with extra features. A CO detector provides automatic shutoff when CO levels get too high, while a key fob allows you to start it from a distance.
You have many outlet options, with four regular household GFCI outlets and two USB ports. There's a 30-amp and 50-amp outlet for all your home and RV needs.
A dual-voltage switch lets you change the voltage seamlessly from 120 to 230, and an easy-read control panel allows you to monitor everything in the unit. You can even put it into eco-mode with idle control to help maximize fuel efficiency when your power needs are lower.
Pros:
Whole-house power
CO monitor/shutoff
Dual voltage
Cons:
---
Quiet Generator Buyer's Guide
You don't want just any generator. You want a lean, mean power machine—without hearing it work. In the world of noise-conscious consumers, only two types of generators matter: inverter generators and solar generators. All the generators on this list fall into these two categories.
Once you narrow it down between the two options, you'll need to determine your power needs, fuel preferences, and all sorts of other minutiae.
Sound overwhelming?
Relax. I'm here to help with a dedicated buyer's guide, so strap in and get ready for a wild ride through the world of quiet generators.
Inverter Generator
Ok, so it isn't that wild. An inverter generator is similar to a regular generator, running an engine that powers an alternator to produce AC electricity. The main difference is that it converts the AC to DC power, then inverts that DC power back to AC with a microprocessor.
Why all those extra steps? The inverter stabilizes the power flow, making it safer and more reliable. It produces a steadier current suitable for powering sensitive devices like laptops and sound equipment.
But that's not all. The inverter also controls the throttle, making the engine more efficient. It powers up and down depending on the output needs instead of constantly running at total capacity and burning excessive fuel.
Why should you care? Besides being more efficient, throttle control makes an inverter generator much quieter. An engine gets louder the harder it works, so running it at a lower capacity reduces noise output. Add on the fact that many inverters have additional components, such as built-in mufflers, to minimize sound, and they're a prime choice.
Solar Generator
True to their name, solar generators get energy from the sun instead of an engine. They use solar panels to collect energy, storing it in a battery as DC power. Then, they run it through an inverter and convert it to AC power.
Since they don't use a motor, solar generators don't make any noise. You'll hear a light hum from the inverter, but that's about it.
Solar generators can be amazing. Since they produce minimal sound, they're the quietest generators. And as far as fuel efficiency goes, you can't get much better than free fuel forever. However, quietness can't be the only factor you consider when purchasing a generator. Your choice actually has to function, or else you've wasted your hard-earned cash.
Solar generators work well if you have a decent setup like the Jackery. But they're also more finicky, bulkier, and more challenging to move on the fly.
Since they rely on energy from the sun, you can't run them at night. You need to move them constantly to follow the sun, and cloudy days will put a damper on energy production. In fact, a solar generator's overall functionality is so dependent on the weather that specs for capacity and output may vary a lot in the field.
The choice is yours. Both options can be good, but solar generators are more of a gamble.
If you're buying for an emergency scenario or you live in cloudy climes, a gas or propane generator might be a better option because you know it will run as long as you have fuel.
If you're planning a sunny weekend camping trip or live in the tropics, a solar generator could be better for you.
Factors to Consider When Buying a Quiet Generator
Engine Type
Those looking for low-noise generators should choose one with a four-stroke engine.
A four-stroke engine is quieter than a two-stroke because it goes through four different stages to complete one power stroke, while a two-stroke engine goes through just two.
That means a four-stroke takes twice as long as a two-stroke to complete a single powering cycle. And since most sound is generated on the power stroke, the four-stroke produces half the noise.
Four-stroke engines also have design components that minimize noise, like exhaust valves and restricted exhaust systems. They run on fewer RPMs and idle much smoother, making them even quieter.
Of course, the flip side is that they can't produce as much raw power as two-stroke engines—but for sound reduction, they're the better option by a mile.
Decibel Level
Regular generators produce between 50 and 100 dB of sound. The range is so wide because there are many different types of generators, and they all have varying power capacities.
Inverter generators, like the ones on this list, produce up to 70 dB, but those considered "quiet" usually fall below 60 dB.
There is no industry standard for maximum dB on a quiet generator, so it's important to examine your specific unit to see how loud it will actually be.
All you need to do is look up its decibel level on the specs page. You'll usually see a decibel range rather than one number for a specific unit. The low end of the spectrum represents the dB with the generator running at lower capacity, while the high end represents the generator running at total capacity.
Keep in mind that on this list, all the dB ratings represent generators running at a 25% "starting" capacity.
As your load increases, so do the decibels.
But how do those numbers translate into sound? A typical conversation is held at 60–70 dB, while a vacuum cleaner runs at 75–85 dB. You can check out Yale's decibel level chart for more comparisons.
Get an idea of different decibel levels by comparing the numbers to sounds you hear often.
It's important to note that manufacturers usually determine a generator's dB range by measuring the sound level from 23 feet away.
If your generator is inside your RV right next to you, it will sound louder than its listed dB level.
If you're using the generator at night or close range, buying a quieter model is crucial for your comfort. You can also take steps to quiet your generator, like using a sound deflector or silencer.
Power Capacity
Generators that produce more electricity make more noise. There's no getting around that fact, so it's essential to calculate your power needs correctly when buying a quiet generator.
If you buy one too small, you won't get the power you need. If you buy one too large, you'll have to listen to unnecessary generator noises.
Pro tip: If you want to reduce the noise level, consider running your appliances at alternating times so you can buy a smaller generator.
Fuel Type
There's a lot of debate in the world of quiet generators about gas vs. propane to reduce noise.
So, which one is quieter? Neither.
Solar generators are the quietest. After that, it depends on the specific unit. I've heard a lot of rumors that propane is quieter, but that isn't really true.
A gas or propane generator's decibel level is affected mainly by engine design, not fuel type. If you're worried about the fuel type, buy a dual-fuel generator like the Westinghouse that can run on both gas and propane.
All the models on this list run on gas, gas and propane, or solar. That's because these specific models have the lowest sound rating.
However, there are units available that run on other fuel types. You can get dedicated propane generators if you can't source gas. You can even get diesel generators, but they tend to be much louder.
Fuel Efficiency
Fuel efficiency will reduce your energy costs over time. Solar power wins again here because of free energy, but what about propane- versus gas-powered units?
Gas-powered units are usually more efficient than propane because they contain around 124,000 BTUs of heat energy compared to propane's 91,330 BTUs. A single gallon of gasoline can produce 36.34 kilowatt hours of electricity and run for approximately 11 hours. Meanwhile, a gallon of propane produces 26.77 kilowatt hours of electricity and runs for around nine hours.
These numbers assume perfect engine design, but it's safe to say that gas engines will always be at least slightly more efficient. However, be warned that fuel efficiency doesn't equate to quietness. Diesel is the most fuel-efficient of all, containing 139,000 BTUs of heat energy. But it's also the loudest.
The point here is to read through the specifications of your distinct unit. Being a responsible generator owner and not unnecessarily running your unit will enhance fuel efficiency, as will keeping the unit clean and serviced properly.
Budget
Unless you're rolling in dough, you might not be able to afford the quietest and most modern generator on the market. But even on a strict budget, you're better off spending cash upfront for a new generator than buying an older model.
Generators become more streamlined with each new generation, so a newer one will usually be quieter and more efficient than an older one with similar stats. You can always buy a budget option like the Champion to make the purchase more economical. Read more about the best place to buy a generator.
Wrapping Up
Regardless of your power needs or budget, there's a generator for you on this list. Those looking for a quiet genny backed by a big-name brand will be thrilled with the Honda EU2200i's quiet operation.
Those on the hunt for a budget option will be surprised at the power and efficiency of the Champion 200951.