Dual fuel generators give you the benefits of propane (cleaner burning, better in cold weather) with the convenience of gasoline. In a disaster situation when fuel is scarce, this flexibility could mean the difference between keeping your home running and sitting in the dark.
Dual fuel generators are heavier and more expensive than their gas-only equivalents, but in our opinion, when it comes to prepping, the benefits outweigh the costs.
Read on to find out which generator is the best dual fuel generator for you.
Our best buy is a great all rounder; powerful, well featured and comes in at a reasonable price.Amazon
Best Dual Fuel Generator Reviews
Best Dual Fuel Generator: Westinghouse WGen 7500DF
Max power: 9500W/8550W
Continuous power: 7500W/6750W
Runtime: 11 hours (50% load – gas)
Weight: 192 lbs

The Westinghouse WGen dual-fuel generator is designed to keep household essentials running.
It's powerful enough to keep large appliances, lights and electronics on, as well as a water heater or air conditioning unit, and it can be connected to a transfer switch for ease of use.
Check Prices on Amazon


With a run time of up to up to 16 hours at 25 percent load or 11 hours at 50 percent load, you won't have to keep filling the 6.6-gallon tank. You can also switch fuel sources without powering down the generator — handy if you're in the middle of cooking dinner.
The generator comes with a key fob that you can use to switch it on and off remotely. In addition to the electric start, you can also start it up using a traditional recoil cord.
When operating on gas it produces 73 dBA of noise which is pretty standard for a generator of this size.
It's on the heavy side but the wheels and handle make it movable on hard surfaces at least. Westinghouse offers a 3-year guarantee and national customer support, but reviews of their customer service are mixed.
Pros
Good run time
Remote start option
Excellent value
3-year service, labor and parts coverage
Cons
Heavy
Mixed experiences of customer service
---
Best Value Dual Fuel Generator: Pulsar G65BN-A
Max power: 6500W/5800W
Continuous power: 5500W/4900W
Runtime: 11.5 hours (50% load – gas)
Weight: 142 lbs

The Pulsar G65N-A gives great bang for your buck with 5500W of continuous power and an 11-hour run time on gas.
There are cheaper dual fuel generators, but they have significantly lower power ratings. The Pulsar generates enough power for most households unless you're wanting to run air-con or power-hungry heating systems.
Check Prices on Walmart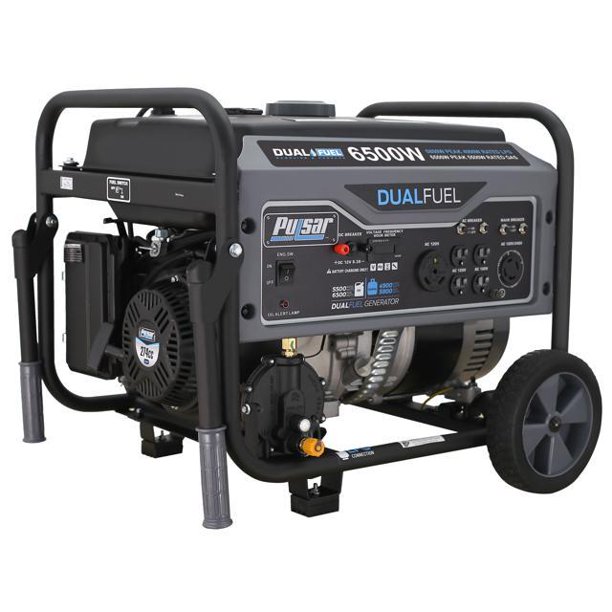 The control panel has a handy 3-in-1 meter that displays voltage, frequency and lifetime hours, and there's an indicator light that illuminates when the oil gets too low.
There are six AC outlets, including a twist-lock L14-30R receptacle that you can attach to a transfer switch in your home. However, there's no DC outlet.
The generator is of average weight but is a little noisier than other generators of its size (78 dBA). The one thing it's missing is an electric start — there's only a recoil cord.
Pros
Excellent value for money
Enough power for most households
Status and activity meter
Cons
No electric start
No DC outlet
---
Most User Friendly: Champion 7500 Watt
Max power: 9375W/8400W
Continuous power: 7500W/6750W Weight: 202 lbs
Runtime: 8 hours (50% load – gasoline), 5.5 hours (50% load – propane)
The Champion 100165 gets our top pick for being user-friendly. With clear, simple instructions, it's easy to set up even if you've never used a generator before.
It also features an "Intelligauge", which tracks voltage, hertz and run-time hours, so you know when maintenance is required.
Check Prices on Amazon

It offers a similar power output to the Westinghouse, though the runtime is significantly shorter, due in part to the smaller fuel tank.
Despite the smaller tank, the Champion is 10 pounds heavier than the Westinghouse, though admittedly, that's splitting hairs when you're talking about a 200-pound hunk of metal.
The wheels are of better quality than other models and despite the weight, it's relatively easy to maneuver.
In terms of price, we'd class it as a mid-range generator — pricier than budget options but far below Honda-level prices. (Also, Honda doesn't manufacture a dual fuel generator.)
In our opinion, the Champion's reliability and ease of use make it worth the extra bucks.
Pros
Excellent performance
Easy to set up
Control panel tracks power output and maintenance intervals
Relatively easy to maneuver
Cons
Run time shorter than other models
Expensive
---
Best for Heavy Use: Rainier R12000DF
Max power: 12000W/10800W
Continuous power: 9500W/8550W Weight: 196 lbs
Runtime: 17 hours (25% load – gas), 12 hours (50% load – gas)
If you don't want to compromise on power then the Rainier R12000DF might be the best dual fuel generator to keep your home running at full throttle.
It delivers 9500W of continuous power when run on gas and 8550W when run on propane — enough to ensure you don't have to compromise on comfort when the mains power goes out.
Check Prices on Amazon

In addition to the usual 20 and 30-amp outlets, there's also a 50-amp outlet for heavy-duty use. To make the most of what this generator offers, it's worth having a transfer switch installed so you can plug it directly into your home.
The Rainier has one of the longest runtimes for a dual fuel generator, which we felt gave it an edge over its competitor, the DuroMax XP12000EH, which is another 12000W generator at a similar price point.
On the downside, there have been some negative reports regarding Rainier's honoring of their warranty. This covers parts but not labor or shipping so you may be left to fix it yourself.
If you're an experienced generator user this may not be an issue, but if you want the peace of mind of a solid warranty, you may be better off with the Champion 100165.
Pros
High power output
Long run time
20, 30 and 50-amp outlets
Good value
Cons
Poor warranty
Heavy
---
Best Dual Fuel Inverter Generator: Champion 3500W Portable Inverter Generator
Max power: 3500W
Continuous power: 3200W
Weight: 95 lbs
Runtime: 7.5 hours (25% load – gas), 14.5 hours (25% load – propane)
If having a quiet generator is your priority then you want to buy an inverter generator. The Champion 3500W inverter generator produces just 59 dBA of noise, making it a good option if you have close neighbors or want to keep a low profile.
Check Prices on Camping World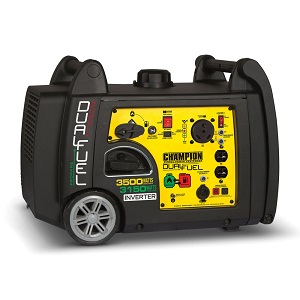 Another advantage of inverter generators is that they produce a more stable current, making it a safer option for electronic devices that are sensitive to power surges.
This is a much smaller generator than the others we've reviewed, so don't expect it to power everything in your house. If you want something to power your refrigerator, television, lights and some small electronics then the Champion should be sufficient.
There's also the option to connect two of the Champion inverter generators using a parallel kit, but this works out very expensive compared to the conventional dual fuel generators we've reviewed.
The generator is easy to set up and has an electric start switch. At under 100 pounds, it weighs a lot less than most dual fuel generators so might be a good option if you live on your own or want to move it between locations.
Pros
Quieter than conventional generators
Stable current for sensitive electronics
Energy efficient
Relatively lightweight
Possible to link units for more power
Cons
Expensive
Not as powerful as conventional generators
---
Why Buy a Dual Fuel Generator?
For preppers, dual fuel generators have several advantages over generators that run on gas or diesel.
Number one is flexibility.
You can run them on gasoline or propane depending on what you have available and your priorities. For example, you may use gasoline as your fuel source day to day but switch to propane when you want it to run more quietly.
Propane burns cleaner than gasoline, meaning that the engine will require less maintenance. It's also quieter, works better in extreme cold and as propane doesn't degrade over time, you can store the fuel for longer.
However, in a disaster situation, it may be harder to find propane than gasoline. Having the option to use both fuel sources increases your chances of being able to keep your generator running and power your house.
What about the downsides?
Well, dual fuel generators tend to be larger and less portable than a generator that runs only on gas. They're also more expensive, so if budget is a primary concern, you may want to stick with a basic gas generator.
What to Consider When Buying a Dual Fuel Generator
Power Output
Generator power output is measured in watts and there are two power figures you need to know — the continuous power output rating and the peak power output.
The continuous power figure tells you how much power you can draw when running appliances. However, many appliances need a boost in power when starting up. The peak power output allows for this temporary additional draw on the generator.
Read more about what size generator do I need? also see how much propane will my generator use.
You're unlikely to have a generator large enough to power everything in your home, so you'll need to prioritize. There's also a trade-off between power and portability.
If you need to be able to transport the generator, for example, between your home and a Bug Out Location, then you may have to compromise on what you'll be able to run off it.
You'll get a lower power output when running a generator on propane. If a manufacturer of a dual fuel generator gives just one set of power output figures, this is likely to be the output when running on gasoline. You may need to dig a little deeper to find out the figures for propane.
Tank Capacity
The tank on your generator is for gasoline only. To run it on propane, you'll need to link your generator to a propane canister with a hose and regulator. Most dual fuel generators come with this provided, but it's worth double-checking the length if you want to site your generator more than a couple of feet from the propane tank.
The larger the gas tank on the generator, the longer it'll be able to run. Higher powered generators typically have larger tanks, but this makes the generator bigger and heavier.
Start Mechanism
Smaller generators and older models require you to yank on a recoil cord to start the engine. This requires a bit of technique and muscle power.
Many dual fuel generators have an electric start button which makes the generator much easier to start. However, the downside is that this relies on an internal battery. If the battery is flat, you won't be able to start the generator.
For a balance of convenience and resilience, look for a generator that has both start mechanisms.
Size and Weight
Although the generators we've reviewed in this article are classed as "portable", this doesn't mean they're easy to transport.
Most weigh between 100 to 250 pounds and require at least two people to lift one into a truck or car. If you want to be able to travel with your generator, you'll also need to check the dimensions to make sure it'll fit in your vehicle.
Dual fuel generators usually come with wheels to make it easier to maneuver into position. However, bear in mind that if you're trying to move a generator over soft ground, heavier generators are more likely to sink in, leaving you quite literally, stuck in the mud.
Operating Noise
There's no such thing as a silent generator, but some are noisier than others. One of the advantages of dual fuel generators is that you can run them on propane which is quieter than gasoline.
Noise might not be a consideration for you, but if you have neighbors close by or are worried that generator noise might attract unwanted attention in a post-disaster situation, then the decibel rating of your generator may be high up your priority list. If this is the case then a small inverter generator might be your best option.
Alternatively, read here for some options on how to quiet a generator.
Related Reading
Check out these articles for more about your various generator options: