Generators are the first thing that springs to mind when it comes to backup power for power outages and disaster situations. But a gas-powered generator isn't always the best option.
They're noisy, you have to source and store fuel, and they can only be used outdoors.
Indoor generators – also called portable power stations – offer a practical alternative for preppers living in apartments and condos. They don't require gas or emit fumes, they can safely be used indoors, and most can be recharged using solar panels.
A generator is likely one of the most significant purchases you add to your prepping kit, so you want to ensure you're investing your money wisely.
Here we review the best indoor generators and discuss what to consider when working out which option is best for you.
Our Top Pick
EF ECOFLOW DELTA 1300Wh
Outstanding features, good battery capacity, and super-fast charging at a reasonable price.
Top 5 Indoor Generators and Power Banks
Best Indoor Generator: EcoFlow Delta 1300
Max power – 3,300W
Continuous power – 1,800W
Battery capacity – 1,260Wh
Weight – 30.9 lbs
The EcoFlow Delta 1300 is a sleek, stylish power station capable of charging 13 devices simultaneously. It hits the mid-price point for indoor generators but far exceeds its competitors in terms of value for money.
The Delta 1300's big selling point is its fast charging time. Rapid-charge technology takes just 1.7 hours to fully charge from the mains – 10 times faster than most other power stations.
EcoFlow claims it can be charged using solar panels in four hours, though given this is for "perfect" conditions, it's reasonable to expect it'll take a little longer.
As it holds its charge for up to a year, this is an excellent option if you don't want to worry about charging batteries every month. (Though we'd recommend checking it more than once yearly to be on the safe side!)
This indoor generator is packed with charging ports, including six AC outlets and two USB-C ports. At nearly 31 pounds, you won't want to carry it far, but it is significantly lighter than comparable power stations.
The Delta 1300 delivers 1,800W of continuous power with a huge surge capacity of 3,300W – great for starting up high-powered appliances or tools. The 1,260Wh capacity is less than half that of the Yeti 3000, but given the fast charging capability, lighter design, and reasonable price, the EcoFlow Delta 1300 beats it to the top spot on our list.
Pros
High power output
Rapid charging
Excellent value for money
1-year shelf life
13 charging ports
Cons
Noisy
---
Best for Heavy Users: Goal Zero Yeti 3000X
Max power – 3,000W
Continuous power – 1,500W
Battery capacity – 3,032Wh
Weight – 68.78 lbs
While most of the power banks we've reviewed will keep your smartphone and laptop powered up, if you want to power larger appliances such as a fridge or heater, you need the Goal Zero Yeti 3000X.
The battery delivers over 3000Wh of power, enough to charge a standard fridge for 50 hours or recharge a laptop more than 60 times. With ten charging ports, including a USB-C port, it will easily charge multiple devices simultaneously.
The Yeti 3000X is designed to integrate with Goal Zero's portable solar panels with an inbuilt solar charging optimization module that reduces charging time by 40%.
As you might expect, this level of power comes at a cost. The Yeti 3000 is not cheap, and at 68 pounds, it's too heavy to be considered portable (though you do get a roll cart to help move it around).
The generous surge capacity helps start up power-hungry appliances, but the continuous power rating is less than the EcoFlow and Nexus at 1,500W.
If you want a genuine off-grid system to keep essentials powered at home or a Bug Out Location, the Yeti 3000, in combination with solar panels, is your most reliable option.
Pros
Powerful generator with long battery life
Optimized for solar charging
Lots of options for charging devices
Wifi connectivity
Cons
Heavy and limited portability
Expensive
---
Best Portable Indoor Generator: Jackery Explorer 1000
Max power – 2,000W
Continuous power – 1,000W
Battery capacity – 1,002Wh
Weight – 22 lbs
You're not likely to carry a generator if you're escaping a disaster on foot. Still, it may be a consideration if you're evacuating your home in a vehicle.
Lighter power stations are also easy to move around inside your home, particularly if you live alone or struggle to lift heavy objects.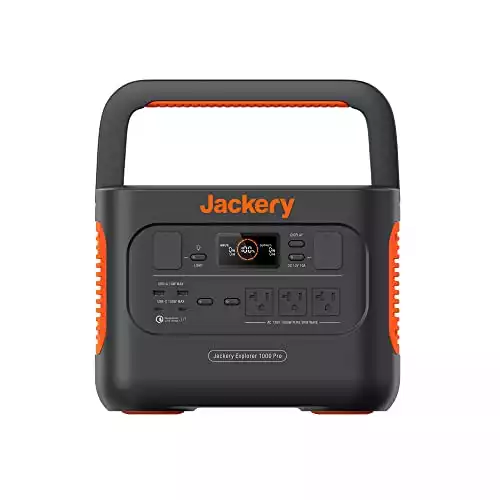 At 22 pounds, the Jackery Explorer 1000 is light enough to lift into your car trunk or carry up and downstairs. The 1,002Wh battery gives enough juice to charge an average laptop about 11 times or power a small cooler or fridge.
The 1,000W power output will be sufficient for most electronics and small appliances, but it'll struggle with microwaves, heaters, or larger appliances. The power station has three AC outputs, plus two USB-C and one quick charge USB port, which is more than sufficient given the maximum power output.
Like the Delta 1300 and Yeti stations, the Explorer 100 is equipped with MPPT technology for faster solar charging. It can also be charged in around seven hours from an AC outlet and fourteen hours from a 12V car cigarette lighter.
The Jackery Explorer 1000 is a direct competitor to Goal Zero's Yeti 1000 power station. The Yeti 1000 has a slightly better battery and significantly higher power output (1,500W with a surge capacity of 3,000W), but given it weighs almost twice as much as the Explorer 1000, it can't be considered a portable unit.
Pros
Lightweight
Good power output for its size
Optimized for solar charging
Great value
Robust design
Cons
Not powerful enough for high-wattage appliances
---
Best for Short-Term Power Outages: Ego Power+ Nexus
Max power – 3,000W
Continuous power – 2,000W
Battery capacity – 840Wh
Weight – 30.2 lbs + batteries
At first glance, the Ego Power+ Nexus looks like an excellent buy. It delivers more power than the Yeti 3000 at around a third of the price. It's also weather-resistant, so it can be used outside, and it's significantly lighter than the Yeti 3000.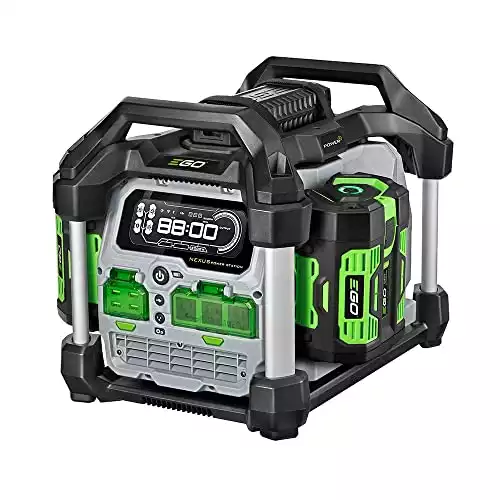 Unfortunately, there are two significant downsides to the Nexus.
The first is the low battery capacity. Although the batteries are good quality, they're low capacity. Even if you purchase two additional batteries to boost the capacity, this will only give you a maximum capacity of 30Ah or 1,680Wh of power. If you're using the high power output, you will burn through this pretty quickly.
The other big problem with using this as a long-term power source is that it can't be recharged using solar panels. Once you've drained the batteries, you'll have to wait until mains power comes back or have a gas generator on standby.
The Ego Power+ Nexus is a great choice to keep your fridge, freezer, or TV running during a short-term power outage. Unfortunately, the lack of charging options makes it less suitable for disaster situations.
Pros
High power output
Relatively low cost
Can be used outside
Good weight-to-power ratio
Cons
Low battery capacity
No solar charging capability
---
Best Budget Generator: Jackery Explorer 500
Max power – 1,000W
Continuous power – 500W
Battery capacity – 518Wh
Weight – 13.3 lbs
The Jackery Explorer 500 is not designed to power an apartment full of appliances for days.
But it offers excellent value for money if you're on a budget or want a portable power station to charge your phone and other electronics.
The 518Wh battery can charge an average laptop seven times or recharge your phone more than 50 times. You can also use it to power a mini cooler, a 60W television, or a CPAP machine.
If you're sensible about power use, then the Explorer 500 will give you enough power for a few days of moderate use (e.g., powering a CPAP machine overnight and a cooler box and phones during the day) or a week's light usage.
It doesn't have a fast-charging module, so it'll take around 14 hours to fully recharge the power station from a solar panel in full sun (eight hours from an AC outlet).
As well as being a great emergency power source for those on a budget, the Explorer 500 would also work well as a secondary indoor generator for charging electronics if you're using a high-powered unit such as the Delta 1300 or Yeti 3000 for larger appliances. As it's lightweight and compact, you can take it with you if you have to evacuate your home unexpectedly.
Pros
Excellent budget option for light-moderate use
Lightweight and portable
Can be used outdoors
Cons
Comparatively slow charging
Low capacity
---
What to Consider When Buying an Indoor Generator
Indoor Generators vs. Outdoor Generators
Indoor generators typically cost more than a standard gas-powered generator, particularly if you need solar panels to charge them.
Their capacity is also more limited, so you'll have to buy multiple units or manage your power expectations.
However, they do have many advantages:
They can be used in apartments and condos where an outdoor generator isn't an option.
They can be used in all weather conditions (some outdoor generators can't be used in extreme weather conditions).
You don't have to store or obtain fuel.
They're quiet to operate – suitable for nighttime and if you don't want to draw attention to yourself.
You can move the power station to where you need power supplied.
How Much Power Do You Need?
You're unlikely to meet your normal power requirements for your entire apartment or house with a portable generator.
A good starting point is to calculate how much power you use on a day-to-day basis, then work out how much of that is essential and how much is optional or can be rotated (e.g., you don't need to leave your laptop on charge all day if you're conserving power).
To calculate your power requirements, walk around your home and list everything you need or want to power. This may include:
Refrigerator
Lighting
Sump pump
Laptops and electronic devices
Radio equipment
Mobile phones
Portable heaters
Medical equipment, such as a CPAP machine
Induction plate for cooking
Once you have your list, determine what wattage each item requires. You can find this out by checking the appliance labels. (Alternatively, have a look at our easy-to-use generator wattage calculator)
An average-size home uses 5-7,000 watts of power for essential items. The Yeti 3000 is one of the most powerful indoor generators on the market and delivers just over 3,000Wh of power, so you'll have to prioritize.
Alternatively, you may choose to have a couple of generators, one to run kitchen essentials and a second for charging phones, laptops, and other portable equipment.
Power and Battery Size
Along with budget, power output is likely to be your primary consideration when buying a portable power station.
The power output (measured in watts) and the battery capacity (measured in Wh or Ah) will help you determine what devices or appliances you can run off your power station and for how long.
Some indoor generators, such as Goal Zero's Yeti range, allow you to link additional batteries to the main unit to give a larger total output.
Budget
Generators do not come cheap. While we often recommend that you buy the best survival products you can afford, an indoor generator is a big purchase, and you may not be able to afford one large enough to power everything you need.
If that's the case, you have two options: up your budget or figure out a way to reduce your usage.
Charging options
Although indoor generators don't require gas, you still need a way of charging the internal battery. The easiest way is using mains electricity, but once the initial charge runs low, you may need an off-grid method of recharging it.
The most reliable (and common) charging method is to connect your power pack to a large solar panel. You can also charge some smaller power packs by plugging them into the cigarette lighter socket in your car. Just make sure you run your engine now and then so you don't drain your car battery.
Charging ports
You'll want to check that the generator you're looking at has the correct charging ports for the devices you need to power. More isn't always better, as most generators won't have enough power to charge many things simultaneously.
At a minimum, you're likely to want at least one AC power outlet and a couple of USB ports for charging smaller devices.
Portability
Do you want to be able to move your generator easily around the house or take it with you if you have to evacuate?
Portability can be an advantage, but there's a trade-off between portability and power.
If you can afford it, it may be worth investing in a large generator that meets most of your power requirements and a smaller, portable one that you can take with you.
Inverter
An inverter converts direct current (DC) to alternating current (AC). You want a power bank with a pure (or "true") sine wave inverter. This means that the power supply is safe for electric devices.
Cheaper power banks may use a modified sine wave which is less efficient.
All power stations featured in this article have pure sine wave power.
Related