Footwear is one of the most underrated pieces of survival gear, but having a good pair of survival boots could mean the difference between life and death.
In an emergency, you may have to move fast over rough ground to evacuate an area. And if medical services are compromised, a rusty nail in your foot could spell disaster both for you and anyone who may be relying on you to survive.
So how do you choose the right boots to keep your feet safe and dry in all eventualities without giving you blisters? Our buyer's guide covers everything you need to know to find the right pair of boots for you.
But first, here's our round-up of the best survival boots for every terrain and climate.
Top Pick
Danner Men's Vicious 8 Inch NMT Work Boot
The one boot to rule them all – these boots will keep your feet safe, warm and dry in any disaster situation.
Best for Women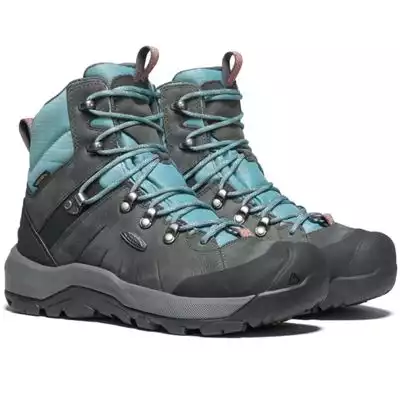 Women's Mid Winter Hiking Boots - Revel IV
An impressively comfortable, versatile, and durable boot. Ideal for year-round wear in various outdoor conditions. With excellent traction, superior protection, and a lightweight design, these boots stand out as a top-performing all-purpose option.
Best Survival Boots Reviewed
Best Survival Boots: Danner Vicious Work Boots
Finding a boot that has the right balance of comfort, safety, support and waterproofing for an all-around survival boot is surprisingly difficult, but the Danner Vicious boots are about as close as you can get.
What this means in practice is a boot that offers protection from urban hazards while being comfortable enough for hiking. Danner boots are renowned for being a quality brand.
You can be confident that your boots will last for years – even in the worst conditions.
Designed to be a "non-traditional" safety boot, the Vicious has a composite safety toe that keeps your toes safe while making the boot lighter than most other work boots. Danner has also prioritized comfort, with an ergonomic fit and cushioned footbed, and added a waterproof Gore-Tex membrane.
Pros
Durable and long-lasting
Lightweight
Safety toe
Comfortable
Cons
---
Best for Hiking: Salomon Forces Quest Gore-Tex Boots
These cushioned, waterproof hiking boots are designed for long days on the trail, making them a good choice if you're going to be hiking to your Bug Out location.
They're a synthetic boot, with a Gore-Tex layer and a grippy rubber sole suitable for almost any type of terrain. The boots provide a decent amount of ankle support, though they don't come up as high as other styles of survival boot. They should be easy to break in and lighter than leather hiking boots.
Some users have reported issues with the lace locking eyelets coming loose, so make sure you check yours are firmly attached before the return period expires.
Pros
Comfortable for hiking long distances or wearing day after day
Good ankle support
Waterproof
Sole grippy across different types of terrain
Cons
Quality control issues with lace eyelets
Limited foot protection from urban hazards
---
Best Hunting Boots: Rocky Snakeproof Hunting Boot
If you live in an area frequented by snakes or are likely to encounter them in the wild, then snake protection is likely to be high up your priority list.
The Rocky Hunting Boots are a high-legged survival boot offering 16 inches of snakeproof protection. They're waterproof and – for hunting boots – fairly lightweight, though they don't offer much in the way of insulation so treat them as a warm weather boot.
The lace system takes a bit of adjusting to get a snug fit around the ankle but the boots don't need much breaking in and are comfortable. They're a men's boot but sizes are adaptable for women.
Pros
Protects your legs from snakes and vegetation
Sole provides good traction
Waterproof
Cons
May not be comfortable if hiking long distances
Uninsulated
---
Best Military Survival Boots: Garmont T8 Bifida Tactical Military
While many military boots are primarily designed for hot weather and desert environments, the Garmont T8 boot performs well across all terrains. The Vibram sole is grippy on mud and rock and the upper provides reasonable ankle support.
Check Prices on Amazon
The footbed and cushioned insole are designed to support your foot even when carrying a backpack. If you prefer a more cushioned or bespoke feel, you may want to add your own insoles, but let's face it, military packs are much heavier than your Bug Out Bag should be!
They do a reasonable job of keeping water out but aren't fully waterproof and can take a while to dry if they get wet. If you're concerned about this, then you can treat the boots with a waterproofing spray.
These aren't the lightest combat boots on the market, but they offer an excellent compromise between weight, durability and comfort.
Pros
Durable
Excellent breathability
Grippy sole
Cons
Expensive
Not fully waterproof
---
Best Winter Survival Boots: Baffin Wolf Snow Boot
If your winters typically consist of three feet of snow for four months, you're going to need more than one pair of survival boots. The Baffin Wolfs are a relatively lightweight winter boot rated down to -40 F.
The boots have a different construction to the others we've reviewed, consisting of a molded sole with a removable foam inner boot. They're easier than you might expect to walk in, but they're primarily designed for warmth – not long hikes.
While laces are generally the most reliable fastening system for survival boots, winter boots are a bit of an exception. Laces freeze easily and can be a hassle to tie and untie in cold conditions when you don't want to take your gloves off. The buckles on the Wolfs make the boots easy to slip on and off and adjust.
Pros
Extremely warm
Waterproof
Easy to get on and off
Good grip on snow and ice
Cons
Not great for hiking long distances
---
Best Women's Survival Boots: Keen Revel IV Polar Boots
The Keen Revel IV Polar Boots are a comfortable and versatile all-season boot. Excellent traction, superior protection, and a lightweight build, make them perfect for year-round wear.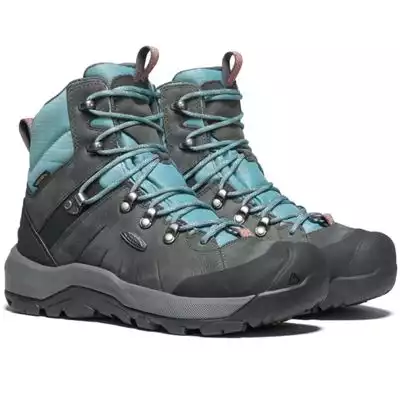 The build quality and materials are top-notch, with the upper boot consisting of tough Nylon, waterproof leather, and high-performance Ripstop mesh to create an impenetrable barrier around the feet.
The insulation, made from recycled plastic bottles, keeps feet warm in temperatures well below freezing, while the KEEN.DRY technology ensures that feet stay dry in all conditions.
Inside the boots, there's a Thermal Shield Insole lined with a layer of wool for added comfort, as well as a heat-reflecting trapolator. The midsole is crafted from ethylene-vinyl acetate (EVA) foam, providing superior shock absorption and comfort. The KEEN.Polar Traction outsole offers excellent grip on slippery surfaces, thanks to its fiberglass cleats.
Despite the many advantages, there are a few drawbacks to consider. The low mid-foot outsole may make attaching gaiters more difficult, and the absence of a steel toe could be a concern for some users.
Read our full Keen Revel IV Polar Boots review.
Pros
Warm
Durable
Comfortable
All-purpose
Excellent traction
Cons
Low mid-foot outsole
Expensive
No steel toe
---
Best Women's Winter Survival Boots: Pajar Women's Galaxia Snow Boot
These aren't as warm as the Baffin Wolfs – if you get really cold feet, you may be better off looking at a men's boot – but they're rated down to -25 F and will do a good job of keeping your feet warm and dry in most winter conditions.
The fit is quite snug, so you may need to order a size up to fit a warm pair of socks inside. They also suit women with slimmer calves – as with most leg boots, there's never one style to suit everyone!
Pros
Warm
Waterproof
Comfortable to walk in
Cons
---
What to Consider When Buying Survival Boots
What Fits Your Foot
This is your primary consideration. Whatever boots we, Bear Grylls, or the guy at the gas station recommend, they'll do you no good if they don't fit your feet.
The ONLY way to know this is to try on your boots and break them in around the house (so you can send them back if they start to rub).
Once you think you've got a good pair, don't pack them away with your Bug Out Bag. Wear them day after day. Hike through mud and streams and stony paths and sand. Test them to destruction.
And if they're still comfortable to wear months later and haven't fallen apart, go and buy a couple more pairs before they sell out.
Read more about how boots should fit.
Climate and Terrain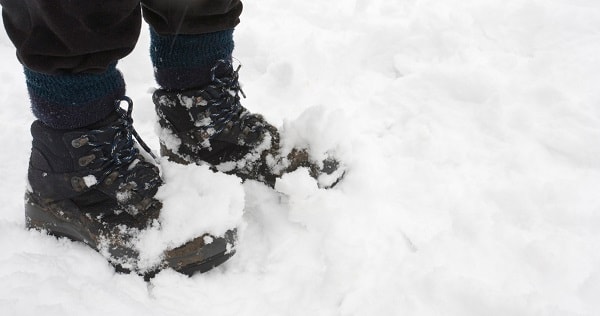 After the fit, climate and terrain are likely to be the biggest factors influencing your choice of footwear. If you live in a place where you get hot in summer and are buried under three feet of snow in winter, you may want to invest in specific boots for different seasons.
Take into account the geography of where you live and work and your planned Bug Out locations. If you're likely to be confined to urban or suburban areas, you're likely to be looking for protection from debris, not snakes.
If you know you've got a long hike to your Bug Out location, then you'll want to prioritize comfort over steel toe caps.
Weight
The lighter the better when it comes to footwear, right?
Right – with a caveat. The footwear needs to be tough enough to look after your feet. You're not going to choose a pair of sandals just because they're lighter than rugged boots. Go for the lightest pair of boots that meet your needs.
There's a balance to be had between weight, function and durability, and between weight and breathability. Your decision will probably come down to the terrain and conditions you're most likely to experience when wearing your boots.
Fastening System
This is a simple one – laces can be replaced, zippers can't.
If you've any doubt about the strength of the laces supplied with the boot, replace them with a better pair. And always carry a spare pair in your Bug Out Bag.
Leather or Synthetic?
Boots made from quality leather are often more durable than synthetic fabrics. They're better at withstanding abrasion and if you look after them, they'll last you for years. Leather boots can often feel stiff and heavy at first until the leather molds to your feet.
While they may not be as durable, synthetic boots are typically lighter and more breathable. They take less breaking in and are more flexible.
A lot of modern boots combine leather and synthetic fabrics to give the best of both worlds.
Waterproofing
Generally, having some element of waterproofing is a good thing. The exception being, if you're in a hot desert climate when breathability may be more important. But boots have different levels of waterproofing. Keeping your feet dry in a few rain showers is quite different to trudging through rivers.
Gore-Tex used to be the name to look for when shopping for a waterproof and breathable boot, but many manufacturers now have their own waterproof membranes which can be just as effective. With many boots, applying a waterproof treatment periodically will help look after your boots as well as keeping your feet dry.
For more on this see waterproof vs water resistant clothing.
Men's or Women's Fit?
Like it or hate it, there's a much bigger range of survival boots available for men than women. But when it comes to this kind of practical footwear, the fit is more important than what the label says. Many women find men's boots fit them perfectly well and some men with smaller feet prefer the fit of boots branded for women.
If you're struggling to find boots to fit, sometimes it's worth thinking outside the gender box.
Durability
If your boots fall apart when you're hiking, it's a hassle. If they fall apart in a survival situation, it's downright dangerous. Unfortunately, even reliable brands can sometimes have issues with quality control so it's worth thoroughly checking a new pair of boots before you wear them.
Run your eye over the stitching to make sure there aren't any loose threads or stitches. Most quality boots should have double-stitched seams for durability.
Next, check the join between the sole and the upper part of the boot – this is often the first thing to go if you're got a poor-quality pair. Finally, another common area of failure is the eyelets or hook system for the laces. Give them a good tug to make sure they're secure.
What Type of Boot is Best for Bugging Out?
Boots are boots, right?
Um, nope.
When you start researching the best boots for a survival situation, you'll quickly realize that there are many different styles of boots with different pros and cons.
Here's a rundown of the main types:
Hiking
Designed for comfort, breathability and support, if you're hiking any distance to your Bug Out location, hiking boots are likely to be your primary survival footwear.
Designed for hiking long distances
Good comfort and support
Breathable and waterproof
Lightweight
Limited sole and toe protection
Low-mid rise
May not be as durable as other boots
Military Boots
Military or combat style boots are designed primarily for durability, making them a reliable choice of survival footwear.
Durable and long lasting
Lightweight
Comfortable
Breathable and good for hot weather
Not always waterproof
Not designed for hiking long distances
Not usually designed for cold weather
Hunting Boots
If you're not a hunter, these may not even cross your mind, but as they're designed to be worn outdoors in harsh conditions, they're a good survival footwear option. Many hunting boots are designed to be snakeproof.
High cut for extra leg protection
May offer protection against snakes
Waterproof
Durable
Often heavy (especially insulated models)
Trail Shoes/Sneakers
Trail shoes and sneakers are great for light hiking or wandering around town but we don't generally recommend them as your primary pair of survival footwear.
However, if you have to wear dress shoes or heels for work then carrying a spare pair of sneakers could save your life when you have to evacuate a building or area fast.
Socks
Finally don't forget to wear a decent pair of socks with your boots. You can read about the best survival socks here.