If disaster strikes and you don't have an emergency toilet, then it will really be a SHTF situation!
I'd go as far as saying that having an emergency toilet is just as important as having a stockpile of emergency water and food.
For most homes, the best option is a 5 gallon bucket toilet.
Here's what you need to know to make a 5 gallon bucket toilet, where to find bucket toilet seats, and a simple design upgrade which will dramatically improve your emergency toilet.
You Need TWO Bucket Toilets!
Having one bucket toilet is better than none, but it is going to be very messy to use. (Warning: gross factor about to come!).
When you do your business in one bucket, all the pee and poo mix together making a very gross slurry.
Carrying the bucket to empty it will cause the waste to slosh around, potentially splattering human waste around and making a hygiene crisis.
Use your imagination and you'll quickly realize that one bucket is NOT a good solution.
Instead, you need a one bucket toilet for pee and a second bucket toilet for poo.
Why Separate Urine and Fecal Matter?
Except in cases where you have a bladder or urinary infection, urine is very sterile. In fact, you can even use urine as a fertilizer because it is so high in nitrogen. Thus, urine can be safely dumped on your yard without risk of adverse health effects.
This is not the case with poo! Fecal matter contains all sorts of viruses, bacteria, and other pathogens. You need to keep this away from your living space, yard, and water sources.
By separating urine and fecal matter with a two-bucket toilet system, it will be a lot easier to dispose of the waste.
The urine just gets dumped into your yard. The fecal matter (since it is mostly solid) can be tied in a sturdy plastic bag and buried or thrown away after the disaster has passed.
*After a short-term disaster, call your Department of Sanitation for instructions on how to dispose of the waste.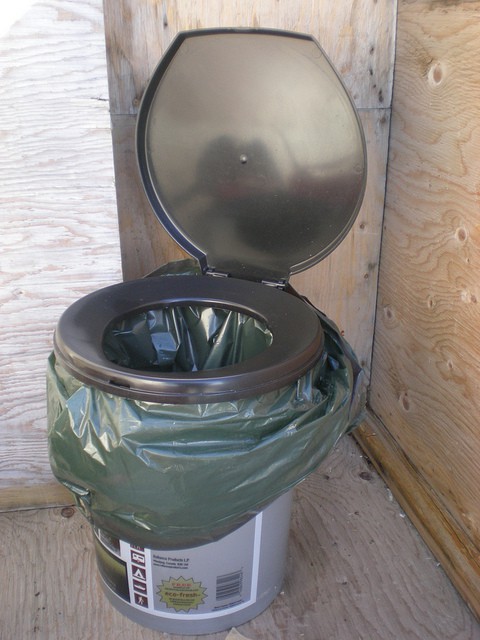 How to Use a Bucket Toilet
I talk about this in my post about emergency toilet options. Rather than rehashing all of the info there, here's an overview:
Setting Up the Bucket Toilet System
Label one bucket as "pee" and the other as "poo"
Have a lid for each bucket
Line the poo bucket with a sturdy plastic bag
Put some carbon material near the toilet area (kitty litter, shredded paper, etc.)
Have toilet paper nearby
Using the Bucket Toilet
Choose the appropriate toilet
Do your business 😉
Put the toilet paper into the poo bucket. NEVER PUT TOILET PAPER IN THE PEE BUCKET!!!
After using the poo bucket, sprinkle about a ½ cup of carbon material on top of the fecal matter.
Close the lid on the toilet after using
Each day (or when the buckets are full), dump the pee bucket outside. Tie the poo bag closed and put it somewhere away from your living space until you can dispose of the bags safely.
Bucket Toilet Seat
You must have a lid for your bucket toilet. This will keep it from getting smelly and also prevent flies from getting into the poo bucket.
You could just use the lid which comes with a standard 5 gallon bucket, but this won't be too comfortable to sit on.
Do NOT use a standard toilet seat on top of your bucket toilet. Here is why:
A standard toilet seat won't form a tight seal over the bucket, so smells will get out and flies can get in.
A standard toilet seat won't sit securely, so you could end up falling into your bucket toilet.
Luckily, you can now buy special bucket toilet seats which are fitted perfectly – See on Amazon
If you don't want to buy a bucket toilet seat, you can make your own.
You basically cut a hole out of plywood and then use nails and caulk to attach a regular toilet seat to it.
An Even Better Bucket Toilet System
The two bucket toilet system is very effective, but you can't always keep the pee separate from the poo (I have a 5 year old kid and am not counting on her being able to switch buckets in the middle of going to the bathroom).
You can use one 5 gallon bucket as your emergency toilet if you get a urine diverting toilet seat.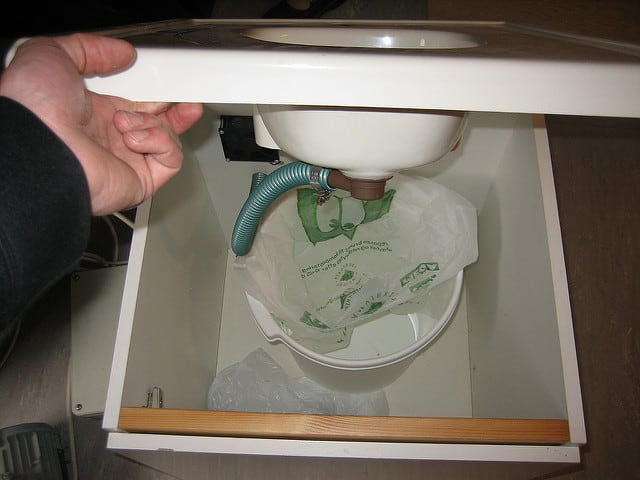 What is a Urine Diverting Toilet Seat?
A urine diverting toilet seat is a really cool device which basically funnels the pee away into one container and the poo into a separate container.
The urine diverting toilets are actually starting to become really popular in Sweden where the government has a plan to use all of the urine for fertilizing instead of getting all that nitrogen into the water system.

Most compost toilets have urine diverters, but composting toilets are really expensive, so I wouldn't recommend them as your emergency toilet unless you can afford it.
If you are interested we recently reviewed the best composting toilets for indoor use.
You can buy a urine diverting toilet seat for about $100 to $200.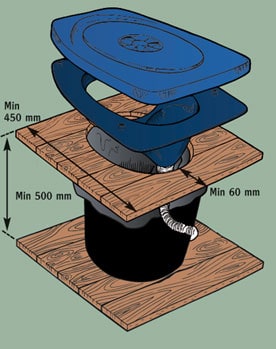 If you don't want to spend $100 for the special urine diverting toilet seat, you can make your own.
This will require a bit of work, but it is pretty easy to do as a DIY project. Here are instructions on how to make a urine diverting toilet seat.
The urine diverting bucket toilet system isn't perfect. You've either got to aim your pee perfectly or sit down for it to work. But it still simplifies the bucket toilet system so you will be ready when a disaster comes.
Have you gotten an emergency toilet system yet? What type?
---