Having a non-electric heater that doesn't use electricity is incredibly important.
Consider that approximately 36% of households in the USA use electricity to heat their home. Power outages are more likely during winter, meaning millions could be left without a way to heat their homes.
We've spent hours researching alternatives to electric heaters, scrutinizing their product descriptions, and assessing their safety, legality, cost, and convenience.
After all that, we finally found six heaters we feel comfortable recommending.
Editors Note: If you aren't familiar with emergency heaters, please read this article on emergency heating options. It covers the types, their pros/cons and some safety information.
Top Pick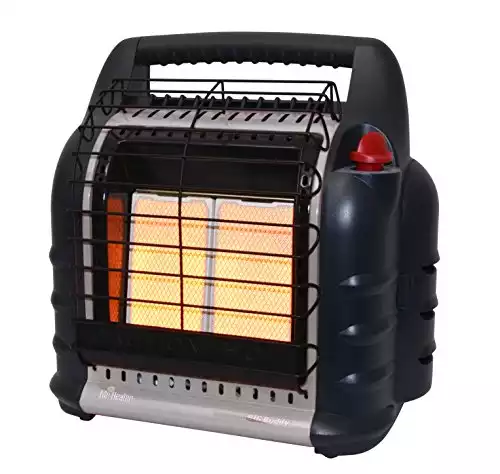 Mr. Heater Big Buddy Propane Heater
Perfect size for heating part of a home during a power outage. Straightforward to use, affordable to run, and has the full range of safety features.
Best Indoor Non-Electric Heaters Reviewed
Note that some of these heaters do require batteries for the fuel ignition, so technically aren't 100% non-electric.
#1 Mr. Heater Big Buddy Propane Convection Heater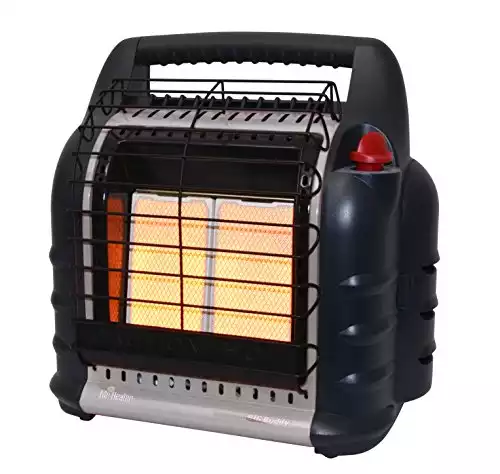 Features
Fuel Type: Propane
Max BTUs: 18,000
Room Size: Up to 450 sq. feet
Weight: 7lbs
Run time on high: 23 hours on 20lb tank
The Mr. Heater brand makes a lot of great non-electric heaters. Their "Big Buddy" heater is one of the most popular. It has three settings: 4000, 9000, and 18000 BTU, and can heat up to 450 square feet.
This makes it the perfect size for heating part of a home during a power outage.
There are a lot of great safety features on the Big Buddy heater. It will automatically turn off if it falls over. It also has "oxygen detection safety" (ODS), meaning it will automatically turn off if oxygen levels get too low.
You can use either two 1lb propane canisters with the Big Buddy or get a hose to connect it to a 20lb tank.
Because the heater is so efficient, it is one of the most affordable to run. It's very straightforward to use. The regulator and filter are built into the unit, so you don't have to worry about getting these.
Note: The heater does have a built-in fan which requires four D batteries. You can still use the heater without the fan if you don't have batteries. However, it won't be as efficient and could overheat if left on high for too long.
Mr. Heater also makes non-electric heaters in other sizes (most of which don't have a fan). I think the Big Buddy size is best for emergency preparedness, though.
Pros:
Very easy to use
Great safety features
Three settings
Affordable
Very efficient
Optional fan
Cons:
---
#2 Camco Olympian Wave-8 Catalytic Heater
Features
Fuel Type: Propane
Max BTUs: 8,000
Room Size: 290 sq. feet
Weight: 14lbs
Run time on high: 53 hours on 20lb tank
The Camco Olympian Wave-8 is also a propane heater. However, it works very differently than the convective Big Buddy heater listed above.
The Camco is a catalytic heater, a type of propane heater that doesn't rely on the flame to produce heat. Instead, catalytic heaters produce heat through a chemical reaction that uses a very low temperature.
Catalytic heaters are much more efficient than convective or radiant heaters. This makes them an excellent non-electric heater for everyday use, not just emergencies.
They are very popular for RVs and "van life." Catalytic heaters are also much safer because they operate at much lower temperatures (720F versus 2,100F with traditional propane heaters).
It produces virtually no CO gas. However, using a catalytic heater requires oxygen, so oxygen levels can get low. This is why the Wave-8 has an ODS feature which makes it shut off if O2 levels get low.
Note: This heater requires absolutely no electricity to run. The "electric" option is for the automatic ignition. You can ignite it manually, though.
Pros:
Almost no risk of CO poisoning
Low operating temperature
Very efficient
Uses little fuel
Automatic shutoff feature
Cons:
Expensive initial purchase
Are you confused about the types of propane heaters? Read this guide to indoor propane heaters.
---
#3 Dyna-Glo 23,800 BTU Indoor Kerosene Convection Heater
Features
Fuel Type: Kerosene
Max BTUs: 23,800
Room Size: 1,000 sq. feet
Weight: 23lbs
Run time on high: 4-5 hours on 1.9 gallons of fuel
If you prefer a kerosene heater over a propane one, then this one by Dyna-Glo is a great choice. The heater requires no electricity to run (other than a C battery for the auto-ignition) and is easier to use than other kerosene heaters.
It produces 23,800 BTU of heat on high, so it can heat a very large space of up to 1,000 square feet. You'll blow through fuel quickly on the high setting, though. On lower settings, the 1.9-gallon tank will last up to 11 hours.
Note that this heater only uses kerosene fuel. While some users claim they've cut the fuel with diesel to save costs, this isn't recommended. Diesel is too dirty for this heater to handle. Read more about using diesel in a kerosene heater.
The fuel tank holds almost 2 gallons of kerosene. Once you light the heater, it heats a room VERY quickly. At maximum setting, you might only get 4-5 hours of run time from a tank, though.
It's easy to refill the tank because it lifts out. A fuel siphon is even included with the heater.
A cool thing about convection kerosene heaters designed like this (with a flat-topped safety grill) is that you can heat food on top of it – a great feature during power outages.
There are also all the standard safety features you'd want from an indoor heater.
Also, see our other picks for best indoor kerosene heaters.
Pros:
Heats room quickly
Suitable for larger spaces
Emergency shutoff
Easy to use
Affordable
Cons:
---
#4 Arctic Solar 1500 Series, Gen 2 Solar Air Heater
Features
Fuel Type: Solar
Max BTUs: 5,000
Room Size: 200-250 sq. feet
Solar air heaters don't come cheap, but you can quickly redeem that initial investment as they have zero running costs.
While efficient, they require at least partial sunlight to operate, so you can only heat your home during the day.
Designed more as a supplementary heat source rather than a stand-alone heater, a solar air heater, a solar air heater is better used as one of several emergency heating options.
Unlike fuel-based units, installing the Arctic solar air heater requires technical know-how. Once installed, however, it is powerful enough to heat 150 sq. feet of space at no cost.
A solar air heater works by using a solar-powered fan to draw cool interior air into collector cells that are heated by the sun's infrared energy. As the air passes through those collector cells, it retains that heat. On a warm day, this can increase the ambient temperature by up to 20℉.
Pros:
Zero running costs
Very safe
Cons:
May need professional installation
Max 5,000 BTUs
Only works during daylight hours
Can only heat up to 150 sq. feet of space
---
#5 Regal Flame Venice 32″ Ventless Bio Ethanol Fireplace
Features
Fuel Type: Bio Ethanol
Max BTUs: 6,000
Room Size: 150-250 sq. feet
Weight: 31lbs
Run time on high: 4 hours
Bioethanol fireplaces are becoming popular as an alternative to traditional fireplaces. While they aren't designed for heating, they can be used as an emergency heater. It will produce up to 6,000 BTUs of energy, enough for up to 250 sq. feet.
Compared to other fuels, bioethanol is very clean-burning. It's also straightforward to clean and maintain the unit.
The main downside is that bioethanol can be very expensive to burn. You'll only get about 4 to 6 hours of burn time from a full compartment. Don't try to save money by purchasing cheaper fuel since poor-quality fuels can smell bad.
Pros:
Easy to clean and maintain
Environmentally friendly
Cons:
High running costs
May require professional installation
---
#6 Blaze King Princess 32 Wood-Burning Stove
Features
Fuel Type: Wood
Max BTUs: 37,727
Fire box size: 2.9 cu. Feet
Flue size: 6
Run time: 10 hours on high
This one is a good choice if you want to invest in a wood stove. For starters, it meets all the legal requirements introduced by the EPA. Since many places require a permit to install a wood stove, this is important.
Producing just 0.4 grams of smoke per hour, it is well below the required levels. This also means it burns more conservatively than other, less-efficient wood burners. As a result, it can produce 30 hours of constant heat on its lowest setting and 10 hours at full blast.
As someone who has used less-efficient wood stoves, I can tell you that this long burn time is a great plus. You won't have to decide between setting an alarm to wake up in the middle of the night to re-stoke wood stove or waking up cold.
It can produce over 30,000 BPUs and is by far the most powerful indoor heater on our list.
Pros:
Can produce 37,727 BPU
Capable of delivering 30 hours of constant heat
Low emissions
Cons:
Expensive to purchase
Requires daily cleaning and maintenance
---
How To Find The Best Indoor Non-Electric Heater For Your Needs
Having performed our in-depth research into the best non-electric heaters for your home, we suggest prioritizing the following elements in your search for the perfect heating unit:
Intended Purpose
Before investing in an indoor non-electric heater, consider what you need it for. If you're trying to get off-grid and want a reliable heat source throughout the year, it's worth investing in a more permanent solution like one of these off-grid heating options.
If, on the other hand, you want a backup heat source to use in emergencies, a smaller, portable option is the way to go.
Purchase Price
The price of interior non-electric heaters ranges from a few hundred dollars to several thousand, so your budget will have a significant impact on the options available.
If you use the heater often, though, such as if you want it for heating your garage or live somewhere with frequent power outages, it's worth paying more for a good heater that will survive extensive use.
Running Costs
In addition to the initial cost, don't forget to factor in the cost of running the heater. If you won't use the heater often, this isn't as much of an issue – but fuel costs can still add up quickly, even during a 1-week power outage.
Natural gas and kerosene are cheaper per BTU than propane, so they are well worth considering if you want more hours of constant heat.
If you want a non-electric heater to offset the cost of heating your home, a solar air heater might be worthwhile, although a wood-burning stove is probably your best option in these circumstances.
Energy Efficiency
The higher your heater's energy efficiency, the less money you waste. A product that operates with 100% efficiency produces heat from every gram or ml of fuel you purchase, making it the most cost-effective.
An energy-efficient heater will burn clean, produce fewer emissions, and reduce your environmental impact and carbon footprint.
While solar is the most environmentally friendly alternative to electric heating, it's not the most consistent or viable. Opting for a high-quality, energy-efficient propane heater is probably your best option.
Fuel Availability
The best indoor heaters run on fuel that is widely available and easily accessible. Propane, kerosene, or natural gas will reduce transportation costs and alleviate potential storage problems. Wood is heavy and bulky, which makes it the least practical and cost-effective.
Kerosene, on the other hand, is widely available and affordable. Both propane and ethanol are relatively easy to source and won't cost you an arm and a leg. Of course, sunlight is ubiquitous, especially in the summer, but a solar air heater won't be much good if you're hunkered down in Washington State or Buffalo, where the sun only shines for around 52 days a year.
#5 Power and Heating Capacity
You can get by on something less powerful if you only want a non-electric heater to warm your house in an emergency or a significant power outage. A standard propane heater, for instance, can only heat around 225 square feet for up to three hours but, as it's portable, is more than sufficient for emergency use.
On the other hand, a wood-burning stove is designed to heat your entire house but can't do it fast enough to be considered a viable emergency heating option.
Conclusion
A high-quality kerosene heater, like the one from Dyna-Glo, offers the best value for money. It also uses a widely available fuel source and produces enough constant heat to warm a large room or garage.
On the other hand, a propane heater is most suitable for smaller homes and as an emergency heating source; for this scenario, we recommend the Mr. Heater Big Buddy.