Motion sensor alarms warn you if there is anyone approaching your property, giving you a better chance of protecting your home and its contents.
To find the best motion sensor alarms, we prioritized the critical features:
Range
Affordability
Durability
Reliability
It wasn't a particularly easy task as there are hundreds of products available, only a few of which work as advertised.
Our Top Pick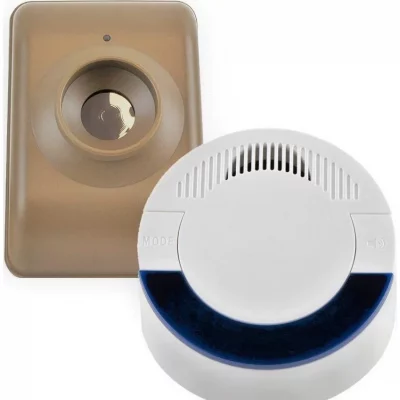 Dakota Alert Motion Detector Alarm System
This powerful alarm system can detect motion up to 50 feet away and sends the alert up to one mile to the receiver. It's also weatherproof, durable, and easy to install.
Best Budget Option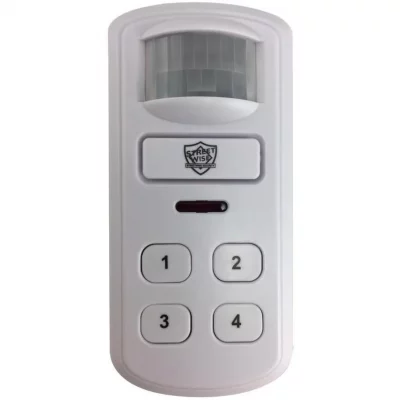 Streetwise SafeZone Motion Detector Alarm
Producing a 120 Db alarm, the Streetwise motion detector alarm can be heard up to 750 feet away. Affordable and simple to set up, it represents excellent value for money.
Mini-Reviews of the Best Motion Sensor Alarms
#1 Dakota Alert™ Motion Detector Driveway Alarm System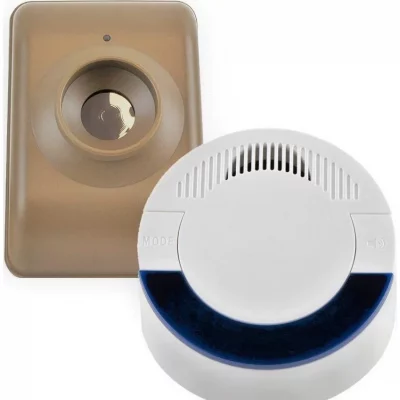 This versatile motion sensor alarm can be used to monitor movement in your backyard, keep an eye on your front door, or alert you should a large animal, person, or vehicle enter your driveway.
Check Prices on The Home Security Superstore
Any time the sensor detects movement, it will send an alert to the base station. You can add up to 16 different sensors to your system, depending on the size of the property you want to monitor.
You can also allocate a specific alert tone to each of those sensors so you can immediately identify where the potential threat is coming from.
Adjustable settings mean you can choose how large an area each sensor monitors. For example, if you live close to a main road, you may need to opt for a 30-foot field of vision to prevent false alarms. If, on the other hand, you have a large backyard, you can set it to 80 feet wide so that you cover more of your property's perimeter.
Either way, each sensor will be able to detect movement up to 50 feet away and will emit an alarm loud enough for anyone within 750 feet to hear.
Each sensor and transmitter is completely weatherproof and proven to operate in temperatures from -30 to 120℉.
The alarm comes with a preset exit delay that gives you five minutes to leave the property without activating the sensors.
Each sensor needs a 9-volt battery to operate, while the receiver can be plugged into a standard wall outlet. Unfortunately, that means the sensor alarm won't work if the power is down and that you'll need to check the batteries regularly to keep your sensors operational.
Pros:
Large field of vision
Scalable system that can include up to 16 sensors
Cons:
The base unit plugs into the wall, so won't operate during a power outage
Sensor batteries need checking and changing regularly
---
#2 Streetwise™ Safezone Motion Detector Alarm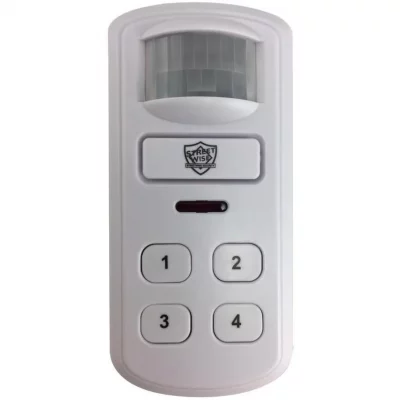 This affordable motion detector alarm produces a loud 120 Db alarm that will alert others to a problem and scare off potential intruders. If you prefer, you can change the alarm to a visitor chime that only alerts you to an unexpected visitor's presence.
Check Prices on The Home Security Superstore
Each sensor has a detection zone that's 20 feet long and 110 feet wide.
This system is easy to set up and comes with all the brackets and screws required to install the sensors. As it's a wireless system, no complicated wiring is required. All you need to do is create a unique 4-digit code to activate and deactivate the system. That means you can also give your code to anyone requiring entry.
Although the sensors are battery-operated, they also come with a low battery indicator light so you can quickly see when the batteries need changing.
This motion detector alarm system can be used both inside and outside the home, so if you have children or elderly persons to care for, you can set it up to alert you to their movements.
Pros:
Excellent value-for-money
120 Db alarm
Cons:
Limited detection zone
Alarm can only be deactivated at the sensor
---
#3 eMACROS 1/2 Mile Long Range Solar Wireless Driveway Alarm
This driveway alarm is simple to set up and doesn't require any additional batteries or plug points.
Each sensor is solar-powered, while the base unit can either be plugged into a wall socket or run on AA batteries.
That means each component will work just as effectively when the power's down as they do when it's operational.
The sensors have also been thoroughly tested in real-world scenarios to ensure their efficacy in areas with buildings, trees, walls, and vehicles.
The solar sensor is fully weatherproof and can be positioned up to 1500 feet from the receiver. Any pedestrian or vehicle coming within 30 feet of the sensor will activate it at which point it will produce both light and sound alerts.
Like our top pick, this solar sensor alarm can be expanded, although it's not as scalable as the Dakota Alert motion detector.
You can extend this system to up to four solar sensors and unlimited receivers, and allocate a different alarm or chime to each one, so you instantly know which zone has been compromised.
You can also adjust the sensitivity to reduce the possibility of false alarms.
Pros:
Works even during a power outage
Adjustable settings reduce the risk of false alarms
Cons:
Limited field of detection
Scalable only up to four sensors
---
#4 Guardline 500 Foot Range Wireless Driveway Alarm
This system comes with a single motion sensor that's powerful enough to cover a range of around 500 feet. Using passive infrared technology, that sensor will detect heat, as well as motion, which minimizes the chance of false alarms.
The sensors are made from high-quality materials that can withstand the worst weather conditions without malfunctioning.
If you need more coverage, you can add up to four additional sensors, or even upgrade to the 1/4 mile range system. If you do choose to extend your system, you can allocate a different chime to each additional sensor so you can more easily identify the location of the intrusion.
You can adjust the alarm volume so that it's either loud enough to scare any intruder or quiet enough that you're the only one who knows when it's been activated.
Pros:
Detects heat as well as movement
Weather-resistant
Cons:
Sensors must be within 500 feet of the receiver
Higher price range
---
#5 Dakota Murs Alert™ Base Station Motion Sensor Alarm System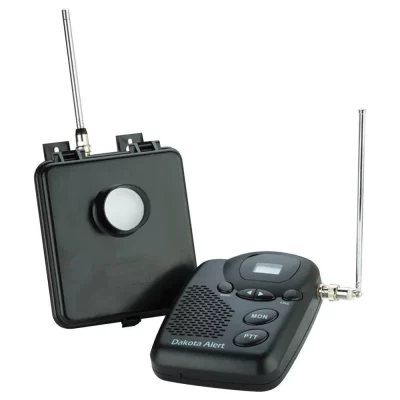 Unlike the other products reviewed here, the Dakota Murs Alert™ motion sensor alarm system looks more like a couple of two-way radios than a motion detector and receiver, and you can use it in either capacity.
Check Prices on The Home Security Superstore
To operate it as a motion sensor alarm system, simply install the motion-detecting transmitter anywhere within two miles of your Multi-Use Radio Service (Murs) receiver. Once in place, it will transmit an alert to the receiver whenever it detects movement within the specified area.
If you need more coverage, you can add four weatherproof transmitters, allocating each one to a specified zone. When the alert sounds, it will inform you which zone has been compromised so you can respond instantly.
Alternatively, you could use your transmitter as part of a two-way radio system. That means you can keep in touch with someone at home while checking your perimeter for a possible invasion.
This product doesn't come with a specific range as, the manufacturers say, the "actual transmission range will vary depending on local terrain."
Unfortunately, if your power goes out, this system won't function as the receiver is powered by a plug-in transformer. You'll also need to keep an eye on your sensors to make sure they've still got enough battery power to function.
Pros:
Doubles up as a two-way radio
Can transmit an alert up to 2 miles from the receiver
Cons:
No specified range
Dependent on grid power for operation
---
What To Look For In The Best Motion Sensor Alarm
Different properties have different security challenges, which means the best motion sensor alarm for one property might not be the most suitable for the one next door.
Before you start shopping around for a motion sensor alarm, you first want to measure the area you want to be monitored. There's little point in buying a motion sensor with a 30-foot field of vision if you have 500 feet of a backyard to monitor.
Similarly, if your sensor needs to be 1,000 feet from your home, you need one that can transmit an alert 1,000 feet, otherwise, it won't be able to communicate with your receiver.
Other important features to consider include:
Sound and volume
Some motion sensor alarms are designed to scare intruders away, while others just make enough noise to alert you to the presence of an unexpected guest.
Which version you opt for depends on what you want from your system. If, for example, you want to keep an eye on a wandering elderly relative, you want a quiet sensor that won't scare the living daylights out of them.
If, on the other hand, you want to deter potential intruders from breaking into an empty house, the louder the alarm, the better.
Materials
The best options should have weatherproof sensors that can withstand extreme temperatures, wind, rain, and snow. That may sound obvious, but not all motion sensor systems are designed for external use.
Type of sensor
The most common motion sensors are either active ultrasonic sensors or passive infrared sensors. Both are accurate and reliable, but one may suit your needs better than the next.
Active ultrasonic sensor
An active ultrasonic sensor emits ultrasonic sound waves at a frequency beyond the range of human hearing. As these waves are emitted, so the sensor picks up on the time taken for an echo to return. If something moves into the zone of detection, the echo returns faster, triggering the alarm.
One of the benefits of an active ultrasonic sensor is that you can adjust the sensitivity and minimize false alarms.
Passive infrared sensor
Passive infrared sensors use temperature rather than ultrasonic waves. As everything, including trees, cars, animals, and people, radiates some amount of heat, it can detect the presence of a new rival by the increase in temperature.
Passive infrared sensors are highly sensitive and more difficult to adjust. Fortunately, they are also less likely to produce false alarms.
Conclusion
In terms of value-for-money, range of detection, and reliability, the Dakota Alert Motion Detector Driveway Alarm System is our top pick.
It may cost a little more than some of our other products, but its ability to pick up on movement up to 50 feet away makes it cost-effective.
The sensor can also send an alert up to a mile away, making it ideal for larger properties.
The Streetwise™ Safezone Motion Detector Alarm is the best option for anyone on a tight budget. It may not have the range of our top pick, but it's reliable and simple to install.
You can also grant other people access by giving them the four-digit code needed to deactivate the alarm.
Also read our guide to the best off grid security camera.