We all want to feel safe in our own homes, and we also want to protect our stockpiled reserves and equipment.
Window security bars can increase your home security, providing a visual and physical deterrent to anyone whose even thinking about breaking into your home.
Constructed out of steel or iron, they can withstand extreme pressure, making it almost impossible for anyone to force their way in without drawing attention to themselves.
Statistics indicate that around 23% of burglars use a first-floor window to access a property and that 30% gain access through an open or unlocked door or window. Installing window security bars or burglar bars can significantly reduce the risk of burglary almost as much as reinforcing your front door.
Window security bars not only protect your home against intruders but also safeguard your home's inhabitants. They reduce the risk of accidents by making it impossible for children to fall out of the window and pets from using it as an escape route.
Finding the best window security bars, and installing them correctly, will give you peace of mind and reduce the risk of intrusion.
The Pros and Cons of Three Types of Window Security Bar
In this article, we'll look at the three main types of window security bars – permanent, hinged, and removable – and compare their effectiveness and suitability.
Permanent
Permanent burglar bars provide robust protection but are banned in some states because they can trap people inside the house just as effectively as they keep intruders out.
This is a safety hazard, preventing the inhabitants from escaping a fire or similar emergency.
Permanent burglar bars offer a visual deterrent, as well as a physical one, but that means they will also obstruct your view through the window to a certain degree.
Hinged
Hinged window security guards are similar to permanent ones but can be easily opened in an emergency. Not only do both these styles provide a visual and physical deterrent to potential intruders, but they also prevent pets from escaping and eliminate the risk of accidental falls.
Removable
Removable window security bars are the least conspicuous and the easiest to install. They won't provide the visual deterrent of a permanent window guard, but they will enable you to lock your windows even when they're partly open. On the downside, they won't prevent accidental falls.
To make this resource as informative as possible, we tracked down the best of each different type of security bar. Our criteria included ease of installation, material, cost, and legal compliance.
Our Top Picks of the Best Window Security Bars
Top Pick – Fixed
Segal Fixed Window Guard
Made of carbon steel tubing, this permanent and durable window security guard comes with all the necessary mounting brackets and tamper-proof screws.
Top Pick – Removable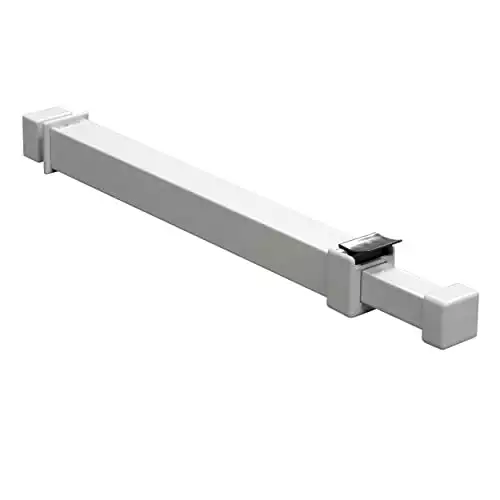 Ideal Security Window Security Bar
Fully adjustable, affordable, and easy to install, the Ideal window security bar provides a visual and practical deterrent.
Top Pick – Hinged
Defender Security Hinged Window Grill
As durable as the fixed window guard, this model meets most states' health and safety building codes. It provides robust protection and has a quick-release feature in case of emergency.
Reviews of the Top Five Window Security Bars
Ideal Security Window Security Bar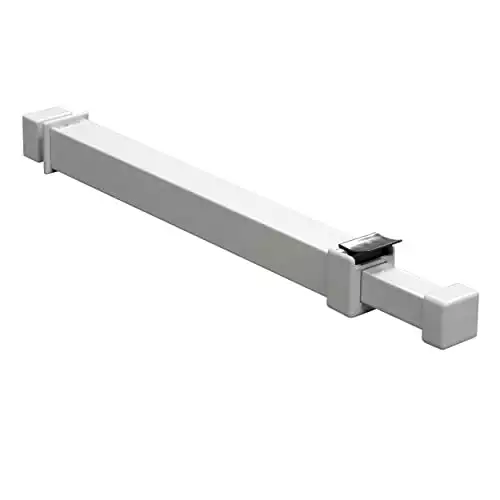 The simple design of this window security bar makes it suitable to use on almost any sliding door or window. These fully adjustable security bars come in three different sizes and can be made to fit almost any window without cutting.
It provides protection even when the window is open and can be mounted at any height, so you install it out of reach of children.
Unlike a pressure-mounted bar that can be shaken out of position, the saddles or mounting mechanisms holding these bars in place can be screwed into the window frame for extra security. Alternatively, you can mount it using the strong, double-sided tape provided.
Simple to install and operate, the Ideal security window bar comes with a childproof anti-lift lock that keeps the bar in place, keeping your children inside and potential intruders out.
Pros:
Affordable
Easy to install
Cons:
It doesn't fit all windows
Can be shaken loose if not installed correctly
---
#2 Defender Security Hinged Window Guard
Designed to stop small children from falling out of first or second-story windows, this carbon-steel window guard will also prevent anyone from climbing in.
The quick-release feature means you can quickly open the guard and escape through the window should there be a fire or similar emergency. When installed correctly, this window guard offers a high level of security thanks to the tamper-resistant installation screws.
It can be adjusted horizontally to fit any window between 22″ and 38″ wide and stands just over 21″ tall.
Intended for use in bedrooms and other rooms where emergency access is required by law, these window guards meet the housing codes in most states.
Pros:
Robust, carbon steel construction
Quick escape possible in an emergency
Cons:
Difficult to install
Screws provided are poor quality and easily stripped during installation
---
#3 Segal Fixed Adjustable
These bars meet the requirements of most housing codes but are not egress-compliant. They are, however, robust and are available in six different sizes, each of which can be adjusted for a perfect fit.
The bars are spaced less than four inches apart to prevent both accidental falls and break-ins. They're also more affordable than the hinged alternative.
Pros:
Housing code compliant
Permanent and robust
Cons:
No emergency access
Poor quality screws
---
#4 Jeacent Adjustable Window Security Bar
This steel burglar-proof bar can be installed on any sliding window or patio door and is fully extendable and adjustable. It has 22 different settings and can extend from 15½" to 29½".
The push pin holds the security bar in place, providing extra protection against forced entry and preventing accidental falls. Its unique design makes it simple to install and easy to remove in an emergency.
Pros:
No tools are required for installation
It doesn't obstruct the view
Cons:
Difficult to adjust
Too short for some doors
---
#5 U.S. Patrol Sliding Glass Window Security Bar
These decorative window security bars are made of iron and provide durable and reliable home security. They can be adjusted to fit sliding windows between 12″ to 21″ in either height or width.
Easy to adjust and install, they offer extra protection even when the window is open, so you can ventilate your home without compromising security.
Pros:
Wrought-iron construction
Easy to install and adjust
Cons:
Difficult to remove
Doesn't adjust in small enough increments to fit all windows
---
What To Look For In Window Security Bars
Ease of Installation
Maybe you're happy to invest the time and energy required to correctly install a permanent window guard. On the other hand, perhaps you lack the skills or tools necessary to complete such a complex project.
A poorly installed window guard is even more dangerous than having none at all.
Not only could an intruder potentially break open or remove a poorly installed window security bar, but it could prevent you from escaping in an emergency.
Opt for a simple removable model instead unless you're confident you've got the skills needed to install permanent or hinged window security bars correctly.
Material
Most burglar bars are made of either iron or steel, which are strong and durable.
The best window security bars we found were made of carbon steel tubing. The downside of these materials is that they are neither rust nor weather resistant. Some manufacturers are now creating invisible window security bars of transparent polycarbonate.
These are relatively rare at present but offer a rust-resistant alternative to metal.
Cost
If you're only looking to secure a single basement window, you shouldn't have to spend more than around $30 to $50 on window security bars. If you want to increase the security of your entire home, however, you'll be looking at a significant investment.
Legality
Burglar bars can trap you inside just as easily as they keep intruders out, and that potential risk has led to some states introducing specific laws about what type of window security bar can be installed and where. These restrictions are known as the laws of egress.
For instance, in California and Texas, permanent window guards are not permitted. The only type of window security bar allowed is one with an emergency release mechanism.
Rental agreements may also prohibit the installation of permanent security bars, limiting the options available.
Conclusion
Window security bars prevent intruders from accessing your home through a ground-floor window. Even if they break the glass, they will prevent them from entering.
Simple removable bars prevent the window from being forced open, while a hinged window guard will prevent anyone from removing or breaking the glass and gaining access that way.
Once you've chosen and installed your window security bars, you'll want to make sure the rest of your home is equally well protected.
Whether you find out how to secure your door from being kicked in or you commit to complete home security by applying these handy tips, your home and whatever you've stockpiled inside will be a lot safer than it was before you started.
Also, see our guide to the best security film for windows.