With its nearly 12 million residents, Ohio has been hit hard by natural disasters in recent years, forcing many to evacuate or endure the devastating aftermath. Despite this, many Ohioans remain unaware of the wide range of natural disasters that can occur in their state.
This analysis sheds light on the various types of natural disasters that can strike Ohio, from powerful storms and flash floods to crippling winter storms and dangerous tornadoes. It also highlights some of the worst natural disasters to hit the state since 2000, underscoring the need for preparedness.
Is Ohio At Risk of Natural Disasters?
Compared to the rest of the United States, Ohio has a low risk of natural disasters. Excluding COVID, Ohio has had 27 disaster declarations since 2000. Of these, 22 were declared major disasters.
Ohio is also frequently hit by natural disasters, which cause more than $1 billion in damages. Since 2000, more than 60 separate $1-billion events have affected Ohio. Most of these were severe storms.
Worst Natural Disasters in Ohio By Cost (Since 2000)
Hurricane Sandy 2012: $83.9 billion
Hurricane Ike 2008: $40.8 billion
2012 Drought and Heat Wave: $39.3 billion
Hurricane Ivan 2004: $32.2 billion
Spring-Fall 2002 Drought: $15.1 billion
Worst Natural Disasters in Ohio By Deaths (Since 2000)
April 2011 Tornado Outbreak: 321 deaths
May 2011 Tornado Outbreak: 177 deaths
Hurricane Sandy 2012: 159 deaths
2012 Drought and Heat Wave: 123 deaths
Hurricane Ike 2008: 112 deaths
*Cost and death tolls are for the entire disaster, including in other states affected.
Most Common Natural Disasters in Ohio
1. Tornados
Ohio averages 22 tornadoes per year, but most are very weak. The state has not had an F5 tornado and only four F4 tornadoes in recent history. Even the weak tornadoes in Ohio can be destructive, though. Because of this, Ohio ranks #17 in the USA for tornado risk.
Since 2000, there have been 18 tornado-related deaths in Ohio and over 400 injuries. There have also been over $1 billion in property and crop damages.
Also read:
2. Flooding
Ohio has over 29,000 miles of rivers and streams. Heavy rainfall can make these waterways swell, resulting in flooding. The areas in the south of the state along the Ohio River are particularly at risk. In the North, regions near Lake Erie are at risk when heavy rains or storms cause the lake to flood or cause wave action. Flash flooding can also occur in Ohio and is sometimes deadly.
Ohio Flood Stats
493,000 properties at substantial risk in 2020
708,400 properties at risk by 2050
519,700 properties at substantial risk by 2050
142,400 properties at almost certain risk by 2050
143,000 FEMA flood damage claims since 2000
Which Areas of Ohio Are Most At-Risk of Flooding?
Floods can occur in all parts of Ohio, but some areas of the state are particularly at-risk. Below are the areas of Ohio with the greatest percentage of properties likely to experience flooding (based on 2020 calculations).
Gallipolis: 87%
Middleport: 83%
New Richmond: 72%
Wellsville: 66%
Shadyside: 65%
Bellaire: 60%
Pomeroy: 58%
Marietta: 52%
Athens: 51%
In addition to these areas, there are many major cities and towns in Ohio where thousands of properties are at risk. This includes over 21,000 properties in Cincinnati, nearly 18,000 in Columbus, and over 12,000 in Cleveland.
Because of climate change, the risk of flooding is increasing in many parts of Ohio. By 2050, an estimated 8.5% of all properties in the state will be at risk.
3. Earthquakes
Ohio is located on the New Madrid Seismic Zone (NMSZ). While this zone doesn't have earthquakes as frequently as those in the Western part of the USA, it has the potential for large, damaging earthquakes of up to 7.6 magnitude.
The NMSZ has approximately 200 earthquakes each year. Most of these are too small to be felt. However, there is an earthquake of magnitude 4.0 or greater in the zone approximately once every 18 months. A magnitude 5.0 quake occurs approximately once every 10 years.
The southern part of Ohio is particularly at-risk for damaging earthquakes, but quakes could affect anywhere in the state. The largest earthquake in Ohio's history occurred in 1937. The 5.4 magnitude quake caused some damage to buildings in Shelby and Auglaize Counties.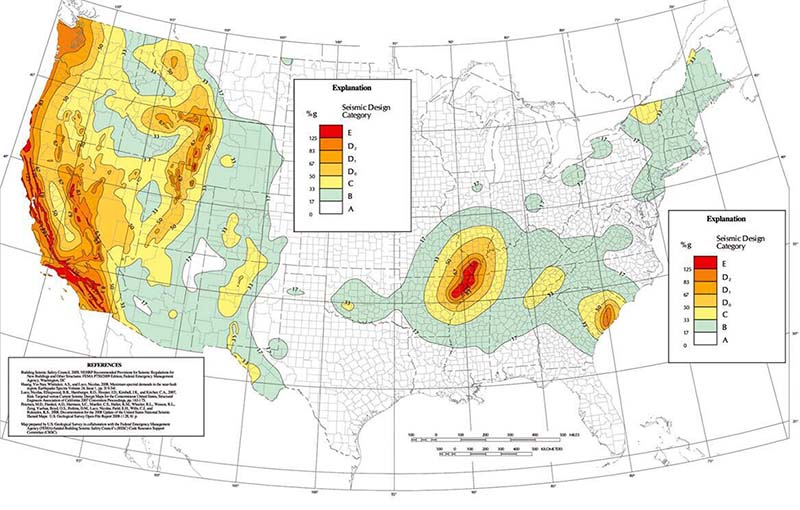 4. Heavy Snowfall and Winter Storms
Ohio generally has mild winters. The state ranks #22 in the country for the most snowfall and snowfall days yearly. The northern part of the state is more likely to have severe winter weather. The average snowfall in this region is over 40 inches per year, compared to less than 20 inches in the southern half of the state.
Winter weather can catch Ohio residents unprepared. Vehicle accidents are a big problem for people not used to driving in snow. Despite not having many snowy days, Ohio ranks #4 in the country for fatal winter vehicle accidents.
Ohio Winter Weather Stats
Average snowfall per year: 27″
Snowfall days per year: 31 days
Coldest recorded temperature: -40°F in Warsaw in 1905
Record snowfall: 24″ in Brunswick in 1925
5. Freezing Rain
The climate of the Midwest makes it ideal for freezing rain. Ohio doesn't have freezing rain as frequently as states in the Northeast, but freeze events do occur. Most parts of Ohio can expect at least 9-12 hours of freezing rain annually. Some regions can get up to 15 hours.
Freezing rain most frequently occurs during December and January, but fall and spring freeze events also happen.
The dangers of freezing rain cannot be overstated – with icy road conditions causing countless accidents and injuries every year.
But the danger doesn't stop there, as power outages can also occur during these events, leaving thousands of people without heat or electricity during the bitter cold of winter.
6. Heat Waves and Droughts
As with the rest of the country, the risk of heat days is increasing in Ohio. Currently, Ohio averages 5 "dangerous" heat days per year. These are defined by the National Weather Service as days where the heat index is 103F or above. By 2050, the number of dangerous heat days in Ohio is expected to increase to 30 days per year.
In addition to more dangerous heat days, Ohio will see more "Local Hot Days." Local Hot Days are defined as "Days at or above the 98th percentile temperature, or the temperature than an area could expect to see on the hottest 7 days of the year." Essentially, Local Hot Days factor in what temperatures a local population is used to experiencing.
An increase in Local Hot Days is associated with health problems like strokes, and heat-related deaths are more likely to occur. Energy demands also increase from air conditioning use.
All parts of Ohio are expected to have an increase in Local Hot Days, but Freeborn County is particularly at-risk. By 2053, Freeborn is expected to have 19 consecutive days with temperatures at or above 100.8℉.
Droughts often accompany heat waves. As an agricultural state, droughts can have a huge economic impact on Ohio and increase the risk of wildfires.
7. Wildfires
Compared to the rest of the country, Ohio is not at high risk for wildfires. It experiences an average of fewer than 500 wildfires per year. Most of these wildfires are quickly contained and do not spread very far.
However, because of climate change, the risk of wildfires in Ohio is growing. By 2050, an estimated 4% of all properties in the state will be at risk of wildfire. The areas at highest risk are in the southern part of the state.
Ohio Wildfires Stats
Acres burned in 2021: 1,415
Number of fires in 2021: 524
Average fires per year: 473
Average acres burned per year: 2,992
Percentage of state covered by forests: 30%
Number of properties currently at risk of wildfire: 203,873