The safest place to be when a tornado comes is underground. If you have a basement, that can offer some protection against a less powerful tornado, but it isn't designed to resist the extreme wind speeds that come with stronger ones like those that have hit in recent years.
You need a dedicated storm shelter to get protection from a tornado generating 110 mph winds and above.
Both underground and above-ground storm shelters offer durable protection against tornadoes, hurricanes, and storms.
Finding the best underground storm shelters wasn't easy; we spent hours checking out reviews, scrutinizing products, and gleaning random bits of information from YouTube.
As a result, we're confident the following are the best underground storm shelters currently available and that any one of them will keep you and your family safe, whatever the weather.
An Overview of the 7 Best Underground Storm Shelters
#1 BombNado Disaster Shelter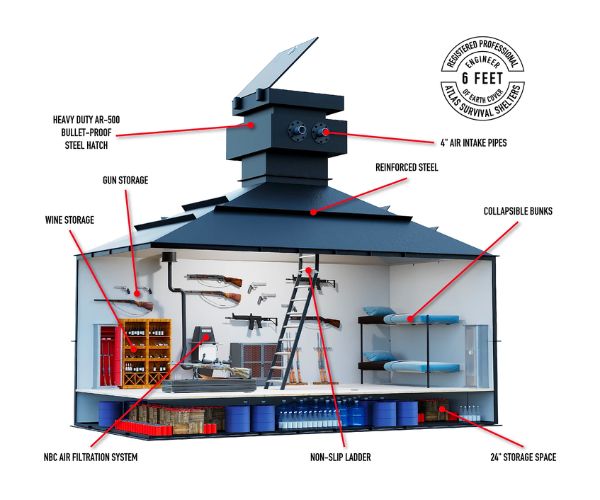 Atlas Survival Shelters have a wide range of above and underground storm shelters, the most impressive of which fall into its Nado Series. The BombNado and WineNado offer versatile protection for large and small households. The BombNado is buried 14 feet below the surface.
To make the most of your underground space, the BombNado places all its storage under the floor of the main structure, meaning you have more space to stretch out. BombNado shelters come in five standard sizes, ranging from 8'x8′ to 8'x20′, and customization is also available.
You access the BombNado via a secret hatch hidden behind a false wall or concealed in a wardrobe. This bullet-proof steel hatch takes you down a non-slip ladder and into the underground shelter, where you'll be protected by more reinforced steel.
You also purchase customized beds, couches, and toilets to make your survival experience more comfortable.
The BombNado features an NBC air filtration system designed to remove any contaminants from the air while keeping your shelter ventilated.
When you're not using it as a shelter, the BombNado doubles up as an excellent storage facility. Use it as a secure place to keep your valuables or the "perfect climate-controlled wine cellar."
Check it out on The Nado Series
---
#2 GarNado Garage Bunker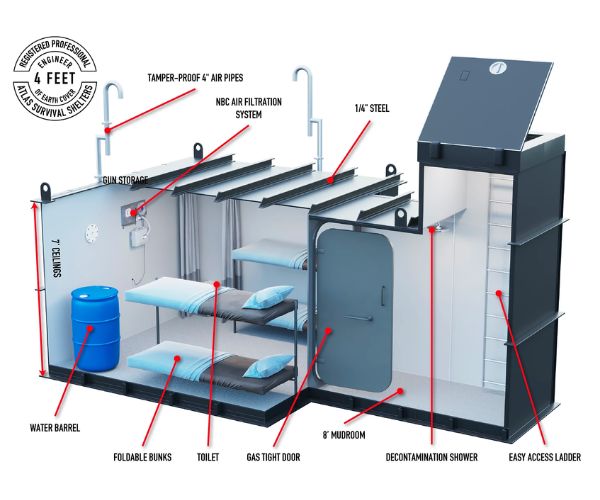 Another exceptional offering from Atlas Survival Shelters, the GarNado, can be installed underneath your garage or under your driveway.
Completely watertight, this bunker can be installed in areas with high water tables that are traditionally unsuited for underground storm shelters.
The hatch lies flush with the ground and is strong enough to withstand the weight of a car. From there, you access the bunker via a ladder that leads you into an 8′ mudroom. Here, you can install a decontamination shower to prevent external contaminants from entering your safe zone.
Related: Best foods to store in your bunker
From the mud room, you enter the main section of the underground storm shelter, which is made from 1/4″ thick steel and includes tamper-proof air pipes and an NBC air filtration system.
You can also opt to have the GarNado furnished with foldable bunks, a couch, and a toilet to make prolonged stays more comfortable. Underfloor storage facilities are also available at an extra cost.
The standard-size GarNado measures 8'x8′ and can accommodate up to 12 people. Larger sizes are also available.
You can find out more about Atlas Survival Shelters in this video.
Check it out on The Nado Series
---
#3 Lehman Dirtwork Shelters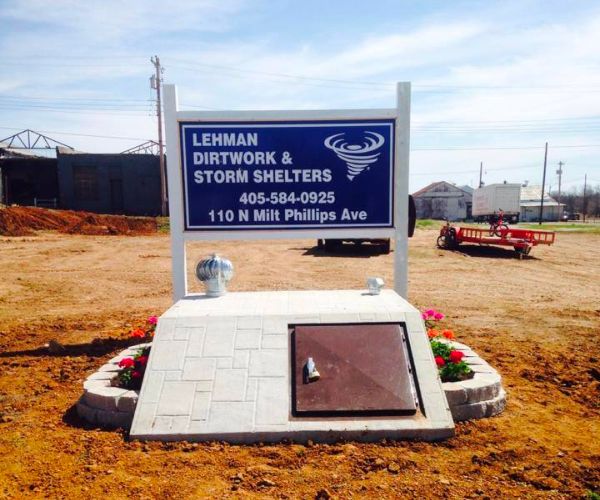 All Lehman Dirtwork's underground storm shelters are made from concrete reinforced with fiber to make it stronger. Steel rebar is used to strengthen the structure even further, ensuring it meets the criteria set out by the Federal Emergency Management Agency (FEMA).
Depending on your landscape, you can opt for a flat or slope front shelter, although the sloping front comes with a longer warranty, suggesting it's more durable than the flat top.
The slope front shelter also features a hydraulic pressure lift door and non-slip stairs with safety rails.
You can choose from a range of sizes, depending on your requirements. The standard size of the underground shelter is 6'x8′, making it suitable for around 10 people.
Check it out on Lehman Dirtwork
---
#4 GarageCube Underground Storm Shelter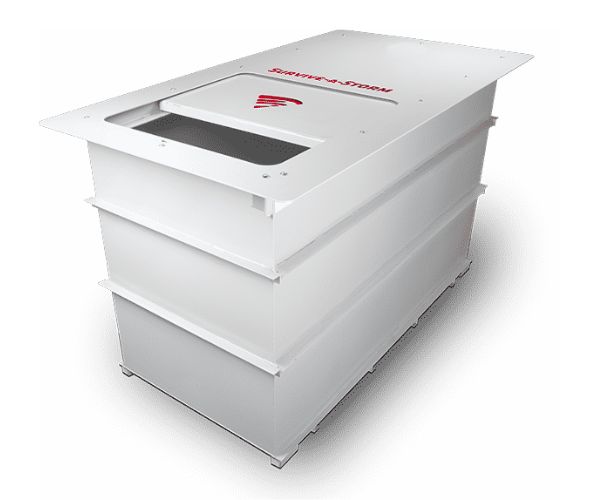 Designed for smaller households with limited space, this GarageCube fits neatly underneath your existing garage floor. At 4'x8′, it's a little smaller than Lehman's, although the manufacturers still maintain it's suitable for 10 people.
Given that the headspace is only 5′ high, that sounds a little crowded! It may be ok for a short period, which is all you need when a tornado hits, but sitting out a hurricane for 24 hours could become uncomfortable.
The GarageCube comes with a sliding door that lies flush with the floor. Made of 1/4 inch thick steel, it's also strong enough that you can park your car on top of it, although that could make it difficult to access in an emergency.
Inside the GarageCube are lockable benches that you can use to store valuables and emergency supplies. You can also remove the stairs if you need more space, but there's plenty of bench room available for the average household, which in the US is currently 3.4 people.
Check it out on Survive-a-Storm
---
#5 Elephant Storm Safe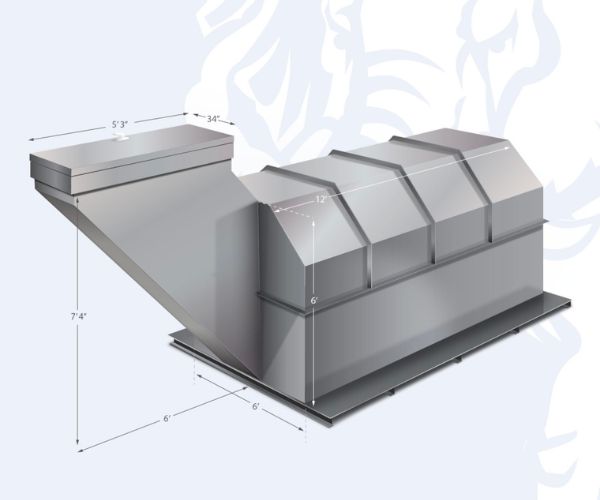 The Elephant Storm Safe is a spacious underground storm shelter made of solid 12 gauge steel. It doesn't have an NPA air filtration system but relies on sheltered air vents to "allow air in and keep debris out." While that's fine for a tornado, it won't do much to protect you against radioactive fallout or chemical weapons.
You enter an Elephant Storm Safe via a standard security door, reinforced with a three-point latch system and deadbolt. You can also make access easier by opting for a stairwell rather than a ladder.
Elephant Storm Safes comes in several sizes, the smallest being 6'x6′ and suitable for up to 10 people, and the largest measuring 6'x30′ and providing enough space for between 22 to 26 people.
Check it out on Elephant Safe Rooms
---
#6 Tornado Safe Storm Shelter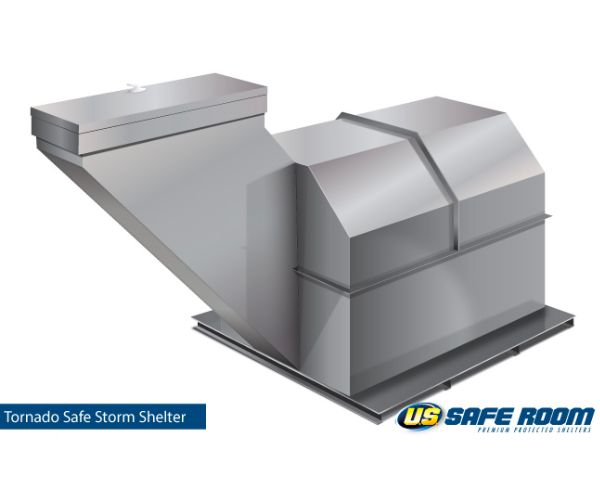 This underground storm shelter from US Safe Room is so versatile the manufacturers say you can use it as "a media room or home gym" and a place to seek protection from a hurricane or tornado.
This fully welded steel unit offers protection against storms, environmental forces, and even burglary. In addition to using it for your protection, the Tornado Safe Storm Shelter is also ideal for storing valuables and sensitive documents.
Access the shelter via a ladder or, if you want easier access, a built-in stairway. It can be installed underneath any part of your house, providing safe entry during a storm.
This versatile, safe room can be fitted with toilets, couches, and beds to make an extended stay more comfortable.
Available in four different sizes, this underground storm shelter is suitable for families of all sizes. The standard sizes range from 6'x6′ to 6'x30′ and can be customized to suit your individual needs.
---
#7 The Refuge Tornado Shelter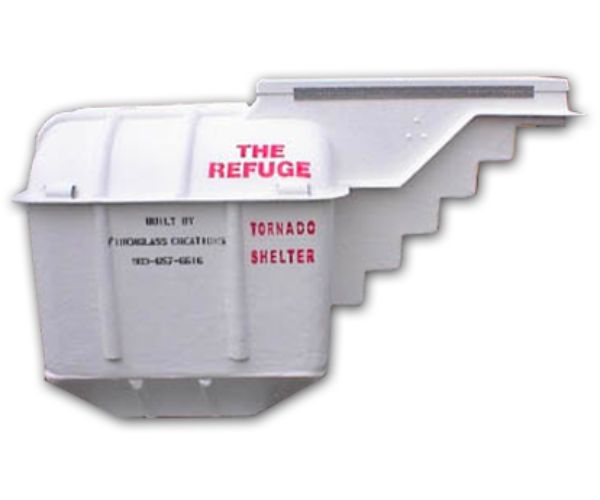 This fiberglass shelter has a spacious entrance to make emergency access easier. It's waterproof and takes just a few hours to install. It may not be the most luxurious of underground storm shelters, but it's affordable and large enough to accommodate up to six people.
There's a three-point locking system that should keep even the worst elements at bay and non-slip stairs to facilitate easy access. Molded benches provide some level of comfort but are not enough to keep you and your family comfortable for more than a few hours.
Check it out on Fiberglass Creations Inc.
---
What To Consider When Buying An Underground Storm Shelter
Location
If none of the houses in your area have basements, it's unlikely you'll be able to install an underground storm shelter.
In areas with a lot of groundwater or tough bedrock close to the surface, installing an underground storm shelter simply isn't feasible.
Size
According to the International Code Council (ICC) 's 500 criteria, the minimum requirement for a community safe room is 5 sq feet of floor space per person.
With a residential underground storm shelter, you might get away with just 3 sq feet, especially if it's primarily used for protection against tornadoes. In areas prone to hurricanes, recommendations vary from 7 to 10 square feet.
An underground safe room for a family of four would have to measure at least 4'x5′, although a 6'x6′ would be comfortable for longer periods.
Legality
All types of storm shelters, whether above-ground or underground, must meet the Federal Emergency Management Agency (FEMA) criteria.
The International Code Council (ICC) also provides a set of standard design and construction requirements for storm shelters that must be adhered to.
Material
Underground storm shelters are made of either steel, concrete, or fiberglass.
Concrete storm shelters are more affordable than steel ones but have a shorter lifespan. They are also prone to cracking, rendering them unsafe during heavy rain.
Steel is the most durable and lasts longer than either fiberglass or concrete. It's also the most expensive, but its extended lifespan still makes it good value.
Fiberglass is similarly durable and can withstand both extreme heat and intense heat without warping.
Although cheaper than steel, fiberglass storm shelters also tend to be smaller and less versatile because they're built from pre-designed molds that are expensive to manufacture.
Cost
Fiberglass underground storm shelters are generally the most affordable, costing between $3,000 and $10,000. You can also find a small steel bunker for around the same price, while a more spacious one will likely set you back anywhere between $15,000 and $30,000.
Concrete storm shelters can be either pre-cast or poured and usually cost between $3,000 and $10,000, depending on size and location.
Either way, an underground storm shelter is an expensive investment. You can offset some of this expense by applying for FEMA funding. Depending on your state's requirements, you could save up to 75% of the cost of your shelter.
Individual homeowners can't apply for funding directly from FEMA but must go through their local government, which receives FEMA's Hazard Mitigation Assistance (HMA) funding.
Your State Hazard Mitigation Officer can provide further information about what details you must submit to be considered for funding and offer advice on any applicable local, state, and federal design requirements. They may also have information about alternative funding sources.
Conclusion
The best underground storm shelters offer protection against tornadoes, hurricanes, and other environmental forces. They also double up as safe rooms where you can store your valuables and seek refuge in the event of a burglary.
Underground storm shelters are ideal for those with limited space and, as they are usually accessed directly from the home or garage, provide safe access regardless of the external threats.
Also read our article about the best underground bunker plans.