What qualifies as a good trauma kit will vary depending on the activity, your level of knowledge, and how much weight you can carry.
I've picked the 7 best trauma kits you can buy online. These picks are based on hours spent combing over the options as well as conversations with EMTs and outdoor experts.
I'll also go over some supplies lists for building your own trauma kit from scratch.
Best Overall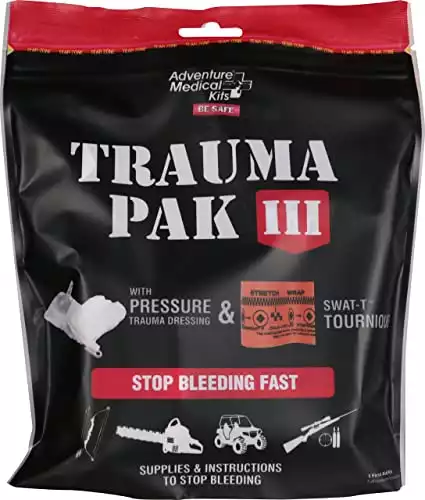 Adventure Medical Kits Trauma Pak III
Small, Lightweight, High Quality
A great choice for people without medical training as it contains only the essentials for stopping bleeding.
Quick Picks:
Difference between First Aid Kit and Trauma Kit
First aid kit supplies are primarily meant for minor, non-life-threatening injuries such as scrapes or sprained ankles.
By contrast, trauma kits address serious, life-threatening injuries. The goal of trauma kits is to keep the patient alive until they can get to a hospital.
As a result, trauma kits contain fewer but more specialized items than a standard first aid kit. These items usually address the "ABCs" of medical care: Airway, Bleeding, and Circulation.
The items are packed in a way that makes them easy to access very quickly.
Who Needs a Trauma Kit?
Everyone should have a trauma kit in their homes. You could fall off the roof while cleaning the gutters, get injured during a home robbery, or have a knife accident.
911 response times can be very slow, especially in rural areas, so you must be prepared to treat life-threatening injuries until help can arrive. Ideally, keep the trauma kit separate from your main first aid kit so you can access items quickly.
Further, you should have a trauma kit with you when you are:
Driving: Vehicle accidents are common! Keep a trauma kit in your glove box or under the seat so you can access it quickly.
Biking: At least keep some minimal trauma items like a tourniquet in case you get hit by a car.
Using a firearm: Just because you are a responsible firearm user doesn't mean the people around you are. Bring a trauma kit to the shooting range when hunting or anywhere else you use your firearm.
Camping: Especially if you will be bringing a survival hatchet. Or going to a campground where other people may be using an axe.
Doing certain sports: Especially people doing high-risk outdoor sports like rock climbing or whitewater rafting.
Should A Trauma Kit Be Part of Your EDC?
In the ideal world, everyone would have a trauma kit with them at all times to immediately treat life-threatening injuries. But, realistically, it isn't practical for most people to carry a trauma kit with them everywhere.
I've already got enough stuff in my EDC! Lugging a trauma kit with me while I walk my kid to preschool is simply overkill.
Further, most people wouldn't even need a trauma kit to deliver life-saving first aid. For example, in urban areas (where help is presumably nearby), you only need to apply pressure to a wound. The t-shirt off your back would be enough for this!
Build or Buy a Trauma Kit?
It's almost always cheaper to build your own trauma kit.
You'll also be able to select the items based on your skill level and the types of injuries, most likely. However, buying a pre-built trauma kit is much more convenient – especially since the good ones come with bags that perfectly fit the items.
Whether you build or buy, just ensure you get quality items. There are a lot of cheap knockoff items (especially for tourniquets) which could fail on you when you need them the most.
Trauma Kits Should Include:
All trauma kits should at least contain:
Your trauma kit maybe should contain:
*Some of these items shouldn't be used without training. They might also be overkill in some trauma kits, especially when keeping size/weight down is a priority.
Note: The most crucial thing for the average civilian without medical training will be controlling bleeding.
Untrained people simply won't be able to do much for airway or respiratory trauma. They could just make the problem worse by trying to use supplies like a decompression needle without training.
The bottom line? Get training! Here are some places to get advanced first aid training.
Best Premade Trauma Kits Reviewed
1. Adventure Medical Trauma Pak III
Best for: A small, lightweight kit with essential items for controlling bleeding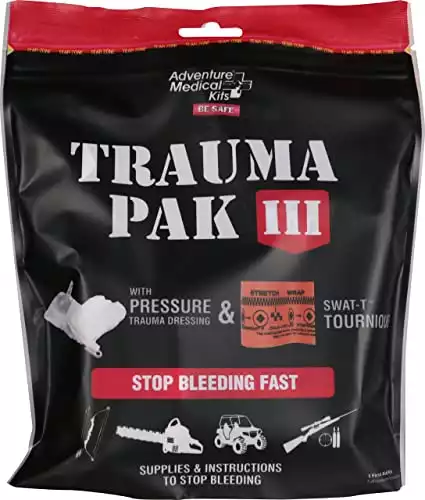 I love Adventure Medical Kits because their first aid kits are EMT-approved for being well-thought-out. They also don't contain many cheap filler items just to get the item count up.
This trauma kit comes in a sealed waterproof pouch. It's only 8oz and is very compact. It's an excellent choice for people without medical training as it contains only the essentials for stopping bleeding.
Weight: 8oz
Size: 7.5 x 8.5 x 2 inches
Contains:

Pressure trauma dressing
Tourniquet SWAT-T
Triangle bandage
EMT shears, 4″
Permanent marker
Gloves
Instructions
---
2. Adventure Medical Kits Trauma Pak Pro
Best for: Lightweight kit with essential items and in a pouch that you can customize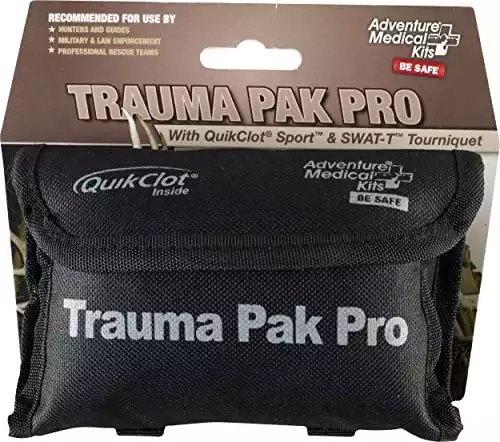 Here's another trauma kit by AMK. Like the kit above, it only contains supplies for heavy bleeding. It's considered "Pro" because it contains QuikClot, which requires knowledge about when to apply. It's not "Pro" by any means, though there is enough room in the pouch to add a few of your own items.
Weight: 8oz
Size: 5.25 x 2 x 3.5 inches
Contains:

Advanced Clotting Sponge 25g
Tourniquet SWAT-T
Gloves
Trauma pad 5×9
Duct tape
Instructions
---
3. North American Rescue Eagle BLS IFAK
Best for: Hip belt carry and a well-designed pouch
Even though they are incredibly pricy, North American Rescue regularly gets listed as one of the best brands for first aid kits. If you are willing to pay the steep price, they have a few great trauma kits.
I like the Eagle BLS kit best because it's compact enough to carry on your hip belt. The pouch is designed in a way so you can quickly open it with just one hand and grab whatever you need.
It also has a tab that you can pull to release the entire contents from the pouch, in a situation where every second counts, this pouch design could literally save lives.
Weight: 1lb
Size: 8" H x 4" W x 3" D
Contains:

Tourniquet CAT
Gloves
Pressure bandage 4″
S-rolled gauze
Chest seal HyFin (x2)
---
4. MediTac Trauma Kit
Best for: More advanced kit for hunting and high-risk outdoor activities
This trauma kit by MediTac contains some more advanced items like chest seals.
The real reason you'd want to get it, though, is because of the MOLLE carry bag. It's too bulky to wear on your hip but is perfect for attaching to a backpack or the headrest of your vehicle.
It has rip-away Velcro, so you can access it quickly, as well as two rip-away EMT pouches. The large zippers mean you can open it easily, even with gloves.
Weight: 5.5lbs
Size: 9.25″ tall x 5.5″ wide x 16″ deep
Contains:

Tourniquet CAT
Trauma shears
Adult and infant CPR mask
Penlight and 2 lightsticks
2x elastic bandages
Forceps
Quikclot gauze
Surgical cloth tape
Eye pads and dressings
Various gauze and dressing
Liquid skin bandage tube
2 x Steri Strips wound closures
2 KN95 face masks
2 x Mylar space blanket
Saline solution vial
6x gloves
10x alcohol and 10x iodine pre pads
10x Sting pads
10x antibiotic packets
5x burn sachets
2x airway seals
1 splint, folded
2x instant cold pack
Various OTC meds
---
5. EVERLit Gen-I Trauma Kit
Best for: Base kit, which you can customize by adding your own items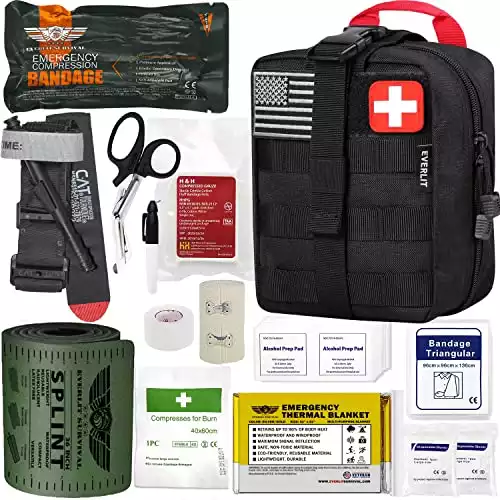 EVERLit is a veteran-owned, small company in the USA. They make a few trauma kits. The GEN-I kit contains the essential items you need to control bleeding.
They also make a GEN-II kit which includes the same items plus: chest seals, abdominal pads, triangle bandage, and nasopharyngeal airway. The GEN-II kit is significantly more expensive and comes in the same case. If you want those items, I'd recommend getting the cheaper GEN-I kit and just adding them yourself.
Note that this trauma kit is pretty bulky and heavy. It's best for your vehicle or higher-risk scenarios like hunting, not EDC.
Weight: 1.9lbs
Size: 6.5 x 4 x 8 inches
Contains:

Tourniquet CAT
Trauma shears 7.2″
36″ Folded Splint
Pressure bandage
Z-folded compression gauze 4.5″ x4.1 yards
Emergency blanket
Elastic bandage
Burn dressing
Mini marker
First aid tape
Gloves (x2 pairs)
Alcohol pads (x40), bandage pack
---
6. Lightning X Spread Eagle Complete Tactical Gunshot and Trauma Kit
Best for: Advanced trauma kit which covers all the ABCs without unnecessary extras
Lightning X is a newer family-owned brand based out of NC. They specialize in tactical medical kits.
This Spread Eagle trauma kit is expensive, but it's one of the most complete trauma kits you will find. You'll need medical knowledge to use many items in the kit, but it does cover all the essentials for ABCs and then some.
Plus, the bag is amazing. If you want to build your own, you can buy just the bag here.
Weight: 3+lbs
Size: 9″ (L) x 7″ (W) x 4.5″ (H)
Contains:

Tourniquet CAT
Chest seals (x2)
Gloves (x2 pairs)
Pressure bandage 4″
Compressed Krinkle gauze
Z-fold gauze 3″ x4 yards
Burn dressing 4×4″
Abdominal pad 5×9″
Nasal airway 28FR
Trauma shears
Emergency blanket
Elastic bandage with clips, 2″
Self-adherent gauze, 2″
Conforming stretch roll gauze 2″, 3″ and 4″
---
7. Emergency Trauma Kit
Best for: Cheap trauma kit in a great pouch, but replace the included tourniquet
This is a cheap, generic-brand trauma kit. Note that it does NOT contain an approved tourniquet!
However, the kit is cheap, and the pouch is awesome – especially since it allows you to carry the tourniquet on the outside, where you can easily access it with one hand.
The case is larger than they make it seem in the pictures (too bulky for hip carry, IMO), but is still great for hunting, camping, and other outdoor activities. You'll need to do a bit of customization, though.
Weight: 1.1lbs
Size: 8x4x3 inches
Contains:

Tourniquet (not CAT or SWAT)
Sterile gauze pads 2×2″ (x2) and 2×3″ (x2)
Trauma pad 4×8″
Medical tape
Mini marker
Pressure bandage 4″
Compressed gauze 4.5″ x4.1 yards
Triangle bandage
Antiseptic and alcohol wipes (x8)
EMT shears
Gloves
Emergency blanket
Tweezers
---