A car window breaker tool can save your life in an emergency. The right one depends on your goals, abilities, and budget.
By examining cost versus effectiveness and utility, I've compiled a comprehensive list of the five best emergency escape devices on the market. Each one offers something unique, so read on to discover the best car window breaker for your needs.
Our Top Pick
Stinger Super Duty Emergency Escape Tool
With a sturdy design and tough build, the Stinger Ztylus has the strength to withstand any crash. An affordable option featuring two types of breaker tips, it's accessible and usable for nearly everyone.
Best Car Window Breaker Tool Reviews
1. Best Overall: Stinger Ztylus Super Duty Escape Tool
The Stinger is an affordable tool with a robust design that works when you need it most.
The Stinger Ztylus Super Duty looks like one tough cookie. It stands out in red with a classic hammer shape, small enough to store in most center consoles but big enough to get the job done right. The Stinger is similar to many designs on the market, but it tops this list for several reasons.
This hammer is made of hardened carbon steel and has two ways to break glass: a traditional hammer tip and a spring-loaded hammer tip. Pressing the spring-loaded tip against a window activates the mechanism and breaks the glass, so the Stinger is suitable for those who may not have the strength or dexterity to swing it.
Check out this demo on how to use a Stinger Ztylus Super Duty.
The Stinger has an integrated seatbelt cutter with a non-slip rubber grip. Unfortunately, it does not come with a car mount. It has a hanging cord for storage, but you're better off stowing it somewhere secure rather than hanging it in your vehicle.
Overall, the Stinger is a modern take on a classic design. It adds effectiveness without raising the price too much.
Stinger Pros:
Two hammer tips
Lightweight
Affordable
Stinger Cons:
No in-car mount
No extra features
---
2. Best Multitool: Zombinator Survival Hatchet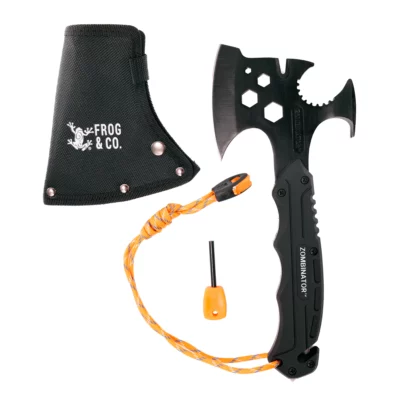 This versatile escape and survival multitool will come in handy in a crash.
Besides an awesome name, the Zombinator Survival Hatchet has a sleek look and a multitude of uses. After a crash, you'll be able to use the dedicated seatbelt cutter stowed away in the handle to free yourself.
On the very end of the handle is the window breaker. It's a small steel tip like others on this list, and you can safely grip the non-slip handle of the hatchet to use it.
The Zombinator also has a ton of other features, like a hatchet blade, a firestarter, a screaming whistle, and even some hex sockets. If you find yourself wrecked far from civilization, you can use this car window breaker tool to aid in wilderness survival. This tool will make a great addition to any car emergency kit.
Check out all the Zombinator's features and learn about the different ways you can use it.
Of course, it does come with some drawbacks. It's pretty hefty and doesn't have a mount, so storing it in your car won't be easy. It also costs three to four times the price of other items. Before you shell out the cash, you'll need to consider if the added features will actually benefit you.
Pros:
Versatile utility
Scream whistle
Three-year warranty
Cons:
Relatively expensive
Hard to store
---
3. Most User-Friendly: LifeHammer Safety Hammer Evolution
LifeHammer is the best if you're looking for a streamlined, no-frills escape tool.
The LifeHammer Evolution is the most recent model of the LifeHammer Safety Hammer. It's made in the Netherlands by the LifeHammer company and has won several design awards for ergonomics.
It's also been TÜV certified, which requires a high standard under stringent German safety laws. Such rigorous testing gives me peace of mind that the product will work as intended.
Learn how to use the LifeHammer Evolution, an intuitive tool that requires little force to function.
The LifeHammer Evolution is excellent because it has a ceramic hammer tip instead of steel. Ceramic is actually harder than steel and may break windows faster. This hammer tip is spring-loaded for convenience, but the device does lack the traditional hammer tip you'll find on the Stinger.
The LifeHammer Evolution has a non-slip rubber grip for ease of use and features a sharp seatbelt cutter inset in the handle. My favorite feature by far is the in-car mount. You can attach the mount to your vehicle wherever it's most convenient, most likely on the driver's side door.
LifeHammer Pros:
In-car mount
Ceramic hammer tip
TÜV certified
LifeHammer Cons:
No swingable hammer
No extra features
---
4. Most Budget-Friendly: Resqme Keyring Glass Breaker
The Resqme is the best portable car window breaker tool for budget shoppers.
The Resqme Keyring is the best product for those who want to carry their escape tool everywhere. It's a tiny device that weighs less than an ounce and measures under four inches in length. You can pop it on your keychain, hang it from your rearview mirror, or even attach it to your headrest or gear shift.
The Resqme works on a spring-loaded mechanism and has an integrated seatbelt cutter like other tools. It's also TÜV certified, giving you that extra peace of mind.
While the head is made of stainless steel to break glass, the body is made of ABS plastic to keep it lightweight and cost-effective. I love that this tool is affordable and portable, with the option to take it with you or stow it permanently in a vehicle.
Discover how well the Resqme really works in an independently-tested crash simulation.
Even though various emergency services departments use the Resqme, some people have reported defective or misaligned products. Additionally, the device is so small that users with big hands might have trouble gripping it properly.
Resqme Pros:
Inexpensive
Portable
TÜV certified
Resqme Cons:
No extra features
Hard to grip
---
5. Best for Roadside Safety: General Tools Rescue One
The Rescue One will keep you safe after a nighttime crash.
The General Tools Rescue One looks more like a flashlight than a car escape tool, but don't let that fool you. With a standard carbide steel hammer tip, rubberized grip, and integrated seatbelt cutter, this tool will get the job done—and with the additional features, it can even help you in the aftermath of a car accident.
The Rescue One has a powerful LED flashlight and an emergency SOS beacon that flashes red. This tool also has a robust magnetic strip in the handle. You can stick it onto your car at night to signal for assistance or illuminate your vehicle for roadside work.
Check out the body, build, and functions of the Rescue One to decide if it's right for you.
The Rescue One makes the list because of its valuable features but ranks lower because of a few issues. It's not the most intuitive tool to use precisely because it has these extra features, so it's a bit of a double-edged sword. Furthermore, while bulkiness might help you break glass, it also makes storage a bit harder.
Rescue One Pros:
Flashlight
SOS beacon
Magnetized handle
Rescue One Cons:
Flashlight requires batteries
Hard to store
---
Car Window Breaker Tool Buyer's Guide
There are two main types of car window breakers. Each will be best for different people under different circumstances.
Standard Breaker Tool
A standard breaker tool works like a traditional hammer. It has no moving parts or mechanisms. Instead, it relies on its own design and the force of your movements to break the window.
Manufacturers design these tips specifically to break glass, so you don't have to apply much pressure. However, you will have to swing your arm to tap the hammer against the glass.
Standard tools without mechanical elements are much less likely to break. However, they are usually larger and harder to use. Furthermore, American Automotive Association (AAA) research indicates that these standard breaker tools are nearly impossible to use while submerged in water.
Think standard is the way to go? The Stinger, Zombinator, and Rescue One all have this type of hammer tip.
Spring-Loaded Breaker Tool
A spring-loaded breaker tool has a mechanism to aid in the breaking process. You press the breaker tool against the glass window and the application of pressure triggers the spring. As it's activated, the spring applies additional force to the window and splinters the glass.
Spring-loaded tools are perfect for the elderly, the injured, or people with disabilities because they do not require much force on your part.
A spring-loaded hammer will function even if the vehicle is submerged in water, and you can still use them to escape when you have no room to maneuver. On this list, the Stinger, LifeHammer, and Resqme all have a spring-loaded hammer tip.
What to Consider When Buying Your Car Window Breaker Tool
Glass Type
It's important to note that car window breaker tools will only break tempered glass, not laminated glass. The side windows are usually made with tempered glass, while the windshield is made with laminated glass.
In the past few years, manufacturers have also begun to use laminated glass on side windows. Before buying a tool, you should check the type of glass on your windows. As long as they are tempered, you'll be able to break them.
Learn more about tempered vs. laminated glass and how to tell the difference between the two.
Materials
Glass is hard. Your escape tool needs to be harder. The most effective hammer points are made from ceramic, while carbide or high-carbon steel remains a close runner-up.
If you can confidently apply a lot of force to a window, you'll be safe with steel. But if you are physically weaker, ceramic is the better option.
The body of your tool also matters. Metal is superior to plastic because it's more likely to withstand the force of a major crash. Plastic can melt in a fire or break in a collision. However, some plastics on the market are very strong—check for ABS plastic to ensure you get a tough product.
Design
You don't want to waste time fumbling around with your tool in an emergency, so I've chosen designs that don't require any setup or folding out.
But even though all these tools come ready to use, they differ in shape and size. Your choice should depend on your build and capabilities. Tiny tools will be hard to use if you're an absolute gorilla. But if you're more of a mouse, smaller devices work better.
Effectiveness is vital when it comes to escape. If you can't use it, don't buy it.
Storage
You should store your car window breaker in a secure place where it's easy to reach. The LifeHammer and Resqme are great because you can mount or attach them anywhere.
Alternatively, you could always make your own mount. Unmounted tools will need to be stored in the center console or glove box. Do not store your device anywhere you cannot reach it while buckled in.
Features
At the very least, you need a tool with a seatbelt cutter. Your window breaker won't do you any good if you're trapped in the car by a jammed seatbelt.
Tools with additional features, like the Zombinator, can be lifesaving under certain circumstances, but wilderness survival situations aren't very common with car accidents.
Too many extra features can be confusing and take away from a device's usability in an emergency, so think about if you'll really need them.
How to Use Your Car Window Breaker Tool
A car window breaker and seatbelt cutter are two of the most important glove box essentials. But they won't do you much good if you don't know how to use them, and you don't want to learn on the fly during an emergency. Read the instructions for your tool carefully before you stow it away and familiarize yourself with its design.
When cutting a seatbelt, hold the belt taut, then cut down and away from your body.
When breaking a window with any tool, don't aim for the middle of the glass. Position yourself securely and try to hit the top corner of the window with the hammer tip. Because the glass is tighter around the corners, it's easier to break through at these points. And if you break the window at the top, broken glass will not fall on your hand.
Regardless of whether your hammer is spring-loaded or standard, you may have to hit the window a few times.
The spring might fail to activate because of your position, or you may not generate enough force to shatter the glass with a standard hammer. Remain calm and keep trying. When the glass breaks, push or kick it away from you. Once the window is clear, you won't have any problem making your grand exit.
Wrapping Up
You can rest assured that all the car window breaker tools on this list will get the job done. My personal favorite is the Stinger Ztylus for its simplicity and reliability, but the Zombinator is a close second for versatility.
Of course, your top pick will differ according to your needs. Now that you know what to look for in a tool, you can start shopping around for the perfect product.