A major disaster strikes while you are coming home from the store. You can't go home, the world is in turmoil, and you have to survive with just what you have on you…
These "what if" urban survival exercises are fun – like when you figure out that the lint building up in your pockets would make a good firestarter, or you could make rope from plants.
But let's be honest: Unless you are McGyver, a bit of lint probably won't save your life. If you want these "what if" games to have merit, you've got to use them to better plan your EDC survival gear.
Now let's be even more honest. Most people aren't carrying around a bunch of EDC tools on the off chance that a nuclear bomb might drop that day.
Instead, keeping a complete Bug Out Bag in your car and at work (or wherever you spend a lot of time) is better.
So, that means…
A good EDC kit will contain must-have survival items and items that you actually use on a regular basis.
Since everyone has different survival needs, I decided not to give an EDC checklist.
Instead, here are examples of real-life EDC kits.
Let these EDC kits inspire you to build your own!
EDC KIT #1
Here is the EDC kit, which is most realistic for most people: It contains essential survival gear (knife, firestarter, cordage…) but not so much that the items won't fit in your pocket.
---
EDC KIT #2
This is a second-line EDC kit. By "second line," Jessica means that it is secondary to the stuff in her pockets, such as keys and wallet.
Jessica travels a lot, so her kit has items for the field and for entertaining herself in everyday life. She wears the EDC on a shoulder strap, or it can be attached to a backpack.
EDC KIT #3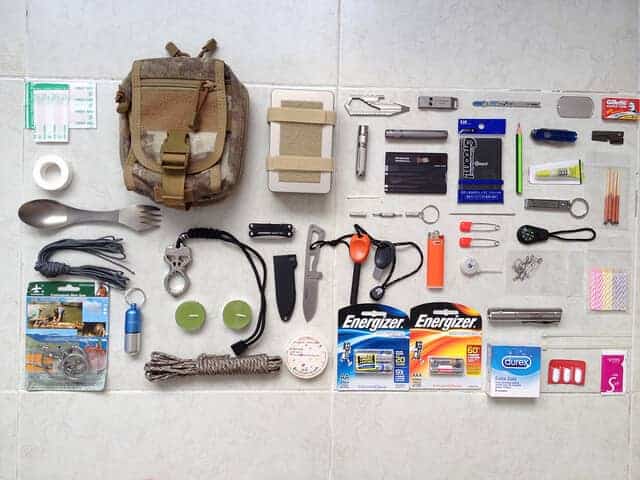 This is an EDC kit for someone who expects to flee into the wilderness at any moment (as is evident by the compass, wire saw, and amount of cordage).
Most people probably won't want to carry around this much stuff every day. So, again, this is an example of how you have to choose between practicality and having all the EDC gear you might need.
EDC KIT #4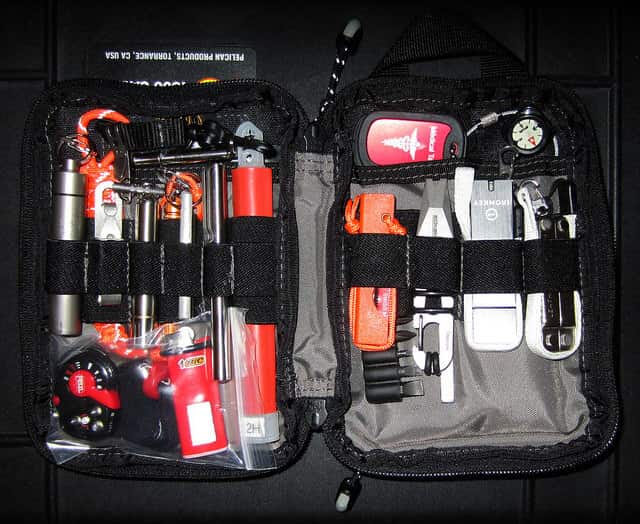 Here's another bulky EDC kit. But you'll also note that this is the only EDC kit that contains phone numbers. I guess he's the only one who plans on contacting family in an emergency! 😉
EDC KIT #5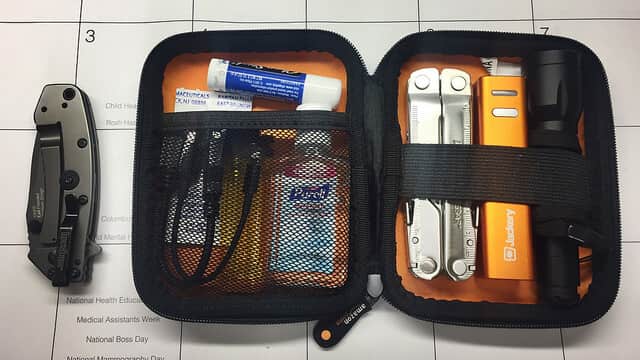 This EDC kit by "Churl" fits perfectly into a portable HDD carrying case. He's quick to admit that he rarely uses most of the items in the kit (except for the pocket knife) and wonders why he bothers carrying the case daily.
Well, you never know…
EDC KIT #6
This super-small EDC kit fits in an Altoids tin.
There are a LOT of survival items in the EDC kit. But do note that most people wouldn't be able to survive with just these items – it takes a lot of McGyver-style skills to pick a lock with a paperclip or start a fire with a magnifying card!
However, those safety pins, duct tape, and Swiss Army knife will come in handy on an everyday basis.
EDC KIT #7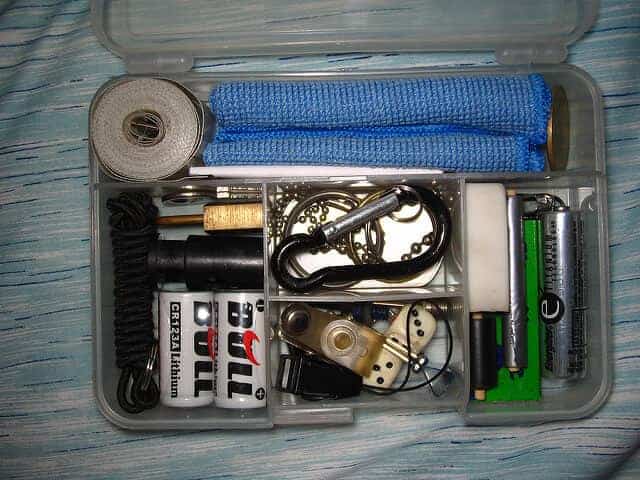 This is a not-quite-pocket EDC kit. The owner carried it around in his backpack every day. However, he admits that he eventually stopped taking it because it got to be too bulky.
Lots of unnecessary stuff in this one, which goes to show that while you may want to get every single important survival item in your EDC kit, practicality still matters.
Now he carries around the duct tape and cash – nothing else.
What Do All of these EDC Kits Have in Common?
Rather than trying to mimic someone else's EDC kit or going off of a checklist, it is worthwhile to see what most/all of these EDC kits have in common.
Then go off of that for building your own EDC survival kit.
The Core EDC items include:
Blade
Light
Firestarter
Cordage
Safety Pins
Bandages
Cash
What's in your EDC kit? We'd love to hear from you in the comments.