A "Survival Backpack" is different than a Bug Out Bag. Where a Bug Out Bag is meant to keep you alive for about 2-5 days while you flee to safety, a survival backpack will contain everything you need to survive for an indefinite amount of time until civilization can get on its feet again.
The Best Survival Backpacks Are
Durable: They must hold up against whatever conditions nature throws at them.
Suited for Your Body Size: You need to be able to comfortably hold gear while tromping through the wilderness. Packs too large or wide will get snagged on branches or upset your center of gravity.
Have Adequate Storage: It is a good idea to make a survival backpack checklist before buying a pack. Then you can see how much space you need.
Learn about the different types of backpack here.
Best Survival Backpacks Reviewed
5.11 Tactical RUSH72 Backpack
Type: Tactical | Capacity: 47l | Material: 1050 denier nylon
Waterproof: No; nylon is water-resistant | Attachments: MOLLE
The Rush72 has an amazing design with many pockets, compartments, and zippers. The stitching is tough, and the pack can withstand the toughest survival conditions. No wonder the pack has a 5-star rating on Amazon!
The only real downsides of the Rush72 survival backpack are the same ones you'd expect of any quality pack. Its high denier means the pack is quite heavy when empty. It also doesn't have an internal frame, so it will not be so comfortable if you load it up with more than 30lbs of weight.
Pros
Incredible design
Lots of space and pockets​
Comfortable straps
Cons
Pricey
2.6lbs when empty
Best For: Survivalists who want the best tactical survival pack
---
Osprey Stratos Backpack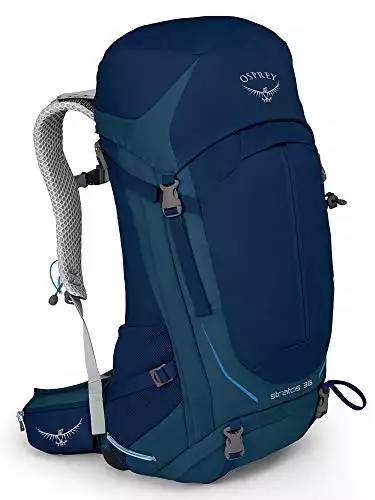 Type: Hiking | Capacity: 34-36l | Material: 210 denier ripstop nylon and 420hd nylon pack cloth
Waterproof: No; comes with integrated rain cover | Attachments: Ice axe attachment, straps
If you have decided on a hiking-style pack for your survival backpack, the Osprey Stratos is one of the best picks. I like that it is more discreet than other hiking packs (which tend to come in bright colors and have reflective tape all over them).
As far as comfort goes, the Stratos has an internal frame and compression packs that allow you to keep heavy loads close to your body. Osprey is one of the best-known brands in hiking backpacks, so you can expect a quality product.
Pros
Multiple size options
Lightweight​
Internal frame
Load stabilization straps
Sleeping bag compartment
Cons
Pricey
No external tie-downs
Best For: People with back problems or who will be carrying heavier loads.
---
Condor 3-Day Assault Pack
Type: Tactical | Capacity: 50l | Material: 1000 denier nylon
Waterproof: No | Attachments: MOLLE and D-rings
The Condor, 3-Day Assault Pack, is one of the most popular survival backpacks. The 1000 denier nylon is much more durable than the 200-500d nylon used on most other tactical backpacks.
For its durability, the Condor is surprisingly lightweight. The empty pack weighs about 2lbs, compared to 5+ lbs of other packs. Those extra pounds make a big difference when packing for survival!
Note that this survival backpack isn't waterproof. You'll want to get a cover for it or store all your gear in waterproof bags.
Pros
Large capacity
Heavy-duty construction​
Seven pockets for organizing gear
Hydration pack compatible
Designed for comfort
Cons
Not discreet
May be too long for short backs
Zippers start to fail under weighty loads
Not waterproof
Best For: People who want an affordable tactical backpack
---
Skog A Kust BackSak
Type: Dry Bag | Capacity: 35l | Material: 500D PVC with welded seams
Waterproof: Yes; can be submerged underwater briefly | Attachments: D-rings
Here's the survival backpack you want if you will have to go through severe weather conditions. The 500 denier PVC with welded seams is entirely waterproof. You could even put it completely underwater briefly and still keep your gear dry. Oh, and it floats!
Compared to other dry bag packs, the BackSak is much more comfortable and has more pockets for organization. I just wish it didn't have reflective trim, in case you don't want visibility in times of chaos.
Pros
Waterproof
Large size for dry pack​
Comfortable
Cons
Ref​lective trim
Exterior pockets not entirely waterproof
Best For: People who will likely experience heavy rains, mud, snow, or flooding
---
What To Put In Your Survival Backpack
Hydration System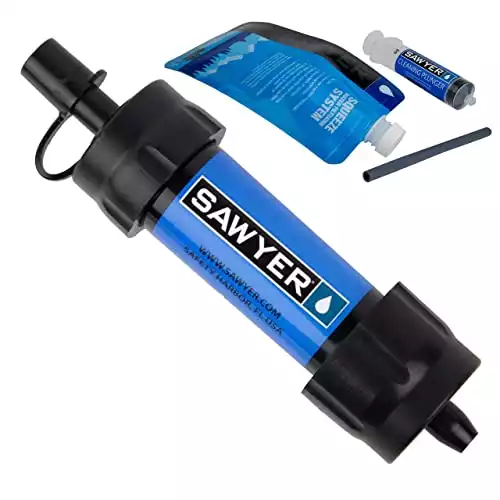 My survival backpack has a stainless steel water bottle (Amazon link) plus the Sawyer Mini water filter (Amazon link), which is only 2oz and good for 100,000 gallons of water.
It isn't going to clean water of radioactive materials, but it will completely filter bacteria from water in rivers, creeks, and even puddles, so it is safe to drink.
Read more about how to purify water here.
Tent and Sleeping Bag
If your survival skills are in order, you won't need these because you will be able to quickly make a shelter out of debris and stay warm by wrapping leaves or dirt around you.
But you'll probably be more comfortable with a tent and sleeping bag 😉
---
Recommended Reading – How To Choose The Best Survival Tent
---
Knife
A knife has lots of uses, including:
Cutting branches for shelter
Creating weapons
Cutting rope
Cutting bandages
Digging small holes
Self-defense
Hunting food
Since your knife is one of the essential items in the survival backpack, you better make sure it is a good one! Also, follow good knife maintenance, such as always drying it thoroughly before closing it.
Read the Top Survival Knives for Under $100
Cordage
Cord is another survival item with so many possible uses:
Creating emergency shelters
Making splints for a broken arm
Tying poles together
Fishing or trapping
Tying supplies to your bag
Hanging food away from wild animals
Mending a broken bootlace
Climbing and rescuing
A paracord bracelet (Amazon link) is an excellent way to keep a lot of cordage on you at all times.
If you are confused about paracord, read this Ultimate Guide to Paracord
Or check out these other awesome Paracord Projects
Tarp or Plastic Sheeting
Why do you need a tarp in your survival backpack? Some of the many uses for a tarp include:
Making an emergency shelter
Collecting rainwater
Wrapping around yourself to protect from rain
Creating an improvised stretcher to carry an injured person
Making a hammock for sleeping above ground
To cover your tent if it starts to leak
To put on wet ground so you can sit
For hiding supplies and equipment
For hauling items
For use as a floatation device (yep, you can build a raft out of a tarp!)
Read our guide to survival tarps.
Fire Starter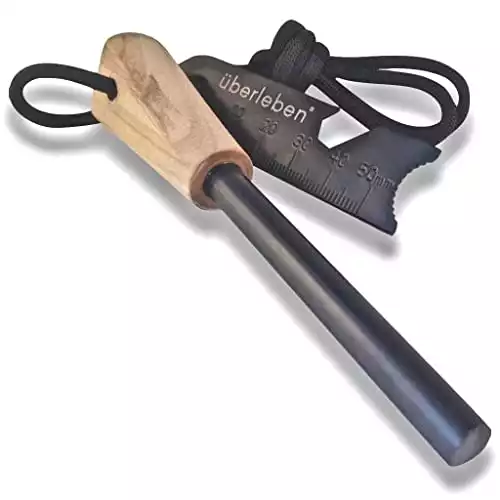 Fire made us human; without it, we'd probably return to beastliness quickly. I hope you have mastered the most critical survival tactics, including making a fire (including making fires in wet and snowy conditions).
I include matches in my survival backpack and a match-less fire starter in case the matches get wet or I run out of them.
Compass and Map
Ensure your survival backpack includes topographic maps of the nearby region and other areas you might flee to. And I should add that it isn't enough to have a map and compass – you better know how to read the map too!
First aid kit
They should include latex gloves, tweezers, plenty of bandages, painkillers, antidiarrheals, sutures, needles, antiseptics, and safety pins.
Here's what's in my wilderness first aid kit.
Cooking Equipment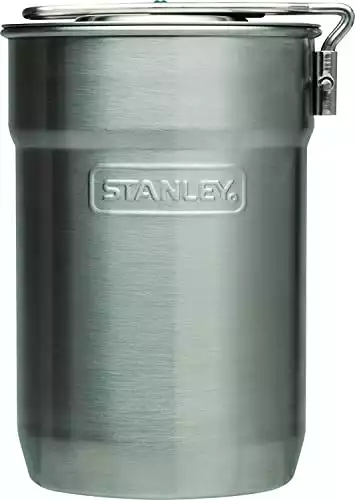 You could forage or eat chunks of raw meat torn from prey – but you will end up with diarrhea and some weird parasites. Pack a good lightweight camping cook set (Amazon link) in your survival backpack. Mine also includes a folding knife/spoon/fork.
Change of Clothes
Most people pack too many clothes in their survival backpack. You need clothes, but one change will be enough (plus a few changes of socks because wet socks are a disaster for your feet!).
Make sure they are quality materials that dry quickly. And don't forget a waterproof jacket and a hat with a brim to keep rain and sun out of your face.
Flashlight
Sure, you can survive without a flashlight (Amazon link) – but your chances of survival significantly increase when you have light.
For example, imagine you want to explore a cave to use as a possible shelter. Without a flashlight, you might not notice the gaping hole in the ground and fall to your death.
Multitool
Remember when Aron Ralston used his generic leatherman (Amazon link) to cut off his arm when trapped under a rock? Need I say more about why you need this tool?
---
Recommended Reading – How To Choose The Best Multitool For Survival
---
Bandana
Bandanas protect your head from the sun; they can be put over your mouth to keep out dust and used as slings or signaling devices. Yes, pack a bandana in your survival backpack!
Sewing Kit
We are about long-term survival here, so you will want a sewing kit to repair your clothes, tent, sleeping bag, and even emergency first aid.
Shovel
If you want to survive in the long run, how do you propose building a shelter without a shovel (you'll need to dig underground or at least dig drainage trenches around the shelter)? Or how about how you will dig a latrine or fire pit?
Recommended: 10 Top Survival Shovel Reviews
Crowbar
If you have to survive in the long term, chances are you will not be in the wild. You will be in some populated place. That crowbar will come in handy to open up locked doors, where you can raid for supplies and get shelter. A crowbar also makes a pretty damn good weapon.
You can also get cool mini EDC crowbars (Amazon link). This way, you'll always be prepared!
Are you prepping for long-term survival in the wilderness? Let us know your insights!