The most critical piece of survival gear is arguably your survival knife.
While a dinky $20 knife made in China is better than nothing, the quality of your survival knife matters.
Those cheap knives will dull quickly. Their poor-quality metal will break when put to the test, potentially injuring you in the process.
However, there is no reason to spend a fortune on a survival knife.
Here is what you need to know to get a quality fixed blade on a budget.
Comparison Table
Best Cheap Survival Knives
Let's dive in and have a look at the best survival knife for the money.​
---
Morakniv Mora – Black Bushcraft Knife
Tang: Partial | Overall Length: 9.1″ | Blade Length: 4.3″ | Weight: 5.4oz | Blade Type: Fixed | Shape: Clip Point | Material: High Carbon Steel | Handle: Rubber | Made in: Sweden
---
The first thing that will draw you to the Morakniv Mora black bushcraft knife is its sleek design. It feels like a knife you'd use to take on the apocalypse after the fall.
This is a fantastic all-rounder at an excellent price point. It will tackle the tough jobs like batoning wood but is equally at home doing the delicate tasks around camp such as cleaning fish or game.
It comes with a built-in fire steel and sharpener, which are decent quality. I've got to admit that anytime a knife has built-in tools, I get suspicious. However, most of those survival knives put their tools in the knife handle, thus weakening it. The Morakniv built survival tools into the sheath to avoid this.
This knife is perfect for your wilderness trips and comes highly recommended.
---
Gerber LMF II Infantry Knife
Tang: 4/5 | Overall Length: 11″ | Blade Length: 5″ | Weight: 11.7oz | Blade Type: Fixed | Shape: Drop Point | Blade: 420 High Carbon Steel | Handle: Rubber | Made in: USA
---
This knife is solid, originally designed for American aircrew; it will happily cut through an aircraft fuselage!

This thing is beautifully balanced and just feels "right" in the hand. The rubberized handle provides superior grip, and it also has an incorporated handguard.
The LMF II is incredibly versatile, with a strong pommel that can be used as a hammer or glass breaker. It also comes with a high spec sheath and knife sharpener.
For a more detailed look at this knife, check out our full hands-on review – Gerber LMF II Review
---
KA-BAR Becker Campanion BK2
Tang: Full | Overall Length: 10.5″ | Blade Length: 5.25″ | Weight: 16oz | Blade Type: Fixed | Shape: Drop Point | Material: 1095 Cro-Van Carbon Steel | Handle: Grivory | Made in: USA
---
I understand why they named this knife the "Companion" – you want to take it everywhere. Even though it is large at 10.5 inches, it has enough weight that you don't feel like you've got a blade flopping off of you.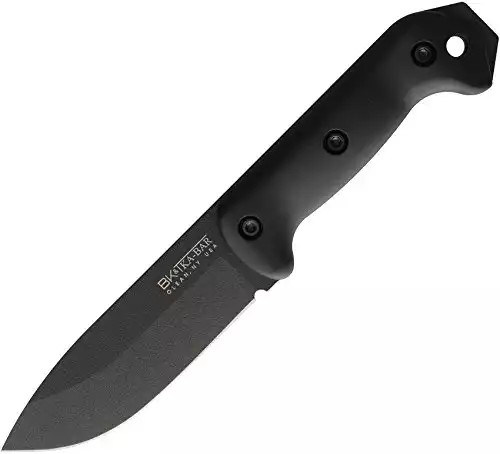 True survivalists will appreciate the heavy-duty MOLLE-compatible sheath on the Becker BK2. It is a minimalist design to save weight and bulk, and you can quick-release your knife easily.
Yes – I know many people prefer leather sheaths, but you can't beat the price.
---
Knives of Alaska Bush Camp
Tang: Full | Overall Length: 10.5″ | Blade Length: 6" | Weight: 8.5oz | Blade Type: Fixed | Shape: Drop Point | Material: D2 Steel | Handle: Rubberized Suregrip | Made in: USA
---
Knives of Alaska isn't as well known as the other cheap knives reviewed here. However, the company should get your attention for the quality products they make in the USA. (Read more about our favorite US made survival knives)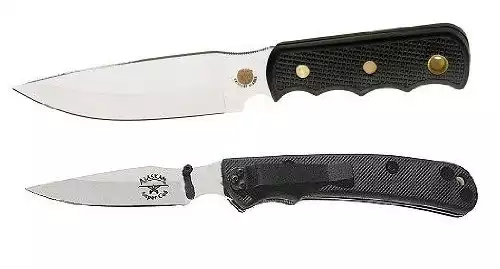 There are a few features that set this knife apart from the others. First, the Suregrip knife is quite long, at 10.5 inches. However, it isn't too heavy at 8.5oz. Those extra ounces matter when you are trekking or backpacking long distances.
Serious hunters will appreciate the non-glare matte finish of the camp knife. Its D2 steel is high-carbon and has a hardness of 59-61. Not bad for a cheap survival knife!
---
Ontario Knife Company RAT-3
Tang: Full | Overall Length: 9" | Blade Length: 3″ | Weight: 5.3oz | Blade Type: Fixed | Shape: Full Flat Taper | Material: 1095 Carbon Steel | Handle: Micarta | Made in: USA
---
This knife is almost always mentioned in discussions of the best survival knives. It practically has a cult following; people like it so much.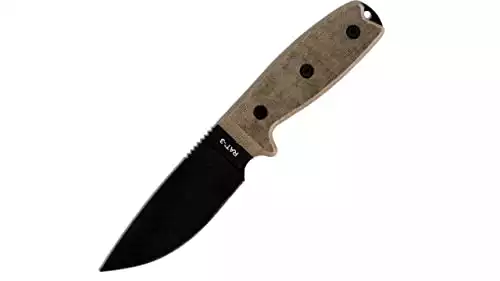 As for toughness, the RAT-3 can baton wood, slice meat, sharpen sticks, and perform survival tasks. It also has an edge that is easy to maintain, which is great considering how much you'll use it.
Another great thing about the RAT-3 is its size. Neither too large nor small, it fits into almost anyone's hands. At 5.3 ounces, it is light enough to take with you backpacking while still getting a reliable blade.
---
KA-BAR 1258 Short Fighting/Utility Knife
Tang: Full | Overall Length: 9.25″ | Blade Length: 5.25″ | Weight: 6.4oz | Blade Type: Fixed | Shape: Clip Point | Material: High Carbon Steel | Handle: Kraton | Made in: USA
---
This is the only clip-point that made it to our best cheap knives review.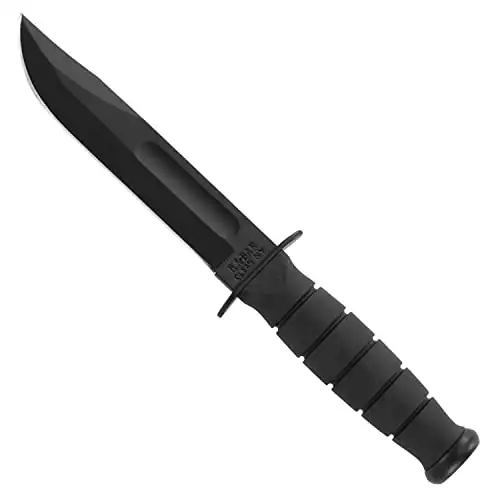 In general, drop point blades are stronger and can perform more versatile survival tasks, such as skinning, carving, and batoning. However, clip points have their place too.
Clip points are better for detailed work. They also make better weapons (and this K-Bar knife would certainly intimidate an opponent!).
If you are more interested in a self-defense tool that can still perform some bushcraft tasks, then the K-Bar 1258 is the right choice.
---
Condor Bushlore Camp Knife
Tang: Full | Overall Length: 6 3/8″ | Blade Length: 3″ | Weight: 8oz | Blade Type: FixedShape: Drop Point | Material: High Carbon Steel | Handle: Hardwood | Made in: El Salvador
---
This camp knife might be small, but it is up for demanding tasks. The blade shape means that the tip holds up very well, and I found that the knife kept its edge well.
Condor added features that traditionalists will like, such as the 100% leather sheath and the hardwood handle. The only issue is that this knife might be too small for large hands.
---
Qualities of a Good Survival Knife
Length
Tang
Blade shape
Blade material
Pommel
Handle
Length
When you watch a Hollywood movie like Rambo, you will almost always see the characters running around with some gigantic knife. While these do look fearsome, a big knife isn't always better.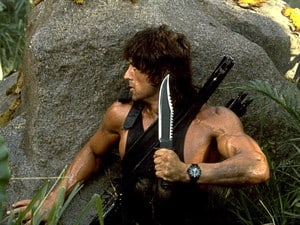 Large knives are cumbersome to carry (every ounce matters in your survival pack!). It could easily get snagged on something if you were to have one on your hip. If you were to put it in your pack, it wouldn't be readily accessible.
Large knives are also terrible when doing precision tasks like carving snares or using the tip as an improvised screwdriver.
By contrast, small survival knives can't do challenging tasks like batoning wood.
In a family survival situation, I might have one large knife for myself, a medium-sized knife for my wife, and give my daughter the tiny Swiss Army knife to carry. But, if you only have 1 survival knife to pick, I'd go for a medium-sized one.
The perfect survival knife length is between 9 and 11 inches. So, the blade might be 5 inches and the handle another 5 inches.
Tang
Tang is the part of the knife that extends into the handle. The tang is usually attached to the handle with bolts, pins, screws, or glue. Cheap knives will have just a small partial tang glued to the handle. If you used these knives for anything requiring force, the handle would easily break off.
When choosing a survival knife, you want to select one with a full tang. Because there is more metal, the knife is much sturdier.
Even if the handle comes off, you can still use it simply by wrapping some paracord around it.
The only real downsides are that full tang survival knives will cost more and that the full tang adds weight to the knife. If weight is a concern, you could get a skeletonized tang which is a full tang that has some metal removed from it to make it lighter.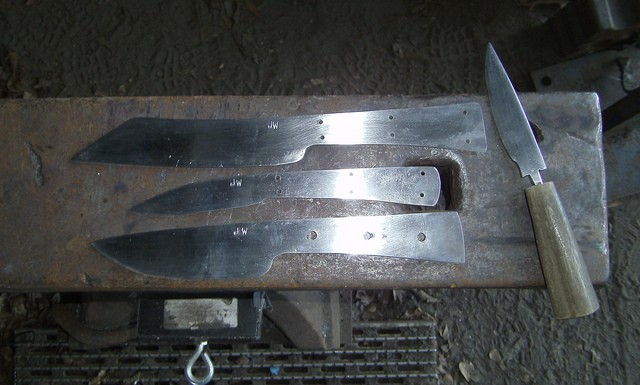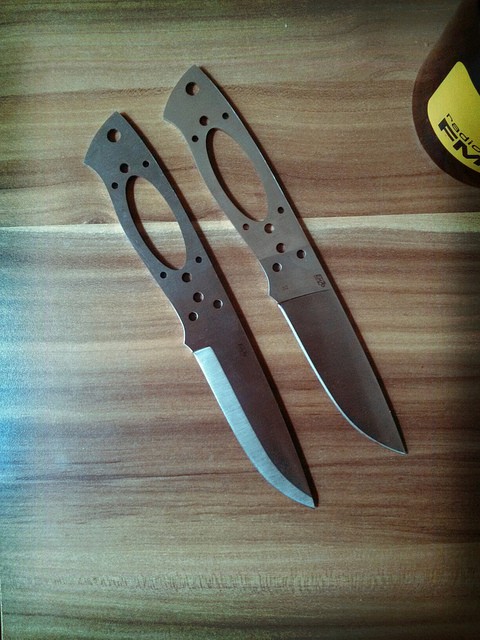 What about folding knives?
A folding knife, such as a Swiss Army knife, cannot be a full tang. For this reason, you should never choose a folding knife as your primary survival knife.
This doesn't mean that folding knives don't have their place and advantages, and we look at the best assisted opening knives in this post.
Blade Shape
The shape of the knife blade is also known as its grind. There are all sorts of knife grinds, and some are much more suited for specific uses.
For example, a kitchen knife has a rounded blade shape, perfect for cutting onions and carrots. Though, this knife won't help you spear a fish or carve an arrow!
AVOID: Knife blades sharp on both sides (like a dagger). While these might be good for fighting, they are terrible for more survival uses and can even be dangerous. For example, I often rest the back of the knife on my thumb for leverage when doing precision work like carving. This is not safe with a double-edge blade.
AVOID: Knife blades with angles, hooks, or highly rounded edges. These blades won't hold up well during rugged tasks. You also want to avoid knives that have completely flat blades. There needs to be a bit of curve to the blade to reduce strain on the hands when cutting with it and distribute the force throughout the blade.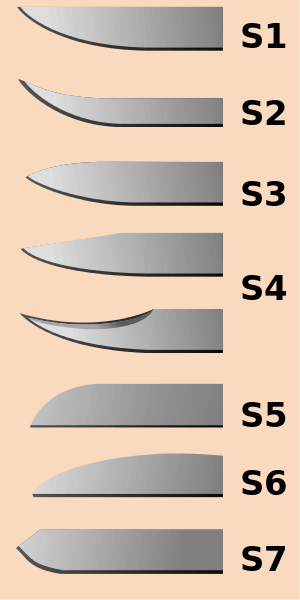 The BEST survival knife blade shape is a drop point blade (S3 in the picture). Starting at about halfway down the blade, the dull side of this blade slopes downward slightly to meet the point. This geometry is best suited for most survival tasks.
Alternatively, the clip point blade (S4) is also suitable for survival situations. It is like a typical blade (S1) but has a "clip" taken out. The sharper tip makes it better suited for cutting in tight places and also using as a pick. The clip is often curved. Don't choose a clip-point blade with too much curve because it could easily break if you pound on it.
Read more about the various types of survival knives available.
Blade Material
Survival knife blades are made from steel, an alloy of iron and carbon. There are two main types of steel used to make survival knives:
Stainless Steel: Isn't as strong as carbon but resists rust better. It loses its edge faster and is harder to sharpen than carbon steel.
Carbon Steel: These blades are more robust and hold an edge longer but will rust if not cared for properly.
Remember that not all stainless steel and carbon steels are the same! How the materials are made will affect how durable and strong they are.
Here are some great charts via BladeHQ, which show the range of knife steels and the trade-offs that need to be made between hardness, corrosion resistance, edge retention, and ease of sharpening.
Related Posts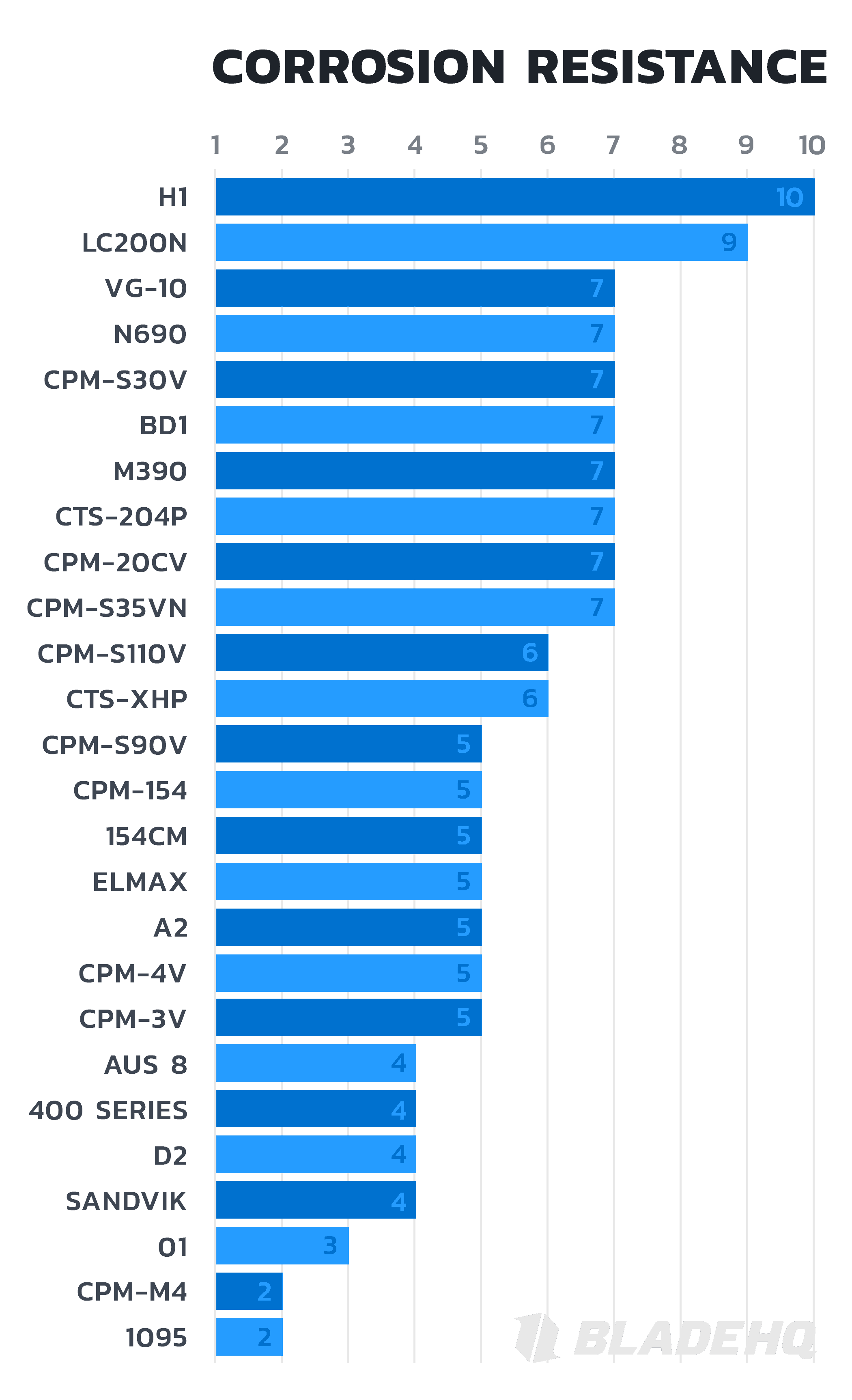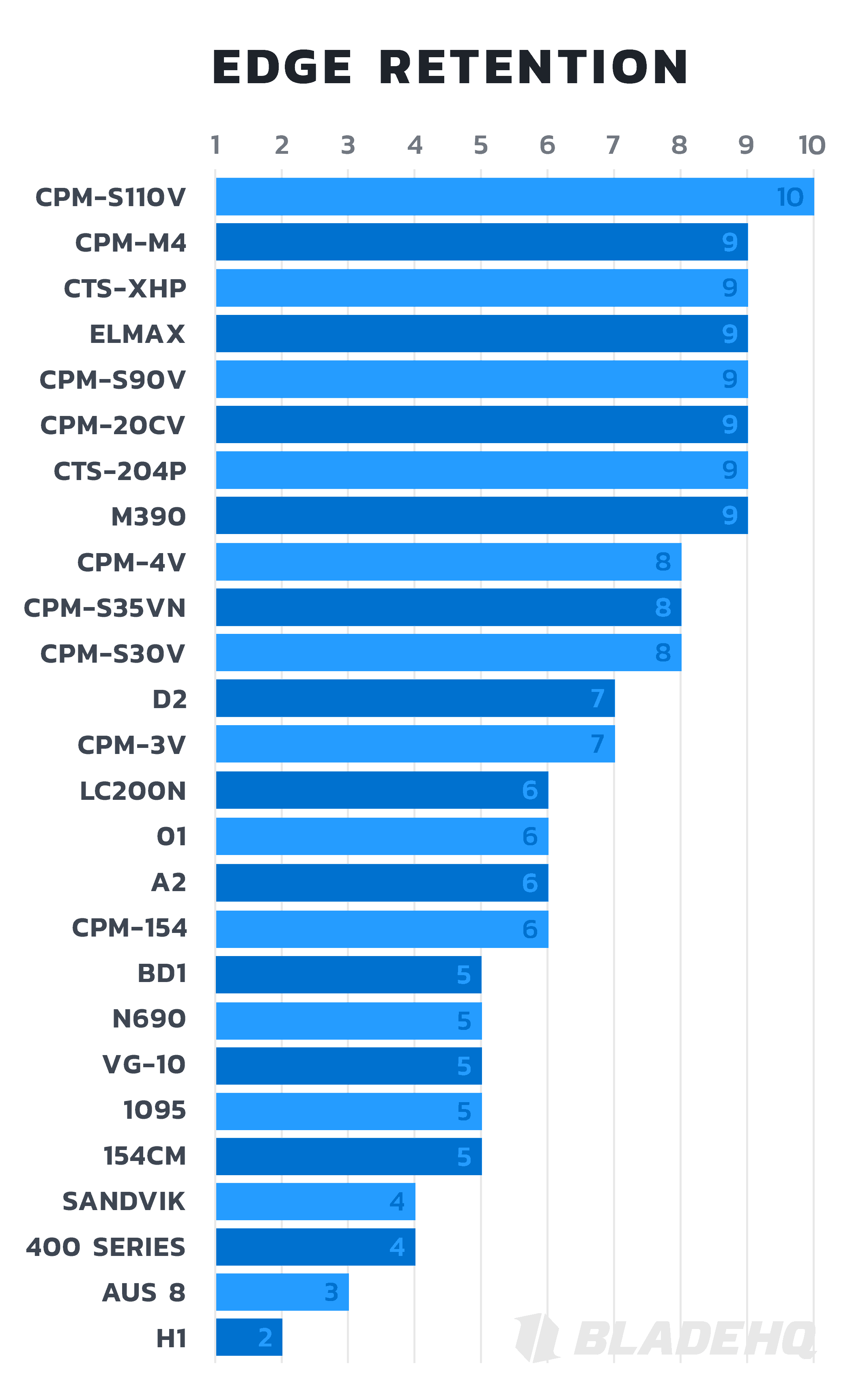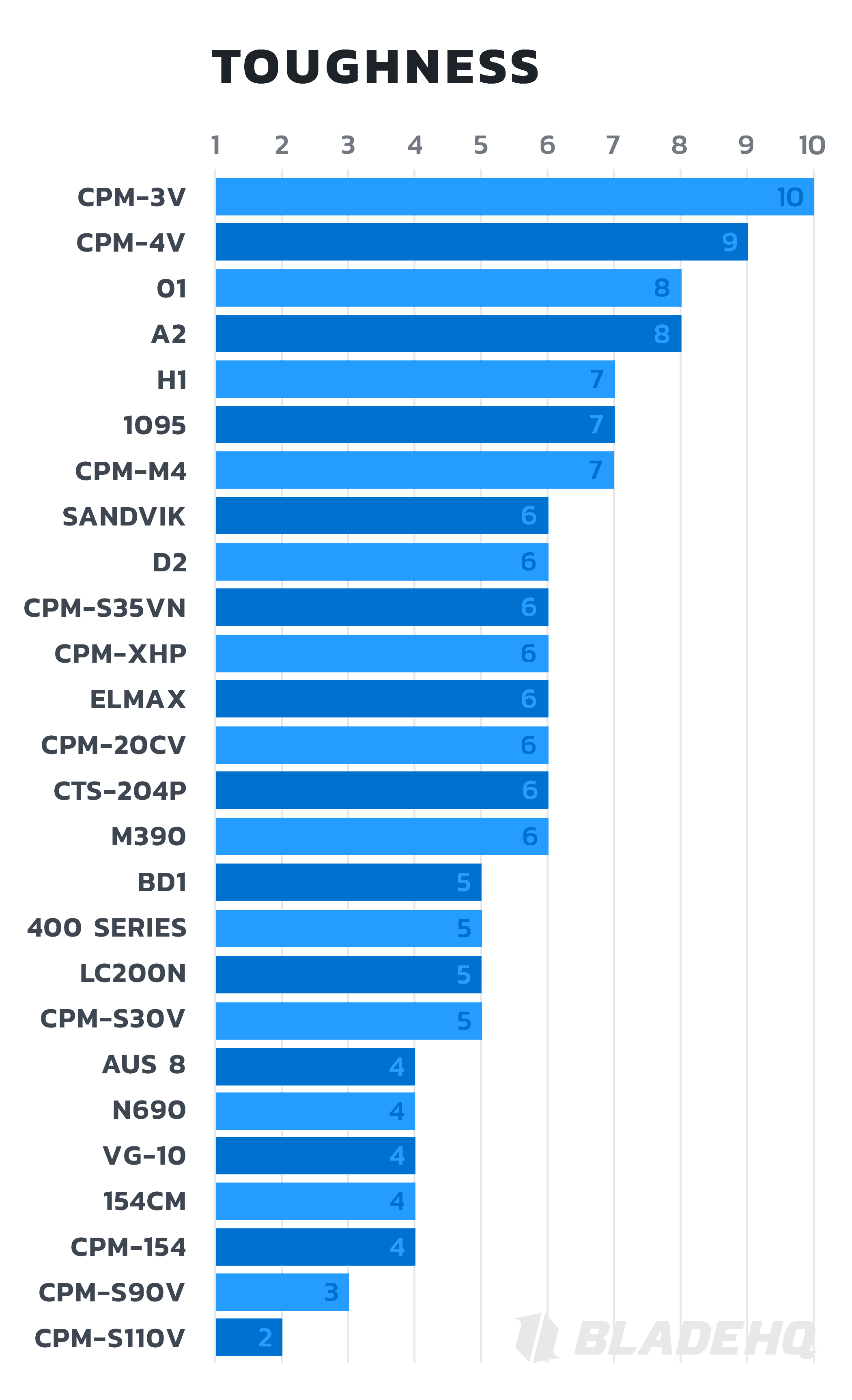 Pommel
The bottom of the knife's handle is the pommel, more frequently just called the "butt" of the knife. It might not seem like an essential characteristic of your survival knife, but you want to make sure you choose a flat pommel.
Do NOT get a pommel that is curved or V-shaped. The reason is that you may want to hit the butt of your knife with a rock or piece of wood (for example, if you are digging with your knife). Or, you might want to use the butt of your knife to hit something (such as when hammering tent stakes into the ground). You can't do this safely unless the pommel is flat.
Handle
There is no one "best" handle material for a survival knife. I like wooden handles, but they need to be cared for and absorb water.
Rubberized handles have a very comfortable nonslip grip, but they don't last as long.
There are many comfortable, long-lasting synthetic materials for the handle. I recommend handling several survival knives and seeing which material you like best.
Some knife handles have guards on them. I personally don't like them because they make it difficult to do carving. But, some might prefer to have them there.
Most importantly, do NOT get a knife handle with a hollow compartment (such as for holding matches) or a built-in compass. These features may seem helpful, but they are just gimmicks.
If your handle is hollow, it won't be sturdy enough for real survival applications. And that built-in compass is going to break the first time you try to hammer with your survival knife.
What to Look for in a Cheap Survival Knife
With all that said, if your budget only allows you to buy one survival knife right now, then you want to make sure that it is a very versatile knife.
A machete is NOT a versatile knife!
Nor are any of those other big, intimidating Rambo knives you see on bad TV shows.
To sum up, the most versatile survival knives will have the following attributes:
Fixed Blade
Full Tang
Blade Shape: Drop point or clip point.
High Carbon
Medium Size: Bigger is NOT better! The blade part of a versatile survival knife should be between 4 to 7 inches. Any larger than this, and your survival knife will probably be challenging to use for detailed tasks.
Blade Thickness: I find that the perfect blade thickness falls between 0.17 to 0.25 inches.
Non-Gimmicky Handle: With a flat pommel (the back end of the handle) to be used for hammering.
Grind: A flat grind is best because it can be sharpened easily and has many versatile uses, such as splitting wood and chopping.
Note that you probably aren't going to find all of these features in a cheap survival knife. After all, it takes a lot of resources to produce a good quality knife. Just buy the best quality survival knife that you can afford.
Survival Knife Uses
Aside from the obvious uses of a survival knife like self-defense, there are countless ways you can use it for your survival:
Tips for Buying Survival Knives on a Budget
Firstly, resist the urge to buy a bunch of cheap survival knives just because they look cool. Having five 20-dollar knives will not do you any good when they all break or become dull after a few cuts.
Spend your money to buy ONE excellent survival knife!
A good survival knife will last throughout the years.
What was your first survival knife? What do you use now?