A few years ago, I spent two months in the jungles of Peru. That experience gave me a new appreciation for all the uses of a survival machete.
It would have been impossible to get through some of the thick overgrowth if we didn't have a good machete to hack the vines!
Even now, I'm constantly finding new uses for a machete in the states.
Let's dive straight into our top picks.
Survival All-Rounder
KA-BAR Kukri
For experienced users who want a tough, intimidating, and well-made tool.
Style: Kukri
Length: 17
Weight: 1.3lbs
For Beginners
SOG SOGfari Kukri Machete
Best machete for those who want an affordable, entry-level blade for light tasks.
Style: Kukri
Length: 18"
Weight: 0.94lbs
Machete Comparison Table
| Product Name / Product Image | Style | Length | Weight | Primary Button |
| --- | --- | --- | --- | --- |
| | | | | |
| | | | | |
| | | | | |
| | | | | |
| | | | | |
| | | | | |
Top Survival Machetes Reviewed
Ka-Bar Kukri Machete
By our rating, this is one of the best machetes around; Ka-Bar has delivered a gorgeous product. It is made from 1085 carbon steel with a black epoxy powder coating.
The rubberized Kraton handle fits well in your hand. Just be warned that the Kraton can cause blisters, so wear gloves when doing heavy-duty tasks.
My only mild complaint about the Ka-bar Kukri is that its sheath is a bit awkward to carry. The sheath does have a belt loop and end loops, but it still doesn't sit well. Considering the low price, though, I can't complain too much.
Kukris aren't as strong as a bolo, but they do a good job chopping and cleaning small branches. At 17″ total length with handle, the Ka-Bar Kukri is a great campsite companion.
Pros
1085 carbon steel
Non-slip Kraton handle
Leather and Cordura sheath
Edge holds up great
Cons
Sheath sits a bit awkwardly
Rubber handle can cause blisters
---
CRKT Ken Onion Halfachance 14" Parang Machete
The Halfachance machete certainly makes a strong first impression. Designed by Ken Onion, the machete looks mean and imposing. It is technically a parang-type machete but has the design elements of a Bowie.
As you'd expect from a Parang, the blade is thin at just 1/10th inch. This makes it suitable for clearing light brush and some camp tasks like carving wood. You won't want to use this machete to chop thick wood, though.
The blade is made from 65MN carbon steel, which has a hardness in the mid-50s. This means it is a relatively low-hardness machete. The downside is that it will need sharpening more often. However, the low hardness means that sharpening is a lot easier. The softer steel also absorbs strikes better, meaning the blade is less likely to shatter if you accidentally hit a rock or nail.
As far as weight goes, the Halfachance is just 20.4oz. Again, not great for chopping – but it is excellent for people who are just learning to wield a machete or don't have much core strength.
The main downside of the Halfachance Parang is that it has finger grips. I don't like these. Unless your fingers fit the grips perfectly, your fingers can be in an uncomfortable, improper grip. However, some people prefer finger grips as they reduce slippage.
Note that the Amazon listing for this machete is a bit confusing. The machete has different blade lengths, but the listing title says "18 inches" for all of them. The Halfachance is 14″ long. The Chanceinhell version is 18″.
Pros
Easy to resharpen
Holds edge decently
Powder coating prevents corrosion
Great price
Cons
Not suitable for heavy work
Finger grooves might not fit your hand well
Fairly short blade
---
SOG SOGfari 18″ with Saw Back
I honestly didn't expect much out of such a cheap machete. However, the SOGfari delivers well on quality. The blade is a classic Latin/Bush-style.
The long, uniform blade is good for efficiency – and especially great if you aren't used to swinging a machete.
The SOGfari comes in two sizes: 13″ and 18″. I would only go with the 18″. It has more swinging power and doesn't feel bulky to carry.
The saw back has offset teeth as a hand saw. As with any saw-back machete, sawing through branches can be awkward because of the handle shape. However, you can get through 5″ branches relatively easily.
Note that this is a low-budget machete. For the price, it's great. Just don't expect too much from the 420 steel (which has almost no carbon). Thus, I'd recommend the SOGfari for newbies wanting to get a feel for survival machetes.
Pros
Aggressive saw back
Serrated edge on handle for breaking glass
Low price
Cons
Chips easily on rocks
Heavy at 1.8lbs
Belt loop a bit flimsy
420 stainless steel, not very tough
---
Condor Parang 17.5 inch
The Parang machete by Condor is an excellent blade for thinning out thick brush or even saplings.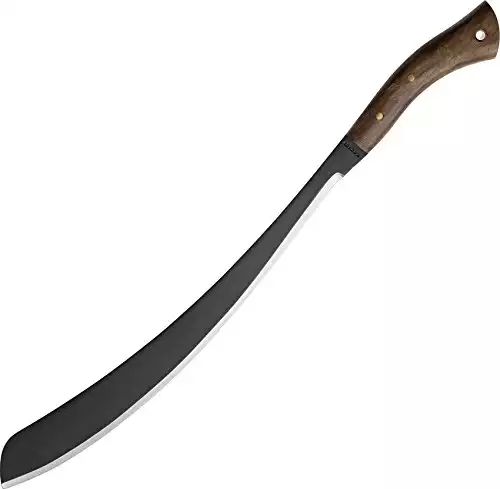 At 17.5 inches, the blade might seem like it would be too long. However, it is very well-balanced. The only issue is that the parang blade is relatively thick, making it heavy for its style.
If you aren't experienced in using machetes or don't have much thick brush to clear, you might want to choose a lighter machete.
Pros
Gorgeous design
Hardwood handle
1075 high-carbon steel
Holds edge very well
Leather sheath included
Cons
A bit pricey
Two-snap sheath is annoying to use
Better for slicing and pounding than chopping
Fairly heavy (1.92lbs)
---
Schrade SCHBOLO Bolo
While they aren't as popular as Gerber and SOG, Schrade makes great quality blades at very good prices. They've got quite a few survival machetes, and I had difficulty choosing the best.
I love their Bolo machete because it has the perfect curve. Remember, a Bolo blade's bulging shape allows for better distribution of force and more cutting surface. Though relatively short at 14 inches, the blade whacks right through branches. You could quickly chop up a big log with this machete.
At 4mm, the blade is thick. Surprisingly, it still cuts through thin grass. I don't think it would hold up well in jungle situations because of all those vines, but it is a good machete for forests.
Pros
Insane chopping power
Good weight (1.69 pounds)
Heavy-duty sheath holds up well
Sturdy 4mm blade
Comes with sharpening stone and Ferro rod
Cons
Gets dull quickly
3CR13 stainless steel
Sheath has no belt loops
7.3 inch handle not great for small hands
---
Condor 15″ Engineer Bolo Machete
The Condor Engineer Bolo machete has been around for a long time. Unlike most Bolo machetes which are mid-weight, this one is a beast. It weighs 2.54lbs and has a 3/16″ thick blade, which is great for chopping through wood.
It is not great, however, for clearing brush. Your body would quickly tire from swinging it around!
The curvature of the blade is made well. When you hit wood, the weight of the blade goes through the curve to maximize chopping. Again, this is great for heavy-duty tasks!
As for the blade material, it is a 1075 high carbon steel. The steel holds its edge well, even against harder wood. Hard steel does mean you need to be careful not to hit any nails or rocks, though. Another issue is that the high-carbon steel will rust. Make sure you clean the machete and store it properly! I wouldn't recommend using this machete in humid places.
Some other nice aspects of the Engineer Machete are the gorgeous finish, durable leather sheath, and wood handle. All of these features are pointless, though, if you don't plan on doing lots of chopping. And, if you are only going to use it for chopping, maybe you'd be better off with an axe.
Pros
Great for heavy-duty tasks
Holds edge well
Beautiful finish
Durable leather sheath
Cons
Rusts easily
Too heavy for many tasks
Handle is a bit short
---
Uses for a Good Machete
Big and robust, the machete is a very versatile type of blade. It is something between a sword, cutlass, and survival knife. Some go as far as calling machetes "the only multi-tool you'll ever need."
I still like my small EDC multi-tools, but I have a machete with my survival gear.
Machete Uses
Clearing a campsite
Stripping bark and shoots from branches
Lawn mowing
Pruning trees and bushes
Splitting wood
Making a shelter
Killing snakes as they are about to strike
Self-defense
Making a snow cave
Chopping compost
Carving notches into wood
Butchering large game
Driving nails
Opening beer bottles
Opening nuts
Bear in mind that there are a lot of types of machetes. A machete might be able to do all of this, but it won't necessarily do it well.
You've got to consider how you will use the machete before you buy it. Then you can make sure you get the best machete for your needs.
Types and Blade Shapes
When you start looking at machetes, you'll see that they come in all sorts of shapes and sizes. These styles make them suited for different purposes. To figure out what style is right for you, consider the following:
Blade thickness: Thin machetes are made to slash through lighter bush without straining your arm (think clearing a grassy campsite). Thicker machetes can hack through huge branches – but the weight will give your arms a major workout!
Blade curve: Some machetes (such as the kukri) have very drastic curves. The curve increases the contact area of the blade, making it ideal for chopping. Curved blades are also suitable for slashing, making them a formidable weapon. By contrast, a straight edge is better for thrusting.
Blade Tip: Pointed tips are great for tasks like skinning game. However, pointed tips aren't as strong. Rounded blades are better for clearing thick bush or chopping through wood.
Most Popular Types
Kukri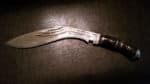 My favorite type of survival machete, the kukri, has three parts.
The first part is the pointed tip, which makes it a good self-defense weapon.
The second part is the curved mid-area, which is ideal for cutting through thick bush.
Finally, the area near the handle is suitable for detailed work.
The only issue is that these are heavy, so your arm will be killing you after a day of clearing.
---
Latin/Bush
The long, thin shape of the Latin machete helps it stay balanced. Thus, it is relatively easy to perform tasks with the Latin machete. It serves as a good multi-tool.
Just don't expect it to do demanding tasks efficiently – it's too thin and pointed.
---
Bolo
The bolo is an excellent all-around machete. The rounded shape adds strength for challenging tasks, but the blade is thin enough for lighter work.
---
Bowie
The main feature of the Bowie machete is its clip-point blade. This blade makes it ideal for skinning game. The point makes the edge weaker, so don't expect to do much chopping with a bowie.
---
Panga
I consider the panga to be the fiercest-looking of all machetes. It is commonly used in Southern Africa as a weapon.
Some are made so both sides can be sharpened, meaning it will slice through game (or disembowel someone) fairly quickly. The curvature makes it suitable for slicing as well as light chopping.
---
Parang or Golok
Parang and golok machetes are two types with very similar features. They have beautiful, sleek curves, but the entire blade is narrow.
Because these blades are thick, they are still solid and great for cutting through thick brush.
---
Spetsnaz
These were made by the Soviets during WWII and are still used by Russian Special Forces today.
The machete was designed to be a heavy-duty chopping tool, which is why the blade is so thick and heavy.
A Spetsnaz is tough to sharpen and not balanced. However, a lot of people love them as collector's items.
Which Machete Type to Get?
The type of machete you get depends on where you live and what kind of vegetation or wood you will cut through.
Here's a general breakdown of the best machete based on how it will be used.
Cutting through Thin Underbrush: The Latin and Bolo machetes are suitable for this because they have thinner blades, making it easier to go through thin brush without straining yourself.
Clearing Thick Brush: You'll need a machete with a thicker blade to go through thicker brush. The Parang and Golok are good choices. The Kukri also works well because its curved blade can hook branches.
Chopping Wood: You want a machete with a heavier, thicker blade for chopping work. A Spetsnaz is ideal for this. The Bolo and Panga machetes are also good options, and a Golok or Parang can do lighter chopping work.
Butchering Game: Machetes with thin, pointed blades like the Bowie are what you need for butchering game.
Shaping Wood: It depends on what you want to shape, but generally, you'll need a very thin, light blade to shape wood effectively. A Bush or Latin machete is great for this. You can also use a Kukri – the part of the blade near the handle is shaped for splicing/carving wood.
Combat/Self-Defense: Combat machetes need to be able to slice effectively. The double-sided Panga machete will undoubtedly do this. You'd also want a longer machete blade to keep more distance between you and your attacker, so a long Latin or Bolo machete could work. If you have more skill, the Kukri is great for stabbing or cutting the head off an attacker!
Best Multi-Purpose Machete Type
If you need the best machete to accomplish many different tasks (or aren't sure how you'll be using your machete), then I'd recommend going with a Kukri.
The Kukri is used in Central Asia as a military weapon but also handles many other camp tasks. The blade shape gives you a lot of versatility.
You'll be able to use it for chopping, clearing vegetation, and even whittling.
Quick Note about Clearing Briars with a Machete.
Many people want to get a machete for clearing through briars or thorny things like blackberry bushes. While this is possible with a machete, it is not your best choice.
When you swing a machete at a briar, the briar might whip around and smack you in the face. You'll also likely end up hitting the ground a lot – which means hitting rocks and damaging your blade.
A better choice for briars is a brush hook with a large handle. Or get a pair of sharp snips with a long-handled rake to push them aside.
Other Machete Features
Once you've learned about the types of machete (blade styles), the other features are the same as when choosing a knife:
Tang: The tang is the part of the blade that extends into the handle. Cheap machetes will have thin tangs which are glued into the handle. The best machetes have full tangs attached with bolts and are much sturdier.
Blade Material: Natives will make their own machetes out of scrap metal. When buying a machete, you'll want to look for high-quality, strong steel or carbon steel.
Length: In general, machete blades are very long. Some are longer than others, making them more efficient at clearing bush and effective as weapons – but are much heavier to carry.
Handle Material: While wood handles are often considered best, this is a personal preference. I like rubberized handles for their non-slip grip, but they wear out quickly.
Pommel: The pommel is the end of the blade. Flat pommels are great if you want to use them for hammering.
Extras: Depending on your needs, you might want a machete with a saw-back or gut hook.
Sheaths
Some cheap survival machetes come without a sheath. While locals living in the jungles of South America and Asia might be able to get by without a sheath, you will probably want one!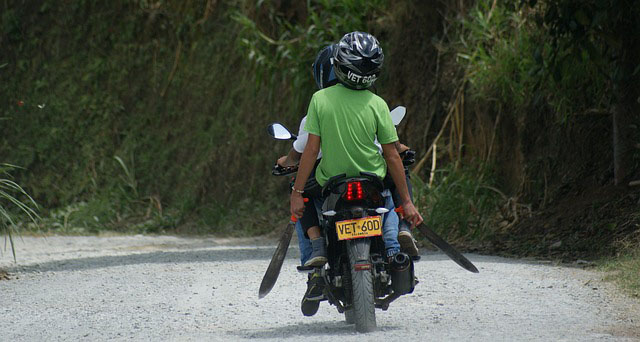 If the machete you want doesn't come with a sheath (or a sheath in the material you want), make sure you can easily find one. Machetes are specifically shaped, so you can have a hard time finding a sheath to fit – and it costs a lot to special order one!
As far as materials go, leather sheaths are preferred. However, nylon sheaths are also good options for a fraction of the cost. Also, pay attention to whether there are belt loops for carrying.
Tips for Proper Use
When using a machete, you should NOT get blisters, sore arms, or an aching back. Unfortunately, there is a bit of a learning curve for using a machete. So expect to deal with these problems at the beginning.
While blisters are manageable, you don't want to risk getting any worse injuries.
Please take the time to learn about proper machete form and technique before hacking away at some brush!
Here are some basics about machete technique to get you started.
Gripping the Machete
A common mistake is griping a machete with a "death grip." Your grip should be somewhat loose.
Start by wrapping your thumb and pointer finger around the machete, making the "OK" sign around it. These fingers should be tightly gripped.
Wrap your remaining three fingers around the handle. These fingers remain loose.
If you are getting sweaty, wear gloves with the machete or even use a lanyard to attach the handle to your wrist. This will prevent the machete from slipping out of your hand (causing you to lose a toe!).
Machete Form
Here is where it helps to have a solid core! Contrary to what many think, you should be swinging the machete from your core, not your back or arms.
Start by lowering your shoulder. Then swivel your core back. Twist your core forward, whipping your arm (with the machete in it) downward. The downward action is crucial because it allows the machete to do the work. You get the weight of the machete and gravity on your side.
Your elbow should be leading as your arm whips around. Your wrist will flick at the very last moment before you make contact with what you are chopping.
The motion is a lot like skipping rocks across water. It is NOT like chopping with an axe!
Getting the Proper Angle
This takes a lot of practice to master. I recommend that you chop/cut slowly with your machete when you first start. This will help you build up good form so learn to instinctively hit at the right angle.
Doing this will save you a lot of strain and wasted energy.
Chopping: For chopping wood, you need to hit it at a 45-degree angle. You do NOT want to hit it at a perpendicular angle. The machete will get stuck. You continue chopping in alternative 45-degree angles, making V notches.
Clearing brush or cutting grass: You also need to use a 45-degree angle for brush or grass. You'll use longer slashing motion, though.
This video shows why the angle is so crucial for cutting with a machete.