There are hundreds of survival shovels on the market right now, and you could spend hours researching your options only to end up with a poor-quality tool that will let you down when you need it most.
Or, you could let us do the hard work.
We've continuously researched and tested dozens of shovels over the past 3 years, and here are the best options for your consideration.
Tried and Tested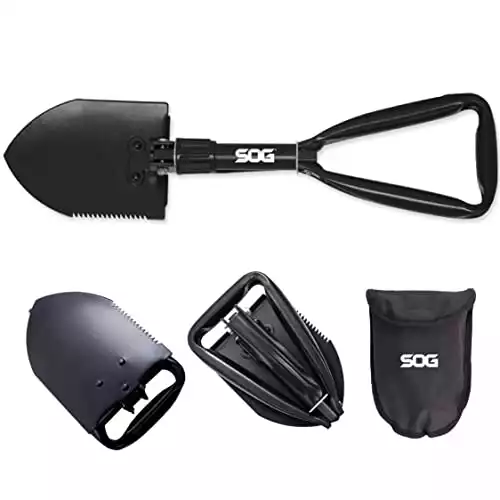 SOG Folding Shovel with Entrenching Tool
The SOG folding shovel with Serrated Edge is a simple, strong, and affordable shovel. This tool will handle most survival jobs without a fuss. It is very compact, ideal for any bug-out bag.
Best Multi Tool Shovel
FiveJoy Military Folding Shovel Multitool
Well designed and surprisingly light given the number of extra tools supplied. Feels balanced in the hand and has a versatile adjustable locking mechanism.
Best Survival Shovel Comparison Chart
At a Glance – 15 Best Survival Shovels Available Now
Gerber E-Tool Folding Shovel with Serrated Edge
Cold Steel Special Forces Survival Shovel
FiveJoy Folding Shovel and Multitool
SOG Folding Shovel with Entrenching Tool
Schrade SCHSH1 Survival Shovel
United Cutlery Kommando Tactical Survival Shovel
Birdrock Avalanche Shovel
Iunio 11-in-1 Military Folding Shove
Zune Lotoo Folding Tactical Shovel
Sahara Sailor Survival Shovel
Tentlab Trowel
Best Survival Shovels Reviewed
1. SOG Folding Shovel with Entrenching Tool
Type: Folding | Closed Size: 10″ | Extended Size: 18.3″ | Weight: 24.5oz
Material: High carbon steel | Additional Tools: None
---
Simple in design yet great in functionality, this survival shovel is one of the lightest weight shovels you'll find while still having adequate strength and decent handle size.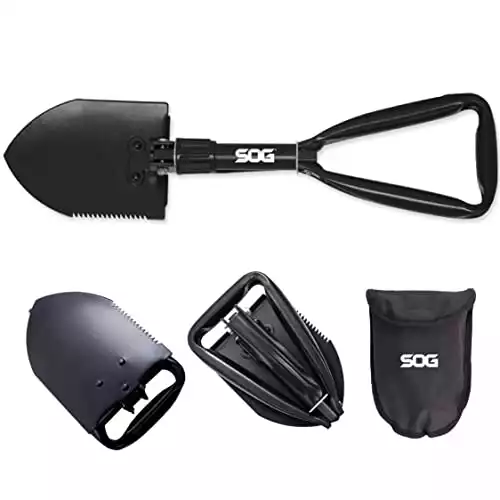 Pros
Incredibly durable – comes with a limited lifetime warranty
SOG is a very reputable name for tools (I love their cheap survival knives too!)
Folds down really small so it is easy to carry
Lightweight without losing strength
Includes a sawtooth edge and hoe
Great price for the level of quality
Cons
Handle could be longer
I wish the tip were sharper so it could cut through roots better
Case isn't MOLLE compatible
---
2. FiveJoy Folding Shovel and Multitool
Type: Folding | Closed Size: 5″ | Extended Size: 19″ | Weight: 15lbs
Material: 420 Carbon steel
Additional Tools: Axe blade, serrated saw edge, hammer, rescue knife, whistle, bottle opener, and firestarter
---
I love this survival shovel because it has many tools built into it without weighing a ton like other multi-tool shovels. It's a great addition to Bug Out Bags and for your vehicle emergency kit.
Note: This shovel is very small; check the dimensions and understand that you are getting a very compact tool.
Pros
Lightweight for the number of tools it contains
Lock adjusting mechanism means you can adjust the angle of the shovel
Great design – feels comfortable to use
Cons
A bit long even when folded
Higher price
---
3. Gerber E-Tool Folding with Serrated Edge
Type: Folding | Closed Size: 25″ | Extended Size: 75″ | Weight: 3lbs
Material: Forged steel blade, glass-filled nylon handle | Additional Tools: No
---
This is one of the most popular survival shovels because it is very portable.


The serrated edge also gives it some more functionality. For removing lots of dirt at once, the deep scoop of the shovel blade is helpful.
For more on this shovel, check out our in-depth Gerber E-tool review.
Pros
Serrated edge good for cutting through roots
Compact
Affordable option
Cons
Not as durable as some options
A bit heavy
Users report the coating chips, leaving it susceptible to rust
---
Alternatives:
4. The E-tools little brother – Gerber Gorge
5. EST Gear
---
6. Cold Steel Special Forces Survival Shovel (Spetsnaz Shovel)
Type: Fixed | Closed Size: 19″ | Extended Size: 19″ | Weight: 1lb 10oz
Material: Medium carbon steel | Additional Tools: No
---
Our Readers Favorite!
I hadn't tried this shovel until some readers put me on to it. I'm glad they did! As a shovel, the Cold Steel is great. Tough as a tank, you don't have to worry about the shovel breaking on you. In case the handle ever breaks, it is easy to replace.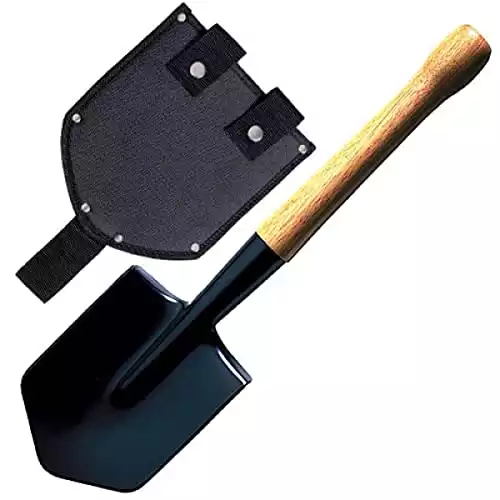 Note that the product image is a bit deceiving. The edges are a lot sharper than they appear. This makes it great for cutting through tree roots (remember to hone the edge!).
My main complaint is that the shovel doesn't telescope or fold. You are stuck with the 20-inch handle, which means your back will hurt like hell from stooping over.
Pros
Very durable
Hardwood handle
Includes MOLLE compatible sheath
Cons
It doesn't fold or telescope
A bit bulky for a bug out bag​
Edges need regular sharpening
---
8. Schrade SCHSH1 Survival Shovel
Type: Folding\Telesopic | Closed Size: 16″ | Extended Size: 26″ | Weight: 2lbs
Material: 1055 high-carbon steel| Additional Tools: No
---
Here's a great survival shovel for removing lots of dirt at once, such as if you need to make a trench, shelter, or dig out your car wheels.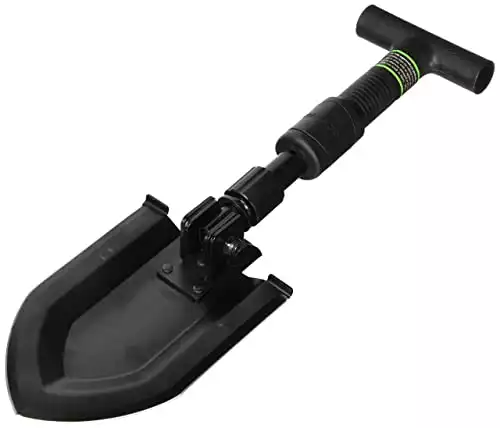 It isn't the largest and doesn't have any extra features, but that's what you'd expect from such a lightweight shovel.
Pros
Telescoping means a longer handle
Sturdy material
Very sharp
Cons
The handle is uncomfortable for some uses
Not for heavy-duty usage
---
9. United Cutlery Kommando Tactical Survival Shovel (M48)
Type: Fixed | Closed Size: 16″ | Extended Size: 16″ | Weight: 3lbs
Material: Nylon handle, tempered stainless steel blade with black oxide coating
Additional Tools: Concave edge for chopping, serrated edge, and pointed blade for self-defense
---
Not only does this survival shovel look completely badass, but it also delivers on quality.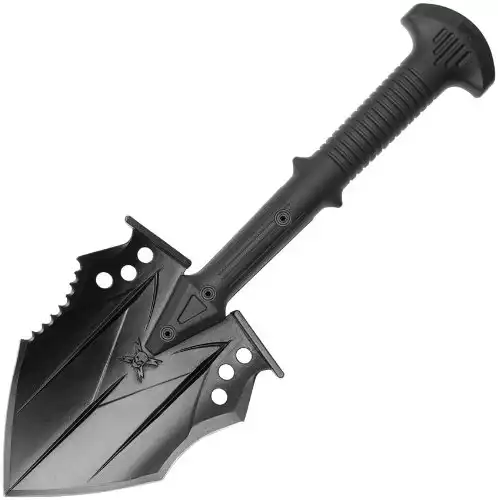 While it might not fold down, it will be ready if you need to use the shovel to whack an attacker on the side of the head for self-defense.
Pros
Very strong – virtually indestructible
Suitable for multiple tasks, such as light chopping
Pointed tip is great for digging in hard earth and dirt with lots of roots
Cons
Heavyweight
Short handle will put strain on the back
---
10. Birdrock Avalanche Shovel
Type: Telescopic | Closed Size: 5″ | Extended Size: 39″ | Weight: 1lb 14oz
Material: Aluminium| Additional Tools: No
---
Don't forget about winter survival!
Most other survival shovels aren't suitable for snow and bugging out in winter. They corrode too quickly, and their blade shape isn't meant for making snow caves.
By the time you dug out your cave with one of those other shovels, your hands would already be frozen. The best thing about the Birdrock is that it is very lightweight, so you won't kill yourself while scooping heavy snow.
Pros
Lightweight
Handles can be removed from scoop for easier packing
Very strong
Wide scoop good for moving snow quickly
Cons
Not suitable for tasks other than shoveling snow
Won't break through ice
---
11. Iunio 11-in-1 Military Folding Shove
Type:Telescopic | Closed Size: 9″ | Extended Size: 38″ | Weight:5lbs
Material: High-carbon steel
Additional Tools: Saw edge, pickax, whistle, flint-magnesium rod, fish knife, ice axe, bottle opener
---
Because of its weight, you won't want to carry this survival shovel in your Bug Out Bag. However, it is a great multi-purpose shovel to have in your vehicle, especially if you need to chop through ice occasionally.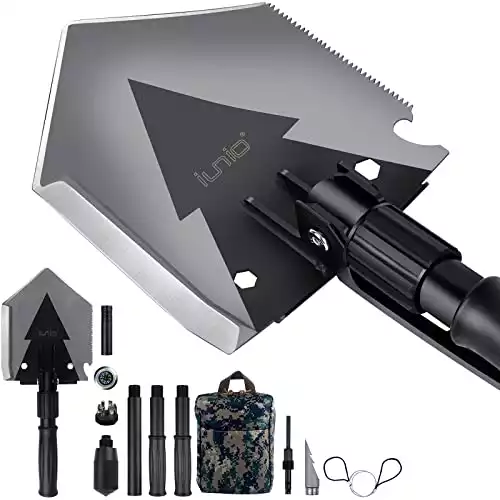 Pros
Lots of tools!
Long handle reduces back strain
Durable shovel that won't break
Shovel blade shape is suitable for various types of digging
Cons
Very heavy – you'll only want this one for keeping in your vehicle and not BOB
Lots of parts that have to be put together; could easily lose one of the parts
---
Alternatives to the Iunio:
12. Sahara Sailor Survival Shovel – Cheaper multi-function folding shovel
---
13. Tentlab Trowel
Type: Trowel | Closed Size: 8″ | Extended Size: 8″ | Weight: 6ozs
Material: 7075-T6 aluminum| Additional Tools: No
---
Finally, here is a backpacking trowel for people who don't need a shovel often. The trowel's shape and strength make it a heck of a lot better than trying to dig with a stick, and it won't weigh you down or take up space.
Pros
Incredibly durable – comes with lifetime warranty
One of the lightest yet toughest backpacking trowels on the market
Great for summer Bug Out Bags
Cons
Is only suitable for digging small holes and trenches
---
Why Do You Need a Survival Shovel?
One of the first steps in emergency preparedness is to build a Bug Out Bag. While there is no one "right" way to build a Bug Out Bag (See our BOB essentials), virtually no BOB would be complete without a shovel.
Shovels serve multiple survival purposes. Here are just a few of the most common:
Digging a fire pit
Digging a latrine
Making a trench
Leveling ground when pitching a tent
Digging out a car stuck in mud or snow
How To Choose The Best Survival Shovel
Before we get into the best survival shovels, it is essential to know what to look for. Survival shovels come in many different types and with various features, and not every shovel will be suitable for your needs.
How Will You Be Using the Shovel?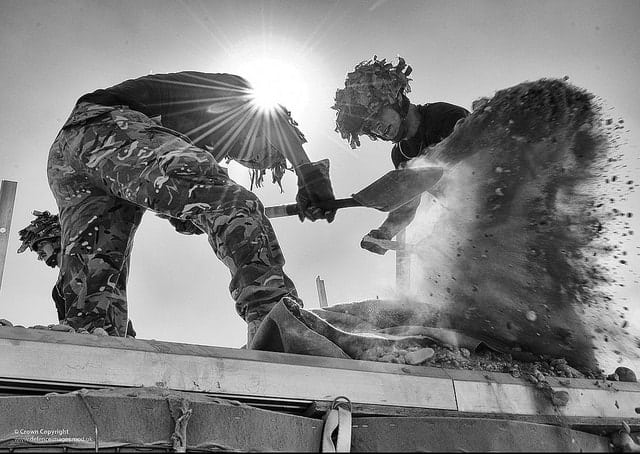 Will you be carrying the shovel for long distances? Then you need a lightweight shovel with a carrying case.
Will you need to dig large holes, such as trenches or shelters? Then you need a sturdy survival shovel with a longer handle. Military-style shovels are great for these tasks. It is also nice to have sharp blades for cutting through thick roots.
Will you mostly be digging small holes, such as for sanitation? Then a smaller shovel or trowel should be adequate.
Will you need to dig through snow or make a snow shelter? Then you'll need a snow or avalanche shovel.
Material
First off, avoid plastic shovels at all costs. Yes, they are cheaper and lightweight – but they break quickly and are unreliable.
That leaves you with various types of metal to choose from.
Stainless steel: Won't corrode but is pretty heavy
High-carbon steel: Stronger than regular stainless steel but must be covered with oxide paint to prevent corrosion. The problem is that the paint often chips off.
Aluminum: This material has the benefit of being lightweight but isn't as strong.
Don't forget to look at the shovel handle material. Many cheap survival shovels have plastic handles that break easily.
Build/Function
The way the survival shovel is built will affect its function. The main things you want to pay attention to are:
Handle length: The longer the handle length, the easier it will be to use – but the length will also add weight.
Blade size: Bigger blades can make tasks go faster but also mean that you'll have to put forth more energy. Those big blades can also make it tough to dig around rocks and chop roots. On the flip side, digging a trench around your tent with a small blade will be very time-consuming!
Blade edges: Many modern survival shovels have serrated edges, which can be used to cut through roots.
Blade shape:

Narrow: Good for tasks like digging a sanitation hole and pitching a tent.
Wide: Good for tasks like leveling earth, making snow pits, or digging large fire or latrine pits.
Pointed: Good for digging in hard dirt or making small, deep holes (such as sanitation holes or holes for shelter stakes).
Flat: Good for wider, shallow holes such as fire pits or digging snow caves.
Ease of Use
The most popular style of survival shovel is folding handles.
Folding handles mean you can flip the handle, and it is ready to use. However, the downside is that the handle is usually very short.
Another option is to get a shovel with a handle that screws together. This means you can have a much longer handle – but it takes time to screw those parts together. You also risk losing one of the parts.
Portability
Have you checked your Bug Out Bag weight?
Anything above 15-20% of your body weight will get heavy quickly and be hard to carry long distances.
Thus, the weight matters when choosing a survival shovel!
Also, pay attention to shovel attachment options. You don't want to put a dirty shovel in with your other gear, so it's beneficial if your survival shovel is MOLLE compatible or has a carabiner attachment option.
Multi-Tool Survival Shovels
Many modern survival shovels are also multi-tools with saws, picks, and blades built into them. These are great for adding functionality without adding much weight.
Just be careful – many multi-tool shovels are gimmicks that will break on you quickly!
Final Thoughts
Our top recommendation for most preppers is the Gerber E-tool, a simple and effective shovel with very little to go wrong. If you want the added functionality of a multi-tool shovel, we recommend the Fivejoy.