The contents of your Bug Out Bag are one of the most important things you need for disaster preparedness. We've talked about this a lot before at Primal Survivor.
But, as we've said many times, each person has different needs. A BOB for a fit young man, for example, will look a lot different than those of a family.
To give you an idea of how different Bug Out Bags can be, check out these 4 examples of Bug Out Bag essentials.
Not all of these Bug Out Bag contents are perfect, but looking at what they include and don't include should help you decide what to put in your pack.
Example 1: The Military Bug Out Bag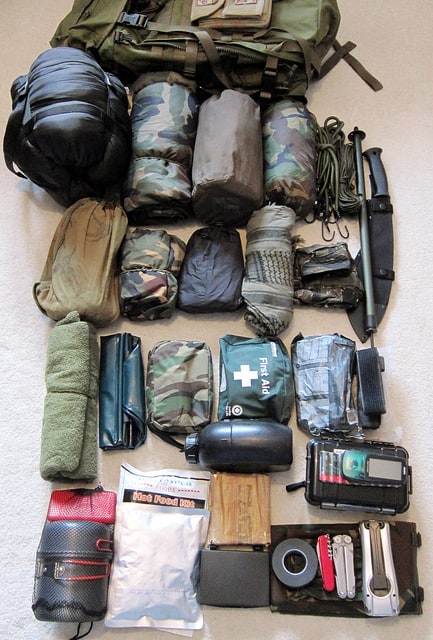 A female military veteran created this Bug Out Bag. She's done a good job choosing her BOB items, including a few things you don't often see – like the collapsible washbowl.
She's chosen a great survival knife (a khukuri), which would be much more useful in the wilderness than your standard folding knife. The basha pole (see here for more types of fighting stick) is excellent, but I wouldn't recommend it to preppers unless you know how to use it in combat.
It was also really smart for her to add waterproof pants to her BOB in addition to the standard waterproof jacket/poncho. If you've ever gone backpacking in the rain, you know what I am talking about!
Bug Out Bag Contents
*Not pictured:
Example 2: Backdoor Survival Bug Out Bag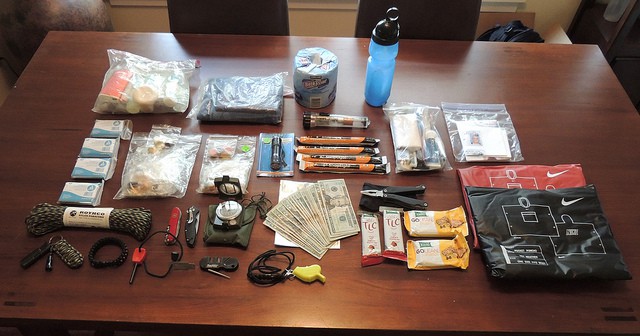 This Bug Out Bag was made by the good people over at Backdoor Survival. I want to point out that this is the only Bug Out Bag here that includes COPIES OF IMPORTANT DOCUMENTS.
As I talk about in this post about emergency binders, you must have copies of documents like your ID, passport, health insurance, etc., in case rescue workers need them. Not every disaster will bring about TEOTWAWKI, so you'll want these for semi-SHTF scenarios!
They also included some other really practical items – like TOILET PAPER. It isn't necessary and does take up a lot of space, but you'll probably be happy to have some TP around when SHTF. See toilet paper alternatives and toilet paper tablets.
Note that Bug Out Bags are supposed to be the minimum supplies you need for survival immediately after disaster strikes. So, a knife sharpener isn't strictly necessary. It is small and lightweight, though, so why not bring it along?
I would have included a more durable flashlight, preferably a winding one, in case the batteries go out.
Bug Out Bag Contents
Example 3: The Budget Bug Out Bag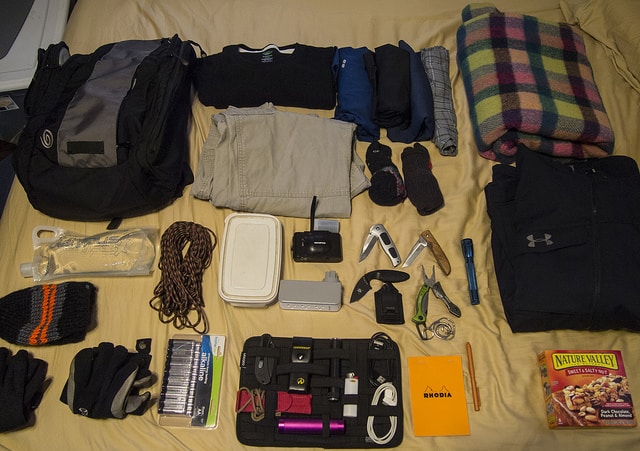 This is an excellent example of building a Bug Out Bag on a budget. There are some higher-quality items in this BOB (like the knives), but they are older and passed down. While this Bug Out Bag is a pretty good start (more than the average person has!), there are quite a few flaws here.
Instead of including 4 knives in the kit (yes, there are 4 knives here!), I would have opted for one really good quality survival knife with a fixed blade. Fixed blades are much stronger than folding knives, and a quality blade will allow you to do things like cutting wood. Or, he could have packed 1 fixed blade and 1 folding knife. Read how to select a good survival knife.
I would have also opted for a wind-up flashlight instead of carrying all those spare batteries.
And there should be some sort of tarp or tent in this Bug Out Bag. A wool blanket isn't much good when you don't have a roof over your head!
Bug Out Bag Contents

Example 4: Secondary Bug Out Bag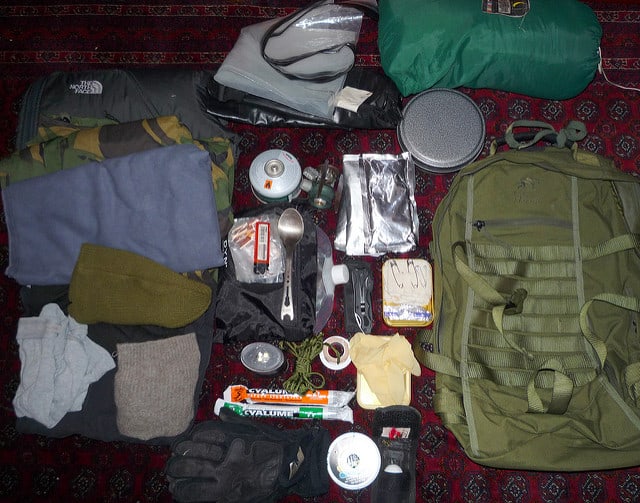 This is a SECONDARY Bug Out Bag – meaning it contains the gear which isn't used as often, so the main Bug Out Bag can be free.
There are some nice additional items here – like the zinc oxide tape and mini fishing kit.
The addition of gloves is nice, too, especially for urban survival situations where you might have a lot of broken glass or rubble.
Bug Out Bag Contents
How does your Bug Out Bag compare to these?