A tarp is one of the most essential pieces of survival gear. It can be used to make a shelter, collect water, or make a stretcher for carrying a wounded person.
Even while hunkering down at home, a tarp has many uses, like repairing roofs damaged by tornado or hurricane wind.
Choosing a survival tarp might seem straightforward, but there are a lot of differences between products.
The material, shape, denier, tie-down points, and features like UV protection can considerably impact how well it performs.
Below are the best survival tarps and a detailed guide to ensure you get the right one for your needs.
Our Top Pick
DD Hammocks Square Tarp
A great choice for survival bags; waterproof, durable, and easy to tie down.
Quick Picks
Best Survival Tarps Reviewed
DD Hammocks Square Tarp – Best Overall
DD Hammocks is a UK company known for making high-quality tarps. They regularly get mentioned as the best survival tarp and are proven to last dozens of nights outdoors.
Their 10×10 tarp is an excellent choice for survival bags. It has 19 tie-down loops, including some at the center, making it easy to pitch. The tie-downs are reinforced, and the material withstands tearing very well. It's fully waterproof and won't leak, even at the seam.
Features:
Size: 8×9.8′ (3x3m)
Material: 190T polyester with PU coating
Tie-downs: 19
Weight: 28oz
Waterproof rating: 3000mm
Reinforcements: Yes
Colors: Olive, brown, orange, black
---
DD SuperLight Tarp – Lightweight Option
This DD Hammocks tarp is a lighter version of their square tarp. It is made from ripstop nylon with a PU coating.
The lighter material cuts the weight by almost half: 16oz versus 28oz with the classic. It also packs down very small. It's not quite pocket-size like they advertise, but it will get to around 8x5x4 inches.
The lighter weight somewhat sacrifices durability: the Superlight Tarp coating will eventually crack. You'll eventually need to reapply a waterproof coating. However, it's still a pretty durable tarp for the weight.
Features:
Size: 8×9.5′ (3×2.9m)
Material: 190T 380T (20D) ripstop nylon with PU coating
Tie-downs: 19
Weight: 16oz
Waterproof rating: 3000mm
Reinforcements: Yes
Colors: Olive, brown, orange
---
Aquaquest Defender Tarp – Heavy-Duty Option
Aquaquest tarps are not cheap, but they are built to last. The company even gives a lifetime warranty.
The construction is solid, with reinforcements at tie-downs, hems, and corners. It's rated to 20,000 HH waterproofness, and the coating doesn't seem to crack even after repeated folding.
The 70D nylon will withstand snow and high winds without tearing. Just be warned that it is not fire-resistant, and you will get spark holes if you use it near a fire.
The thick material makes the tarp too heavy for many people. This is one you'd want to keep in your vehicle and not in a solo BOB.
The tarp has plenty of tie-down points, including some down the middle, so it's versatile.
Features:
Sizes: 10×10, 10×7, 10×13, 15×15, 20×13
Shape: Square and rectangle
Material: 70D nylon with TPU coating
Tie-downs: 19-47 (depending on size)
Weight: 4lbs (10×7'), 3.3lbs (10×10'), 4.4lbs (10×13)
Waterproof rating: 20,000
Reinforcements: Yes
Colors: Camo, green, olive, gray, terrain
---
Aquaquest Guide Tarp – Durable and Lightweight
The Guide Tarp by Aquaquest packs down to half the size and weight of their Defender tarp.
While it is not as heavy-duty as the Defender, the Guide tarp will still hold up amazingly well.
It has reinforced corners, tie-offs, a hem, and a lifetime warranty.
It would have gotten our pick for best survival tarp if it weren't so expensive. Because of the price, you might want to save this purchase until you know precisely which type of survival tarp you need.
Features:
Sizes: 10×10, 10×7, 10×13, 15×15, 20×13
Shape: Square and rectangle
Material: 40D nylon with PU and silicone coatings
Tie-downs: 13-23 (depending on size)
Weight: 9-2.3lbs (depending on size)
Waterproof rating: 5,000
Reinforcements: Yes
Colors: Green, olive, gray
---
Gold Armour Tarp – Cheap Option for Beginners
This tarp by Gold Armour is made from polyester with a PU coating. It isn't the most durable as you'd expect from a cheap tarp. The tie-outs aren't reinforced well, and they might tear out easily. It's also not UV resistant, and the coating will eventually wear off.
Despite these drawbacks, this is probably the best survival tarp for beginners.
Not only is it cheap enough that you can take it out to "play" with, but it has 33 tie-down points. This makes it easy to test different pitches and get it taut.
It's also nice that the tarp comes in a few shapes to see which one you like best.
Features:
Sizes: 10×10, 10×8, 12×10, 14.7×12
Shape: Square, rectangular, hex
Material: 70D 210TRipstopPolyester with PU coating
Tie-downs: 33
Weight: 2lbs 4oz (10×10')
Waterproof rating: 5,000
Reinforcements: No
Colors: Black, blue, gray, camo, green, and more
---
Sea to Summit Tarp Poncho – Poncho Survival Tarp
Most tarp ponchos are gimmicky and don't work well. The one by Sea to Summit is an exception. It can be worn by an adult with a backpack on in the rain.
Or spread it out, and you've got a 104×52″ tarp. They say it's big enough for two hammocks, but really only one person will fit comfortably. There are 8 tie-outs to make pitching easier.
A tarp poncho is a good option if you need a multi-purpose piece of gear to lighten your bug out bag. Read more about survival poncho options.
Features:
Size: 54×100″
Shape: Rectangle
Material: 70Dnylon
Tie-downs: 8
Weight: 6oz
Waterproof rating: N/G
Reinforcements: No
Colors: Green
---
REI Quarter Dome SL Tarp – Ultralight Survival Tarp for One Person
The REI Quarter Dome SL Tarp is a favorite with backpackers and an excellent choice for bug out bags. It only comes in one size; unless you want to snuggle with your survival partner, it is best for one person.
While the REI tarp isn't cheap, it is durable and holds up well in high winds. I like the grommets in the corners, so you can pitch the tarp with poles or branches.
It would be nice to have a few more loops around the tarp, but there are still enough for a beginner to pitch it successfully. It's seam-sealed and holds up in heavy rain, though no waterproof rating is listed.
Features:
Size: 5×9.5 feet
Shape: Square
Material: Ripstop nylon with polyurethane coating
Tie-downs: 14
Weight: 12oz
Waterproof rating: N/G
Reinforcements: Yes
Colors: Gray
---
LiteOutdoors Silnylon Tarp – Ultralight Option
LiteOutdoors is a small brand started by a backpacker from Canada. While the brand isn't very well-known, the products get good reviews and hold up well. Their tarp is made from Silnylon, which makes it very lightweight. I love that it comes in multiple sizes.
Bear in mind that this is not a survival tarp for beginners. It is pretty thin and only has one tie-down in the center.
Even though it is good quality and the tie-downs are reinforced, you'll have to be somewhat skilled to pitch it without tearing. However, this is one of the best survival tarps you can get when weight matters. Also, note that the tarp needs to be seam-sealed. The sealer is included with the purchase.
Features:
Sizes: 8×10, 10×10, 10×12
Shape: Square, rectangle
Material: Silnylon (20D nylon with silicone coating)
Tie-downs: 17
Weight: 6oz (8×10), 15.8oz (10×10), 16.9oz (10×12)
Waterproof rating: 2000
Reinforcements: Yes
Colors: Gray, green
---
Wise Owl Lite Tarp – Lightweight on a Budget
Once you make sense of the confusing size options, you'll see that the Lite tarp by WiseOwl is a good budget tarp for BOBs. It is rectangular, measures 11×9 feet, and weighs 18.6oz. The Standard is also 11×9 but has more coverage because of its cat-cut shape and weighs 26oz.
As for weatherproofing, the 2500 hydrostatic head is good enough for most survival needs. The seams are sealed well, and it doesn't leak. It's also more durable than most cheap poly tarps, but the tie-offs aren't reinforced and will break if you pull too hard.
The biggest downside of the Wise Owl tarp is that it only has four tie-down points. You will have to add your own (with the rock trick) or get better at pitching with fewer tie points.
Features:
Size: 11×9′
Shape: Rectangle
Material: 210T ripstop polyester
Tie-downs: 4
Weight: 6oz
Waterproof rating: 2,500
Reinforcements: No
Colors: Gray, blue
---
Kelty Noah's Tarp – Cat-cut Tarp
The Kelty's Noah's tarp comes in three different sizes. Note that the measurements are along the edges and not for the ridgeline. The 12-foot tarp would give you approximately 10 feet for a ridgeline.
The cantenary cut of the tarp makes it easier to get a taut pitch. There are also plenty of tie-down points. The smallest 9-foot model has 17 tie-offs, including 5 down the middle. The 12-foot model has 21 tie-offs. *I'm not sure how many tie-offs are on the 16-foot model. There are also metal grommets on the tarp's corners, which make it possible to pitch the tarp with poles.
The construction of the tarp is sturdy enough to handle heavy winds and snow. The seams are fully taped, and it doesn't leak.
I wouldn't want to use this tarp in a solo BOB, but it is okay for two people. It's also an excellent tarp for family BOBs.
You could keep it in your vehicle and set it up as a shelter outside your car. If you had to abandon the vehicle, the Noah tarp is still light enough to carry with you as a shelter on the go.
Features:
Size: 9, 12, or 16 feet
Shape: Cantenary cut
Material: 68D polyester
Tie-downs: 17 (9′), 21 (12′)
Weight: 2lbs 1oz (9'), 2 lbs 9 oz (12'), 3lbs 15oz (16')
Waterproof rating: N/G
Reinforcements: Yes
Weight: 28oz
Colors: blue with orange, gray
---
Survival Tarp Buying Guide
The main things to look at when buying a survival tarp are the material, shape, and size. After that, you'll want to look at features like UV protection and whether the tarp has reinforced grommets.
If you aren't sure which tarp you need, I suggest buying a cheap tarp (something like this one).
Play around with it. Build a few shelter configurations. See what you like and don't like about the tarp.
Then you can buy a better-quality option better suited to your needs. You can always use the cheap tarp at home for yard chores or as a backup for emergencies.
Ready to buy a good survival tarp now? Here's what you need to look at when choosing.
Best Material for Survival Tarp
Poly Tarps (Polyethylene and Polyester)
Polyethylene and polyester are the most common types of tarp materials. They are both made out of a thermal plastic material woven and then laminated.
These tarps are usually very cheap and thick. You can expect them to be completely waterproof and are generally durable, though the quality varies between brands.
Pros:
Very cheap
UV resistant
Waterproof
Some heavy-duty ones available
Cons:
Not flame retardant unless treated
Quality varies
Heavy
Make crinkly sound
---
Vinyl
Vinyl tarps look very similar to poly tarps but are made with polyethylene terephthalate scrims with a PVC film laminate.
This means that vinyl tarps tend to be stronger but heavier. Unless you are setting up a long-term bushcraft shelter, you are probably better off with a lighter poly tarp.
Pros:
Fire resistant
Very durable
Completely waterproof
Suitable for heavy-duty use
Cons:
Very heavy
Make crinkly sound
---
Nylon
Nylon is a material that has excellent abrasion resistance. Because of this, it is a common material for tents.
You can also find some nylon tarps, but they are not as popular as poly tarps (for good reason).
Nylon tarps are harder to pitch than poly because they are stretchy. They also absorb water and get moldy if you don't allow them to dry completely.
I would not recommend a nylon tarp. The exception is nylon poncho tarps. A poncho tarp is a multi-purpose piece of survival gear. The stretch of the nylon makes it comfortable to wear, but you can still turn it into a shelter if needed.
Pros:
Stronger than poly
Abrasion-resistant
Good for poncho tarps
Not very loud
Cons:
Stretchy
Absorbs water
Not UV resistant – will break down
Take a while to dry
Can get moldy
More expensive than poly
---
Sil Poly and SilNylon Tarps
These materials are made with a mixture of silicone and poly or nylon. Most have a silicone coating which will eventually wear off. More expensive Sil tarps will impregnate the silicone into the poly or nylon, meaning the silicone won't wear off from repeated folding.
SilNylon tarps are more common and cheaper than Sil poly. It's also slightly lighter yet stronger. However, Sil poly is considered the better of the two materials. Sil Poly doesn't stretch and sag over time. It also won't absorb water like SilNylon does, which means it dries faster and is less likely to get moldy.
You may need to seam seal some SilNylon or Sil Poly tarps. The needles cause tiny holes which allow water through. Better brands of Sil tarps will come seam-sealed.
Pros:
Very lightweight
Packs very small
Not very loud
Cons:
Sometimes expensive
Laminated silicone wears off
Fragile
May need seam sealing
Not fire resistant
---
Dyneema
Formerly called Cuben Fiber, Dyneema Composite Fabric (DCF) is a tarp shelter material often used by ultralight backpackers. These tarps are usually the lightest ones you will find. They often come in specific shapes meant to cut down weight even further.
Even though it is lightweight, Dyneema is still very strong. It is stronger than SilNylon but less than half the weight. It generally has a very high water resistance as well.
However, Dyneema doesn't handle abrasion very well and isn't recommended for shelter floors. Some types of Dyneema come with a PU coating for extra durability.
Pros:
Insanely lightweight
Low stretch
Good durability
Quiet
Good UV resistance
Cons:
---
Canvas
When it comes to durability, you can't beat canvas tarps. Even if they do tear, you can patch them up again, meaning that they have the potential to last decades. However, canvas tents aren't popular anymore because they are heavy and must be cared for.
Pros:
Durable
Hard to tear
No noise in wind
Cons:
Heavy
Can get moldy or stinky
Needs waterproof coating
Waterproof coating must be reapplied
UV damage over time
Not fire resistant unless treated
Tarp Shape
A square tarp is the most versatile and probably the best choice for beginners. However, it's now possible to find tarps in many different shapes. If you aren't sure which tarp shape you need, I recommend getting a square one, trying it out, and seeing how it works for your preferred pitch.
Square
Most versatile shape
Easy to find in many sizes
Don't pitch taut in A-frame
Rectangle
Also versatile
Better for enclosed shelters with floors or doors
Slightly more challenging to pitch than square tarp
Hex
Similar shape to square tarp
Shape reduces weight slightly
Less coverage than with square tent
Easier to set up with poles or stakes
Diamond
Similar to rectangle tarps but are narrower on foot end
Shape reduces weight and size
Best for hammocks
Not a lot of coverage
Cantenary Cut Tarps
Come shaped for specific pitches
Easy for beginners to pitch
Limited pitching options (A-frame)
Usually more expensive
Curved edges make it easier to get taut pitch
Lighter weight
Beaked Tarps
Have extra fabric "beak"
Beak creates overhang for extra weather protection
Not as many pitch options
Tarp Size
8×8 or 10×10 is the best size for a survival tarp for most people. This provides enough space for one or two people and their wear with enough overhang for weather protection. These sizes are small enough to be easy to pitch.
To determine which size you need, you first need to calculate how much interior space you need (your height plus an extra 10-12 inches). When pitched, the ridgeline of your shelter needs to be at least this long.
For example, the Diamond Fly pitch is considered one of the best for survival because it is easy to set up and offers good weather protection.
It uses a square tarp pitched on the diagonal. An 8×8′ tarp would give you a diagonal of 11.3 feet, which is enough for one person and some gear. The shelter gets shorter away from the ridgeline, so you'd probably want a 10×10 tarp for two people.
Other Features of Survival Tarps
Denier
The denier measures the thickness of the fibers of a tarp: the larger the denier, the thicker the strands. A higher denier generally means a more robust (but heavier) tarp. However, the strength also depends on the material. For example, 20 denier SilNylon will be stronger than 20 denier Sil Poly.
Hydrostatic Head Waterproof Rating
A tarp's waterproofness is listed as hydrostatic head (HH). It measures how tall a column of water the material can handle before it leaks.
Generally, you will need a HH of at least 1,500 for a survival tarp. However, HH is not a perfect rating of a tarp's waterproofness. It does not account for whether the material will leak at fold points or from UV degradation.
Color
The color of the tarp matters for two reasons. The first is visibility: choose a camouflage color if you don't want to be found and a bright color if you want to be seen.
Secondly, color can impact how the tarp behaves in sunlight. Clear or white tarps tend to break down faster from UV light. However, dark-colored tarps can trap heat and become unbearably hot in summer.
Tie-Down Points
The top survival tarps will have multiple tie-down points around the edges and running down the middle of the tarp. This makes it easier and faster to pitch a tarp in various configurations.
Tie-down loops are generally stronger than grommets. But both loops and grommets will tear easily in cheap tarps. Better survival tarps will reinforce the tie-down points to make them stronger.
Note: If your survival tarp doesn't have loops or grommets (or they tear), you can use the "rock trick" to hang the tarp. See the picture below. There are also these cool snaps for hanging a tarp.
Reinforcements
Once a tarp starts to tear, the tear can continue along the material. To prevent this, good tarps have reinforcement. Some types of reinforcement are:
Ripstop: Ripstop material has stronger threads woven into the material at regular intervals. If a tear starts, it will stop once it gets to the ripstop thread.
Hems: The tarp's edge is folded back and sewn to make it stronger.
Perimeter Rope: This reinforcement is stronger than hems. A rope is sewn around the edge to prevent tears from forming at the edges.
Corner reinforcement: Because corners are subject to the most stress, good tarps will sew patches of extra material to reinforce the corners.
Grommet or tie-down reinforcement: Patches of extra material are sewn around the tie-down points to make them stronger and less likely to tear.
UV Protection
Some tarps have a layer of black material laminated in the center. This prevents the sun's UV rays from getting through, making these tarps better for desert or hot-climate shelters.
Survival Tarp Uses
A plastic tarp can perform a multitude of tasks and very well may save your life in survival situations.
Here are just some of the amazing uses for survival.
Emergency Shelter
With just a plastic tarp and a bit of paracord, you can make a great survival shelter to protect you against the elements.
One of the easiest emergency shelters to make is the Tarp Tent. You tie the paracord between two trees, drape the tarp over it, and secure the ends to create a tent.
Also read: Tarp vs. Tent for a Bug out Bag
Rainwater Collection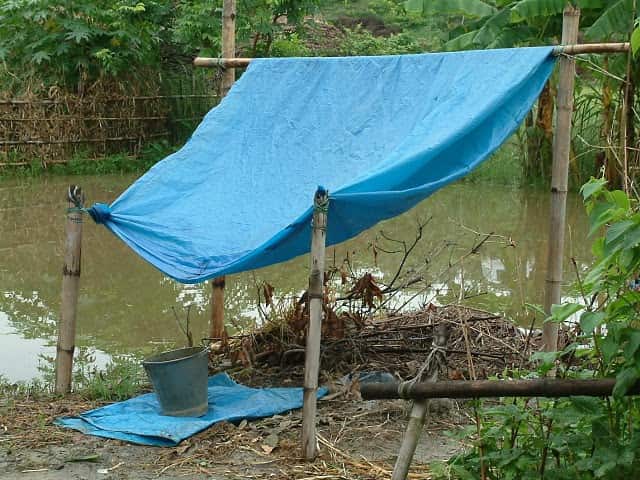 Water is one of the core things you need to survive. The body can only go about 3 days without water (compared to about a month without food!).
And, once your body is even slightly dehydrated, your immune system will weaken, and your cognitive function will decline.
This is not what you want to happen in a survival situation!
You could just put the tarp on the ground with the edges tied up to catch the rainwater. But there are much better ways to catch rainwater. In this article about rainwater harvesting, I share these two designs, which use a tarp to ingeniously collect rainwater.
Solar Still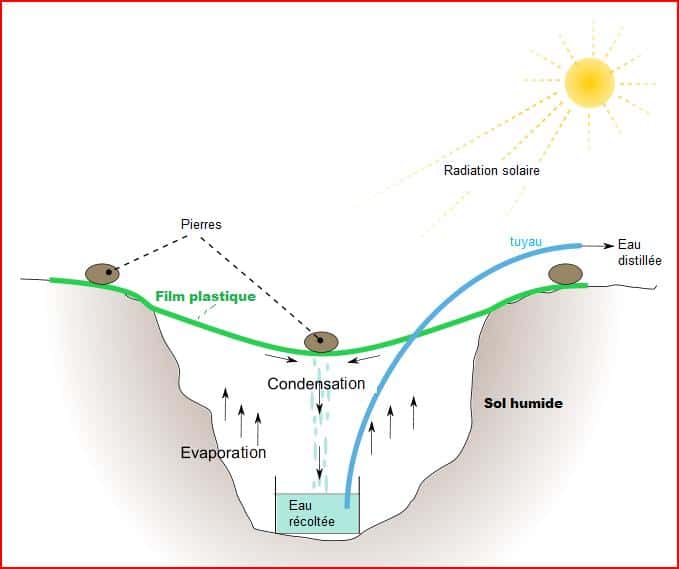 A solar still is a way of both collecting and distilling water. It is particularly great in situations where no water is available, such as desert survival.
It works best if you have a clear plastic tarp or plastic sheeting. A clear rain poncho could even work in a pinch.
Here are the instructions to make a solar still:
First, dig a hole. It should be about 3 feet deep and 3 feet wide, so you will have to do a lot of work! You could make a smaller solar still, but you won't catch as much water.
Put cacti, leaves, grass, or even urine into the pit you dug. Put a bucket or other water collection vessel into the middle of the hole. Then cover the pit with your plastic tarp.
Secure the tarp so it won't fall into the pit. You will need to put a rock or other heavy object into the center of the tarp, so it angles downwards.
As the sun shines through the plastic tarp, it will cause moisture from the ground, and plant matter inside the pit will evaporate in a greenhouse-like setting. The vapor will touch the plastic tarp.
As it does, the vapor will cool and condense on the inner surface of the tarp. Since the plastic tarp is angled downwards (thanks to the rock you set in it), the drops of condensation will drip into the bucket below.
This method isn't fool-proof for cleaning contaminated water since pollutants can also get into the vapor, but it is pretty effective.
Solar sills are also used for filtering salt water when stranded at sea. In the picture below, a straw has been put from the water collection vessel to the outside. But you could also just remove the vessel and drink the water.
And the image below shows an ocean solar still made by Aquamate.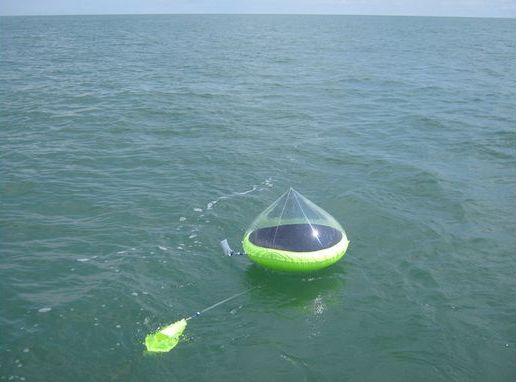 Trapping Body Heat
A plastic tarp can also work wonders for keeping you warm in survival situations.
You don't want to wrap yourself in a plastic tarp, though. This will make you sweat, and then you will get wet, making you colder.
Instead, put the plastic tarp between two blankets. Then wrap yourself in the blankets. This sandwich will help you retain body heat. If you don't have blankets, use the tarp to create a survival shelter. You can cover yourself with leaves or bury yourself in dirt to stay warm.
Tarp Stretcher
One of your team members has gotten injured and cannot walk. How do you carry them to safety? Survival tarps are surprisingly strong and can make a stretcher.
You will need long, sturdy branches or sticks to serve as the stretcher base and can just wrap the tarp around them. This video shows how it is done.
Ant Egg Collection
Did you know that ant eggs are tasty and nutritious? And, with the help of a plastic tarp, you can easily collect them all.
Fold over the edges of the tarp as in the picture. Then find an ant hill, dig it up, and dump all the contents (ants and dirt) onto the center of the tarp.
The ants will scramble to save the eggs – and carry all of the eggs into the "safety" of the folds around the tarp.
After they are done scrambling, you can just gather up the eggs and eat them. Oh, and you can eat the ants too.
Read this article about eating insects for survival.
Signaling for Help
Lay out your tarp and write HELP on it really big to get noticed by airplanes. Or climb a tree and fly the tarp like a flag to signal for help—more about signaling techniques.
Create an Animal Trap
This only works if you dig a DEEP hole, which means you will need a shovel and probably waste a lot of energy in the process. But, you could be rewarded with a nice rabbit for dinner.
Just dig your hole, loosely cover it with the tarp, and put some bait on top of the tarp. When the animal comes to eat the bait, it will fall into the hole below.
Yukon Pack
Did you have to flee without grabbing your survival backpack? Hopefully, you did have time to grab a tarp and some paracord because they can be fashioned into a bag. Check out how it is done in this video.