For most people planning a bug out bag, the choice comes down between a tent or a tarp for shelter.
However, a survival hammock is a good alternative.
Hammocks are way more comfortable than sleeping on the ground, easy to camouflage, and won't weigh down your pack.
Before choosing a hammock as a survival shelter, there's a lot to consider. Here's what you need to know and how to pick the best one.
Best Survival Hammocks Comparison
Our Top Pick
ENO Eagles Nest Lightweight Camping Hammock
Durable, light, comfortable, and a cinch to set up, the ENO Eagles Nest is our top choice.
Potential Problems
To figure out the best survival hammock, you first need to know the downsides of hammock camping. Then you can find a hammock or set up which solves these problems.
Problem 1: Cold Butt Syndrome
The biggest problem with hammocks is that they get really cold.
Even if you use a sleeping bag inside the hammock, your body weight will press down on the sleeping bag allowing cold air to circulate underneath you.
Solution #1: You could use an underquilt with your hammock (basically a sleeping bag that goes around your hammock), but these are heavy, so not suitable for bug out bags.
---
Solution #2: Put a sleeping pad inside your hammock.
The best sleeping pads for hammocks are going to be mummy-shaped. Otherwise, the pad won't fit well in the hammock and will slip around.
---
Problem 2: Rain
Hammocks don't provide any protection against rain and storms.
You can use a tarp or rainfly for cover, but this will add extra weight. Even with the tarp, you can still get wet if the rain drips down your suspension straps.
Solution: Choose a lightweight rain fly AND learn how to set it up. Yes, you need to go out into the field and try setting up the rain fly!!!
As for the rain coming down your suspension straps, the easy solution is this: attach a drip cord.
This is just a piece of paracord hanging down from the straps. It will divert the rain down it instead of onto your hammock.
Here are some examples of tarp setups for hammocks.
Problem 3: Where to Keep Gear
When sleeping in a tent, you can put your gear inside. You won't want to sleep with your gear in a hammock.
On good days, you can just put it on the ground beneath you. But, if it rains, your gear risks being on the wet ground and getting ruined.
Solution: One option is to get a good waterproof cover for your pack. You could use a waterproof backpack (an option worth considering for bug out backpacks anyway).
Some hammock campers will tie a ridgeline above their hammock and use this to hang gear off.
It takes a bit of practice to tie a line tight enough to hold a heavy pack, though. Or you can use the hammock suspension straps for suspending gear.
Problem 4: There Aren't Always Trees
Even if the terrain isn't ideal (rocky, sandy, sloping…), you can always pitch a tent. This is not the same with hammocks!
Solution: Plan where you will go before you pack your survival bag. If you are going somewhere without many trees, don't go with a hammock!
You will also want to ensure enough length on your suspension straps.
If you only have short straps, you are stuck looking for two trees spaced at precisely the proper distance.
Problem 5: Not the Best Solution for Multiple People
There are double hammocks, but I find these uncomfortable. If each person has to carry their hammock, you might not save much weight.
Solution: Actually, do the math. Calculate how much a tent setup would weigh compared to a hammock setup for your group. Then consider where you are going and whether choosing a hammock over a tent makes sense.
Problem 6: Mosquitoes
You don't have to worry about bears while using a survival hammock (any more than you'd worry in a tent, at least).
However, mosquitoes can be a HUGE problem.
Solution: Bring a mosquito net or get a hammock with a built-in mosquito net. Yes, this adds weight to your gear, but it is better than getting eaten alive!
What Type of Hammock Do You Need?
Once you start looking, you'll be surprised at how many different options are available.
They range from ultralight backpacking hammocks to advanced setups for winter hammock camping.
To make your decision, these are the key things you need to look at:
Size:
As a general rule, larger hammocks are a lot more comfortable than smaller ones. But the extra material will add weight and bulk to your pack.
Some are designed for holding two people (double hammocks). No matter how big the hammock, I find it incredibly uncomfortable to sleep two inside. Plus, you'll wake up your partner if you have to get up at night to go to the bathroom.
I highly advise against double hammock sleeping! However, a double for one person means extra room and comfort.
Material:
Some fabrics can hold a lot of weight but will still rip easily!
You want a quality product made of fabric that won't rip or puncture easily. Otherwise, you will literally fall out of it.
Instead of trying to make sense of all the different types of hammock materials, you could look at the weight rating. This will give you an idea of how sturdy the hammock is.
Shape:
You do NOT want a hammock with a spreader bar. Aside from being very impractical to carry in a bug out bag, spreader bar hammocks aren't safe to sleep in. You will fall out!
But sleeping in a curve isn't very comfortable, especially for people with bad backs.
The solution is to sleep at an angle. This position helps you achieve a flat lay.
Some better-quality camping hammocks are made with an asymmetrical shape.
This helps you achieve a flat lay without sleeping at an angle.
If you are unsure how to sleep in a hammock, check out the video below.
Double Layer:
Double-layer hammocks have a pocket where you can insert a sleeping pad. This makes them much better suited for cold weather use.
Another significant (yet often overlooked) benefit of double-layer hammocks is that they stop mosquitos from getting to you from underneath.
Yes, mosquitoes can bite through the thin fabric used in most lightweight hammocks!
Accessories:
You'll need a method of suspending the hammock (such as straps or whoopie slings). You could hang your hammock with rope, but it's more complicated than you might think.
Unfortunately, you usually have to buy hammock straps separately.
You will probably also want a mosquito net and a tarp/rain fly cover for your hammock.
Price:
Paying $20 for a hammock might be fine if you just want to hang out in it.
If you are looking for a survival hammock, plan on spending much more.
You want a hammock from a reputable brand and one that will hold up through inclement situations.
Reviews
Best All-rounder: ENO Eagles Nest
The ENO Eagles Nest isn't the best hammock available, but it performs well in almost every aspect.
It is very durable, not too heavy, comfortable, and not too hard to set up.
The ENO Eagles Nest is priced right for an all-around good-quality survival hammock.
Note that no straps, mosquito net, or rainfly are included in the price. The Eagles Nest is still a good value even when you add in these costs.
---
Most Comfortable: Hennessy Expedition
Hennessy is one of the best brands for camping hammocks, and the Expedition is their most popular model. It has an asymmetrical design which helps you get a flat lay and sleep more comfortably.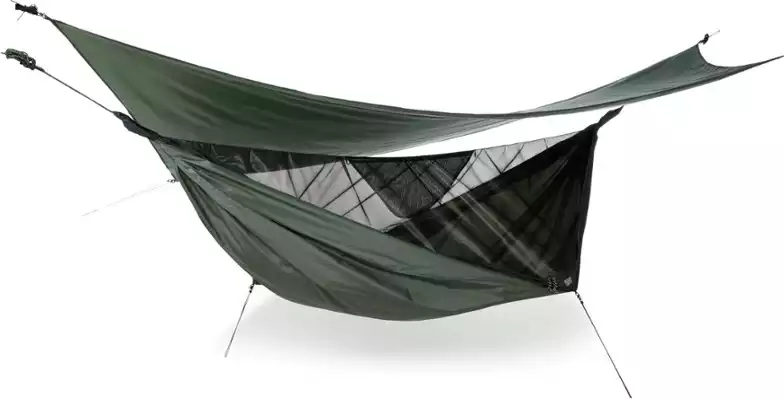 The only real downside to this hammock is that it is heavy for its size. The weight does not include the rainfly or mosquito net, so the whole setup will weigh you down more.
However, the extra weight is because the Expedition holds up so well against adverse weather and abuse.
With double-stitched seams and heavy-duty nylon, this is one of the most durable hammocks available.
Note that the Hennessy is slightly complicated to set up. If you are new to hammock sleeping, you will want to test it out at home before taking it into the field.
---
Best Budget Hammock: Bear Butt Double
Even though this survival hammock is priced low, it is still a great choice.
It is very comfy and large, doesn't weigh too much, is durable, and is easy to set up.
The Bear Butt does come with rope for suspending the hammock. However, these ropes are hard to use and not very reliable.
You'll want to buy a pair of suspension straps. This does add to the cost but is well worth it.
---
Best Lightweight Survival Hammock: Kammock Ultralight
I don't think you can get any lighter than this when it comes to ultralight hammocks. The manufacturer even used special straps on the hammock to shed ounces! It also packs down incredibly small.
Of course, a hammock this light is going to have its flaws. You will feel the wind coming through the material.
The ultralite nylon isn't very durable, so beware of thorns and sharp tree branches.
To save weight, the hammock is smaller than most others. A 6-foot person isn't going to be very comfortable in this hammock. Even shorter people will have a hard time getting a diagonal lay.
But this is a great hammock for ultralight packing if we are talking about survival over comfort.
---
Best Double Hammock: Everest Double
There are a lot of things that I love about the Everest Double Hammock. The main feature is that it has an integrated bug net, which saves you from hanging up a net.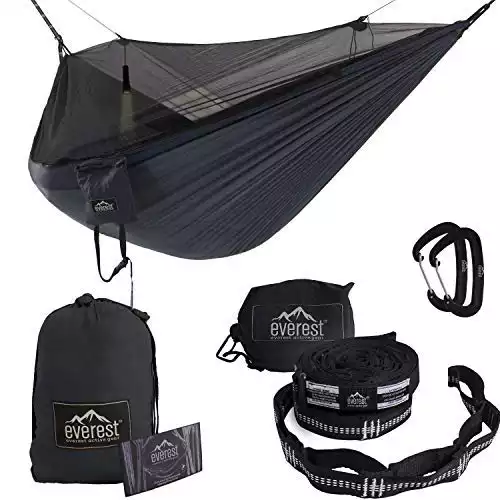 It would be nice if it had more hang points for the bug net, though.
As it is now, the net can hang on your face. Not only is that annoying, but mosquitoes could get to your face.
The hammock advertises itself as reversible, which is a cool feature. Unfortunately, the zippers are one-sided, so this feature is a bit useless.
Even with these flaws, the Everest is still a great hammock and an even greater value since it comes with straps.
---
Do you have a survival hammock? What do you love/hate about hammock camping? Let us know in the comments below!
---