Shelter is vital for survival. Exposure to cold or wet weather conditions could lead to hypothermia, as over 600 Americans discover to their detriment every year.
An emergency sleeping bag is just one part of a survival sleeping kit; if you want to survive cold weather, rain, sleet, or snow, you'll also need shelter.
While knowing how to build a survival shelter is a valuable bushcraft skill, you may not have time to gather the necessary equipment to construct one in an emergency. In situations like those, an emergency bivy sack could save your life.
There are hundreds of bivy sacks available, but few of them meet our exacting standards. Some are too flimsy or easily torn, while others fail to keep the water out or accumulate so much condensation that you wake up wet anyway.
I decided to tackle the challenge of tracking down the best bivy sacks for survival.
It wasn't an easy task, but with the help of a few hundred product reviews and a ton of Youtube videos, I came up with the following items, all of which will stand the test of time, keeping you warm and dry, whatever the weather.
Best Emergency Option
Tact - Bivvy 2.0
Weighing just 7oz and yet big enough for a 7-foot man, this bivy sack keeps you warm by reflecting your body heat back at you. It's also windproof, waterproof, and tear-resistant.
Best Survival Option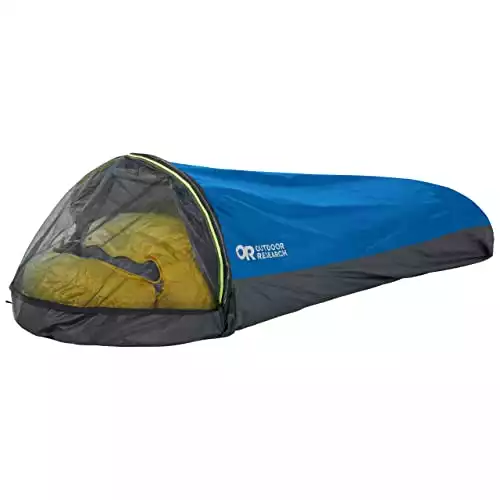 Outdoor Research Helium Bivy
With its clamshell design, this bivy sack keeps the fabric off your face for a more comfortable night's sleep. The durable fabric will protect you against wind, rain, and snow while keeping the mosquitos at bay.
Reviews Of The Six Best Survival Bivy Sacks
#1 Tact Bivvy® 2.0
This lightweight bivy is windproof and waterproof. Made of tear-resistant HeatEcho® reflective polyester film, it uses your body heat to keep you warm. Reflecting 90% of your body heat, a cozy night's sleep is guaranteed, regardless of how low the outside temperature drops.
While the Tact Bivvy isn't the lightest bivy sack we found, at just 7 oz, it won't weigh you down or take up much room in your bug-out bag.
Once in its stuff sack, it can fit in the palm of your hand. Rolled out, however, and it's big enough to accommodate anyone shorter than a Sasquatch comfortably.
In addition to providing shelter, this bivy has a stuff sack with a para-tinder drawstring that doubles up as a fire starter and a 120-decibel whistle so you can call for help.
Clip it to your bug-out back or belt with the carabiner provided, and you'll be ready for anything.
---
#2 Outdoor Research Helium Bivy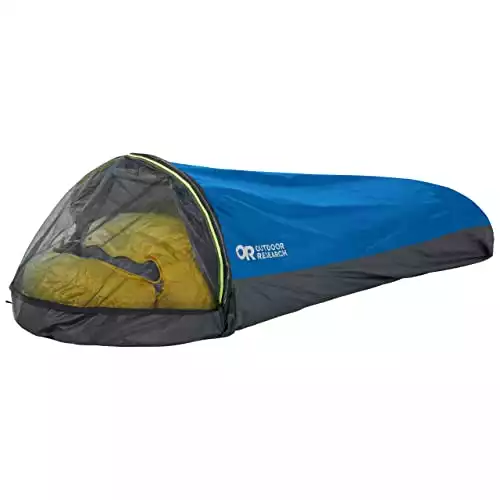 Offering protection in all weather conditions while keeping mosquitos at bay, this face-lifter bivy sack is constructed from durable fabric that's both light and breathable. The floor is made of 40-denier Hydroseal® that will insulate you even when the ground is cold and wet.
This bivy comes with a couple of poles that lift the front of the bivy sack off your face. These add to your comfort but also make it around 10 oz heavier than our top pick.
It also means setting up requires a little more know-how. With handy tutorials detailing exactly how to set up your bivy, that added complexity shouldn't stop you from investing in this impressive piece of survival equipment.
A couple of inches shorter than the Tact Bivy, it's long enough to accommodate most people and provides more space to maneuver as it's a little wider.
The Helium Bivy will make a bit more of a dent in your bank balance than the Tact Bivvy but may prove worth it if the weather makes building a survival shelter too challenging.
---
#4 Delmera Emergency Sleeping Bag
Like our number-one choice, this affordable emergency sleeping bag weighs just 4.6oz, making it one of the lightest options. Rolled up, it can fit in your hand, but, once opened, it offers a roomy survival shelter of over 3ft wide and nearly 7ft in length.
Based on NASA's mylar bag concept, it reflects your body heat at you, ensuring you remain warm regardless of the circumstances. You can also use it to combat the effects of shock should you become injured.
Versatile and affordable, the Delmera is tear-resistant, making it ideal for the most challenging survival situations. It can also be used as an emergency blanket, a survival shelter, and a bivy sack. This product comes with a 100% money-back guarantee, which should alleviate any doubts you have about its durability.
---
#5 Slumberjack Contour Bivy
With its unique design, this bivy sack offers complete protection while leaving you the option of having your arms out. Its hook-and-loop shoulder straps give you more mobility than most bivy sacks while keeping you both warm and dry.
Check Prices on SportsMansGuide
If the weather gets nasty, you can tuck your arms inside and zip up the awning to create a cozy sleeping shelter. It also has an adjustable visor to protect you from bugs while providing adequate ventilation.
One of the few four-season emergency bivy sacks on the market, this camouflage shelter will keep you warm even if the temperature drops as low as 14℉. It also has a hoop to raise the material off your face, making you more comfortable and minimizing condensation.
At 1 lb 5 oz, it's not exactly lightweight, but it offers the kind of versatile protection you need if you're planning on hunting and fending for yourself.
---
#6 Sierra Designs Backcountry Bivy Sleeping Bag
This versatile nylon bivy comes in two sizes – regular and long – so you can find the perfect fit. It is compatible with most sleeping bags and pads, ensuring that you get a comfortable night's rest even in the most uncomfortable places.
It weighs just under 1lb but is durable enough to withstand cold, wet, and windy conditions. A mesh window panel and breathable top fabric keep it dry, even when fully closed.
A sizeable u-shaped opening is at the top so you can safely enter and exit even if you're sleeping on a precarious rock ledge.
The nylon ripstop flooring offers robust protection, while the taped seams prevent moisture from sneaking inside.
Its mid-range price makes it cost-effective, even if it is slightly more expensive than the budget models.
---
How To Choose A Bivy Sack For Survival
A lightweight bivy sack may be all you need for a short camping trip, but if you're relying on it for survival, it needs to be a bit more robust.
Protection
The best bivy sacks for survival keep the rain and bugs out and stand up to strong winds.
Lightweight versions use the same concept as a mylar space blanket. Designed to reduce heat loss in your body by limiting thermal radiation, it increases the bivy sack's warming capacity without adding to its weight.
Size
A compact bivy sack will keep you warmer than a roomy one but shouldn't cramp your style. The bivy sacks listed here are all around 7 feet in length, giving you plenty of legroom.
Width is also an important consideration. If you've got a slim build, something like the 2-foot wide Helium Bivy will be cozy and comfortable. The Tact Bivy is a better option for the larger frame, as it provides 3 feet of shoulder space.
Weight
Even the heavyweight bivy sacks add just over a pound of weight to your bug-out bag. The most lightweight models weigh just a few ounces, making them suitable for anyone to carry. With their robust designs and technical fabric, there's little to choose between them regarding durability.
Ventilation
Having purchased a waterproof bivy sack, the last thing you want is to wake up damp because of the condensation accumulating inside. Breathable materials help reduce that humidity when it's dry outside but, once fully zipped up, may fail to provide sufficient ventilation.
A face-lifter bivy sack lifts the fabric off your face, giving you more space to breathe and alleviating any feelings of claustrophobia or accumulating too much condensation. They also have enough overlapping material to keep you dry even if you open the zipper to improve ventilation.
Ease of Use
The wider the opening at the top of your bivy sack, the easier it is to maneuver yourself in and out without getting stuck. A simple bivy sack, like the Tact Bivy, is also quick to set up. This feature makes it ideal for emergencies but perhaps less suitable for long-term survival situations.
Conclusion
A bivy sack offers a compact and comfortable alternative to a tent, along with an emergency sleeping bag and mat. It's also a less labor-intensive way of fending off the elements than building your own.
Compact, lightweight, and affordable, they fit easily into your bug-out bag and give you a more comfortable option for waiting out a storm than even the best survival poncho can provide.