The term Bug Out Bag (also called a "Go Bag" or a "72 Hour Survival Kit") can be off-putting to a lot of people.
It makes it seem like you're eagerly awaiting a chance to go berserk in the wilderness. In fact, Urban Dictionary even defines Bug Out as "an act of freaking out over usually nothing; overreacting."
Everyone Needs a Bug Out Bag
Terminology aside, a Bug Out Bag is an absolute essential part of disaster planning and preparedness. As talked about in this post What Is a Bug Out Bag, disaster can strike at any moment.
A hurricane warning might mean you need to evacuate your home. Having your Bug Out Bag packed could make the difference in getting out before the crowds.
An earthquake could force you to flee your home. The items in your Bug Out Bag could treat your injuries and provide you with shelter until the chaos dies down.
An EMP event might result in a complete grid outage and anarchy. This situation might not seem likely, but if SHTF, you'll be glad to have your Bug Out Bag packed!
Even if you think that these disasters will never occur, isn't it better to be safe than sorry? I personally sleep better knowing that I've done all in my power to keep my family safe!
FREE BUG OUT BAG CHECKLIST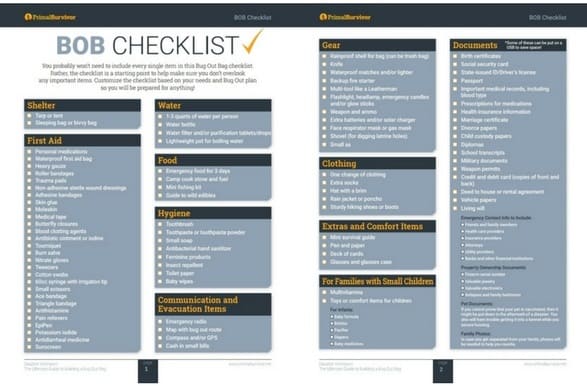 Why a Three Day Bug Out Bag?
As a report from the Heritage Foundation says, local governments are often overwhelmed during large-scale disasters. They rely on state and federal governments to help in these situations. However, it takes an average of 72 hours for state and federal governments to respond.
Because you can't rely on the government to help you right away (or at all, depending on the type of disaster), you should be self-sufficient for at least three days.
Some people prefer to make their Bug Out Bags for even longer periods of time.
What to Put in Your Bug Out Bag
There are a lot of Bug Out Bag lists out there which will tell you exactly what to pack.  However, these lists ignore the fact that everyone has different survival needs.
Please don't follow any Bug Out Bag checklist blindly.  Instead, think about:
The conditions where you live
The most likely disasters to occur in your area
How many people will be in your group
To make sure no important item gets overlooked on the Bug Out Bag list, I encourage people to divide up gear into categories based on goal/task.
These categories are the essentials you will need to stay alive.
BOB Gear Category 1: Water
Water is your #1 most important item for survival in a disaster situation. Depending on the disaster, the normal sources of water may be completely contaminated – such as after a nuclear attack…
Water: Your Bug Out Bag water items should include 1-3 quarts of water per person. This is estimating that you will drink 1 quart of water per day.
Water Bottle: You'll also need a device for carrying water such as a water bottle (Amazon Link) or camelback. (Amazon Link)
Water Treatment Method: Never drink water without treating it first. I personally like the Sawyer Mini water filter (Amazon Link) because it is just 2 ounces and filters up to 100,000 gallons of water. However, it won't remove viruses so isn't suitable for urban sources of water.  I recommend reading this post on How to Choose a Survival Water Treatment System
BOB Gear Category 2: Shelter and Warmth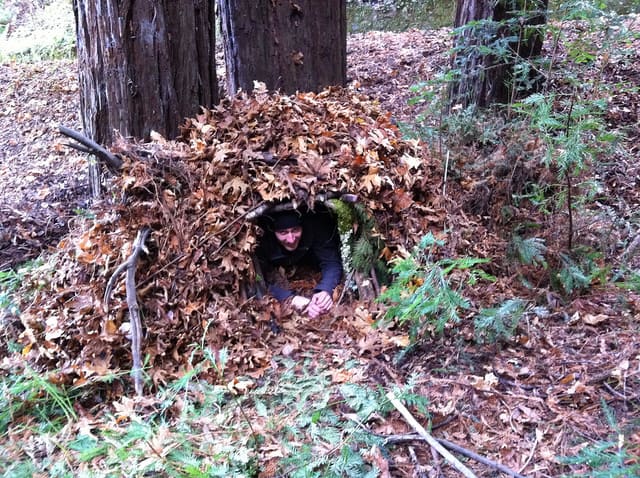 For most, shelter probably means using a tarp or a tent.  There is a big debate as to whether a tarp or tent is best for your Bug Out Bag. It really comes down to your level of experience.  If you don't have experience sleeping in tarp shelters, then go for a tent.
Choose a tent which has the highest Hydrostatic Head rating you can find while still be lightweight.
The rating tells you how well it will withstand water (as well as its ability to withstand snags). Don't go with anything less than a 2500 rating!
You will also need a sleeping bag, bivvy bag, (Amazon Link) or emergency blanket for each person.
---
Recommended reading: How to choose the best survival tent
---
I recommend that you get familiar with the many types of survival shelters, and learn how to make a survival shelter out of debris. You never know if your tent is going to get lost or stolen, so this knowledge could save you!
BOB Gear Category 3: Food Supplies
According to the survival rule of threes, you can actually go 3 weeks without food.  But that doesn't mean you shouldn't including food in your Bug Out Bag list.People get grumpy and angry when hungry.
Choose foods which are non-perishable, high protein, and high fat (you'll need the energy!). You'll probably want to avoid canned goods because they are so heavy.
If you aren't sure what food is suitable, read this post for 50+ Bug Out Bag Food Ideas.
BOB Gear Category 4: Fire​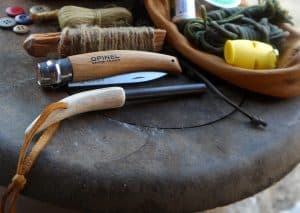 Fire isn't just about warmth.
It will help keep wild animals away.
A lit branch can be wielded as a weapon.
Fire can be used as a signal.
Fire can be used to boil water for drinking and first aid.
BOB Gear Category 5: Self Defense Items
I've met people who have a full arsenal of weapons in their Bug Out Bags.  A firearm certainly seems like a good idea, you can read more about the best bug out guns here.  However, multiple firearms are just likely to weigh you down.
You may also want to consider pepper spray for your BOB. It is a great non-lethal weapon.
BOB Gear Category 6: Hygiene Items
You won't really need much for hygiene, so don't bring shampoos or even deodorants. Here's some essentials:
Baby wipes
Small bar of soap
Toothbrush and toothpaste (or tooth powder) – Emergency Dental Kit Checklist
BOB Gear Category 7: Clothing
When it comes to clothes for your Bug Out Bag, you don't need more than a spare shirt and pants.  Who cares if you are going to be stinky and dirty – you will be alive!
As for the selection of clothes, choose wool items or camping clothes (usually synthetics) because they dry quickly.
If you get wet while bugging out, it could quickly lead to hypothermia so you want to have that rain jacket and dry clothes and socks to change into.
​A wide-brimmed hat (Amazon Link) is also good for keeping rain and sun out of your eyes. If you are balding (like me), then the hat will prevent sunburn on your head!
I do keep extra socks (I love these Merino socks from Darn Tough (Amazon Link) in my BOB because keeping your feet dry is so important. I also have my boots right next to my BOB in case SHTF while I'm wearing sneakers or sandals.
---
Recommended reading: Best Socks For Survival
---
BOB Gear Category 8: First Aid Kit
As for first aid, stick to the essentials. You don't need a tourniquet in this kit, but you will need a multi-purpose tool like a Leatherman which has small scissors, bandages, antiseptic wipes, and burn gel.
Read this post for a Checklist of First Aid Items for Your Bug Out Bag
​BOB Gear Category 9: Multi-functional Emergency Gear and Tools
Try to imagine all of the obstacles and dangers you might come across when fleeing a disaster.
​There might be broken glass all over the place.
You might need to break into a building for shelter.
You might need to walk in the dark.
There might be dangerous chemicals in the air…
These obstacles can be overcome with gear such as heavy-duty gloves, a crowbar, flashlight, and face mask.
To make sure you don't miss anything, do your best to visualize what could happen during a disaster. These types of gear are included in the Bug Out Bag checklist below.
However, everyone's Bug Out Bag list is going to be different so it pays to visualize potential disaster scenarios.
​BOB Gear Category 10: Vital Documents
Finally, don't forget to include all of the important documents that you might need in an emergency situation, such as your ID, passport, phone numbers, and photos of family members (in case you get separated).
Here is a list of what documents you need for your Bug Out Bag.
Bug Out Bag Checklist
*Downloadable version at end of post.
Water: 1-3 quarts per person
Water bottle (Amazon Link)
Water treatment method: Such as a filter,water purification tabs, etc.
Tent or tarp
Sleeping bag, bivvy bag, (Amazon Link) or emergency blanket
Survival food: Such as protein bars or MREs
Fire starter (Amazon Link)
First aid kit: (Amazon Link). See checklist of Bug Out Bag first aid items
Self-defense weapon: Such as a firearm or pepperspray
Hygiene kit: Such as toothbrush and paste, baby wipes, TP, feminine items…
Change of clothes
Rain jacket (Amazon Link)
Brimmed hat: (Amazon Link) To protect your eyes from sun and rain.
Boots 
Survival knife: Read how to choose a survival knife here
Face mask: (Amazon Link) Read how to choose a face mask here.
Emergency light: Such as a headlamp, hand crank flashlight, chemical lights…
Emergency radio: Read how to choose an emergency radio here
Vital Documents: Read what vital documents to pack here
Cash: At least $50 is recommended
Compass (Amazon Link)
Maps: With evacuation route marked
Waterproof cover (Amazon Link) and/or dry sack
(Optional Items)
Crowbar 
Lock picking set (Amazon Link)
Sewing kit (Amazon Link)
Survival guides: See our guide to the top prepping and survival books here
Spare glasses and glasses case
Folding shovel: Guide to best survival shovels here
Trash bags
Spare batteries
Charging kit: (Amazon Link) Such as a solar charger for phones and batteries
Duct tape (Amazon Link)
Hand warmers (Amazon Link)
Comfort and personal items: Such as toys for kids, playing cards, a book
Click to download a PDF of this checklist.
Have you packed your Bug Out Bag yet?
How does your Bug Out Bag list compare to this list? Let us know in the comments.