Building a Bug Out Bag (also called a BOB) is one of the essential steps to prepare for disaster and increase your chances of survival.
The idea is to pack your BOB with everything you need to survive the initial 72 hours after a disaster, by which time the chaos will hopefully die down, and you can return to civilization.
Or, if return isn't possible, then the gear in the Bug Out Bag will help you secure food, water, shelter, and other essentials for survival.
We've got a comprehensive Bug Out Bag Checklist here on Primal Survivor. However, there is no "one size fits all" Bug Out Bag. If you have family, your Bug Out Bag contents will probably look different.
To help you make sure you get everything that your family needs in their Bug Out Bags, read the following considerations.
Are All Of Your Family Members Mobile?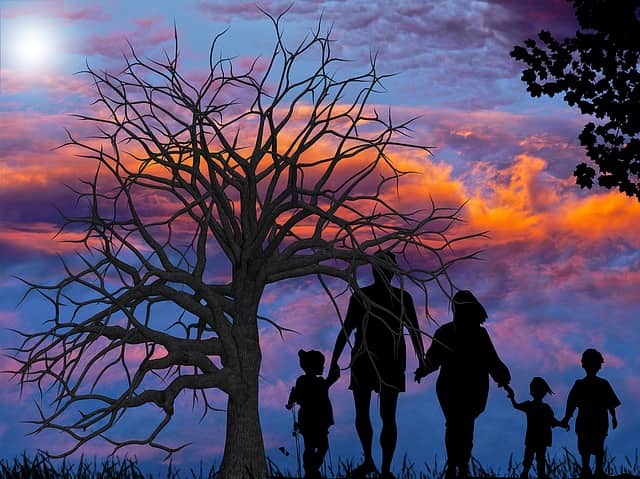 If you have infants or young children, then you've got to deal with the fact that they won't be able to walk or won't be able to walk long distances. Read more about prepping with children.
I've got a 5-year-old, and she's been backpacking since she was a baby. Yes, I am proud she carries her own pack and is a better hiker than many adults. But I also know it still takes about 4x longer to cover terrain when she is with us (read how to calculate how long a hike will take).
In a disaster situation where we've got to Get Out of Dodge fast, she would really slow us down. That is why I keep her Bug Out Bag small and light. I can strap her bag onto mine if she gets tired and carry it for her.
If my daughter were younger and less experienced, I wouldn't count on her being able to walk herself. Until she was 3, we used a combo carrier/backpack for our Bug Out Bags.
If you are carrying your small child while bugging out, you will have to cut down on the weight of your other gear.
Read this post about how to cut weight from your survival backpack. Every ounce counts!
Dividing Up the Gear in Your Family's Bug Out Bags
One of the benefits of bugging out with your family is that you can divide up gear amongst all the mobile members (obviously, your infants aren't going to be carrying a bag).
But how do you divide it up?
There are four main options:
Give each member matching BOBs
Make Primary and Secondary BOBs
Divide Up Gear between BOBs
Essentials in Each BOB and Divide Up Extras
Option 1: Matching BOBs
The first option is to give each family member matching Bug Out Bags. If you get split up, then everyone has what they need to survive.
However, the load will be heavier because you each have to carry one of everything, so you won't have space for any extras or comfort items.
Option 2: Primary and Secondary BOBs
The second option is to make one "Primary" BOB containing all the essential items. The "Secondary" bags will have less-essential things which are helpful but not absolutely necessary for survival.
For example:
The Primary BOB might contain a weapon, tarp, water filter, fire starter, rain ponchos, water bottle, emergency food ration bars, and essential documents.
The Secondary BOBs would contain items like a tent, cook set, extra clothes, food, water, an axe, and comfort items like a deck of playing cards.
With this approach, you can carry a lot more survival gear.
If necessary, you could also ditch all the Secondary BOBs so you could flee faster.
However, if you get split apart, you risk some family members missing essential gear.
Option 3: Divide Up Gear Between BOBs
The third option is to divide the items up between all bags. If one bag gets lost or stolen, you still have some essential items left.
You can also keep the load lighter in each bag this way, which will help you all move faster.
However, as with Option 2, the downside is that you'll each be missing essential gear if you get separated.
Option 4: Essentials in Each BOB and Divide Extras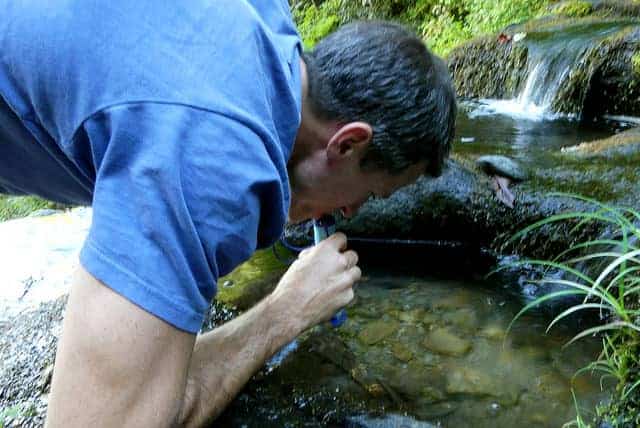 With this final option (generally thought to be the best for families), you put survival essentials in each BOB. Then you divide up non-essentials between the bags as you see fit (such as putting the heaviest items in the strongest member's bag and light items like toilet paper in the children's bags).
Below is an example of how the gear might be divided up.
Items to put in Each BOB: (with Amazon links)
Items Divided Between BOBs:
Cook set
Tent – read our survival tent guide
Rope – paracord is recommended here as it has multiple uses
Extra first aid items
Extra food
Extra water
Extra clothes
More first-aid items
Weapons
Flashlights – read our guide to hand crank flashlights or EDC battery flashlights.
Specialty and comfort items
Emergency radio (if you aren't using two-way radios) – read our guide to emergency radios.
Where Will You Keep the Bug Out Bags?
If disaster strikes, let's hope the entire family is together at home. But what if disaster strikes while you are at work and your kids are at school?
You must have a disaster communication plan in place for these situations.
But you will also want to consider where you will keep your Bug Out Bags if the disaster happens while you aren't at home.
I keep one Bug Out Bag at home and a duplicate in my car. My wife has one in her car too.
Since my daughter is only 5, we don't have a Bug Out Bag in her kindergarten locker. But, when she gets older, we will probably keep a "light" version of the Bug Out Bag in her school locker (obviously, with the knife, matches, and certain other items removed!).
Avoiding Duplicate Items in Your BOBs
As I mentioned before, one of the benefits of bugging out with the family is that you can carry more gear. Since you only need 1 of certain items, you can also significantly reduce the load of each of your BOBs, increasing your mobility.
Here are some Bug Out Bag items you only need ONE of:
Each person will need food, clothes, rain jacket, and sleeping bag.
These are the items I PACK DUPLICATES of:
Flashlights
Extra fuel
Knives
Matches/fire starter
Water bottle (one for each family member)
Plates and utensils (in theory, you could all share, but it is nice to have a set for each family member)
Compass and map (each family member gets one in case they get lost)
Specialty Items for Family Bug Out Bags
In addition to the Bug Out Bag essentials, these are some of the items you will want to pack in your family BOB:
For Families with Infants and Toddlers
Baby formula (pack this even if the baby is breastfeeding; the mother might not be available)
Bottles
Pacifier
Diapers
Baby medicines
For All Families
Multivitamins (kids have higher nutritional demands, and they also might not be so keen on eating foraged plants, so have some supplements available)
Extra clothes for the kids (kids get wet and dirty faster than adults, so you will want a spare change of clothes for them; plus, it will let you regulate body temperature better by piling on the layers)
Toys/Comfort Items (My daughter has paper and pencils in her BOB and a very small stuffed animal)
Photographs of the Family (these are useful in case you get separated from each other)
Emergency contact lists and maps of safe places
Do you have family Bug Out Bags packed? What items are inside? Leave your comments below.