You've got lots of lighting options for bugging out or hunkering down at home to ride out an emergency.
Each type of light has pros and cons, but a hand-cranked device is the only option that requires no external power. If you're in a dark cave with no batteries to hand, you'll still be able to generate light.
This doesn't make them the best lighting choice in every situation, but they're a great last-resort option, and it's worth having at least one in your prepping kit.
Read on to find out what to look for when buying a hand crank flashlight and the best models currently available on the market.
Our Favorite Hand Crank Flashlights
Top Pick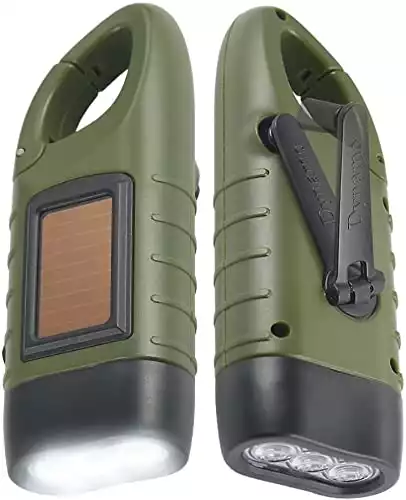 Simpeak Hand Crank Flashlight
This basic hand-crank flashlight does the job at a great price.
At a Glance: Best Handcrank Flashlights
Click the link to go to a full review.
Reviews
Simpeak Hand Crank Solar Powered Flashlight
A great budget option, the Simpeak flashlight is lightweight and compact. It comes with both a hand crank and a decent-sized solar panel.
To get it up to full charge, you'd need to leave it in the sun for 40 hours, which isn't necessarily feasible in an emergency. However, half an hour of sunlight will at least give you 10 minutes of power after the sun's gone down.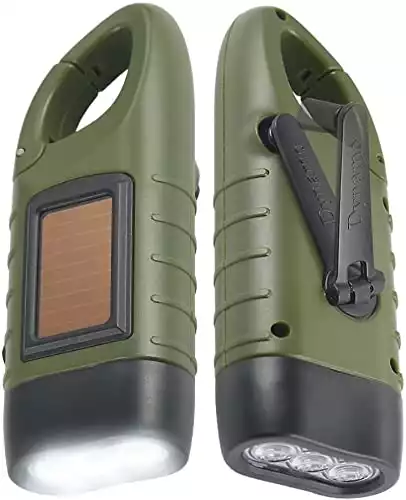 Charging the Simpeak by hand is a lot more effective than relying on the sun. Assuming you rotate the handle at roughly two turns per second, one minute of cranking should give you a full eight minutes of light.
Regardless of how you charge this hand crank flashlight, it will not resemble daylight at any point! Putting out just 50 lumens of power, it's not the brightest of flashlights, but it is enough to find your way around in the dark.
Pros
Rugged design
Built-in solar panel
Spring-loaded clip to attach to your bag or belt
2-year warranty
Cons
The crank can be hard to turn
No USB capabilities
---
Esky Radio Flashlight
There are plenty of emergency radios with a small flashlight built-in, but for this article, we've chosen one that's small enough to fit in your hand and use primarily as a flashlight. If you're looking for a radio, first and foremost, check out our guide to emergency radios.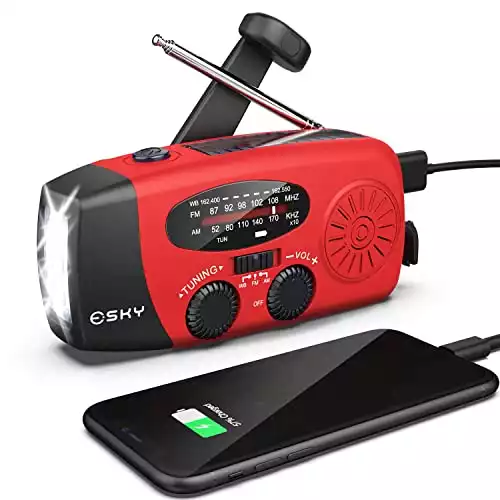 The Esky Radio Flashlight would be a great option for your Bug Out Bag. It's compact, not too heavy, and can be used as a flashlight or radio and to charge your phone. Granted, it's not the brightest flashlight, the highest quality radio, or the best charging bank out there, but multi-use devices rarely are.
It is designed to pick up NOAA broadcasts (a must-have for emergency radios) and AM and FM frequencies, but unfortunately, it doesn't have an alarm to receive alerts. The flashlight brightness is similar to most hand-crank flashlights – okay, but not brilliant.
In addition to charging using the crank or solar panel, you can also plug it into a power bank or mains electricity adaptor. The versatility and sturdy construction make this an excellent multi-function addition to your emergency kit.
Pros
Multiple charging options
Compact, sturdy design
Reasonable radio
Able to charge your phone
Great value
Cons
Tuning radio can be tricky
Won't have the range of a larger, more expensive radio
Doesn't have alarm tone
---
Luxon 7-in-1 Emergency Tool
We recommend you always carry a flashlight in your vehicle, but this Swiss-Army-Knife-style tool is better for a car emergency kit than a standard hand crank flashlight. It's got a built-in window breaker and seat belt cutter, but the flashlight features make this tool particularly useful.
The LED flashlight has three modes: bright, dim, and flashing. On the highest mode, it's brighter than many hand-crank flashlights, and the dim and flashing modes will help conserve energy.
In addition to the regular flashlight beam, there's a red SOS light built into the handle with three brightness levels that you can use to attract attention or make other drivers aware of your vehicle in poor visibility. Magnets and a suction cap allow you to attach it to the outside of your vehicle, kind of like a flashing emergency beacon.
The flashlight can be charged via USB and the hand crank, though some users have reported issues with the included charging cable.
It does come with a 12-month warranty, so if you do end up with a defective model, you should be able to get a replacement.
Pros
SOS light enables the flashlight to be used as an emergency beacon
Different lighting modes
Bright beam
Magnets to attach it to the car body
Cons
Some users have reported issues with charging
Questionable battery life
---
PrimalCamp LED Torch
Compact and affordable, this hand crank flashlight comes in a 4-pack. It may not have all the bells and whistles of some of the more expensive products, but as an emergency flashlight, it performs well.
Put in one minute of cranking, and you'll get 10 minutes of light for your efforts. Alternatively, leave it out in the sun for 10 hours, and your battery will be fully charged.
While it won't illuminate the entire forest, it will give you enough light to perform chores around the campsite and track down that missing sock!
The batteries store power so efficiently that, once charged, they'll hold their power long past nightfall.
This flashlight is easy to transport with a solid design and strong carabiner. Clip it to your belt or backpack, and it will always be close at hand.
Weighing just over 3 oz and measuring 5.5 inches long, this hand-crank flashlight won't add too much bulk to your kit, making it ideal for bugging out.
Pros
Easy to hand crank
Stores battery power effectively
Offers solar charging alternative
Strong carrying clip
Compact and lightweight
Cons
Flashlight is not particularly bright
Hand crank could be more robust
---
Midland ER210 Compact Emergency-Crank Weather Radio
This hard-wearing hand crank flashlight comes with three potential charging sources, so you don't have to rely on elbow grease to get it going.
The rechargeable battery will keep the radio, USB charger, and flashlight running for around 25 hours. You can either crank it up or use the built-in solar panel to top it up when that runs out.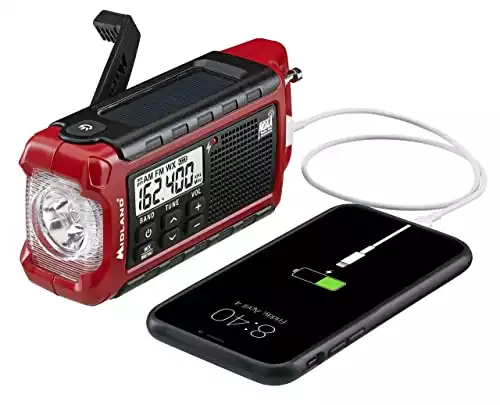 The flashlight has three settings: an extra bright setting that provides 130 lumens of light, a low brightness function that conserves battery life, and an SOS flashlight beacon for emergency use.
Although compact and lightweight, this device is surprisingly powerful. It doubles up as an emergency charger for your phone and other portable devices and operates on AM and FM to give you the latest NOAA weather information and alerts.
Easy to set up, reliable, and robust enough to survive being tossed around in your bug-out bag, it may not be cheap, but it's an excellent investment if your budget stretches that far.
Pros
3 charging options
Includes USB charger and radio
3 flashlight settings
Good reception nationwide
Easy to set up
Cons
Comparatively expensive
Solar is slow
---
Pros and Cons
Before we dive into what to look for when buying a flashlight, let's quickly cover the pros and cons of hand crank lights over other options.
Pros:
They don't require any external power source (batteries, solar power, etc.) other than a bit of muscle, so you'll always have a light.
Low cost, simple devices – i.e., there's not much to go wrong!
Many hand crank flashlights come with additional features, such as a radio or the ability to charge other devices.
Eco-friendly.
Cons:
They take a LOT of effort. If you want constant power, then your arm will get a serious workout. Unless you've got a secondary means of powering the light (such as solar), see this as an emergency backup lighting option rather than your primary light.
They're relatively bulky compared to battery-powered flashlights or rechargeable headlamps.
Cheaper models are prone to breaking – if the crank snaps, you'll be left in the dark.
How Do They Work?
Electricity is generated through electromagnetic induction.
Without getting too geeky about it, when you power the flashlight, a magnet spins within a coil of wire which generates electricity. Most models contain an internal battery that stores the electrical charge, meaning you don't have to crank the flashlight constantly.
How long your flashlight will shine depends on:
The maximum capacity of the flashlight
How long you crank the handle
How luminous it is (some flashlights have multiple brightness settings)
What type of bulbs are used (LEDs last the longest)
As most models have a small internal battery, your flashlight won't last forever. To ensure that your flashlight will work in an emergency, charge it up every month to keep the battery active.
Tip: Have a schedule of regular checks of the contents of your Bug Out Bag or emergency supplies which includes charging and testing hand-cranked devices.
What to Look for When Buying?
Hand crank flashlights will never be the brightest lights on the market, so your priorities when shopping for one may be a little different from usual.
Aside from budget, we'd suggest considering the following (in priority order):
1) Durability
This will be your "last-resort" light, so you want to be sure it's going to work.
There are tons of cheap torches on the market, but the build quality for these isn't always that great. When you're stuck in an emergency situation, the last thing you want is for the crank handle to snap off, rendering your flashlight useless.
It's worth spending a bit extra to get a robust model.
2) Battery type and how long they hold a charge
Although hand crank lamps and flashlights are often marketed as battery-free, most have a tiny battery built in – this is required to hold the charge you generate when turning the handle and then release it when you use the light.
Most flashlights have either a NiMH or lithium-ion battery, but some have a capacitor.
NiMH and lithium-ion batteries typically last longer per charge when out of the box, but their effectiveness deteriorates more quickly.
Capacitors will give you less light for your arm power, but their performance will be more consistent.
Recap: As a guide, NiMH and lithium-ion batteries are typically rated for 500-1,000 charges, and capacitors will last around 500,000 charges.
Read more on the best batteries for preppers
3) Other features
Many hand crank flashlights come with additional features, such as the ability to charge USB devices or an inbuilt radio.
These can be handy but may add to the size and weight of the flashlight.
Also, remember that the more you use it, the quicker the battery will deteriorate. It's probably best not to rely on it as a sole charger for your phone or other devices, but it could be useful as a backup for a portable solar charger.
Some flashlights will also have alternate charging options, so you can charge them from a solar panel or battery pack (via USB) in addition to cranking the handle. If the maximum capacity of the light allows you to get a decent run time when fully charged, this could be a handy feature.
4) Brightness options
Basic flashlights may just come with one lighting mode, but having several brightness options gives you more flexibility and can save you constantly having to re-crank the light to keep it running. A red light is a handy feature as it uses minimal power and won't destroy your night vision.