A lantern is one of the essential emergency preparedness items to have at home for power outages. A good lantern will make it easier to do tasks like turning off your electric main or hauling in firewood, not to mention providing ambient lighting for cooking, eating, or reading.
I would still recommend getting a headlamp (like one of these) to keep your hands free while walking around in the dark or if you need spotlighting when doing specific tasks. The lantern is what you will use for lighting entire rooms or areas. This guide goes over the best emergency lanterns and the features you need.
Our Top Pick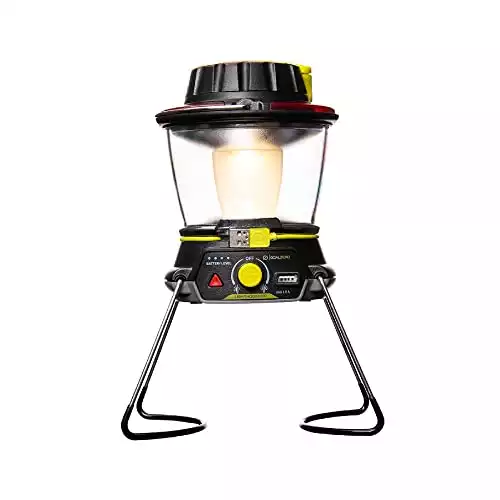 Goal Zero Lighthouse
A high-quality lantern that offers the best combination of price, range, and functionality for most preppers.
Best Emergency Lanterns Reviewed
Remember: In emergencies, "one is none, and two is one." In other words, you need to have a backup! Get a battery-powered lantern and a candle or gas lantern if you can't recharge the batteries.
Top Pick – Goal Zero Lighthouse 600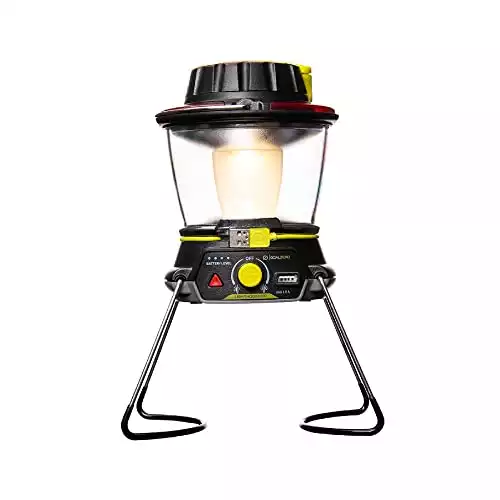 Features
Lumens: 600 max
Settings: Dimmable
Runtime: 2.5 to 48 hours
Power options: USB or hand-crank
Internal battery: 5,200mAh lithium
Hang handle: Yes
Waterproof: No
Weight: 1.1lb
Size: 4.5 x 5 x 6.5 in
Goal Zero makes high-quality, reliable products, including solar panels, flashlights, and lanterns. Their Lighthouse 600 is one of the best emergency lanterns you can get. The main reason it is our top pick is that the hand crank function works so well.
Unlike other crank lanterns, this one is a good size and positioned in a way it's easy to use. The crank is also durable, so you don't have to worry about it breaking off in your hands. One minute of cranking will give you about 10 minutes of low light. You can also charge the internal battery with a USB cable.
While the Lighthouse 600 might not be as good as other options (it's only 2.5 hours at 400 lumens), it gets the advertised run time. The dimmable light setting means you can get up to 48 hours of lighting.
A very cool feature of the Goal Zero Lighthouse 600 is its built-in 5,200mAh battery. You can use this battery to charge devices like your phone.
In an emergency, you could crank the lantern to fill the battery, attach the lantern to a portable solar panel, and then connect your phone to the lantern.
Pros
Great design
Dimmable lighting
Good runtime
USB or crank charging
Internal battery can charge phones and tablets
One minute cranking gives 10 minutes of light
Lightweight and compact
Cons
Not waterproof
---
Runner Up – Streamlight Lantern 540
Features
Lumens: 55 (low), 275 (medium), 540 (high)
Settings: Low, medium, high, red, SOS flashing
Runtime: 295 hours (low), 70 hours (medium), 30 hours (high)
Power options: 3 D batteries
Hang handle: Yes
Waterproof: IPX7
Weight: 1lb 15oz
Size: 7.25"x4"
This emergency lantern is really small but incredibly powerful. It can deliver 540 lumens of light on the high setting and last 30 hours. The medium setting is still bright but gives you a good battery life of 70 hours.
Even the low setting gives enough light for purposes like eating dinner in the dark, and the battery will last 295 hours in this setting. There is also a red light setting (10 lumens), which will last 235 hours, and a flashing SOS setting will last 430 lumens.
I don't like that the lantern uses three D batteries, but it makes up for this with its high waterproof rating of IPX7. The lantern will FLOAT in water, which makes it the best choice for hurricane and flood preparedness. On top of all that, the Streamlight 540 lantern is affordable, so you won't break the bank getting prepared.
Pros
Great battery life
Practical lighting setting
Waterproof IPX7
Floats
Durable
Red light setting
Affordable
Cons
Uses 3 D batteries
No other power option
---
Best Run Time – UST 30-Day Duro Glow Lantern
Features
Lumens: 30 (low), 400 (medium), 1000 (high)
Settings: Low, medium, high, SOS flashing
Runtime: 30 days (low), 30 hours (medium), 12 hours (high)
Power options: 3 D batteries
Hang handle: Yes
Waterproof: IPX4
Weight: 1.13lbs
Size: 4.2 x 4.2 x 11 inches
The lantern is durable and has a good design – though it is annoying to put the bottom panel back on after replacing the batteries.
It might have made our top pick for emergency lanterns if it didn't use D batteries. Yes, D batteries provide more power, but not many devices use them anymore (I try to standardize my batteries across all emergency gear). There's no internal battery, so you can't power the lantern via USB, crank, or solar.
Pros
Best battery life
Multiple lighting settings
Very bright
Durable
Affordable
Cons
Uses D batteries
No other power option
Not fully waterproof
Only 3 brightness settings
---
Best Inflatable – LuminAID PackLite Solar Inflatable
Features
Lumens: 12 (low), 25 (medium), 50 (high), 75 (turbo)
Settings: Low, medium, high, turbo, SOS flashing
Runtime: 24 hours (low), 12-14 hours (medium), 6-8 hours (high), 3-5 hours (turbo)
Internal battery: 1,000mAh
Power options: USB and solar
Hang handle: No
Waterproof: IP67
Weight: 5oz
Size: 4.75″ x 4.75″ x 4.75″ (open)
There are many inflatable solar lanterns on the market, but, honestly, most of them are crap. They are usually flimsy, tear easily, and the internal battery dies quickly. By comparison, the LuminAID PackLite lantern is worth buying.
The solar lantern has a 1,000mAh battery, which can be recharged with direct sunlight in about 10 hours. You can also charge with USB in about 1-2 hours. A charge level indicator light lets you know how much battery is left.
You aren't going to get much light out of this lantern. However, it's adequate for hunkering down during power outages, such as if you need light for your bathroom or eating dinner. If you have small children who need a nightlight, the low setting on this is great.
The entire lantern only weighs 5oz and collapses down to 1 inch. It floats in water, but let's hope it never comes to that.
Pros
Good battery
Extremely light and portable
Floats
Decent build quality
Cons
Needs lots of sun to charge up
Limited brightness
---
Most Flexible – Goal Zero Torch 500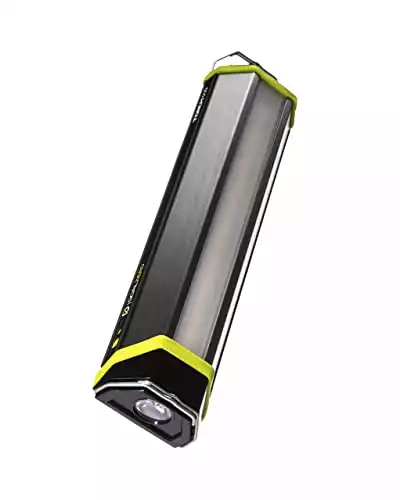 Features
Lumens: 300 max
Settings: Flashlight, flood
Runtime: 2 to 50 hours
Power options: USB, solar
Internal battery: 5,200mAh
Hang handle: Yes
Waterproof: Yes
Weight: 12.8oz
Size: 8.8 x 2.2 x 1.4"
Here's another excellent emergency lantern by Goal Zero. It is designed to be very versatile. You can use it as a flashlight or as a lantern. It can also be charged with a USB or built-in solar panel.
The Torch 500 has a 5,200 mAh battery. You can connect USB devices like your phone to the lantern, and the lantern battery can charge your phone.
This versatility makes the Torch 500 great for disaster prepping. We would have chosen it as a top pick if it weren't for the poor run time. You'll only get 3.5 hours on the high setting. You'll need about 24 hours of sunlight to fill the battery with solar power and 4 hours with USB.
Pros
Multiple power options
Internal 5,200 mAh battery can charge phones and tablets
Durable and reliable
Versatile design and use
Cons
Poor run time
---
Best Candle Lantern – UCO Candlelier Deluxe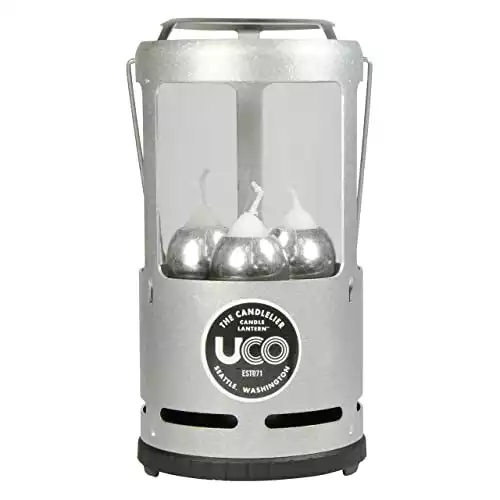 Features
Lumens: 60 (with three candles)
Settings: 3
Runtime: 9 hours
Hang handle: Yes
Weight: 18oz
Size: 10 x 3 x 6"
Compared to other candle lanterns, the UCO Candlelier is well-designed. It has spring-loaded candle holders, which keep the candles at optimal height; you get good lighting even as the candles burn down.
Another cool feature is that the top of the lantern is flat. With three candles burning, the lantern will produce 5,000 BTUs of heat. You can put a pot on top of the lantern to heat food or water (it won't boil water, though).
The lantern is very safe to use (it's the only one backpackers recommend for using in a tent) and has a hook for carrying or hanging. You can use the lantern with fewer candles if you want. There are also smaller versions of this lantern available from UCO.
Note that the UCO lanterns take candles that are 1 ¼ inch in diameter and burn for 9 hours each. You can rig other candles to fit in the lantern, though it's best to stick to the 1-¼-inch ones. It's also not that difficult to make candles in this size.
Pros
Spring-loaded candles for optimal positioning
Lightweight and durable
Produces 5,000 BTUs of heat
Can heat food or water on top of lantern
Cons
Uses 1 1/4 inch diameter candles
---
Choosing an Emergency Lantern
Lantern Power Sources
*Even though battery-powered LED lanterns are usually best for emergencies, I recommend getting at least two lanterns that use different power sources. This increases the likelihood that you'll be able to use it when needed.
Batteries go dead? Then switch to a candle lantern. Candles not safe during a gas leak? Then use your solar or crank power lantern…
---
Battery-Powered Lanterns
Overall, battery-powered lanterns are the best choice for emergencies because they are safe and easy to use. Today's batteries can last a very long time and are usually rechargeable (see our guide to the best emergency batteries). Good LED lanterns also have many features and options, like high waterproof ratings and different light settings.
Pay careful attention to what type of batteries the emergency lantern uses. Many use bulky D batteries. I try to standardize the size of batteries for all my emergency gear. That way, I could remove the batteries from my lantern and put them in my emergency radio.
Thus, I'd rather have a smaller emergency lantern with AA or AAA batteries than one with D batteries.
Pros
Safest option
Lots of options
High light output
Work in the rain
Adjustable light output
Can be recharged
Cons
Batteries can run out
---
Solar Lanterns
I love solar lanterns for emergencies: Just leave the lantern in the sun during the day to recharge your batteries for nighttime. However, it's essential to be realistic about what solar lanterns can do. Most take forever to recharge, and that's only if there is enough sun.
While you can get away with buying a cheap battery-powered lantern, a cheap solar lantern won't perform well. For proper emergency preparedness, you are probably better off buying a portable solar panel and using this to recharge your lantern batteries.
Pros
Way to recharge during power outages
Cons
Cheap ones usually perform terribly
Can take forever to recharge batteries with tiny solar panel
Often can't remove or replace the internal lithium battery
---
Crank Lanterns
As annoying as they are, crank emergency lanterns are the most reliable way of recharging batteries during a power outage. As with solar lanterns, you must get a good one. Cheap crank lanterns will use crappy plastic parts which will easily break.
Pros
Very reliable
Cons
Cheap models break easily
---
Candle Lanterns
Candles generally aren't the best emergency lighting; the risk of toppling over a candle is too high. Candles also aren't safe to use after earthquakes or other situations where gas leaks might occur.
However, candles have the benefit of being reusable: If you have a string to use as a wick, you can melt down the old candle wax and turn it into a new candle. This makes candle lanterns the best choice for long-term emergencies.
Read about how to make DIY candles here.
Pros
Candle wax can be reused
Attractive natural light
Cons
Not very bright
Flickering
Fire hazard
Not suitable during gas leaks
---
Oil Lanterns
While many people like the nostalgia of an oil lantern, they aren't practical for most emergencies. The amount of light is hard to control, and they can be fire hazards, dangerous during possible gas leaks.
However, oil lanterns can work on various fuel types, including vegetable oil and fat. So, it may be worth having an oil lantern for SHTF situations. Read how to make a vegetable oil lantern.
Pros
Can use various types of fuel
Attractive natural light
Cons
Fire hazard
Get very hot
Dim light
Hard to control flame level
Glass lanterns are fragile
---
Gas Lanterns
Gas lanterns are attached to canisters of gasoline, propane, kerosene, white gas, or compressed gas (usually a propane-isobutane mix). The flame level can be adjusted, and some of the lanterns are really bright.
Read our guide to the best kerosene lanterns.
While the design of these lanterns is generally very safe (safer than most oil or candle lanterns, at least), gas can produce carbon monoxide when burned. You must provide ventilation while using gas lanterns!
Thus, they are usually only recommended for outdoor use.
Pros
High light output
Adjustable flame
Easy to use
Propane is cheap
Cons
Fire hazard
Carbon monoxide poisoning risk
Fuel canisters are pricy
---
How Many Lanterns Do I Need?
There are two ways to calculate how many lanterns you will need:
Method 1: One lantern per person.
This assumes that each person will carry their lantern with them throughout the home. It doesn't mean that all lanterns will be used simultaneously, though.
For example, if everyone were in the living room together, you'd only use one lantern. But, if one person were to leave to go to the bathroom, he would carry his lantern with him.
Method 2: One lantern per room used at a time.
Think about how you would use lanterns in a power outage. For example, if you would keep your entire family huddled in the living room during a winter power outage, you'd only need one lantern for the entire family.
But, if the family members were to go to their bedrooms to sleep, you'd need one lantern per bedroom. The lantern from the living room could be used in someone's bedroom since it isn't required in the living room anymore.
Tip: Lanterns can run out of batteries or fuel, malfunction, get dropped and break… It's always smart to have a backup!
How Bright Does an Emergency Lantern Need to Be?
The amount of light a lantern produces is measured in lumens. A lot of emergency lanterns advertise how exceptionally bright they are. Realistically, you probably don't need an emergency lantern over 400 lumens.
The brighter the lantern is, the faster it will run out of batteries or fuel. Ideally, you will get an emergency lantern with multiple brightness settings to get the right amount of lighting without draining your batteries.
Under 25 lumens: Most nightlights are around 15-20 lumens. They provide just enough light for you to find your flashlight.
25 to 50 lumens: This is too low of light to perform most tasks but is adequate for comfort. When you near the 50-lumen range, you'll be able to eat meals and walk around without worrying about tripping.
50-100 lumens: If you need to illuminate a medium-sized room, you'll need to get toward 100 lumens. One hundred lumens will provide enough light for indoor tasks like preparing meals. If you bounce the light against a ceiling, 100 lumens is enough to play board games during a power outage.
100-400 lumens: This is a good range for larger rooms. It's also good to illuminate a space enough for multiple people to read without straining their eyes.
400+ lumens: If you need to do tasks outdoors in the dark, you'll need at least 400 lumens. Avoid using this brightness indoors since it will drain the battery much faster.
Other Features
In addition to power source and brightness, here are some features you should look for in your emergency lantern.
Dimmable brightness: Most emergency lanterns will let you change the brightness to preset levels by pushing a button. However, not too many lanterns have dimmable brightness, meaning you get to set the brightness to exactly the level you need. This makes it easier to conserve battery and still get comfortable lighting.
Hanging loop: The loop can be used to hang the lantern, allowing the light to spread out further and improve visibility. You can also use the loop to carry the lantern between rooms.
Collapsible: If you don't have a lot of storage space for your preps, this is a great feature for saving space.
Waterproof: Most emergency lanterns are splash-proof or water-resistant, but few are waterproof. This feature might be necessary if you are prepping for hurricanes or flooding. Unfortunately, USB chargeable lanterns aren't waterproof because water can get into the USB port.
Durability: When wandering around in the dark, it's easy to drop or bang your emergency lantern. Choose a model with a rugged design and construction.
Reputation: Cheap lanterns from no-name brands will often break. Please don't gamble just to save a few bucks! Instead, pay attention to reviews and choose affordable lanterns which have proven to hold up.
Also read: