After shelter, water, and food, emergency power may be your next priority in a disaster situation.
Cell towers often go down when disaster strikes, but if they're still standing, you're likely to use your phone to check in with family and friends and gather intel on the situation.
And that means the battery will drain – fast.
Add on other electronics you may be carrying, such as a GPS unit or rechargeable headlamp, and you may wonder just how long you can last without power.
There are plenty of rechargeable power packs on the market, but most require you to recharge the unit by plugging it into a wall charger or laptop. Which isn't that helpful if you've drained it and the power is still off…
Today, we're looking at power packs with an integrated solar panel for off-grid charging.
Here's what you need to know about portable solar power banks.
Best All-rounder
QiSa Solar Power Bank
This powerful portable power bank has a large battery capacity and fast charging ports. It's waterproof, dustproof, and designed to work effectively in extreme conditions.
Weight: 1.43 lb
Capacity: 38800mAh
Solar Power Bank Comparison Table
Portable Solar Power Bank Reviews
Best All-rounder: QiSa Solar Charger 38,800mAh
This powerful portable power bank has a large battery capacity and fast charging ports. It's waterproof, dustproof, and designed to work effectively in extreme conditions.
With almost four times the capacity of most standard solar power banks, with this model, you'll never have to worry about battery power again. It's compatible with a wide range of devices and powerful enough to recharge a tablet or small laptop.
In addition to its two fast output ports, the QiSa solar charger offers Qi wireless charging for compatible devices, making it capable of charging three devices simultaneously. The wireless charging is a lot slower than using one of the USB ports but is handy if you forget to pack your charging cable.
It has a built-in smart chip that detects the type of device being charged and adjusts the output accordingly, preventing your devices from overcharging or receiving too much voltage or current.
The QiSa solar charger includes a strong LED flashlight with four available settings. It can be used as a basic flashlight or switched to SOS mode should the need arise.
Pros
High-capacity
Fast charging ports
Qi wireless charging
Robust construction
Cons
Slow to charge
Heavy
Expensive
---
Most Durable: BLAVOR Solar Power Bank, Qi Portable Charger 10,000mAh
This compact solar power bank isn't just waterproof, but it's also dustproof, shockproof, and fire-resistant.
The corners of the unit are reinforced to protect it in the event of a fall, while the bottom rubber cover protects the charging ports from dust and rain. There's also a protective film over the power bank's surface that helps prevent dust from getting inside.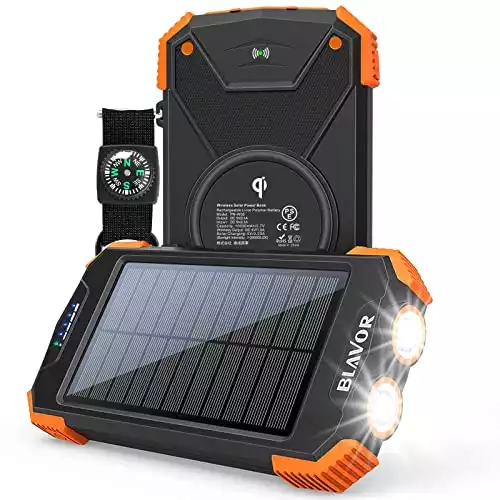 Light and compact, this solar power bank weighs just 9.6 oz, less than half that of the QiSa. As robust as it is, it can withstand the rough and tumble of any outdoor adventure or survival situation. Attach it to your backpack with the carabiner provided, and let it charge as you walk.
While not as powerful as the QiSa solar power bank, the Blavor claims to have a "50% faster-charging speed" and is compatible with most smart devices, including iPhones and iPads. Like the QiSa, it can charge three devices simultaneously and supports Qi-certified wireless charging.
Pros
Waterproof, shockproof, dustproof, and fire resistant
Fast charging ports
Compact and lightweight
Mid-range price
Cons
---
Durable and High Capacity: BLAVOR Power Bank 20,000mAh
Given that the solar charging capability of most portable power banks is limited, a high-capacity model will guarantee you can power your devices for longer off-grid.
The 20000mAh capacity of the BLAVOR power bank is impressive, although not quite up there with our top pick.
Check Prices on Amazon


It scores highly in charging options and charging speed. As well as a standard 2A USB port, there's a QC 3.0 port and a type C bidirectional PD fast charging port.
If you have a device compatible with quick charge technology, this will allow you to charge it up much more quickly than other power banks. It's also got a fast Qi wireless charger.
This makes the BLAVOR charger a good choice if you're already using top-of-the-range phones, but it's also future-proofed for when more devices come out with fast-charge capabilities.
On the downside, it's one of the heaviest and most expensive models we looked at.
There's a decent built-in flashlight and a built-in compass, though we wouldn't recommend relying on this in an emergency!
Pros
High capacity
Fast charging ports
Qi wireless charging
Robust construction
Cons
Slow to charge
Heavy
Expensive
---
Best for Solar Charging: BLAVOR Five-Panel
BLAVOR has attempted to address the monumentally slow solar charging times by adding four panels to a 20000mAh power bank.
It still takes 18-20 hours of "optimum sunlight" (i.e., lab conditions) to go from zero to full charge – in reality, about 4 days if you're in a sunny climate.
So it will not provide you with constant power, but you should be able to keep your phone, and other small devices topped up for light use.
Check Prices on Amazon


As the additional panels are detachable, you can leave them home to save weight if you're using the power bank for weekend use (you'll still have the single panel on the power bank).
Even with the entire panel array, it won't be as effective at charging your devices as a solar panel charger, but it does pack up much smaller, so if you can't fit a larger panel in your Bug Out Bag, this could be a good compromise.
Pros
Detachable solar panels for faster solar charging
High capacity
Battery charge indicator
Qi wireless charging + 2 USB ports
Cons
Heavy
More expensive than other models
Only one high-speed charging port
Not waterproof
---
Best Budget: Riapow Solar Power Bank 26,800mAh
This affordable solar power bank is surprisingly capable and can charge up to four devices simultaneously. It also has an auto-detection feature that enables it to deliver the best possible charging speed for each device.
Theoretically, it should give you about a week of power when fully charged and able to charge a phone around six times.
It includes both high-speed USB charging ports and wireless charging for all QI-enabled phones and can be charged via a USB C cable, as well as the sun.
Similar in design to our top choice, you can attach the Riapow solar power bank to your backpack to charge on the go. It weighs less than 2 oz, making it one of the lightest solar power banks on the market.
Unfortunately, it's not quite as robust as either of our top choices. Although waterproof, it doesn't have the additional reinforcements of the Blavor and may struggle in more extreme conditions.
It has a built-in LED flashlight with three operating modes, including SOS.
Pros
Lower price range
High capacity
Can charge up to 4 devices simultaneously
Lightweight
Cons
Design could be more robust
May stop charging in extreme heat
---
Solar Power Bank vs Solar Panel
A solar power bank consists of a small solar panel mounted on a large battery to store power.
They're typically smaller and more portable than solar panels (which can't store power unless plugged into a separate power pack), making them a good option for your Bug Out Bag or other occasions when weight and pack size are a consideration.
Since they store charge, you can use them to charge your phone when it's dark.
Will they perform as well as a dedicated solar panel?
No.
To put it bluntly, bigger is better when it comes to generating power from the sun. The solar panels used in portable solar power banks are minimal and, therefore, limited in the amount of power they can generate.
If you want to use it to charge your iPad in an hour, think again.
But as a low-cost emergency power source, they can be helpful, especially if you start with a fully charged unit. You can use the sun's energy to keep the power bank topped up and, in a worst-case scenario, get enough juice into your phone for an emergency call.
If you're looking to use solar energy as a reliable, long-term power source for off-grid living, then you'll want to combine solar panels with an external battery.
How Much Power Can I Expect?
This will vary from unit to unit, but most power banks will enable you to charge your phone at least 3 or 4 times. More expensive high-capacity units will also be able to charge an iPad or other devices, though you won't be able to use them for larger devices such as laptops or televisions.
Then again, you're probably not going to be able to fit a television in your Bug Out Bag. 😉
It's best to treat a solar power bank as a backup power source when you may have to go a couple of days without power.
For example, if you're moving between your home and a Bug Out location or if you're staying put but expect the power to come back on soon.
What to Consider When Buying
Power banks are simple devices, so you shouldn't have to spend hours agonizing over which one to buy. That said, there are a few things to consider before you part with your hard-earned cash.
Battery capacity
The capacity of a power bank (how much charge it can hold) is usually given in milliamp-hours (mAh). The bigger the number, the more times you'll be able to charge your phone.
There is a trade-off, though. High-capacity power banks are usually heavier, more expensive, and take longer to charge.
You'll need to weigh these factors against your power needs and access to more efficient charging sources.
Charging Ports
Most power packs come with at least two charging ports, so you can charge two devices simultaneously. This is handy if you're sharing your power pack with a friend or are trying to make the most of a day of blazing sun in between rainy days, but the more devices you plug in, the faster the battery will drain.
You'll want at least one 5V/2.1A USB port for fast charging. The BLAVOR solar charger (our top pick) also comes with the latest rapid-charge ports, though these are only useful if you have a compatible device.
Some power packs also have an option for wireless charging for Qi-certified devices. Although this may be handy if you have one of these devices (or are very prone to losing charging cables), we felt it wasn't a must-have feature.
Size and Weight
Most portable solar power banks weigh under a pound and are slightly larger than a smartphone. Higher capacity units may weigh more, but generally, we feel the extra weight is worth it for the extended charging time.
Durability
However careful you are with your kit, accidents happen, and in an emergency, you won't want to deal with the fact that your power bank is no longer working after you dropped it in a puddle.
Most power banks are reasonably splash-proof, but if you're particularly accident-prone or are likely to be using it around water or in a dusty environment, it's worth opting for a more rugged waterproof model.
How to Use Your Solar Power Bank
Because of the small number of charging cells, solar power banks take a long time to fully charge once drained. We're talking about days of constantly being in the sun.
Expert Tip:
With most power banks, you need to fully charge it using mains power at least a couple of times to activate the battery before trying to charge it using solar power. So don't just stick your brand-new power bank straight into your Bug Out Bag.
It's best to keep your power bank fully charged and then use solar power to trickle charge your devices when you're out and about. When you're not using it to charge your phone, leave your power bank outside to soak up some sun.
To help your power bank charge as quickly as possible:
Place it in full sun. Any shade (even cloud cover) will lengthen charging time and reduce the power you can draw when charging directly.
Angle the panel toward the sun. As a general rule, the tilt angle will be similar to your latitude (read more about the best solar panel angle). The further you are from the equator, the steeper you'll need to tilt the panel. However, as the solar panels on power banks are so small, there's a limit to how much difference this will make, so don't get too hung up about calculating the precise angle.
It's also worth remembering that while solar panels love the sun, your phone does not.
If you're trickle charging during the day, try to find shade for the device you're charging, so it doesn't overheat.
Also, avoid placing your power bank on your car hood or any other surface that will heat up rapidly in the sun – it's not great for the battery.