A major disaster occurs and you've got to flee with your family to the wilderness. You've thought ahead and packed a Bug Out Bag (more on what to pack in your BOB here). But soon your survival food will run out. What do you plan on eating?
Most survivalists and preppers love to share all sorts of wilderness fishing and hunting hacks, but the reality is that hunting your own food is difficult.
Even if you do manage to hunt down a deer, what are you going to do with all that meat? You would need to hang it to dry, which means attracting animals to your camp… assuming that you are even going to stay at the same camp while waiting out the disaster.
Save your energy and don't bother hunting. The best wilderness survival food is insects.
Bug Eating is Completely Normal…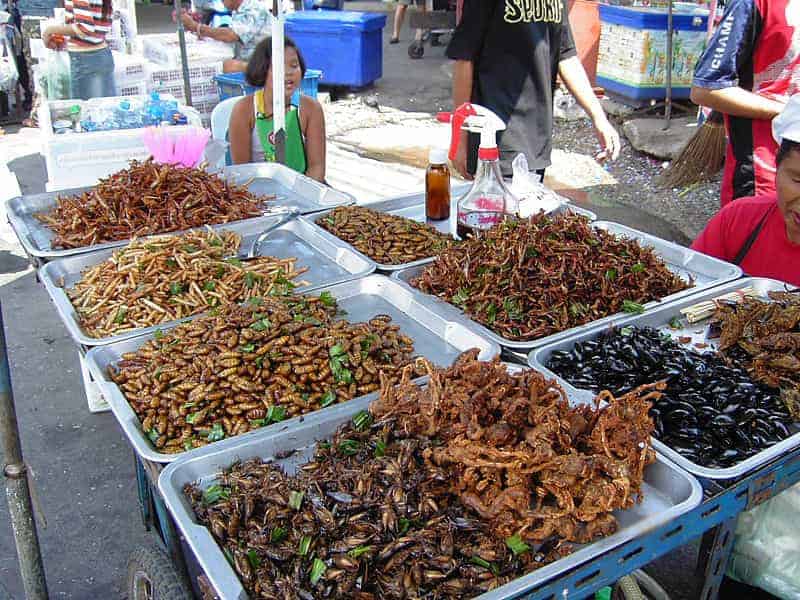 Think that eating bugs is gross? Then you are actually going against our nature. Evidence shows that bugs made a big portion of the diet of ancient humans.
Even after humans learned agriculture and hunting, they still loved to eat bugs. The ancient Romans would eat beetle larvae reared on flour and wine. Aristotle wrote about the Greek practice of harvesting cicadas for food. Even the Bible encourages people to eat certain bugs!
Today, eating insects is still completely normal in many cultures, particularly in Asia and Africa. Yet, in the United States and most other Westernized countries, eating bugs is taboo.
How did we go from chowing down on bugs to thinking that they were gross? One theory is that, as people began to invest more in agriculture, bugs began to be seen as pests since they destroyed crops.
The bottom line is that, in a survival situation, you better get over the yuck factor of eating bugs. There is nothing gross about eating bugs. Let me put this in perspective for you. If you eat eggs, you are eating something which came from a chicken's butt! But you don't find that gross, do you?
Which Bugs Are Edible?
There are over 1,400 types of edible bugs in North America alone! I doubt you are going to spend your time memorizing all of these edible bugs and then learning to identify them. So, follow these rules to determine if a bug is edible:
Pretty much all bugs are edible!
Avoid bugs which sting
Avoid bugs which are hairy
Avoid bugs with bright colors
Avoid disease carriers (ticks, mosquitoes, flies…)
There are a lot of exceptions to these rules though. For example, bees sting but are edible and considered quite tasty. Tarantulas are hairy and are sold roasted as a delicacy in many cultures. Even if a bug has some harmful poison, it can usually be destroyed just by cooking it.
Top Edible Bugs in North America
These are just some of the many edible bugs found in North America. Remember, pretty much ALL bugs are edible, so feel free to lift up a log and eat whatever you find in a survival situation.
Crickets
Grasshoppers
Caterpillars
Ants
Beetles
Centipedes (but NOT millipedes! Do NOT eat millipedes!)
Termites
Insect larvae
Honeybees
How to Catch Bugs for Food
Bugs are all over the place, which is why they make sure a good survival food. You can just lift up an old log and you will find a tasty snack of some beetles. Or dig in the dirt and you are sure to find some bugs to eat. But if you want to have a proper meal, you will need to catch more bugs at once. Here are some methods:
Pitfall Trap
This is used for catching crawling bugs like beetles. It is really simple to make. You just need some sort of cup to put in the ground and a lid to go over it. A tin can will work well, or cut a plastic bottle.
Dig a hole the size of your cup
Put your cup into the hole; the edges of the cup should be level with the ground
Put some rocks around the outside of the cup. These will hold up your lid.
Put the lid on top of the rocks. Ideally, the gap should be about ½ to 1 inch.
Check your pitfall trap every 24 hours and remove any bugs you find.
Tips:
Put some bait into the trap. A piece of fruit works great for catching crickets and grasshoppers!
Put a funnel into your cup and the bugs won't be able to get out! The top of a plastic bottle works great.
Harvesting Bugs for Food
Once you have a few bugs, you can breed them pretty easily and have a steady supply of food. I'd suggest breeding grasshoppers since they reproduce quickly, are really nutritious, and are strict herbivores (crickets will go carnivorous if you don't feed them their favorite foods!!!).
You'll just need some sort of large container to keep them in. For grasshoppers to breed, you will need to put a bit of sand in the cage. Keep the sand slightly moist or the eggs won't hatch.
Always Cook Insects Before Eating Them!
Why do we think eating insects is so gross? Maybe it is because of stupid realty TV shows which show the hosts or contestants eating live or uncooked insects.
Would you eat raw hamburger? No.
So why would you eat raw insects?
Just like how raw beef can contain bacteria and parasites, so can insects. Cooking them will destroy these so the insects are safe to eat. Oh, and the insects will actually taste better when cooked.
Here is an example of How to Roast Grasshoppers.
Here are some examples of how to cook insects so they are safe to eat and taste better:
Ants: Roast them
Slugs: Chop off their heads and squeeze out their entrails (this will get the poop out of their bodies too). Then boil them or roast them.
Snails: Pull them out of their shells, slit them and squeeze out the entrails. Then boil or roast them.
Crickets and grasshoppers: Roast them; you can also make flour of out them. Roast the in the oven until they are completely dry and then use a mortar to crush their bodies. Now you have flour!
Caterpillars: Boil them for 1 minute or roast them
Termites: Slightly roast them
Mealworms: Boil for 1 minute or sauté in oil/butter
And Don't Forget to Take the Wings and Legs Off!
If you've ever eaten an entire bug, it probably felt really terrible going down your throat. That is because the wings and legs get caught in your throat. You could even choke this way.
Just grab the wings/legs and give them a twist to take them off. This will greatly improve your insect-eating experience! 🙂
Can you imagine yourself eating bugs in a survival situation? Have you tried bugs? Let us know!