Whether you are prepping for a disaster or want to get off the grid and become more self-reliant, a toilet is one of the most important considerations.
Yes, toilets.
I know that toilets aren't exactly the most thrilling topic, but this something that all of us need on a daily basis. So, it is really important that you know what your options are.
One of the newest technologies available is called a Dry Flush toilet.
What is a Dry Flush Toilet?
"Dryflush" is the brand which makes a toilet called the Laveo (trademark).
The Laveo Dryflush
Uses no water
Requires no chemicals
Is portable
Is odorless
The Dry Flush toilet has gotten a lot of attention. An article over at Tiny House Blog called it The toilet that will change the world and the "Best RV toilet."
How Does the Dry Flush Toilet Work?
The Dry Flush toilet comes with special liner bags that fit inside its bowl. You just do your business in the bowl. Then you "flush" the toilet.
The "flush" causes the bowl to liner bag to collapse and twist above the waste. Because the seal is airtight, no leaking occurs and there are no odors.
Once you've run out of Dry Flush bags, you just change the bag cartridge.
Pros of the Dry Flush Toilet
Ridiculously Easy to Use: This is a lot simpler than other off-grid toilet options such as composting toilets. You just pee/poop and remember to change the cartridges before they run out.
Don't Have to Clean It Out: There aren't many options for portable toilets available. The ones which do exist need to be cleaned out (such as a chemical toilet) or you risk leaks when changing the bags (such as with a bucket toilet or camping toilet).
Portable: The Dry Flush toilet weighs just about 26lbs, so it really is portable.
You Can Use Any Toilet Paper: Chemical toilets require you to use special types of toilet paper. You can use any TP that you want with a Dry Flush toilet.
Really Small Size: This is a good option for really small bathrooms.
Cons of the Dry Flush Toilet
You Still Have to Dispose of the Waste Bags: Because the Dry Flush toilet bags seal the waste, it is easy to dispose of. (Note: Check with your local authority regarding the legalities of placing human waste in with the normal trash). However, if you are living off grid and don't have garbage collection, it might be better to use a composting toilet instead and not worry about burying bags of crap in your yard.
Refill Cartridges Are Expensive: At about $450-$600, the Dry Flush toilet is cheaper than many composting toilets and chemical portable toilets. However, you have to buy refill cartridges for the liner bags. When bought in a 3-pack at Home Depot, these cost about $1.10 per bag!
Have to Use More Toilet Paper When You Pee: The Dry Flush toilet pushes air out as it seals waste. If you just pee and don't use any toilet paper, it might push out the pee as it seals the bag. So, you might want to follow the "If it's yellow, let it mellow" rule or toss in some paper to absorb the liquid.
Runs On Battery Power: The Dry Flush toilet uses a battery to seal off waste. The battery can be charged in a typical 120v outlet or with solar. If you don't have a way of recharging the toilet (such as during a grid outage), this will obviously be a problem.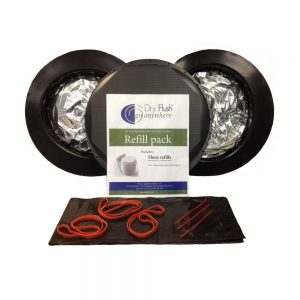 Is A Dry Flush Toilet a Good Choice?
There are a lot of reasons you might need a portable toilet. Here's whether a Dry Flush toilet might be a good choice or not…
1. Dry Flush As Your Emergency Toilet
As I've talked about before on this blog, absolutely everyone should have an emergency toilet! Otherwise, it will bring a completely new meaning to "SHTF."
I don't know if I'd shell out $500 for an emergency toilet when a couple of $5 buckets and trash bags will suffice (read How to Make a Bucket Toilet).
But, if you can afford it and really don't like the idea of wrapping up your own poop bags during an emergency, then I guess it is worth paying that sort of money for an emergency toilet.
2. Dry Flush for Your RV
I don't have an RV nor have I spent much time traveling with them. However, the Dry Flush does seem like a good alternative to the chemical toilets which are normally used in RVs.
It is especially good for RV owners who travel off the beaten track and might not have a place to empty out their chemical toilet.
Note though that the Dry Flush is going to be more expensive in the long run than a chemical toilet for your RV.
According to About RVing, toilet chemicals cost about $1 per week of toilet use. By comparison, the Dry Flush refill bags cost about $1 per use.
3. Dry Flush Toilet for Cabins and Off-Grid Homes
At first, a Dry Flush toilet seems like a great choice for off-grid homes like cabins. However, it is going to get expensive quickly because of those cartridge liner bags you have to buy.
Plus, you have to actually throw away the sealed Dry Flush bags. If you don't have trash pickup, that's going to be a problem.
Your best option will be to dig a hole for burying the bags. As of now, the Dry Flush bags aren't biodegradable (though they say they are working on biodegradable bags). So, you'll end up with a giant pile of poop bags buried in your yard!
For off-grid homes, the best option is going to be a urine-diverting composting toilet. Yes, they require a higher initial investment and learning curve, but you end up with no trash and no additional expenses.
The Bottom Line?
The Dry Flush toilet is a good choice for an emergency toilet or RVs – but only if you can afford paying for those refill cartridges. Maybe follow the guidelines "If it is yellow, let it mellow" so you don't have to "flush" each time you use the Dry Flush toilet and then it won't be too expensive. Otherwise, look into other options for an emergency toilet.
Here's the website for the Dry Flush toilet in case you want to learn more.
Do you have an off-grid toilet yet? Which type? Let us know in the comments.