Emergency Essentials is a popular budget brand of emergency food, offering a limited range of long-term food kits and bulk ingredients.
It's worth noting that Emergency Essentials is part of the broader Be Prepared brand. If you've come across Provident Pantry in the past and wondered why they disappeared, they have been rebranded as Emergency Essentials.
Let's look at how they compare to the rest of the market…
Emergency Essentials – Our Ratings
Overall rating: 84/100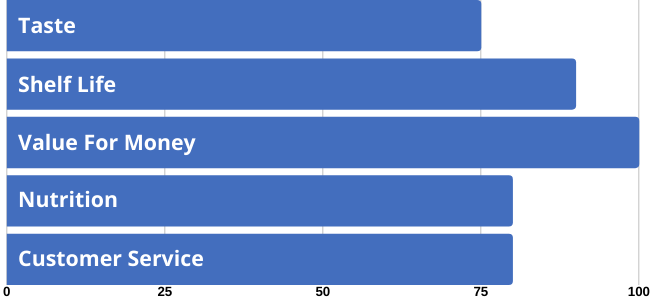 What We Think
A budget one-stop-shop for preppers looking for meals, bulk ingredients and other emergency supplies.
---
High number of calories in meal kits
Decent range of bulk ingredients
Good value
Clear nutritional information and transparent marketing
One-stop-shop for meals, bulk ingredients and survival gear
Very few gluten-free options
Not great for vegetarians
Cheap ingredients and lots of additives
What Types of Survival Food Does Emergency Essentials Offer?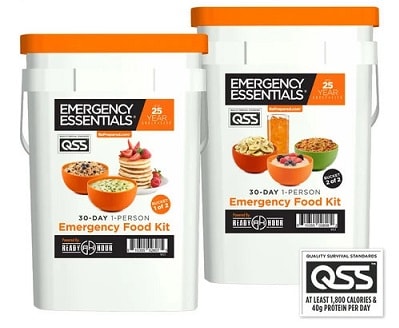 As well as their own brand products, Emergency Essentials also stock a limited range of Mountain House meals and Ready Hour ingredients. This makes them a good one-stop shop if you only want to buy from one supplier.
For simplicity, we will just look at their own brand products in this review.
Long-Term Food Kits
Emergency Essentials offer four sizes of long-term food kits designed to last one month, three months, six months, or a year.
All the kits meet the Quality Survival Standards (QSS) minimum requirements for calories and protein. To meet this certification, food kits need to deliver a minimum of 1,800 calories per day (excluding calories from sugary drinks) and 40g of protein.
The Emergency Essentials kits go beyond these standards, delivering an average of 2,080 calories per day and 48g of protein.
This doesn't quite meet the 2,500 recommended daily calorie intake for men, but it's a more reasonable calorie allowance than many survival food companies. The bottom line is, if you buy these pails, you're unlikely to starve.
Bulk Food Supplies
In addition to the food kits, Emergency Essentials stocks a good range of bulk food supplies including:
Meat – beef, chicken, sausage
Dairy and Eggs – milk, butter, whole egg and scrambled egg powder
Grains and pasta – flour, pasta, oats and rice
Bakery – sugar, salt, shortening, honey, peanut butter
Beans and pulses
Vegetables
Fruits
Their range isn't as comprehensive as Augason Farms, but they stock most things you'll need with the notable exception of cheese.
Unfortunately, if you want ready-to-eat meals, you're largely restricted to the food kits as they only offer a couple of options in bulk containers.
Other Emergency Gear
Emergency Essentials don't just stock food. They also sell a range of emergency preparedness gear, including a complete 72-hour kit, water filtration systems, fire starters and air filters.
Key Criteria and Our Ratings
So how does Emergency Essentials food stack up against its competitors? Here's what you need to know…
Range of Meals
Primal Rating:
The 30-day emergency food kit offers a reasonable range of meals, with six entrees, two soups and three breakfast options to choose from. The entrees are quite rice-based which may not be to everyone's taste. It's great to have a variety of breakfast options, including pancakes, though it would have been nice to see a savory option.
Unfortunately, the larger kits are just more of the same thing. While the kits provide enough variety for a month or two, you're likely to get pretty fed up with mushroom rice pilaf after a year. Plain rice and an orange energy drink are also included, but there are no snacks or protein packs.
As well as basic pantry ingredients, Emergency Essentials' range of bulk ingredients includes a few more unusual options, such as cinnamon apple slices, sweet potatoes and cherry vanilla granola.
---
Quality and Taste
Primal Rating:
Emergency Essentials' meals and food kits are relatively low cost and unfortunately, this is reflected in the quality. They're highly processed, carbohydrate-based and use cheap ingredients.
There's no meat (other than chicken fat) and minimal vegetarian proteins. Vegetables, where they're included, come somewhere near the bottom of the ingredients list.
While some manufacturers argue that chemical additives are necessary to ensure the long shelf-life of products, Valley Foods prove that this doesn't have to be the case. Unfortunately, f you want to understand exactly what's in your Emergency Essentials' mushroom pilaf, you may need a chemistry degree.
That said, despite not using the highest quality ingredients, the meals don't taste bad at all. They're a long way from Mountain House standards but by providing both options on their website, Be Prepared caters for different tastes and budgets.
You can't really go wrong with the bulk ingredients which all get good reviews.
---
Ease of Cooking
Primal Rating:
Meals come in pouches (if you order the pails) or multi-serving cans, meaning you have to decant portions into a pan and add boiling water. Entrees need to simmer for up to 20 minutes, so these aren't the quickest meals to cook in a disaster situation.
---
Gluten-free and Vegetarian Options?
Primal Rating:
This is one area where Emergency Essentials falls down. Not only is their range of gluten-food extremely limited, but the website makes figuring out what you can eat kind of confusing. Clicking on two different links, both claiming to show their gluten-free range, brings up two different sets of products.
On the plus side, they only state products are gluten-free where they meet GFCO standards. This is different from simply stating a product is gluten-free just because it doesn't list wheat as an ingredient.
As a large number of their bulk ingredients (e.g. vegetables, fruit and dairy products) are produced in a factory where cross-contamination is a risk, they don't meet this standard which is why they're not included in Emergency Essentials' list of gluten-free products.
Vegetarians may also struggle with the long-term food kits. Bizarrely, the meals you think would contain meat (such as beef stroganoff) actually contain soy protein, whereas some of those you might assume to be vegetarian (broccoli and rice soups) have a chicken soup base containing rendered chicken fat (mmm, appetizing!).
Emergency Essentials' long-term food kits are nut-free but individual products contain milk, wheat and other allergens. There's no specific gluten-free food kit.
On the plus side, information on allergens is clearly included on the product pages of most bulk supplies.
---
How Healthy Are They?
Primal Rating:
Emergency Essentials make a big deal out of the fact that their survival food kits contain more calories and protein than needed for survival. This may lead you to think they're healthier than other options.
However, from a nutritional perspective, they're typical of many lower-cost emergency meals, being essentially flavored carbohydrates. While you get sufficient calories to live off, we'd recommend supplanting the food kits with additional fruit, vegetables and protein to give a more balanced diet.
Carbohydrates and Sugar
It's always a bit concerning when an entrée lists its top ingredient as sugar (roasted red pepper soup in case you were wondering). That said, with that one notable exception, Emergency Essentials' meals actually contain less sugar than many of their competitors.
Unfortunately, most emergency meals (not just those by Emergency Essentials) contain fast-release carbs, such as white rice or pasta rather than whole-grain versions. This makes the meals quicker to cook but you miss out on valuable dietary fiber.
Protein
The long-term food kits give you an average of 48 grams of protein per day. Although this is above the QSS standards, it's still far below the recommended "normal" amount for adults.
As entrees contain variable levels of protein ranging from 5-11 grams, it's worth varying your menu to get a consistent protein intake each day.
Sodium
They may be low in sugar, but the ready-to-eat meals make up for it in sodium. This makes sense as it's a preservative (and also makes things taste good!) but it's worth being aware of. You definitely won't need to add extra salt to your meals.
Vitamins and Minerals
Whereas many emergency food brands take a rather ad-hoc approach to listing the vitamins and minerals in their food, Emergency Essentials is at least consistent.
Vitamin D, Calcium, Iron and Potassium content is listed for each of the meals, though, given Vitamin D is always "0%", I'm not sure why they felt it necessary to include it! You're unlikely to hit the recommended daily amount of any of the minerals, but this is no different to any other brand of emergency food.
The long-term food kits include an orange energy drink (basically flavored sugar water) which does contain a complete serving of Vitamin C, plus small amounts of Vitamins A and D.
---
Shelf Life
Primal Rating:
Emergency Essentials' long-term food kits all have a shelf-life of 25 years. Meals are sealed in multi-serving pouches with oxygen absorbers which are then packed into stackable pails.
Like some other providers, Be Prepared suggests that you tape a bung wrench to your emergency supplies to help open the pails. They also suggest using a commercial grade can opener for the bulk ingredients and meals, though your everyday kitchen can opener should work at a push.
Most bulk ingredients have a shelf life of at least 25 years, with a few exceptions.
The dehydrated banana slices and most dairy products have a shelf-life of 10 years.
The tasty-looking cherry vanilla granola has a short 5-year shelf-life due to the oil used in its manufacture.
Once opened, products will last up to a year.
---
Cost and Value for Money
Primal Rating:
Emergency Essentials doesn't sell many bulk meals other than in the food kits, but those they do stock work out at under $2 per serving.
If you calculate cost per calorie, their QSS-certified food kits are some of the best value on the market. At full price, the cost for a 2,000-calorie per day diet works out as follows:
1-month supply – $7.63 per day
3-month supply – $7.50 per day
6-month supply – $7.50 per day
1-year supply – $7.50 per day
They often have sales on different products which brings the price down even further.
The bulk ingredients work out slightly cheaper than those from Augason Farms though there is less variety.
---
Availability
Primal Rating:
Emergency Essentials have clear information on shipping costs and delivery timescales on their website, with a flat shipping rate on orders above $120.
This is about the only place you can currently source their products, making availability much more limited than other suppliers.
---
Customer Service and Incentives
Primal Rating:
Reports of Be Prepared's customer service are mixed. They have many happy customers, but a few complaints about delivery timescales and lack of communication. They do offer a 30-day satisfaction guarantee, so if you're not happy with the products, you can send them back (in most cases, at your own cost).
They don't offer free samples or have a specific loyalty program, though there is a group discount scheme.
The Be Prepared website is well laid-out and informative and they don't shy away from difficult questions in their FAQ section, earning them top marks for transparent marketing.
Final Thoughts
Emergency Essentials target the budget end of the market. Although their meals aren't great quality, their bulk ingredients are as good as any other brand.
Their QSS-certified food kits provide one of the best daily calorie allowances we've found – as long as you don't mind the limited variety.
If you want a mix of emergency meals and ingredients and only want to buy from one supplier, Emergency Essentials is a great choice, particularly as they also stock Mountain House meals. As they sell other emergency preparedness supplies such as water and air filtration systems, they're a useful one-stop shop.