What Happened to Augason Farms?
Editors Note: October 2022: Please note Augason Farms have suspended direct sales through their website due to supply shortages. They are still fully operational but are prioritizing supplies to third-party sellers.
You can still buy their food on Amazon.
You can also check out our Valley Food Storage review as an alternative.
Augason Farms takes a different approach than most survival food companies. Instead of just providing pre-prepared ready meals, they offer a range of ingredients and packs that you can combine to create a varied menu.
The upside? A greater variety of products and flexibility in creating meals.
The downside? Meals are more complicated to prepare, and you'll need to plan effectively to make the most of your supplies.
Let's get to the review.
Augason Farms Food Review – Our Ratings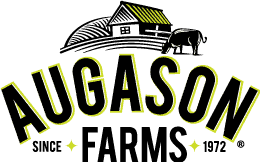 Overall rating: 83/100
What We Think
Lots of variety for foodies who are happy to build their own emergency food kit.
Check Prices on Amazon
---
Excellent range of bulk ingredients
Opportunity to create healthy meals
Great value
Generous calorie allowance in short-term food kits
Clear information on calorie counts, servings and shelf-life
Gluten-free and vegetarian options
Widely available
Range of meals in some food kits is uninspiring
You need a kitchen and interest in cooking to make the most of the food
Mixed shelf life
Pre-prepared meals aren't particularly healthy
What Types of Survival Food Does Augason Farms Offer?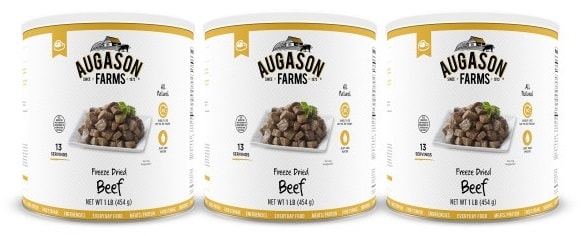 Short Term Food Kits
Although we are primarily looking at long-term food supplies (1 month+) in this review, Augason Farms also offers several short-term food kits.
These include:
Compared to most other manufacturers, these are generous daily calorie allowances. (See here for our comparison of the best emergency food companies.)
If you eat a lot, you may be starting to feel a bit hungry at the end of two weeks, but it's not likely to do you any lasting harm.
On the downside, there's limited variety in meals. You won't starve on these rations, but the novelty of eating them will quickly wear off.
Long-Term Food Kits
At first sight, the choice of long-term food kits that Augason Farms offers is a little overwhelming, but they can be split into three categories:
Evacuation food supplies – heavy-duty buckets that contain mainly prepared meals (9-month and 1-year kits)
Shelter-in-place food supplies – cans of bulk food supplies designed to be stored at home (6-month and 1-year kits)
Emergency preparedness supplies – a mixture of bulk-food cans and emergency evacuation food buckets (1-year kits)
If you want to stockpile more than a year's worth of food, Augason sells a 4-person kit and a whopping 20-person kit. You'll need plenty of shelf space to store that much food, but if the SHTF, you'll have your own personal grocery store.
The daily average calorie count of the kits ranges from 1,200 up to 2,140. The shelter-in-place supplies typically contain fewer calories than the prepared meals or mixed kits, though it's worth noting that the total excludes calories from sugar and drinks.
There's clear information on the number of servings in each kit, although the numbers are pretty meaningless as you'll combine multiple servings of different foods into each meal. It makes more sense to use the calorie totals as a guide to calculate how much food you'll need.
Bulk Food Supplies
This is where Augason Farms stands out from the crowd. You could pretty much stock your entire pantry with their bulk food supplies which include:
Dairy – milk, eggs, butter, four types of cheese
Protein – freeze-dried meat, vegetarian meat substitutes, bean burgers, and peanut butter
Grains and beans – wheat, rice, macaroni, oats and pulses
Bakery items – bread and cake mixes, salt, sugar and honey
Fruit and vegetables
Drinks – coffee and fruit drinks
You can also buy large cans of their prepared breakfasts and entrees and special meal kits.
Key Criteria and Our Ratings
Whether Augason Farms is the right supplier for you will depend more on your approach to disaster planning than whether you prefer mac and cheese to potato pie.
We've tried to compare their products to those of other suppliers as fairly as possible while recognizing the different approach they take to meal kits.
Range of Meals
Primal Rating:
This is difficult to quantify as the range of Augason Farm meals is not great, but their range of pantry ingredients is unrivaled.
The short-term food kits include between three and six different meals plus oatmeal for breakfast and banana chips as a snack. While this might be okay for a week or two, unfortunately, you don't get any extra variety in the long-term food kits – in fact, you get less.
For example, the 1-Year 1-Person Premium Emergency Evacuation Kit contains two soups, cheesy broccoli rice, creamy chicken flavored rice, macaroni and cheese, and oatmeal, plus a few snacks. It also includes meal planners, though given how few ingredients you have, I'm not sure how much use these are.
You'll fare a lot better with the bulk food supply kits. As well as individual ingredients, there's a larger range of entrees that include actual meat, such as beef stroganoff and spaghetti marinara. The meal kits are a particular highlight, including ingredients to make "real" meals such as pizza, omelets, chicken fajitas, and even a turkey dinner.
The bakery range contains treats such as blueberry muffin and brownie mixes. You may be living in a post-apocalyptic world, but that's no reason not to have cake on your birthday.
View The Range
---
Quality and Taste
Primal Rating:
In taste testing, Augason Farm's meals come out middle-of-the-road. They're edible, but nothing you'd rave about to your friends. Their soups are better than many competitors, particularly the creamy potato soup, and the Morning Moo's milk alternative is one of the best-powdered alternatives to real milk that you'll find.
The pre-prepared meals have some of the longest ingredients lists I've seen, with many unpronounceable names and chemical compounds. It's not all bad though – some of the meals contain meat and vegetables and actually sound like something you'd want to eat. Unfortunately, those meals aren't always included in the food kits.
---
Ease of Cooking
Primal Rating:
The prepared meals have a relatively long cooking time of 15-20 minutes. These are not instant meals, and you have to add the food to a pan, so there's some washing up involved.
To take full advantage of Augason Farm's range of ingredients, you'll need a decent supply of fuel, a frying pan, and, ideally, an oven. In other words, a kitchen.
Herein lies one of the conundrums of long-term food supplies. Do you assume you'll have sufficient fuel and water (not to mention cooking equipment) to cook "normal" food? Or do you go for the worst-case scenario, grin and bear it, and live off boil-in-the-bag meals for months at a time?
---
Gluten-free and Vegetarian Options?
Primal Rating:
Augason Farms have a handy gluten-free section on their website which lists all of their gluten-free products. They don't provide gluten-free meal kits, but if you're able to cook for yourself, there's enough variety to create a wide range of tasty dishes.
Vegetarians are also well catered for with vegetarian meat substitutes (which may not appeal to vegetarians who don't like the taste and texture of meat…), bean burgers, and several varieties of beans. The meal kits contain several vegetarian entrees in addition to those flavored with chicken stock.
Unfortunately, a list of allergens isn't included on the meal kit pages or clearly on the product pages – you have to click on the nutritional information label. For those who are lactose-intolerant, it's worth noting that even though Morning Moo's is advertised as an alternative to milk, it still contains a small amount of lactose.
For more options, see our article on the best gluten-free emergency food.
---
How Healthy Are They?
Primal Rating:
This is another tricky thing to gauge. The meals, particularly those in the short-term food kits, are designed to be cheap and filling rather than healthy. But if you're using the bulk ingredients and meal kits, then you have the opportunity to create balanced meals packed with protein and vitamins.
As we can't go into every possible meal combination, let's look at the pre-prepared meals to which you just add water.
Carbohydrates and Sugar
Although the meals are high in carbohydrates, they generally have a lower sugar content than other brands. Even the maple oatmeal breakfast cereal only has 11g of sugar per 100g, less than half that of other brands.
Protein
The short-term and emergency evacuation kits contain a relatively low amount of protein – around 47 g per day. This is more than some suppliers but still falls short of your recommended amount.
That said, Augason Farms also offers a variety of meat-based entrees that can be bought separately and contain a higher amount of protein. There are also plenty of protein options you can purchase separately to add to meals.
Sodium
The amount of sodium in the meals is high but in line with most other brands.
Vitamins and Minerals
The meals are low in vitamins and minerals, though the meat-based meals contain a decent amount of iron and potassium. However, most of the food kits include Morning Moo's, which provides calcium and is fortified with vitamins A and D, and banana chips which are a good source of iron.
---
Shelf Life
Primal Rating:
The shelf life of Augason Farms products ranges from 10 to 30 years. Dairy products and the banana chips have the shortest shelf life.
This is slightly frustrating as you'll have to rotate food supplies at different times, but realistically this isn't a massive chore if you're only doing it once a decade!
Once open, the cans last up to a year, so you don't have to worry about eating the same meal every day for a week.
Food in the emergency grab-and-go pails is individually packaged inside the pail. The pails are sturdy and square, making them easy to stack, though you'll need a bung/drum wrench to open them.
---
Cost and Value for Money
Primal Rating:
Augason Farms offers some of the best value disaster food on the market. The individual cans of entrees work out around $0.87 a serving for the soups and cheaper mains and $1.58 for mains containing meat.
The food kits also work out as excellent value, though bear in mind, you may want to add additional items to the long-term food kits to increases the calories or nutritional content:
1-week 1-person kit = $6.14 per day (1,811 calories/day)
2-week 1-person kit = $5.28 per day (1,877 calories/day)
6-month shelter-in-place kit = $5.45 (1,553 calories/day)
1-year emergency evacuation kit = $5.47 (1241 calories/day)
1-year shelter-in-place kit = $4.61 (1854 calories/day)
---
Availability
Primal Rating:
Augason Farms products are widely available. You can find their products in Walmart and Amazon.
---
Customer Service and Incentives
Primal Rating:
Augason Farms is generally well-reviewed in terms of customer service. Their website is informative and transparent, with a comprehensive FAQ page.
Unlike other companies, they don't have a loyalty program or offer free samples. It's a shame you can't try before you buy, but understandable given the low cost of their food.
Final Thoughts
Augason Farms offers a fantastic range of long-life ingredients for people who want to cook for themselves in a crisis. If you have a reliable long-term water storage plan, some fuel, and reasonable certainty that you can stay at home, then building your own food kit means you'll be able to carry on some semblance of normality in any situation.
The mental health benefits of that, particularly for children, shouldn't be underestimated.
The flip side is, if you do have to leave home, you may have to leave your food behind.
Our preference would be to plan for both eventualities. By purchasing tasty just-add-water meals from a company such as Mountain House and bulk ingredients from Augason Farms, you can balance costs and build your own bespoke long-term food kit.
Related
For further survival food companies reviews see: