It gets hot in South Africa and, when it does, there's nothing more satisfying than a long drink of cold water. Unfortunately, our unreliable electricity supply and regular load-shedding mean that's not always possible, especially if your only water source is a deep well and a submersible electrical pump.
After too many thirsty summer days, we decided to add a hand pump to our well as a back-up for such situations. These aren't particularly easy to find, although there are plenty of online retailers claiming to stock them.
Most hand pumps are designed to operate up to a depth of 25' only so, as the static water level in our well sits at around 250', finding an affordable model that could cope with such depths felt a bit like looking for a needle in a haystack.
I was also determined to find something that was relatively easy to install and wouldn't require constant or expensive repairs. (Check out our guide – How to install a hand pump on your well. )
After studying countless customer reviews, watching several hours of YouTube videos on how to install a hand pump, and doing some in-depth research into the products themselves, I came up with five options for shallow wells and three suitable for deep wells.
Our Top Picks
Pressurized Sealed-Top Water Pump
This simple pump is easy to install and can draw water up from depths up to 20 feet.
The brass cylinder is housed in a robust cast iron casing and produces approximately one gallon per minute (GLM).Check On Lehmans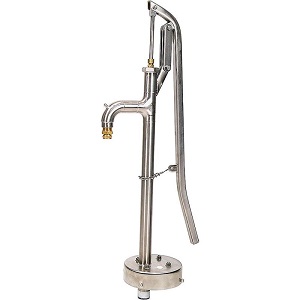 Best Shallow Well Hand Pump Reviews
Best Overall: Pressurized Sealed-Top Water Pump
As functional as it is attractive, this traditional one-hand pump has a brass cylinder wall and rod that are more durable than iron and capable of lasting for twice as long.
Installation is simple, although you will need to prime the pump before use. This simple design is just as effective now as it was when the first pitcher pumps were introduced over 200 years ago.
Ideal for a self-sufficient life, this quality water pump comes tapped for a standard 1¼" drop pipe and is capable of drawing water up from depths of 20 feet, although you'll need some serious muscle power if you want access to water over 15 feet deep.
Handcrafted in the USA, these pump systems are designed to be both lightweight and corrosion-resistant and come with a lifetime warranty.
---
Best For Shallow Wells Over 25′: Cincinnati Gem Chain Pump
Originally used in Ancient China to access underground water sources, this type of pump uses a similar approach to the watermill, catching the water on platters, drawing it through a tube and up to the surface before depositing it into a trough or container.
Combining modern materials with an ancient method, the Cincinnati Gem Chain pump can raise water from a depth of 30′ at a rate of around 5 gallons per minute.
A little more expensive than our top pick, this pump comes without the necessary chain, buckets, or tube so, these additional components will increase your installation costs.
---
Best Budget Hand Pump For Wells Under 10′: TBVECHI Suction Pump
This manual pump has an elegant design but is only suitable for retrieving water up to 10′ deep so, it's crucial you know the depth of your well before purchasing. The stainless steel construction and ease of installation make it an attractive alternative to the pricier models.
Check Prices on Amazon


It might be a good idea to replace the fixing screws that attach the pump handle to the body before you start the installation process and save yourself the trouble of doing it in a month or so's time.
Similarly, the leather bowl inside the pump body isn't the best quality and may require more routine maintenance than a more expensive model.
Nevertheless, for the price, the TBVECHI is a lightweight yet effective option that works well as an emergency back-up even if it isn't the highest-quality hand pump on the market.
---
Most Affordable Pump For Shallow Wells Up To 25′: Green Hand Cistern Pump
Another example of the more traditional and common hand pumps, this cistern pump is capable of retrieving water from up to 25′ so, works as effectively in a shallow well as it does a cistern.
The cast iron pump hardware and aluminum parts make it durable, while the elegant design makes it simple enough to both install and repair.
Designed to fit a standard 1 ¼" drop pipe, the traditional design means replacement parts are readily available and affordable. It produces a maximum flow rate of around 5 gallons of water per minute (GPM) which is enough to service a standard private residence.
---
Best Pump For Heavy, Daily Use: Bison Stainless Steel Shallow Well Pump
Like all Bison pumps, this stainless steel shallow well pump is handmade from the highest quality materials. Designed to retrieve water from depths of up to 25 vertical feet with an average flow rate of approximately 4 ½ GPM.
Check Prices on Amazon


It can be installed alongside your existing electrical pump as an emergency back-up or used as your sole water source. Lead-free and freeze-resistant, this is a pump with quality parts, including a pump head made with 304 stainless steel and brass fittings.
Simple to install, durable, and covered with a lifetime warranty, if you want something that's going to look the part and go the distance, this is by far your best option, although you may find the high price tag a little off-putting.
---
Best Deep Well Hand Pump Reviews (Over 25′)
Best Overall: Bison Stainless Steel Deep Well Hand Pump
Bison Pumps are the Ferraris of the hand pump world, producing high-quality pumps capable of retrieving water from wells as deep as 300 vertical feet.
The deeper the static water level, the harder it will be to pump, however, so if you're looking at drawing water from 200′ or more, be prepared to build some muscle in the process.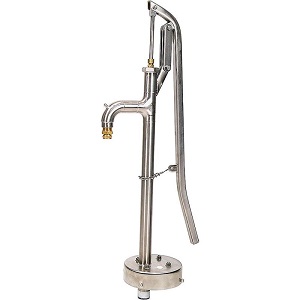 This simple pump uses high-quality materials to create a virtually unbreakable system. It doesn't need priming, maintenance is minimal, and it can pump into either a pressurized tank or a hosepipe, depending on your setup.
Installation is a little more complex than with a shallow well model but there are detailed installation instructions available online to guide you through the process. The advanced design means it won't freeze in winter while the lifetime warranty gives you secure, long-term access to water.
This is the ultimate pump for serious preppers and committed off-gridders.
---
Best For Heavy Usage: Deep Well Double Action Force Pump
This versatile yet simple design has been around for centuries and remains one of the most popular models even today. Thanks to its double-acting cylinder it pumps water on both the upward and downward strokes, making it easier for the operator, and giving a more even water flow.
Versatile enough to use in both shallow and deep well situations, it can also be adapted to work with a windmill.
Although cheaper than the Bison pump, this model will need additional parts before it's ready to install. These include a lift cylinder, piping, and sucker rod, so you could end up paying much the same for this pump as you would the superior stainless steel model from Bison.
On the plus side, its functionality and wide range of applications make it a cost-effective piece of farm equipment.
---
Best Budget Pump For Deep Wells: Large-Capacity Windmill Head Pump
Similar to the double-action force pump above, this is actually a shallow well pump with deep well capabilities, although it doesn't have the range of the Bison or the force pump.
Designed for normal operation in a well of up to 20′ deep, it can be used to retrieve water from 100′, although a foot valve or windmill attachment is recommended for deeper installations.
This model comes with everything you need to install the pump, including the pump head, brass cylinder, drop pipe, and rod. With its cast-iron fixtures and brass fittings, this is high-quality pump has been built to last.
Although designed as a standalone hand pump, if you opt for the slightly more expensive 6″ offset well cap, you can install this hand pump alongside your existing electrical pump for emergency use.
If you're planning on using this as your primary water source, however, you can rest assured that it's been designed for all-weather use and is fully freeze resistant.
---
Why You Need a Back-up Hand Pump
If you're relying on a private system for all your washing, cooking, and drinking water, it means you're also reliant on electricity.
Even if you're self-sustainable and using solar pumps, a month of overcast days could leave you without water.
Similarly, power failures are common in rural areas, but a hand pump could eliminate these inconveniences and disaster-proof your water supply.
The most common type of hand pump is a manual suction pump, which using suction to draw water up from the well.
You can't pump water using this method if your static water level is deeper than 22 feet. Instead, deep well pumps push the water out rather than using suction to draw it up.
Suction pumps tend to be cheaper than deep well hand pumps and are easier and cheaper to install.
Most deep-well submersible pumps have heavy components that require professional installation.
What You Need To Know When Buying a Hand Pump
The following bits of information are crucial to buying the right pump for your needs:
Usage
Are you planning on using your hand well pump as a back-up for a powered well pump, or do you plan on using it as your primary or only water source?
Pump Flow Rate
A higher pump flow rate is crucial if you're using this as your only source. A recommended flow rate would be around 5 GPM for a standard household but higher if you're using the water for livestock as well.
Well Depth
Knowing how deep your well is is crucial to getting the right product. It's also important to check the maximum static water level of standalone hand pumps before purchasing.
I found that many retailers mistakenly categorize pumps as suitable for deep wells when, in fact, they can only access water 25 feet deep. Some may go up to 30′ at a push, but they certainly won't be able to tackle depths of 100′ or more.
Do Hand Pumps Need Priming?
Most pumps need priming before you use them for the first, even if they are self-priming models, although Bison say their pumps do not. This is because the downward stroke of the handle expels the air, making priming unnecessary.
Even if the pump you choose does need priming, it's not a big deal and only takes a few minutes.
How Do You Prime A Pitcher Pump?
To prime a standard pitcher pump, pour water into the top of the pump until it runs out of the spout. Give the leather suction cup five minutes to soak up the water and swell enough that it makes contact with the wall. Now pump the handle a few times to fill the suction pipe with water. Your pump is now primed. (Also see how to prime a well pump.)
What Are The Disadvantages of Hand Pumping?
Even a high-end pump needs you to put in some serious muscle power to draw up water so, you need to be prepared to invest the time and energy needed.
Filtration can be a problem with hand well pumps, and some even state that they're not suitable for drinking water. With many hand pumps, users rely on a whole house filtration system that cleans the water after pumping.
Sub-grade pumps require regular maintenance, a process often complicated by the unavailability of parts. Pump maintenance is often more challenging than installation, so buying quality pump products can pretty much eliminate this disadvantage.
How Deep Will A Hand Pump Operate?
Shallow well pumps can access water at a depth of up to 25′, while deep well hand pumps can work effectively in wells where the static water level is up to 325′.
Can Hand Pump Operate In Freezing Temperatures?
The best hand pumps are freeze resistant and will work effectively regardless of the weather.
Is It Worth Buying a Budget Hand Pump?
While it might be tempting to opt for a cheaper model, these often require regular maintenance, making them both time-consuming and more expensive in the long run.
It makes more sense to invest in a good-quality pump that comes with a decent warranty than waste time installing a sub-grade pump that you'll end up draining, priming, and fixing rather than using.
Stainless steel pumps are durable and reliable, although some budget pumps can be quickly and easily upgraded during installation to improve their longevity.
Conclusion
As a back-up solution for those times when your electric or solar pumps are rendered inoperable, a hand pump is second to none.
We put ours in three years ago and have used it at least once a month without issue since then. I'm not sure I'd want to rely on it as a sole water source, but I can see the advantages. It's easy to install and operate and is a great way to tone your upper body.
What's more, water pumped by your own hand somehow tastes better than the sweetest water from a mountain spring, even though it's the same, slightly brackish water the submersible pump produces.
Pumped up about being prepared for a disaster? Now you know the level of water security the best hand well pumps can bring, I think you ought to be.