One potential disadvantage of a private well is poor water quality, including the risk of contamination from volatile organic compounds and foul odors and taste. Because contaminant thresholds change over time, the safest bet is to add a well water filtration system to your home.
However, finding a quality system that supports well water is no easy task. We've sorted through dozens of options to find the best well water filtration systems specifically designed to work with private wells in conjunction with EPA guidelines.
Top Pick
SpringWell Whole House Iron Filter For Well
The SpringWell Whole House System is one of the most thorough well-water filtration systems across the board, with a slew of options for removing a wide range of contaminants.
Best for Microbial Contamination
Aquasana Well Water Filter System
If your focus is microorganisms, you can't go wrong with Aquasana's whole-house filtration. Its combination of UV and KDF filtration eliminates 99.9% of viruses and bacteria.
Reviews of the Best Well Water Filtration Systems
Best Overall: SpringWell Whole House System
Specs:
Capacity: 1,000,000 gallons
Maximum flow rate: 9–12 gallons per minute
Purification method: KDF, activated carbon, sedimentation
This is the perfect unit if your well water is staining your appliances or you have the dreaded rotten egg smell. The SpringWell uses air-injection oxidizing technology to remove sulfur up to 8 ppm, manganese up to 1 ppm, and iron up to 7 ppm.
The system features a four-stage process beginning with KDF media to filter heavy metals, followed by a catalytic-carbon media for filtering out organic chemicals, such as volatile organic compounds, industrial chemicals, herbicides, and pesticides. The final stage features a 5-micron sediment filter for larger debris.
Because water always takes the path of least resistance, in most well filtration systems, water channels develop in the media over time. With SpringWell's filtration system, the tank itself has a Vortec design that helps eliminate this channeling. The Vortec design also increases contact time with the media for a more thorough filtration process.
SpringWell's automatic electronic control valve allows you to program it and forget it. Plus, it features Bluetooth capabilities so you can control and adjust everything from the convenience of your cell phone.
SpringWell also offers upgrade options, including reverse osmosis and UV water purification to kill 99.9% of harmful microbiological pathogens, such as E. coli, cryptosporidium, and giardia.
Plus, it guarantees no drop in water pressure. SpringWell's unique build is based on the number of bathrooms in your home, so it goes above and beyond most of its competitors by providing 12 gallons per minute for the smaller model and 20 for the larger.
The smaller model is sufficient for one to four bathrooms, and the larger one can serve a home with four or more bathrooms.
SpringWell surpasses its competitors on many levels, not the least of which are its six-month money-back guarantee, lifetime warranty, and NSF certification of all parts. SpringWell also provides a DIY install option — without losing your warranty, unlike some other big appliance brands.
If you have overly hard water, you can also opt for SpringWell's salt-based water softener. And if heavy metals aren't your issue, SpringWell offers a variety of other remedies for contaminated well water:
And if you're not sure what you need, you can have your water tested using SpringWell's 53-point test.
Pros:
Removes heavy metals
Lifetime warranty
Free shipping
No loss of water pressure
Upgrades available
Cons:
No TDS removal
No removal of tannins
Expensive
---
Best for Microorganisms: Aquasana Whole House Well Water Filter System
Specs:
Capacity: 500,000 gallons
Maximum flow rate: 14.7 gallons per minute
Purification method: ultraviolet, sedimentation
If your water tested positive for microorganisms and your well contains an influx of bacteria, the Aquasana Whole House System is your best option because it combines an ultraviolet purifier with a kinetic degradation fluxion (KDF) filter.
The UV purifier gets rid of those dangerous coliforms and viruses, and the KDF inhibits the growth of microorganisms while also minimizing heavy metal contaminants.
The system hooks into your main water line and begins with a pre-filter that sifts rust and sediments. Your water is then filtered through a salt-free water conditioner and activated carbon filter that helps remove any herbicides, pesticides, or other organic chemicals.
Finally, a post filter removes anything down to .5 microns, and the UV filter gets rid of your microorganisms.
The pre and post-filters require changes every 2 – 6 months, while the salt-free water tank and carbon filter tank last about 5 years (500,000 gallons). Replace the UV filter annually.
Be advised a salt-free water conditioner and a water softener are not the same thing.
Water conditioners only help prevent scale from forming. They do not soften water.
The Aquasana system weighs nearly seventy pounds and takes up a substantial amount of wall space. You should install it where your main water line enters the home, but be sure you have room for it. You also need an electrical outlet for the UV light.
This system is an excellent choice for ridding your water of bacteria and microorganisms with the additional advantages of sediment filtration, some heavy metals, and organic compounds.
Pros:
Kills 99.9% of viruses, bacteria, and chlorine-resistant cysts
Smaller micron filter replacements available
Reduces water-soluble metals and industrial solvents
Seamlessly integrates with house plumbing
Does not lose water pressure
Cons:
No TDS or nitrite removal
Expensive
Requires substantial wall space (57″ x 69″)
Warranty void with self-install
---
Best for Nitrites: iSpring 3-Stage Whole House Water Filtration System
Specs:
Capacity: 100,000 gallons
Maximum flow rate: 15 gallons per minute
Purification method: mechanical filtration, chemical absorption, ion exchange
The iSpring 3-Stage filtration system is an inline filtering system that combines a sediment filter, carbon block, and ion exchange filters installed at your main water supply line.
The filtration system is set up to remove rust, sand, and scale; foul odors and taste; and herbicides and nitrites. However, you can swap the filters to suit your needs. For example, you can double up on the ion exchange filters and remove one of the others that you don't necessarily need.
It's recommended that you add a spin-down sediment filter if you have a shallow well and/or your well water contains a lot of debris. Otherwise, your filters get gunked up rather quickly. These spin-down filters also help extend the overall life of your filtration system.
You can also upgrade your purchase to include a UV sterilizer if bacteria is a concern.
This system is very easy to install and requires little maintenance. You should replace the filters at least every six months or sooner if needed.
The iSpring whole house system takes substantially less room when compared to our preceding systems. Just over two feet long and 27 ¾" tall, this is a great option for smaller off-grid cabins
Pros:
Removes nitrites, heavy metals, and organic chemicals
YouTube videos for easy DIY installation
Free lifetime US-based tech support
UV upgrades available
NSF and CEC Certified
Cons:
Does not remove TDS or microorganisms
Must be protected from direct sun and freezing temps
---
Best for Organic Chemicals: BLUONICS Whole House & Well Water System
Specs:
Capacity: 12 gallons
Purification method: ultraviolet, carbon block
Maximum flow rate: 12 gallons per minute
If you live near an agricultural or industrial area, your well is bound to absorb a variety of chemicals from the soil. The Bluonics well water system utilizes a superior carbon block media to filter volatile organic chemicals out of your water.
A carbon block filter works much better than activated carbon and does a far better job at filtering out the tiniest particles ensuring your water is safe to drink. However, there is a tradeoff.
Because carbon blocks are much more compacted, it takes the water longer to pass through the filter. This is good because it increases the effectiveness, but it subsequently decreases your water flow.
If you can live with the decreased water pressure, the Bluonics well-water system does great with filtering organic chemicals like disinfectants, herbicides, pesticides, and insecticides.
Additionally, it provides the added benefit of a UV filter to protect against bacteria, viruses, and protozoans. For homes smaller than 2000 square feet, the 55-watt UV filter provides sufficient coverage.
However, if your home is larger than that, consider upgrading to the 110-watt. You can also add a sediment filter if needed.
The Bluonics filtration system is also nice and compact at just over two feet long and one foot tall, making it ideal for smaller spaces. Despite its size, it removes 99% of organic solvents and chemicals and gets rid of foul odors and tastes.
Pros:
UV filtration kills microorganisms
Carbon block reduces to 1 micron
DIY installation and manual
Can upgrade to 110W
Fairly small in size
Cons:
Does not remove TDS
Low flow rate
---
Best for Heavy Metals: Express Water Heavy Metal Whole House Water Filter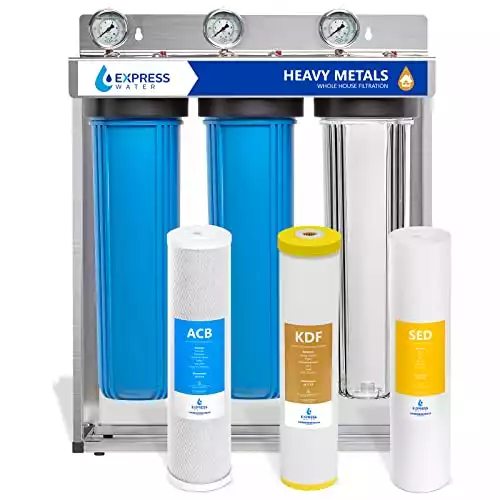 Specs:
Capacity: 100,000 gallons
Maximum flow rate: 15 gallons per minute
Purification method: activated carbon block, KDF, sediment
The Express Water heavy metal filter is the perfect solution for minimizing harmful impurities and dangerous heavy metals from your water supply.
The sediment filters trap algae, aluminum, iron, lead, hydrogen sulfide, mercury, and sulfur. Furthermore, they minimize total organic carbon, pharmaceuticals, and other chemicals down to 1 micron.
The KDF filter features the superior carbon block for removing up to 80 different impurities in your water, as well as protecting against microorganisms. The filtration also removes tannins and improves turbidity providing you with clean and refreshing water.
The Express water system comes with its own frame, so it can either be mounted or rested on the floor. It takes up a relatively small space at just under two feet long and just over 30 inches tall.
Its frame seats three gauges to monitor the system's performance and let you know when it's time to change the filters. The cartridges are easy to replace with a twist-off, twist-on fashion.
Express Water advertises there is no water pressure loss with their filtration system, but there are mixed reviews on the validity of this statement.
Pros:
Removes over 80 impurities
Removes bad tastes and odors
Freestanding stainless steel frame
Pressure gauges included
Twist off replacement filters
No pressure loss
Cons:
Does not remove microorganisms, radionuclides, or fluoride
No scale reduction
---
Choosing the Right Water Filtration System
Before deciding on a water filtration system, most companies recommend testing your well water to discover any contaminants present. Additionally, since water shelf thresholds change over time, upgradeable systems are ideal, so you can add necessary filtration components as needed.
Once you purchase a water-testing kit, test your water and compare it with the EPA's cheat sheet. Your test results act as a primary guide to help you select the most appropriate filtration system.
Since not all filtration systems are equal, you need one specifically designed to offset any contaminants currently in your well water.
Types of Contaminants
The EPA has identified six potential sources of water contamination:
Microorganisms
Sewage and animal waste often leave behind harmful bacteria, viruses, and parasites. Underground septic leakage and rain and snow runoff can contaminate private water supplies regardless of how deep your well is. These contaminants can cause infections and gastrointestinal illnesses:
Cryptosporidium
Giardia lamblia
HPC
Legionella
Coliforms
Viruses (enteric)
The best filtering systems for microorganisms include reverse osmosis and ultraviolet filters.
Nitrates/Nitrites
Found in both waste and commercial fertilizers, high nitrates can cause nausea and headaches. However, the greatest risk is to infants because overly high levels can reduce the blood's ability to carry oxygen, resulting in serious illness or even death. When testing for nitrates, the result should be less than 10 mg/L.
The best filtering systems for nitrites include ion exchange, reverse osmosis, and distillation.
Heavy Metals
Heavy metal contaminants typically come from household plumbing, local factories and refineries, mines or cement plants, and natural deposits.
They usually gain access to water supplies through runoff and seepage. Increased levels of these heavy metals cause toxicity, organ damage and anemia:
Antimony
Arsenic
Asbestos
Barium
Beryllium
Cadmium
Chromium
Copper
Fluoride
Lead
Mercury
Nitrate/Nitrite
Selenium
Thallium
Your water-test kit should provide at-risk levels, but the EPA also provides guidelines for Maximum Contaminant Level Goals (MCLG).
The best filtering systems for heavy metals include reverse osmosis, ion-exchange filters, and activated-carbon filters.
Organic Chemicals
Volatile organic chemicals are those found in commercialized household products, industrial supplies, and agriculture. The chemicals found in these products are known to cause damage to the circulatory, nervous, and reproductive systems, as well as the liver and kidneys:
Disinfectants
Dyes
Fumigants
Herbicides
Household cleaners
Insecticides
Paints
Pesticides
Pharmaceuticals
Sewage/wastewater treatment
Termiticides
Activated carbon filters work best for removing organic chemicals.
Radionuclides
Mining, milling, and nuclear power production release radionuclides into the environment. They are carcinogenic and can also cause toxicity to the kidneys:
Alpha particles
Beta particles
Radium 226 and 228
Uranium
The EPA provides Maximum Contaminant Levels (MCL) for these radionuclides. A combination of reverse osmosis and activated carbon filters work best for filtering radionuclides.
Fluoride
Excessive fluoride causes skeletal and dental fluorosis, tooth discoloration, and mottled teeth, in addition to nausea, vomiting, and seizures. Reverse osmosis, ion exchange, and distillation are the best options for fluoride removal.
Total Dissolved Solids
In addition to the six contaminants delineated by the EPA, well water is also prone to increased levels of iron, sulfur, and other natural sediments known as total dissolved solids that can affect the turbidity of your water supply.
These additives often give well water an unpleasant odor and taste.
Reverse osmosis, distillation, and ion exchange are the best methods for reducing TDS.
Types of Filtration
Once you've identified any contaminants in your water, you must then choose the most appropriate filtration system. Knowing the ins and outs of the various filters will help you make the best choice for your current water supply.
Activated Charcoal Filters
Activated charcoal filters are by far the most common filters on the market. They use adsorption to collect impurities within the water. The volatile oils and odor molecules that make your water taste and smell funny get trapped in the surface of the filter.
Charcoal filters are great for making your water smell and taste great, but not all of them can filter heavy metals, fluoride, or organic chemicals. For best results, be sure they use at least a five-micron filter.
Reverse Osmosis
Reverse osmosis typically uses a series of carbon filters to remove contaminants. They usually incorporate a semipermeable sediment filter, pre-active carbon filter, and activated carbon filter in addition to the RO membrane.
RO filtration systems cover the widest array of water contaminants and are often viewed as the best on the market. Reverse-osmosis filters are the premier choice, especially when TDS levels are high. Likewise, they're good for eliminating bacteria and viruses.
Generally speaking, reverse-osmosis systems can filter these contaminants:
Arsenic
Bacteria
Cadmium
Chlorine
Dust and mud
Fluoride
Herbicides
Iron
Lead
Mercury
Nitrates
VOCs
One of the biggest downsides to reverse osmosis is wasted water. The process consumes approximately four gallons of water for every purified gallon.
Ultraviolet Purifier
As the name implies, ultraviolet purifiers use AV light to penetrate the cell wall of certain pathogens, rendering them harmless. So they don't actually remove microorganisms from the water but neutralize them.
UV purifiers cannot remove dissolved solids. Furthermore, they don't work well when water turbidity is poor. As a matter of fact, the more contaminants your water contains, the less effective ultraviolet purifiers become.
The recommended treatment is 30 mJ/cm2, but there are no negative consequences for longer exposure.
Because UV purifiers use UV light, the bulb's mercury gradually dissipates over time, meaning less efficiency. The average lifespan is approximately 375 days, so at the very least, you should replace it annually.
Additionally, UV purifiers require electricity to work. So in the event of an outage, the bulb won't work, leaving your water supply vulnerable.
Stand-Alone Filtration Options
If you're looking for options that don't require any connection to your current plumbing, these filtration methods work best.
Ceramic filters
Ceramic filters are one of the oldest types of water filters, and their superb effectiveness is why they are still used today.
These filters contain millions of tiny pores, 1–2 microns small so that contaminants get trapped as the water flows through the porous material.
Ceramic filters can remove sediment, improve the turbidity of the water, and remove these contaminants:
Bacteria
Protozoans
Microbial cysts
Some viruses
Sometimes they are combined with other media to increase their efficiency. For example, a carbon filter increases adsorption, which can remove VOCs.
Likewise, when combined with ion-exchange media, they filter heavy metals like copper, lead, mercury, and zinc. The most coveted ceramic filters are laced with silver because they prevent the growth of algae, bacteria, and mold.
Ceramic filters are extremely long-lasting. You can wash and reuse them, which makes them an ideal stand-alone option. However, ceramic filters alone are not able to filter TDS or minerals.
Distillation
Water distillers boil water until it evaporates and then condenses, leaving impurities behind. It's effective for removing bacteria and heavy metals. However, it does very little to remove organic chemicals. It's also a very time-consuming and energy-intensive process.
Ultrafilters
Ultrafilters are good for improving water turbidity and are a great choice for blocking disease-causing microorganisms because their micron size is exceptionally small. However, they cannot remove dissolved solids like arsenic, fluoride, or lead.
UFs are also a premier option for off-grid cabins because they don't require electricity. Unfortunately, they get easily gunked up and require frequent cleaning.
Ultrafilters usually come in countertop models or hiking options. They're also the best option for emergency filters.
Conclusion
While any filter is better than no filter, our top pick is the SpringWell Whole House Well Water Filter System because it provides the most options with full coverage of major contaminants. Although it's pricey for the full spectrum, it's both efficient and economical for iron, sulfur, and magnesium.
However, if you're targeting a specific contaminant, then we've also included the best-in-class, with the Aquasana leading that group, especially for microorganisms.