Charcoal is an amazing substance with many survival uses, one of which is for water filters. It's what's used in Brita filters, many camping filters, and even high-end water filters like The Berkey.
The charcoal absorbs impurities in water and is actually one of the only ways of removing chemicals from water, such as pesticides and runoff.
These instructions for a DIY charcoal water filter are very easy. Yet, it is essentially the same process used in city water treatment facilities (just on a smaller scale).
How to Make a Charcoal Water Filter Instructions
1. Get activated charcoal
You cannot use barbecue charcoal to make a water filter, the reason being that most charcoal you buy at stores is not pure and could leach numerous chemical contaminants into the water (which defeats the point of making a charcoal water filter). Instead, you will want to make activated charcoal.
In a wilderness survival situation, you could make your own basic activated charcoal out of hardwood.
After making activated charcoal, you will need to crush it into a powder.
Alternatively, you can buy activated charcoal. It is available in bulk on Amazon at a decent price.
Read:
2. Rinse your activated charcoal
Before using activated charcoal for filtering water, you should rinse it to remove any impurities on the surface. Then spread it on paper and let it dry. This is the same reason you need to soak a Brita filter before using it and the step is even recommended by NASA (1).
3. Create your filter vessel
Most survival charcoal water filters are made from 2-liter plastic bottles.
If you don't have a bottle handy, you can use cloth to hold each filter layer (see pictures in section below). Or, if you are very skilled at bushcraft, you can make a cone out of birch bark.
Notes:
It takes a while for dirty water to pass through a charcoal filter. If there are many people in your group or a long-term survival situation is in question, you'll want to use buckets for your DIY filter.
A funnel shape is ideal for charcoal filters, especially if you have a limited amount of activated charcoal available.
4. Gather pre-filter materials
It is possible to make the filter out of just charcoal. However, any debris, algae, or other scum in the water can clog the top layer of charcoal. For this reason, it's recommended that you make a layered filter.
Usually gravel and sand are used as pre-filter media. However, I've heard of people using things like cotton balls, pieces of concrete, and even uncooked macaroni.
5. Layer filter media
Going from bottom to top, the DIY water filter layers go:
Tight-knit cloth or coffee filter: This layer stops any charcoal pieces from getting into the water collection vessel.
Activated charcoal: This is the layer which will absorb chemical impurities from the water.
Sand: It's also possible to used smashed-up pieces of brick for this.
Small pebbles: These will filter out larger pieces of debris which the previous layer missed.
Larger pebbles and/or grass: This layer catches large pieces of debris in the water.
Notes that some people put these layers in different orders, such as starting with sand and then using pebbles. Or some people will repeat these layers.
6. Pour water into the filter
Pour water into the top layer of the filter. This is technically a "gravity filter" as you have to wait for the water to work its way through each of the layers. Yes, it will take a while!
7. Kill pathogens
Activated charcoal will absorb impurities in the water, including viruses, bacteria, and parasites. However, it will not absorb all of them. It doesn't take much of these pathogens to cause gut-wrenching diarrhea and vomiting! Diarrhea and puking WILL dehydrate you, which can be life threatening.
For this reason, you absolutely must further treat water from charcoal filter. Some options include:
Boiling
Water purification tablets
Household bleach: Read how to purify water with bleach
Camping/survival water filter: It won't remove viruses but those usually aren't an issue in backcountry water
0.01 micron water filter: Water filters with pores this size are effective at removing viruses as well as bacteria and protozoa.
Read:
Examples of DIY Charcoal Filters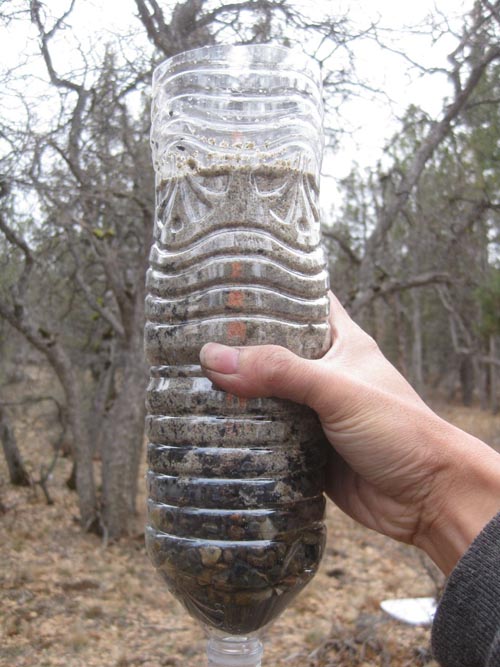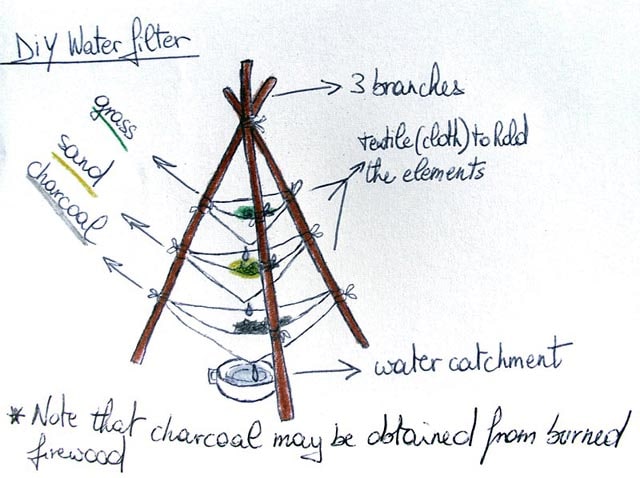 ---