Mylar bags are considered one of the best packaging methods for long-term storage. When properly sealed with oxygen absorbers, some foods can last over 25 years in Mylar bags!
If you are new to this method, here is everything you need to know about long-term food storage in Mylar bags, including step-by-step instructions for packing food in Mylar bags.
What is Mylar?
As one man aptly said in a survival forum, Mylar is
Every prepper's favorite kind of plastic. I know I have been trying (unsuccessfully) to get my wife to dress in it for years.
I'm not sure how it would work for a dress, but Mylar certainly is a versatile material. The trade name for Mylar is biaxially-oriented polyethylene terephthalate. It was originally produced in the 1950s and used for insulation, solar filters, blueprints, and even kites.
Why It is Great for Long-Term Food Storage
As far as food storage goes, Mylar is fantastic because it is:
Non-porous
Impermeable to gas
Reflects light
Flexible
Durable and puncture-resistant
Cheap
Easy to use
You can also use other packing containers for long-term food storage. However, none of them have all of these benefits of Mylar. For example, #10 cans are expensive and hard to seal. Mason jars are breakable and allow light through.
Mylar Bag Food Storage Instructions
For long-term storage, most foods also need oxygen absorers (OAs) in the Mylar bag. The OA removes oxygen from the Mylar bag so it doesn't oxidize and so pests can't survive. Some foods should go in the Mylar bags without oxygen absorbers though. For more, read: Oxygen Absorbers for Long-Term Food Storage
Materials Checklist
---
Food that you will be storing
Mylar bags
Oxygen absorbers
Bucket or container (that you will be putting the Mylar bags into)
Sealer (impulse sealer, iron, hair straightening iron)
Work gloves
Piece of wood with a towel wrapped around it (to serve as an ironing board if using an iron for sealing)
Scoop or funnel
Permanent marker for labeling
Mason jar (or another way to store unused oxygen absorbers)
Step 1: Preparation
---
You must get everything set up in an assembly line. You can take your time filling up the Mylar bags. But, once you open those oxygen absorbers, you need to seal them quickly!
Open Mylar bags and put each in a bucket/container
Line up the containers
Make sure your sealer has a cord long enough to reach the buckets
*If you put lots of smaller Mylar bags into one bucket, you obviously won't be propping up one bag per storage container. It's beneficial to have the bags propped up during the process. Consider rigging a shelf system for holding the bags, or bust out all of your Tupperware to use as holding trays for the open Mylar bags.
Step 2: Loading the Food
---
Using a scoop or a funnel, fill up the Mylar bags with food. You'll need to give the bags a good shake to ensure the food particles are settled (which means more food per bag and less air).
Fill the bags to about 4-5 inches from the top. Make sure you don't overfill the bag, or it will be tough to seal.
Label the bags and container with the contents plus the date.
Tips
If you are using 7.5mil Mylar bags, wear gloves! The bags are sharp and can easily slice your fingers!
To protect the label from rubbing off, put a strip of clear packing tape over it.
Step 3: Partially Seal Bags
---
Let your sealer heat up. Irons and hair-straightening irons need to be on the highest setting. Seal all but the last 2 inches of the Mylar bag. Make sure there aren't any little pieces of food in the seal.
It is also smart to wear gloves during sealing. The sealer can make the Mylar bag get very hot and burn your fingers!
If Using an Iron: The easiest way to seal with an iron is to put your 2×4 over the rim of the 5-gallon bucket. This will make an ironing board so you can seal the bag without having to lift it out or turn it horizontal. Once you've sealed one bag, then just move the board to another bucket. You'll want help – one person moves the board, and the other does the sealing.
Tip: Make sure you seal as close to the top of the bag as possible. That way, you'll have room to reseal the bag again.
Step 4: Add Oxygen Absorbers
---
It takes about 2-4 hours for an oxygen absorber to do its job. However, you should try to get your bags sealed as quickly as possible (within 10 minutes, 20 tops). Otherwise, you risk the OA absorbing too much outside air and not being able to absorb all the oxygen in your Mylar bag.
Tip: Before you open your oxygen absorbers, mark each bag with how many OAs the bag needs. This will speed up the process.
Step 5: Fully Seal the Bag
---
As soon as you've added oxygen absorbers, you need to seal the bag quickly. Press the bags to get out as much air as you can. Then seal the remaining 2 inches.
Step 6: Checking the Seal
---
Wait at least one day. Then go and check on your Mylar bags. Look at the seal and see if you can squeeze any air through them.
When oxygen absorbers have done their job, the bag may look "sucked up" or vacuum-sealed. However, since so much of air is nitrogen, the bag can be properly sealed but not sucked down.
Step 7: Seal Buckets or Containers
---
Once you are sure that the seal is good, you can close your buckets/containers and put them for long-term storage.
Ideally, you will store them in a cool place accessible during an emergency (for example, you wouldn't want all your emergency food in the basement during a flood!).
Procedure Graphic (click to enlarge)


How To Seal Mylar Bags
The trickiest part of using Mylar bags for long-term food storage is sealing them. They must be sealed with heat to create an airtight seal. Even the Mylar bags with zip seals still need to be heat-sealed (the zip is just for convenience).
You need a temperature of around 375-425 degrees F to get a good seal. Thicker Mylar bags will require a higher temperature.
There are 3 main ways that you can seal a Mylar bag:
---
1. Impulse Sealer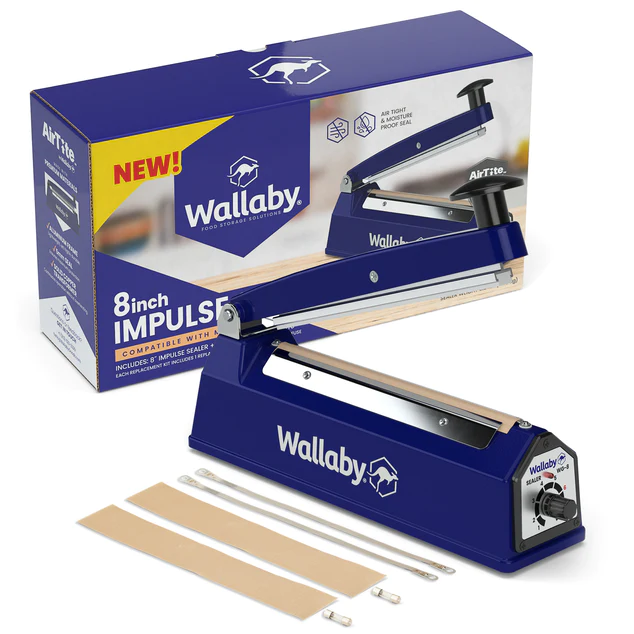 This heat sealer from Wallaby is designed specifically for Mylar bags and can seal up to 8mil thick bags.
Ideally, you should seal most of the Mylar bag, push the air out, and seal the last 2 inches. This takes some practice with an impulse sealer.
---
2. Hair-Straightening Iron
While I don't have experience using one of these for sealing Mylar bags, it seems like it would be better than a regular iron. You could keep the bag vertical so bits of the product don't get into the seal area.
Just make sure you get a hair-straightening iron with adjustable heat settings. This one, for example, gets up to 450 degrees F at the highest setting.
---
3. Home Iron
A home iron will work if you'd rather not buy a special product for sealing your Mylar bags. You'll need a piece of wood to put the Mylar bag against while sealing.
Also, be warned that since you'll be sealing the bag as it lies horizontally (as opposed to being able to keep it vertical), you might end up with bits of product shifting into the area you are trying to seal.
It's not impossible to do. However, it can be frustrating – especially when you try to work fast because of the oxygen absorbers!
This video demonstrates the process:
What Foods Can You Store in Mylar Bags?
Any dry food can be stored in Mylar bags. That means things like:
Dehydrated fruits and veggies
Flour
Grains
Pasta
Sugar
Dried beans
Powdered milk
Cereal
Spices
Don't store wet foods in Mylar! Any food which has moisture in it may start to go bad in the Mylar bag. Foods which have more than 10% moisture in them should never be stored in Mylar with oxygen absorbers because of botulism risk. Some foods have a surprising amount of moisture in them. One example is popcorn kernels.
Foods Not Suitable for Long-Term (5+ Years) Storage
Foods that contain a lot of fat or oil will eventually start to go rancid, especially if exposed to high temperatures. You can still store them in Mylar bags (with or without oxygen absorbers), but you'll have to rotate through them every 2-5 years, depending on the food and temperature conditions.
Whole-wheat flour
Pearl barley
Brown rice
Brown sugar
Chips and greasy junk food
Granola
Dried meat/jerky
Nuts
Seeds
Dried eggs
Milled grains (other than oats)
Related Reading:
Which Mylar Bags to Use?
Aside from the brand, there are a few key considerations when choosing Mylar bags: size, thickness, and whether you want zip tops.
Size
Mylar bags come in various sizes, typically 1 pint to 6 gallons. A 1-gallon Mylar bag will hold about 6-7lbs of rice. A 5-gallon Mylar bag will hold about 33 lbs of rice.
I recommend using 1-gallon Mylar bags for beans, flour, and grains. For spices and freeze-dried fruits and veggies, I use even smaller bags. Here's why:
Using large bags of food is impractical: Imagine a disaster. Would you want to open up a bag containing 33 lbs of rice? Or 6 lbs of dehydrated onions? It would be easier if the foods were in smaller bags.
Mylar keeps food safe. Once you open the Mylar bags, the food inside could get destroyed before you have time to eat it (by floodwater, rodents, etc.).
Rotating food is easier. Some foods only last 2-5 years in Mylar bags. You'll need to rotate through them. It's easier to rotate through smaller bags than larger ones.
Of course, the downside is that storing food in smaller Mylar bags takes more work. However, I'd still rather have many smaller bags of food than a few giant bags.
Thickness
Mylar bags come in various thicknesses; the most popular are 3.5mil, 5mil, and 7.5mil. The 7.5mil bags will hold up against damage better. However, they aren't as flexible.
Because the thick bags are stiffer, you probably won't get as much food in them as a thinner bag.
Also, note that the 7.5mil bags are sharp! You should wear gloves when working with them so you don't slice your fingers.
We recommend the 3.5 or 5mil bags as the most useful for the average person.
Read our survival glove guide here.
Zip Tops
Some Mylar bags have zip tops. The zip-top does NOT replace heat sealing. However, it is great for convenience.
During sealing, you can first squeeze the air out and zip-lock it before heat sealing. It prevents little pieces of product from getting into the seal.
Once the bag is open, the zip is also great for closing the bag while using the contents.
The Best Mylar Bags For Food Storage
---
How Much Food Will Fit
| Food Type | 1 gallon | 5 gallons |
| --- | --- | --- |
| Rice | 5-7.3lbs | 25-37lbs |
| Whole Grain White Wheat | 5-7.5lbs | 25-38lbs |
| Flour | 5lbs | 25-33lbs |
| Cornmeal | 5-6lbs | 33lbs |
| Beans (black, pinto, white, etc.) | 5-7lbs | 25-40lbs |
| Lentils | 7lbs | 35-36lbs |
| Macaroni | 4lbs | 20-21lbs |
| Potato Flakes | 2.5lbs | 12-13lbs |
| Diced Dried Carrots | 3.3lbs | 16-17lbs |
| Dry Milk | 5-6lbs | 29-30lbs |
| Powdered Eggs | 4.2lbs | 20-21lbs |
*How much food you can fit in a Mylar bag depends on many factors.
How big the food you are trying to store is (for example, some beans are smaller than others).
How well you shake the food to pack it down and how high you fill the bag. It's easier to seal a bag that isn't full.
You'll be able to fit more food in thinner Mylar bags because they are more flexible.
Shelf-Life of Foods in Mylar Bags
When figuring out how long foods will last in Mylar bags, you will see many different ranges given. Here's why providing an exact number of years that food will last is so difficult.
1. Nutrients Break Down Long before the Food Goes Bad
Part of the reason for these varying shelf-life dates is that nutrients can break down. For example, the nutrients in rice may start to degrade after 10 years. However, the rice will remain safe for approximately 30 years.
2. Mylar is a New Product
Checking how long a food will last is called shelf-life testing. Big manufacturers are required to do shelf-life testing. However, aside from a few studies on canned foods, there haven't been any tests on how long food can last.
Also, consider that Mylar is a relatively new product (it was made in the 1950s). We think some foods will last 30+ years in Mylar, but I don't know anyone who tested the food they packaged in the 1980s!
3. It Depends on Packaging Conditions
Mylar only protects food from degradation due to oxygen and light. Assuming that you used oxygen absorbers correctly and properly sealed the bag, you still have to worry about degradation from heat.
According to the USDA, each 10.08-degree F increase in temperature will half the seeds' storage life. This applies to other foods too. So, keeping your Mylar bags in a cool area (such as a root cellar) will last longer than if stored in a hot area (such as your garage).
With these factors in mind, here is what you can reasonably expect regarding the shelf-life of foods in Mylar bags.

| Food Type | Shelf-Life (in sealed Mylar bag with oxygen absorbers) |
| --- | --- |
| Hard Whole Grains (Dry corn, buckwheat, hard red wheat, soft white wheat, kamut, durum wheat, spelt) | 10+ years |
| Soft Whole Grains (Oats, quinoa, rye, barley) | 8+ years |
| Professionally-dehydrated veggies** | 10-20 years |
| Professionally-dehydrated fruits** | 10-15 years |
| Home-dehydrated fruits and veggies** | 2-5 years |
| Freeze-Dried Fruits and Vegetables | 25 years |
| Legumes (Beans, lentils, chickpeas, split peas) | 25+ years |
| White Rice | 10-30 years |
| Brown Rice | 2-5 years |
| White Flour | 10-15 years |
| Whole-Wheat Flour | 10 years |
| Corn Meal | 5-10 years |
| Potato Flakes | 30 years |
| Pasta | 20-30 years |
| Dry Non-Fat Milk | 15 years |
| Cheese Powder | 10-15 years |
| Powdered Eggs | 5-10 years |
| Nuts*** | 1-5 years |
| Granola | 1 year |
| Yeast* | 3-5 years |
| TVP | 10-15 years |
| Baking Soda, Baking, Powder* | 30 years |
| Sugar* | Indefinitely |
| Honey* | Indefinitely |
| Salt* | Indefinitely |
*Sugar, salt, baking soda, and baking powder should be stored in mylar bags without oxygen absorbers. Honey does not need oxygen absorbers.

See:
**Dehydrated Fruits and Vegetables in Mylar Bags
Most dehydrated fruits and veggies usually aren't suitable for long-term storage. They simply contain too much moisture and will start to get moldy.
Storing dehydrated foods with oxygen absorbers will prevent mold growth and help them last longer. However, it's important that they are VERY dry (less than 10% moisture) or botulism could occur. That means the fruit/veggie will snap when bent. When stored with OAs in Mylar bags, dehydrated foods can last 5+ years.
Some people also recommend using a desiccant to remove moisture from the dehydrated fruits/veggies before packaging. More on this later.
***Nuts and Seeds in Mylar Bags
Putting nuts and seeds in Mylar bags with oxygen absorbers will extend their shelf life. However, because they contain so much oil, they will start to go rancid. The key is keeping the temperature low.
Since nuts are so expensive, I wouldn't want to risk having an entire batch destroyed. Only package as much as you actually eat and rotate through them regularly! For more info, read: How to Store Nuts Long-Term
FAQs
Do you need to freeze foods before storing them in Mylar?
Dry foods such as beans and whole grains often have insect eggs on them. These eggs can hatch and eat the food inside the Mylar bag.
Freezing food for 3 days will kill insect eggs and prevent an infestation. Make sure you let the food come to room temperature and ensure there are no moisture pockets in it before packaging it in Mylar.
However, you do NOT need to freeze food before putting it in Mylar bags if using oxygen absorbers. This is because insect eggs cannot survive without oxygen.
Also read: Pantry Moths and Long-Term Food Storage
Mylar vs. Vacuum Sealing
Many people confuse Mylar bag storage with vacuum sealing. They are entirely different processes and get different results.
With vacuum sealing, you are using a machine like a FoodSaver (Amazon Link) to suck the air out of the bag while sealing it. While this does have benefits (like being cheap and reasonably easy to do), it isn't the best option for long-term food storage.
This doesn't mean that vacuum sealing isn't suitable for food storage. Vacuum-sealing can increase the shelf life of foods by 3-5 times. But, when you want long-term storage (5+ years), Mylar is the way to go.
Read more about Mylar vs. vacuum sealing.