Personal safety alarms give you peace of mind, whether you're running a marathon before dawn, leaving work after dark, or spending the night in the wilderness.
When looking for the best personal safety alarms, we tried to stick with those tried-and-tested brands that we know do the trick.
Unfortunately, some of them didn't live up to their names, so we had to disregard them. We also binned anything with a siren less than 120 dB on the basis that it wouldn't be loud enough to do the job.
Our Top Choice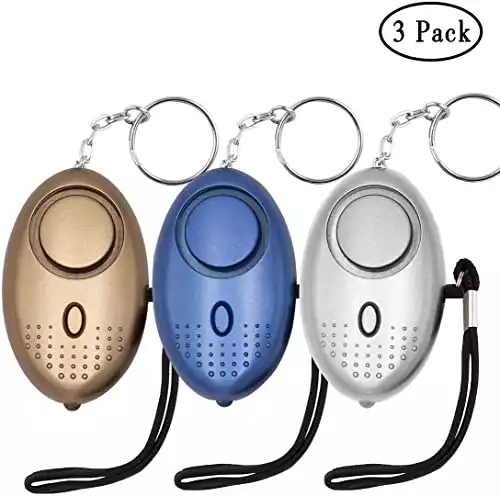 KOSIN Safe Sound Personal Alarm
The KOSIN personal alarm is compact, comes with 365 days of battery power, and produces an ear-piercing 140 dB of noise.
Best Option For Three-in-One Protection
TIGER-USA XTREME® 150dB Alarm & Stun Gun
With a 150 dB alarm, bright LED light, and 110,000,000 volt stun feature, the Tiger-USA alarm and stun gun offers robust and comprehensive protection at an affordable price.
Mini-Reviews of the Best Personal Safety Alarms
#1 KOSIN Safe Sound Personal Alarm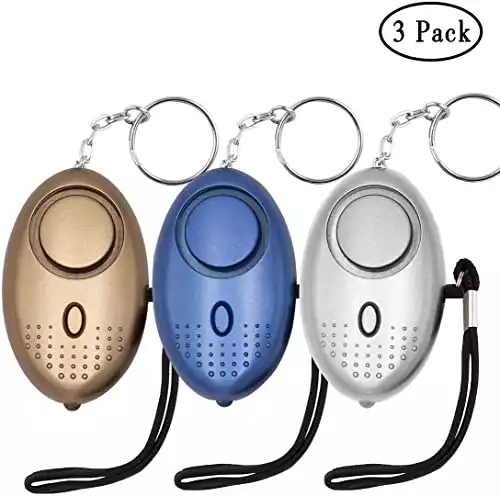 Compact and affordable, the KOSIN personal safety alarm is simple but effective. It produces one of the loudest sirens we found with an impressive 140db of ear-splitting noise. That's enough to drown out traffic noise and attract the attention of anyone passing by. It's also loud enough to scare off bears and other potentially dangerous wildlife.
The alarm lasts for up to 50 minutes, which is long enough to do some lasting damage to the human ear. It's also said to draw attention from "as far as 606.9ft" away.
Built for longevity, the KOSIN personal alarm is highly durable. Made of ABS plastic, it won't break if you drop it, nor will it react to high temperatures or electrical surges.
Measuring just under 3 inches in length, it's portable and comes with a clip that makes it easy to attach to your bag, belt, or keys.
A little heavier than some of the other products reviewed here, it's robust enough to cope with survival situations as well as everyday life.
The KOSIN personal alarm doesn't have many bells and whistles, but it does include an LED light which could come in handy on a dark night.
Available in packs of three, you need never be without protection. Simply clip a KOSIN personal alarm onto your bags, your house keys, and your doggy treat pouch, and you'll always have one close at hand.
Pros:
140 dB alarm
365 days of battery power
Cons:
Heavier than some models
No additional safety features
---
#2 Streetwise Panic Alarm 130 dB
This nifty little device isn't quite as loud as the KOSIN but still produces 130 dB of noise, which should be more than enough to attract attention. That means it's also loud enough to scare off aggressive dogs and any other animals you might run into.
Check Prices on The Home Security Superstore
Much the same size as the KOSIN, the Streetwise panic alarm looks like a standard pager which, at one point in time, would have been an excellent camouflage. As hardly anyone carries pagers these days, it's lost a little of its charm but is still small and discreet enough not to draw the attention of a potential attacker.
When activated, the Streetwise panic alarm produces a bright flashing light and 130db of noise. It also comes with a door strap and clip, which means you can use it as a door or window alarm, as well as a personal safety alarm.
An adjustable attachment cord makes the Streetwise panic alarm far more versatile than its competitors. You can, for example, wrap the cord around your wrist and then hide the alarm inside your bag. If anyone attempts to grab your bag, it will pull the cord and automatically activate the alarm.
Pros:
Doubles up as a door alarm
Lightweight and compact
Cons:
Not as loud as the KOSIN
Batteries not included
---
#3 TIGER-USA XTREME® 150dB Alarm & Stun Gun
This impressive little gadget packs a lot of power. In addition to an ultra-loud 150 dB alarm, it also contains a bright LED light that is powerful enough to temporarily blind an attacker. If that proves ineffective, you can switch on the 110,000,000 volt stun feature and give your attacker a serious wake-up call.
Check Prices on The Home Security Superstore
Slightly bigger than our two top choices, this alarm and stun gun combination is surprisingly lightweight. At just 2 oz, you won't even know you're carrying it.
With its built-in rechargeable Li-ion battery and lifetime warranty, it's clearly designed to last. It also comes with a holster for hands-free carrying and a charging cable. Unfortunately, you won't be able to use it straight out of the box as it needs eight hours of charging before it's ready for action.
It's one of the most expensive products we found but, as it includes both an LED light and stun feature, it still offers good value for money.
Pros:
Three-in-one protection
150 dB alarm
Cons:
Could be more compact
Needs charging before use
---
#4 Streetwise 130dB Keychain Panic Alarm with LED Light
One of the smallest and simplest yet loudest panic alarms on the market, this affordable product can produce a 130 dB alarm blast or a continuous volley of noise, depending on your situation.
Check Prices on The Home Security Superstore
If you want to scare off a coyote, a quick blast should be enough; if someone's trying to steal your bag, on the other hand, a continuous barrage of noise could prove more effective.
To activate this panic alarm, you either press the alarm button lightly for a brief blast or push it in completely to create a continuous onslaught.
While the alarm button is tucked into a recess to prevent accidental activation, it also makes it a bit more difficult to activate than the standard personal safety alarm. To activate most panic alarms, you simply pull out the pin, and away it goes. This one requires a little more dexterity, which could be a problem for older users.
The Streetwise keychain alarm can be attached to your bag, purse, or keys, which makes it easier to carry, although the keychain itself could be stronger.
This personal safety alarm also comes with an LED light so you can attract attention visually as well as audibly.
This video will give you more idea of the Streetwise keychain alarm's capabilities.
Pros:
Two different alarm settings
LED light
Cons:
The keychain is a little weak
More difficult to switch on than a standard pin-activated personal alarm
---
#5 Streetwise Ladies' Choice LED Stun Gun Alarm
At 7oz, this is one of the heavier personal safety alarm gadgets. It's also one of the few to combine a panic alarm with an LED light and stun gun feature.
Check Prices on The Home Security Superstore
It comes with an in-built Li-ion battery that can be recharged using any standard power outlet, so you'll never run out of power.
The volume of the alarm is on the lower side at just 120 dB, but with its additional features, it's still an effective self-defense tool. It also has some impressive safety features, including both an on-off safety switch and a safety pin that make accidental discharge virtually impossible.
The stun gun feature isn't as powerful as those seen in the best taser and stun gun flashlights, but when combined with a loud alarm and bright LED light, it still offers reliable personal protection.
The triple stun feature is easy to activate, while the wrist strap lanyard prevents anyone from snatching it out of your hand.
Pros:
Triple personal protection system
Rechargeable batteries included
Cons:
Heavier than most personal safety alarms
The alarm is on the quiet side at 120 dB
---
#6 Kimfly Safesound Personal Alarm Siren
Another simple but less affordable personal safety alarm, the Kimfly provides two options for activating its 130 dB alarm. You can either pull out the contact pin or press the switch twice in quick succession.
The Kimfly can produce 50 minutes of ear-piercing noise and also features a strong LED emergency flashlight.
Built out of robust plastic, the Kimfly also has an in-built rechargeable battery, which means you don't have to dismantle the item to replace the battery.
The only downside of the Kimfly is that it tends to malfunction, and when it does, it's deafening! The only way to turn off a malfunctioning personal safety alarm is to either push the activation pin back in or dismantle the entire unit and remove the wire.
Given that this is the most expensive product reviewed here, we'd expect it to be the most reliable, but that doesn't appear to be the case.
Pros:
130db and bright LED emergency light
Rechargeable battery
Cons:
Tendency to malfunction
Higher than average price range
---
How To Choose the Best Personal Safety Alarm
One of the best things about a personal safety alarm is that it's virtually the only self-defense gadget that can't be used against you! That makes it one of the safest forms of self-defense.
Personal safety alarms are also affordable and legal in all 50 states. You can even take them through checkpoints and onto aircraft unlike many self-defense weapons.
However, not all of them are as reliable or as loud as those listed here. To find the best options, I focused on the following features:
Sound
The best alarms are much louder than the human voice. I didn't think I could scream until I went bungee-jumping, but then I managed to produce a good 100db of sound. That's still pretty quiet compared to a personal safety alarm, the most powerful of which let off a 150db siren.
If a human can produce 100 dB of noise, a personal safety alarm must be even more powerful to make it worthwhile. Some only produce around 115 dB, so we disregarded those, focussing instead on anything capable of producing 120 dB or more.
Whether you're hoping to stop an attacker in his tracks or scare off a coyote, a noise that loud should do the trick.
Ease of Use
On the one hand, an alarm must be easy to activate, otherwise it might be too late. On the other, you don't want it interrupting meetings or suddenly going off in a crowded restaurant.
To activate the best personal safety alarms, you simply remove a pin. This is ideal as it is more difficult to accidentally trigger than a button or switch.
Size
As far as I'm concerned, the more compact an alarm, the better. A small gadget draws less attention to itself so is less likely to be grabbed. It also makes the device more portable, which means you're more inclined to take it with you wherever you go.
Battery
The longer the battery life, the less likely you are to be left in the lurch. The best option come with built-in rechargeable batteries. This means you don't have to dismantle the gadget to charge the battery. You can also charge it regularly to make sure it's always in optimum working order.
Durability
As I want to take my personal safety alarm camping, running, and horse riding, I need something that can withstand some fairly rough treatment.
If I fall off my horse and break something, the last thing I want it to be is my personal safety alarm. Devices made from ABS plastic are crush, heat, and abrasion-resistant, making them ideal for the life I have planned for them.
Conclusion
As far as simple personal safety alarms go, you can't go wrong with the KOSIN panic alarm. If you want something with a few more bells and whistles, however, the Tiger-USA alarm and stun gun is definitely worth considering.