A stun baton is a versatile, non-lethal self-defense weapon. It combines a standard self-defense baton with a high-voltage stun gun, along with any number of extra features.
When my colleague Matt Suwak wrote about the best self-defense batons last year, I envied him. I'm not strong enough to wield a standard baton effectively, nor am I confident enough to try.
On the other hand, a stun baton gives me multiple levels of self-protection and allows me to keep my distance when fending off an assailant.
I go out running regularly and am conscious of my vulnerability, especially on our quiet country lanes. Read more about the best self-defense weapons for women.
I decided a stun baton would be the ideal self-defense weapon to deter potential attackers and give me robust self-defense. A stun baton also requires very little training.
Our Top Pick
JOLT Mega
Perfect for beginners, with a comfortable grip and 22" length to keep attackers at bay. It's powerful, doubles as a flashlight, easy to recharge, and disorients attackers with a single second of contact.
Mini-Reviews of the Top 7 Stun Batons
Best Overall: Jolt Mega 22" LED Stun Gun 100M
Recommended for beginners, the Jolt Mega feels comfortable in my hand and is long enough that I could keep a potential assailant at bay without engaging in combat.
When I test-fire this self-defense weapon, it sends a powerful electric current pulsating over the top. This feature, combined with the intimidating electrical sound it produces, should be enough to stop most attackers in their tracks.
Check Prices on The Home Security Superstore
If that doesn't work, just one second of contact is enough to cause severe muscle contractions. Maintain contact for five seconds, and my potential attacker will be disoriented and struggling to maintain his balance and muscle control.
At 22", it's one of the longest stun batons I tested, but it didn't feel unwieldy even when I was running uphill. If you don't want to carry it in your hand, you can slip it into the holster provided instead.
This stun baton doubles up as a flashlight, giving me clear visibility and a sense of safety. It's also easy to recharge and fits into any standard wall outlet.
Pros
Affordable
Powerful and sturdy
Cons
---
Best Tactical Baton: STREETWISE Mini Barbarian 14.6″ LED Stun Gun Baton 9M
This stun baton is made with shock-proof military-grade alloy, making it ideal for those wanting a "whomping weapon" that packs an extra punch! At 14.6" long, it's got good reach and uses Triple Stun Technology to create a wider stun radius.
Check Prices on The Home Security Superstore
With its ultra-bright 3-watt LED light, it could almost compete with the best taser and stun gun flashlights if it weren't for the fact that it only packs 9M volts of power.
Don't get me wrong, that's more than enough to deter most assailants, but it doesn't sound like much when you compare it to our top two choices!
Despite that, the Mini Barbarian is still powerful enough that you'll be grateful for its triple-level safety features.
Use one of the three available flashlight settings to deter and disorient your attacker. If that doesn't work, switch it to stun mode and use the spike top to deliver a powerful and shocking blow.
This stun baton is fully rechargeable and comes with a lifetime limited warranty.
Pros
Strong LED flashlight
Military-grade tactical baton
Cons
Not as powerful as some other options
---
Most Compact: Police Force Tactical 13.5" LED Stun Gun Baton 12M
With 12million volts of electricity, a 150-lumen tactical flashlight, and an exterior made from military-grade aluminum alloy, this self-defense weapon deserves some respect.
This stun baton measures just 13.5" long, so is comfortable to carry. It also comes with a metal belt clip for those that prefer a hands-free experience.
At 1.89lbs, however, it's a little cumbersome to take out running. On the other hand, if you're looking for a self-defense weapon for walking the streets at night it's ideal.
Check Prices on The Home Security Superstore
Not only will its loud electrical noise and intimidating spark deter a potential assailant, but the LED light can be switched to SOS mode so that emergency responders can find you more quickly.
This powerful stun baton has a tactical striking edge that can deliver a hefty blow or break a window in an emergency. It comes with rechargeable Li-Ion batteries and uses triple stun technology to strike your message home.
It also comes with a wrist strap, holster, and lifetime warranty.
Pros
Robust tactical baton
Powerful LED light with SOS mode
Cons
Heavier than the average stun baton
---
Best For Combat: Streetwise Lightning Rod 7,000,000 Stun Stick
This stun baton appealed to me because its length means I can defend myself without getting too close to my attacker. At 18", it's considerably longer than our other products and comes with grab guard stun strips that will stop anyone from taking it off you.
The Streetwise Stun Stick doubles up as a flashlight and features a LED light that is bright enough to illuminate the darkest streets and deter any would-be attackers. If that doesn't do the trick, fire it up and let the crackling sound of the electric current do its job.
With its 7M volt shock, it doesn't come close to the power of our top pick. It will, nevertheless, deliver a jolting shock that will stop all but the most determined of attackers.
At 18", there's nothing discreet about this self-defense weapon which makes me a little uncomfortable as I like the element of surprise. For those of you trained in self-defense, however, this is a robust tactical baton that has a little something extra up its sleeve just in case.
Pros
Long enough so that you can defend yourself at a distance
Grab guard stun strips prevent it from being taken off you
Cons
Too long to provide an element of surprise
---
Best For Self-Defense Experts: ZAP Rechargeable 4-Contact Point 11.5" Stun Baton 1M
This stun baton looks more like a gun than a tactical baton and, as such, wasn't a weapon I felt particularly comfortable with. I'm not the only one, either, with one customer saying, "[It's] not something I would want to use except in an extreme situation."
Check Prices on The Home Security Superstore
Unlike the other stun batons I tried, this one has four points of contact rather than one. Not only can you shock an attacker with the two spike electrodes at the end of the baton, but you can also get them with either side of the unit or the handle.
While this stun baton is powerful and, at just 11.5", extremely compact, I felt it was a little too advanced for me. It would just be too easy to accidentally shock myself with one of the side shock plates!
With its in-built flashlight and 1M volts of stopping power, I've no doubt it could be a very effective self-defense weapon. It's also affordable and rechargeable.
Pros
Compact and lightweight
1M volts of power
Cons
Not suitable for first-timers and beginners
---
Best Budget Stun Gun: KWIK FORCE Mini 12″ Rechargeable LED Stun Gun Baton 16M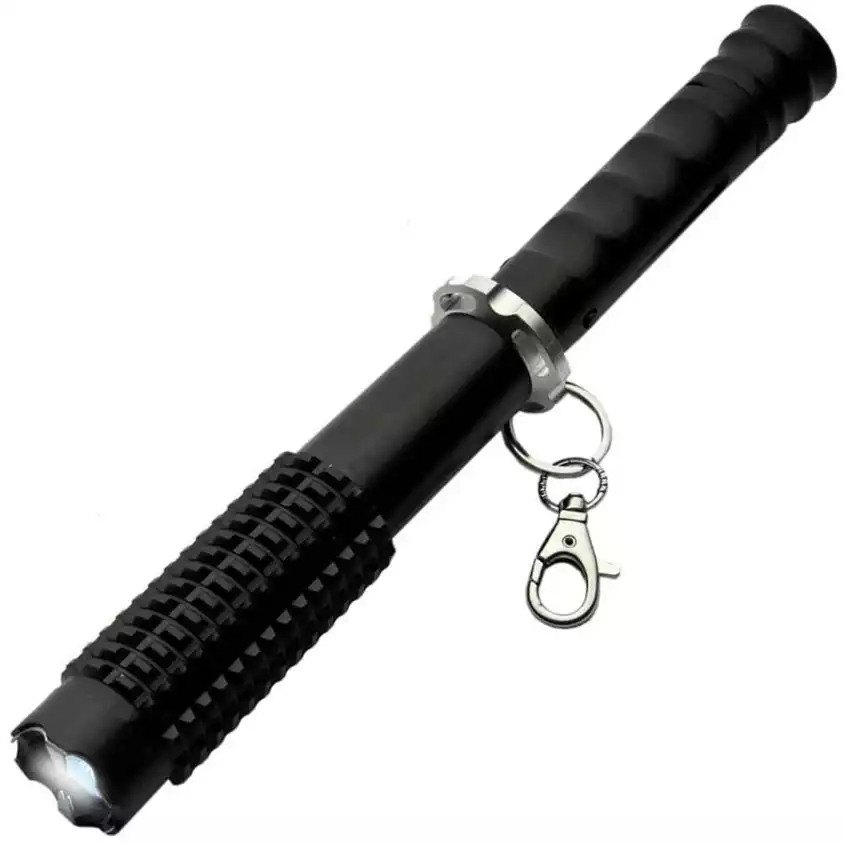 This compact, lightweight stun gun is just 12" long and yet can deliver a 16M-volt shock at the touch of a button. Despite its small size, it can be used as a powerful tactical baton, a flashlight, as well as a stun baton.
Check Prices on The Home Security Superstore
Easy to recharge, it includes a hands-free belt clip and safety switch to prevent accidental discharge.
I'm not keen on this product as it means I'd have to allow an attacker into my personal space before unleashing its power. I'm also not convinced I could wield it with enough force to do any harm.
The 16M-volt shock is reassuring, however, and the ultra-bright LED flashlight would also help deter, or at least slow down, a potential attacker.
Pros
Compact and lightweight
Powerful tactical baton
Cons:
The LED flashlight has limited modes available
---
5 Essential Features To Look For In A Stun Baton
#1 Functionality
In addition to the features found in the best taser and stun gun flashlights, a stun baton should be robust enough that it can deliver a hefty blow to an opponent. The best stun batons combine the best features of a tactical, self-defense baton with the power of a stun gun or taser.
#2 Safety
A stun baton is a powerful weapon, so safety mechanisms are crucial. The last thing you want is to require emergency assistance because you accidentally shocked yourself with your own stun baton!
To protect yourself against your stun baton, as well as potential assailants, look for a product that features at least two layers of activation protection – a safety switch and a stun activation button.
#3 Size and Weight
As an average-sized woman, I don't feel comfortable lugging around an 18" stun baton, nor do I want to carry a self-defense weapon that weighs much more than 1 lb. A 6′ guy who weighs 150 lb, however, will no doubt feel comfortable with a much larger stun baton.
#4 Type of Combat
As I said earlier, I want to keep as much distance as possible between myself and an attacker. Those of you who are trained in self-defense, however, might prefer getting up close and personal. This preference will influence your decision.
Some stun batons are more accurate over a longer distance, and others are more effective for close combat.
#5 Situational Usage
Before making your purchase, think about how and when you anticipate using your stun baton. I want something relatively compact and lightweight, so I can take it out running.
If you want a self-defense weapon to use on your commute to and from work, you might find something discreet more appropriate. You may even find that a self-defense cane or walking stick fits the bill better than a stun baton.
Conclusion
The Jolt Mega baton is the best for my needs and packs a powerful enough punch to keep me safe when out alone, but you may find the longer Streetwise Lightning Rod fits your needs more accurately.
If you're confident about wielding a tactical baton effectively, the heavier stun baton from Police Force might be more to your liking.