When I first heard about fighting canes, I was instantly curious about how effective they could be as a self-defense tool.
I fired up Google and started researching, I came across LOTS of options, and honestly, most of them were of poor quality.
The last thing you want is a self-defense tool that fails when faced with a fight or flight situation.
I spent a full day digging through:
10 retailers websites
250 product reviews
Several survival forums
Way too much Youtube!
And have come up with this list of strong and durable canes and walking sticks that WILL be effective when the time comes to deliver a whomping.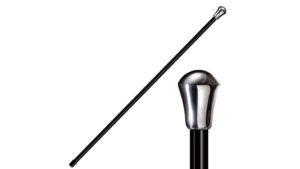 Made from tough fiberglass, topped with an aluminum head that will deliver a hefty blow to any assailant.
The perfect self-defense cane for the urban adventurer.Check Prices
The ultimate cane to take on a camping or hiking trip, the M48 is a walking cane, wood ax, self-defense weapon, and brush-clearing tool.Check Prices
#1 Cold Steel City Stick
Made up of 11 layers of fiberglass, this slick, black combat cane is surprisingly durable. It weighs less than one pound, so is light enough for a small person to carry and wield.
It also comes with either a rounded aluminum scent-stopper head or a pistol-grip style that resembles a 17-century pistol.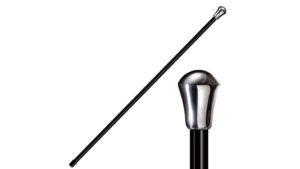 The tip of the city stick is made from thick, non-slip rubber. While this is effective enough, to begin with, it's not durable to last more than a couple of months.
This fighting cane is 37" long, making it unsuitable for the taller city slickers out there.
Although the Cold Steel City Stick is ideal for long-range strikes and cross-guards, the absence of a hooked handle means you won't have the option of grabbing an arm or ankle and using your cane to knock an assailant off balance.
That's not a bad thing as it's not an easy maneuver to pull off and novices like myself are more likely to hook an item of their own clothing than the limb of an aggressor!
If you go for that option, the scent-stopper head is perfect for striking out, operating like a club or blunt instrument. This combat stick is, in fact, very similar to the "preferred stick" of Pierre Vigny – one of the founding fathers of stick fighting.
Stylish and effective, this tactical cane is as good for your image as it is for your protection. With its fiberglass shaft and aluminum handle, it's surprisingly high-quality given its mid-range price.
Pros
Lightweight
Durable
Versatile and discreet
Cons
Perishable rubber on the tip
No hooked handle option
---
#2 United Cutlery M48 Kommando Axe
This hard-wearing combat cane combines the strength and durability of 2Cr13 steel with the lightweight resilience of fiberglass.
The cane itself is far from light, however, weighing 2.9 pounds. Fortunately, what it lacks in portability, it makes up for in versatility.
At 37-inches in length, the M48 is a functional walking cane, while its ax head handle means it's equally valuable as a brush-clearing tool and self-defense weapon.
Made of high-quality materials, you can use this tactical cane to clear brush, chop wood, and defend yourself against predators of any species.
It doesn't burn, melt, or warp under the heat, so it can move burning logs around.
The curved back spike of the handle can drag things, the tip can stab at attackers, and the hammerhead can cause any number of injuries to an assailant.
The only trouble is, as, with the city stick, it's too short "for you big Vikings out there" to use as a walking stick. This tactical cane is both durable and hard-wearing – so much so, you can even run over it with your truck, and it won't even scratch the handle.
A versatile fighting cane of this nature doesn't come cheap, however, and you'll be forking over plenty for an M48 wherever you shop.
Pros
Highly versatile
Hard-wearing
Heat resistant
Cons
Heavy
Short for a walking cane
---
#3 Bubba Stik Walking Cane
Unlike the M48, this was designed, first and foremost, as a walking stick. Made from American hardwood, topped with a brass handle, it's both hard-wearing and practical.
Check Prices on Amazon


One of the benefits of this wooden walking cane is that it's completely adjustable. Its original 39-inch length is suitable for six-footers, while five-footers like myself can easily cut it down to size.
Whether you need a walking cane to get around or want one that doubles up as a combat cane, the Bubba Stik is a solid option.
Users report it has proven to be effective against loose dogs and successful at diffusing road rage incidents.
It doesn't look like "an old man's cane with its stylish appearance," so anyone can use one, regardless of age. Although too top-heavy to be wielded in martial-arts-type maneuvers, it's solid enough to be used as a club and robust enough to use as a cross-guard.
The only other problem with this walking cane is that the brass handle's copper may stain your hands as it wears.
This cane won't look out of place in the city, the mountains, or the desert, making it an ideal walking cane that also provides a little extra protection should you need it. Not only that, but it's also one of the cheaper combat sticks we found.
Pros
Adjustable length
Durable
Effective for both self-defense and as a walking cane
Cons
Top-heavy
The brass handle may stain your hands
---
#4 Cold Steel Guardian II
This aluminum cane is another lightweight offering from Cold Steel.
Weighing 1.5 pounds and featuring a 1911 pistol-grip handle, it's both comfortable and customizable. Enhance your cane with your own choice of iconic 1911 pistol grips, and you'll feel like you're ready for a shoot-out.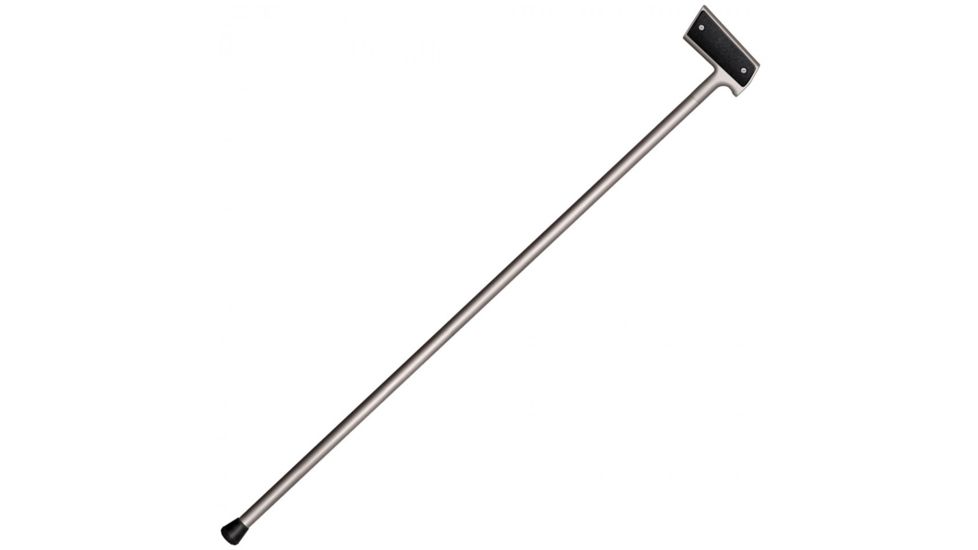 Although the Guardian II combat cane can't fire bullets, it can do a few other things in the name of self-defense.
The sharp edges of its 4.5-inch handle could deliver a hefty blow to an assailant's head or neck or be used to hook an attacker's ankle and pull him off balance.
Strong enough to withstand high impact, you can use this tactical cane to protect yourself against attacks and maintain your balance on difficult terrain.
Shorter than the Bubba Stik, this cane measures 37.75 inches, making it ideal for people of average height. Being aluminum, it's not as easy to adjust as a wooden cane, but it is great for protecting and defending.
This affordable fighting cane is a great option for those who prefer the sleek, aluminum appearance to the more earthy look of a wooden cane.
Pros
Lightweight
Durable
Customizable
Cons
Length is not adjustable
---
#5 Zap Stun Cane
If you're serious about self-defense but don't feel confident wielding a combat cane, then check out the Zap Stun cane.
Check Prices on HomeSecuritySuperstore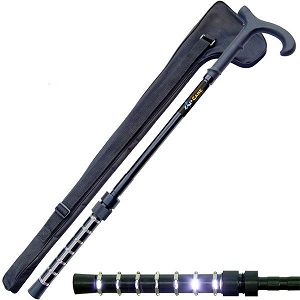 Capable of delivering 1 million volts of protection, this fully adjustable cane looks like an innocent walking stick, so you can have the extra protection you need without announcing it to the world.
At 2.85 pounds, it is heavier than the lightweight aluminum and fiberglass ones but not so heavy that it will weigh you down.
Note: This tactical cane is not designed as a striking tool; it is a stun device only.
Simple to use, this combat cane can deliver a strong electric shock that is at least very unpleasant and, at most, very painful.
It can also be fired without making physical contact, which, in many instances, will be enough to stop an attack.
This action creates an intimidating electrical sound and bright electrical currents that pulse between the two prongs. Combining these deterrents should be enough to frighten off an aggressive animal and give a human threat pause for thought.
While this tactical cane will work in the rain, it will not fire if fully submerged so, and it can't be considered entirely waterproof, which the aluminum canes are.
Using this combat cane as a walking stick permanently could also wear away the rubber point, exposing the electrode prongs and damaging them. However, if you need something to balance you when the going gets rough, the Zap is more than capable.
Unsurprisingly, this cane is the most expensive in our round-up. If you want peace of mind when out walking, however, it's most definitely worth it.
Pros
Adjustable
Easy self-defense features
Water-resistant
Cons
Expensive
Not suitable as a permanent walking aid
Check On HomeSecuritySuperstore
---
#6 Kabar Self-Defense Cane
The curved pointed handle of the Kabar self-defense cane is the main feature that transforms it from a simple walking stick into a versatile fighting cane. It can be used to hook an assailant, throwing him off balance, or inflict a vicious blow.
Check Prices on LA Police Gear
This combat cane has the advantage of looking like a walking stick, so it can be taken into places where other weapons are prohibited.
Made with powder-coated aluminum, it looks like a stylish walking aid and, at 39 inches long, is ideal for the taller man about town. Want it shorter? Cut it down with a hacksaw.
Sturdy and durable, this combat cane is effective and discreet. It can also be used as a breaching tool, with the heavy, curved handle providing the best power stroke.
Another benefit of having a cane with a curved handle is that you can hook it over your arm when you need two hands or hang it up when not in use.
Its simple design and unassuming appearance mean it can provide protection and assistance wherever you go, looking out of place neither in the theatre or the mountains.
Pros
Hooked handle
Can be adjusted
Discreet appearance
Cons
Expensive
Comparatively heavy
---
#7 Cold Steel African Walking Stick
Despite its heavy-duty appearance, this robust walking stick weighs just over 1.5 pounds. Based on the traditional knobkerrie or Zulu fighting stick, this tactical cane features "an undulating shaft and the traditional geodesic ball grip at the top."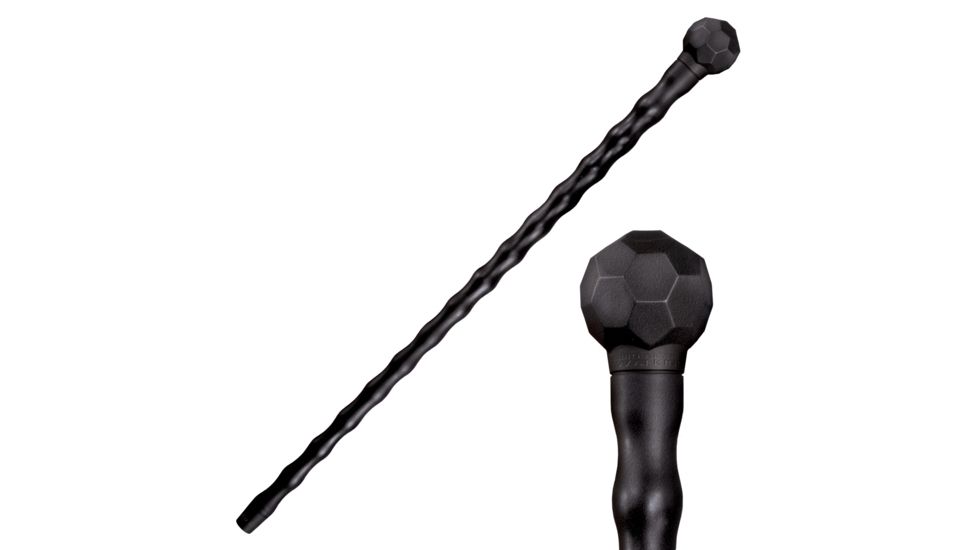 Although it looks like a wooden stick, this tactical cane is made from impervious polypropylene, making it more resilient than its wooden forefather. It won't warp or crack under pressure, either.
At 37" long, this fighting stick can also be used as a walking aid and a formidable self-defense weapon.
However, it is a little on the hefty side, and some customers have deemed it simply too big to carry around, describing it as being "more like a baseball bat with a giant knob on the end." Even if you're tall enough to use it as a walking stick, you won't be fooling anyone as to its primary purpose!
One thing's for sure this durable combat cane will stop any attacker in his tracks with a single blow.
If you primarily want a self-defense cane rather than a walking aid, this African club is ideal, especially if you're tall enough and strong enough to wield it effectively. It's also surprisingly cheap.
Pros
Effective self-defense cane
Affordable
Long-lasting
Cons
Heavy and bulky
Looks like a weapon, not a walking cane
What Different Types Of Self-Defense Canes Are There?
Self-defense canes in all shapes and sizes and have a wide variety of uses. Before we look at what you can do with a tactical cane, let's run through some of the most common types available.
Tactical Canes
The main type of cane we've been looking at are tactical canes. They are the ultimate hidden-in-plain-sight self-defense weapon, assuming you've got a couple of tricks up your sleeve.
For discreet, emergency self-defense, you can't go wrong with a tactical cane and a little training, of which there's plenty available online.
Stun or Electrical Cane
Like the Arc Angel Stun Cane, these self-defense devices pack a serious electrical punch and require little training to use effectively.
Even if you don't want to inflict a shock on anyone, you can fire your stun cane into the air to create enough noise and light to frighten off most four-legged assailants and deter all but the most determined two-legged ones.
Read more about:
Gun Canes
While they may sound like something out of an Eighties' James Bond movie, these smart self-defense devices do exist!
You will need a license to carry a fighting cane of this nature and a concealed carry permit in most states. It's also liable to be confiscated should you pass through any checkpoints, making it less versatile than a simple tactical cane.
Hammer Canes
Hammer canes are far more likely to get past checkpoints than gun canes, especially if you opt for a discreet-looking one like the Cold Steel Guardian II. The M48 also falls into this category but probably looks too much like a weapon to take with you on a stroll through the city center.
Sword Canes
I spent a lot of time looking into sword canes and, while they did remind me of some of the cool gear I've seen in spy movies, I couldn't help thinking that I'd need to be Jason Bourne or James Bond to do any damage with one.
Since then, I've also discovered that most of the swords inside these fighting canes are pretty flimsy as they have to be thin enough to fit inside the cane. As a result, I don't recommend them as a good self-defense option.
Why Would I Want To Carry One?
Simple – it means I can carry a weapon in plain sight without anyone becoming suspicious about it.
What Should I Look For?
It's all about the materials:
Material
Wood is hard-wearing and long-lasting but susceptible to warping and heavy in comparison with aluminum or fiberglass. On the other hand, wooden combat canes are easier to adjust as you can saw off whatever length you don't need.
Fiberglass, aluminum, steel, and polypropylene make for a lighter fighting stick, which may be preferable for people of smaller stature or female self-defense.
Handle
Like the city stick from Cold Steel and the wooden one from Bubba Stik, canes with rounded handles are comfortable in hand and perfect for delivering a club-like blow.
On the other hand, hooked handles can catch an assailant and pull him off balance. Like the Guardian II, some also have sharpened points that act as effective breaching tools and give you another weapon in your self-defense arsenal.
Shaft
A wider shaft will make for a heavier fighting cane but more resistant to impact, whereas a narrower shaft makes for a lighter, more manageable stick.
If you're planning on using your cane primarily as a walking stick, a narrower shaft is probably preferable, whereas bigger is better if you're looking for a self-defense weapon.
Tip
Although a sharp tip is preferable if you want to use your combat stick as a weapon, it won't be as stable as one with a wider base. If you're planning on using your cane as a walking stick as well as a self-defense device, it should have a rubber tip to give you optimum grip.
How To Use A Self-Defense Cane
Now you've purchased a tactical cane; you need to learn how to use it; after all, there's no point in having one if you can't use it to its full capacity.
I am certainly no self-defense expert, so I hunted down some useful videos on YouTube during my research.
While these can't replace one-to-one lessons with a self-defense expert, they can at least introduce you to the basics of protecting yourself.
This masterclass introduces some basic self-defense cane techniques:
This one is aimed at more mature cane users:
And this one runs through some of the most dangerous mistakes you can make with a tactical cane:
Are Combat Canes Legal?
As a combat cane and a walking stick are roughly the same, it's impossible to outlaw tactical canes.
Having said that, Arc Angel Industries tagged a long disclaimer onto its Stun Cane description on Amazon, stating that it is "not responsible for any physical harm or damage from the use or misuse of self-defense weapons purchased from us."
Similarly, it's up to you, the buyer, to determine the legality of any self-defense device or a tactical cane before you make a purchase. For instance, Sword canes are illegal in most states, either because they qualify as a concealed weapon or because they exceed the regulation length for such weapons.
While we, at Primal Survivor, can recommend products and advise on their efficacy, we can't guarantee their legality nor be held responsible for any damage caused by an item we recommended.
Conclusion
The best self-defense canes have a couple of advantages over self-defense batons; they are more discreet, have a longer reach, and are more versatile.
The city stick from Cold Steel is both lightweight and manageable and blends into the background with its slick, walking cane appearance, while the M48 Kommando Axe is a hefty weapon that makes up for its bulkiness by being highly versatile and multi-purpose.
Old or young, rich or poor, preparing for armageddon or protecting your mutt from four-legged predators, the best self-defense canes can fill many roles while still performing their duties as stabilizing walking sticks.