Women need to be able to protect and defend themselves more in today's society than ever before. We can't always rely on the police to protect us, so we sometimes need to take matters into our own hands.
There are various self-defense weapons available to women, of these, the taser or stun gun is one of the most powerful and easy to use.
The best stun guns or tasers for women are compact, safe, simple to operate, discreet, and pack a serious punch. When I say serious, I'm talking 14 million volts or so!
Best Overall
JOLT Mini Rechargeable LED Triple Stun Gun
Compact, affordable, and effective, this stun gun ticks all the boxes. Producing 98 million volts of power, it's one of the most potent self-defense weapons on the market.
Best Premium Choice
TASER® PULSE Shooting Stun Gun
At the upper end of the price ranger, this TASER stun gun shoots barbed prongs up to 15 feet away. It can also be used as a standard contact stun gun.
The Top 6 Stun Guns for Women Reviewed
#1 JOLT Mini Rechargeable LED Triple Stun Gun
This pocket-sized stun gun produces enough electrical sound to stop most attackers in their tracks. If that's not enough, you can unleash 98 million votes onto your assailant, causing muscle spasms, loss of balance, and disorientation.
Check Prices on The Home Security Superstore
The JOLT mini stun gun measures just 4.5" long, so fits perfectly into the average woman's hand. It also comes with a built-in belt clip for easy access.
There are two safety mechanisms on this stun gun: a safety switch that prevents accidental discharge and a safety pin attached to a lanyard that prevents someone else from using your device against you.
This stun gun is so powerful that just two seconds of contact will leave your assailant dazed. Five seconds and he will struggle to stand upright or have any control over his muscles, giving you plenty of time to make your escape.
Fully rechargeable, this self-defense weapon needs charging for eight hours before it will be operational. You must also ensure the safety pin is inserted correctly; otherwise, the stun gun won't work.
Pros:
Powerful 98m volts
Simple to use
Cons:
It will only work if the pin is correctly inserted
Needs charging for 8 hours before using
---
#2 TASER® Pulse Shooting Stun Gun
With a price tag approximately 20 times that of any other item on this list, you'd expect this stun gun to exceed law enforcement standards, and it does!
Check Prices on The Home Security Superstore
Unlike a standard stun gun that requires physical contact, this device can fire barbed probes up to 15 feet away. That means you can stop an assailant long before they make physical contact with you.
The barbed prongs stick into the flesh or clothing of your attacker, unleashing electrical impulses that quickly incapacitate anyone they come into contact with.
If your assailant is already beside you before you have time to react, you can still use this device as a powerful contact stun gun. It has two metal electrodes at the end that deliver a 50,000-volt shock.
As if that wasn't enough, this stun gun comes with a cartridge containing 20-30 Anti-Felon ID tags. Each of these tags has a serial number corresponding to the cartridge number. This enables police to identify which stun gun was fired at the crime scene.
On the downside, there's nothing to stop someone from snatching the device out of your hand and using it against you.
Another negative is that this stun gun is not rechargeable, so you'll have to keep an eye on the battery power level and dismantle the device when a new battery is needed.
Pros:
Can be used at distances of up to 15ft
Uses barb prongs as well as contact stun technology
Cons:
Can be snatched and used against you
Higher price range
---
#3 Streetwise™ Sting Ring Rechargeable Stun Gun 18M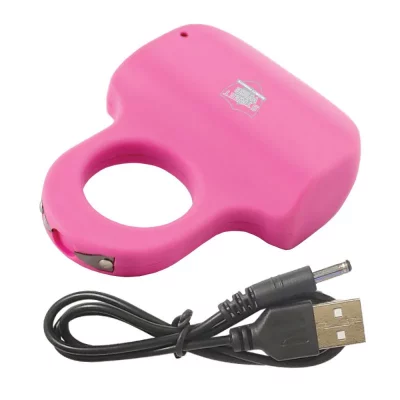 This knuckle-duster-style stun gun gives you a firm grip on your self-defense. It fits neatly into the palm of your hand, with the stun technology handily situated on the outside of your middle finger.
Check Prices on The Home Security Superstore
To activate it, all you do is squeeze your fist and then plant that fist firmly into your assailant's body.
This design gives you a non-slip grip and means you can conceal the weapon in your hand while running or walking. It also means it's already in your hand when you need to use it, saving you valuable seconds.
The sting ring stun gun measures 3″ x 2.28″ x 1", making it one of the most compact items on the market. It can be easily concealed in your purse or pocket if you prefer not to carry it in your hand, but being so small, it could prove difficult to locate in an emergency.
It comes with a rechargeable battery and charging cable and needs at least two hours of charge before it becomes operational.
At just 18 million volts, it's not as powerful as our top picks but is still strong enough to pack a punch that your assailant will find difficult to ignore.
Pros:
Easy to conceal
Non-slip grip
Cons:
Not as powerful as our top pick
Could be tricky to locate in an emergency
---
#4 JOLT Protector Rechargeable LED Stun Gun 60M
This ingenious stun gun combines some of the best features of our first two choices. It fits in your hand like the sting ring but comes with a nylon holster and belt loop for hands-free carrying.
Check Prices on The Home Security Superstore
It has 60 million volts of power that you can unleash with just a squeeze of your hand, making it easy to operate, while a simple safety switch prevents accidental discharge.
Weighing just 3.2oz, this is one of the lightest stun guns around. It's also small enough to fit into the palm of your hand and comes with an emergency LED flashlight.
The built-in battery can be recharged at any standard electrical outlet.
Pros:
Easy to use
Compact and lightweight
Cons:
Not as powerful as our top pick
Plastic casing could be tougher
---
#5 Streetwise™ S.M.A.C.K. Keychain Stun Gun 16M
You could stop a potential attack without even unleashing this device's 16 million volts of power. The noise and spark it produces when test fired is loud and intimidating enough to stop most people from getting closer.
Check Prices on The Home Security Superstore
If they do, simply turn on the safety switch and press the Stun Activation Button. Within a second, your assailant will experience muscle contractions and, a couple of seconds later, will be completely disoriented.
This compact device fits easily onto your key ring and can be easily concealed in a pocket or your hand. It comes with a 180-lumen flashlight, putting it on par with the best stun gun flashlights.
It's also fully rechargeable and easy to use.
Pros:
Bright 180-lumen flashlight
Intimidating noise and spark
Cons:
The safety switch is a little fiddly
---
#6 Streetwise™ Friphone Disguised Phone Stun Gun 14M
This stun gun doesn't need concealing because it looks and feels like an ordinary smartphone. Before you unleash its electrical power, you have the option of trying to scare off your attackers by activating the alarm.
Check Prices on The Home Security Superstore
As it mimics a smartphone, it's a little larger and heavier than some of our other products, but note enough to make it unwieldy.
It comes with a safety switch, rechargeable battery, and charging cable.
With just 14 million volts, I'm not such it delivers quite enough bang for its buck. It's one of the more expensive items on our list after the TASER® Pulse Shooting Stun Gun, and I'm not sure it presents the best cost-effectiveness.
Pros:
Disguised as a cellphone
Includes alarm and light as well as voltage
Cons:
Larger than the standard ladies' stun gun
Not as cost-effective as our top pick
---
Choosing and Using Your Stun Gun for Women
Stun guns are effective self-defense tools that require little strength or training to operate. They are easily affordable and small enough to conceal in a pocket, so you can carry them wherever you go.
When shopping around for the best stun gun, look out for the following critical features:
Size
To be effective, your stun gun needs to be easy to use. That means it needs to be small enough to fit in your hand and light enough that you feel confident handling it.
Large or heavy stun guns will be cumbersome to access and activate, making them less effective, while extremely compact stun guns might be difficult to locate in an emergency.
Ease of Use
The best stun gun is one that's already in your hand when you need to use it, making knuckle-duster-style stun guns like the Streetwise Sting Ring so appealing. Not only can you carry it in your hand, but it's also concealed when you do.
Although you want a safety switch to prevent accidental discharge, you also want this to be easily deactivated so you can use the stun gun effectively when needed. Similarly, the activation switch should be positioned within easy reach so you can trigger it quickly, even when in danger.
Safety Features
The best stun gun for women should have two safety mechanisms. The first is to prevent accidental discharge, while the second prevents the device from being used against you.
Our top pick, the JOLT mini rechargeable stun gun, has a safety pin attached to a lanyard that you can wrap around your wrist. If anyone attempts to take the stun gun off you, the pressure on the lanyard will pull out the safety pin, rendering the device inoperable.
Voltage
When it comes to stun guns, voltage is a bit of a myth. According to experts:
30,000 is the maximum voltage that could jump across stun gun contacts spaced one centimeter apart."

Sabre
The actual power of a stun gun is measured in microcoulombs (μC) rather than voltage. "The higher the μC value, the more it hurts."
According to the National Institute of Justice:
Subjects reported pain on average at 0.5 microcoulombs, and intolerable pain at 1.0 microcoulombs."

National Institute of Justice
Also, men tend to have lower resistance than women, so you don't need 98 million volts to stop a male assailant in his tracks.
I found it extremely difficult to discover the μC value of any commercial stun gun, including those listed here, but I did manage to determine that JOLT's 86 Million Volt Mini Stun Gun emits 1.6 microcoulombs, which would make it unbearably painful. It stands to reason that the 98M version would be even more powerful.
Legality
While stun guns and tasers are legal in most states, some have restrictions on their design and use.
In California, for example, stun knuckles and stun batons are prohibited. It is legal for anyone to carry a standard stun gun, but you can't take them into schools, airports, or government buildings.
In other states, including Connecticut, Delaware, Illinois, New Mexico, West Virginia, and Wisconsin, you need a concealed carry permit to carry a stun gun.
In Hawaii, you must purchase the item within the country and attend a certified TASER training class.
Until recently, stun guns were prohibited in Rhode Island, but this changed a couple of months ago when a federal judge ruled that the "state's ban on stun guns violates the Second Amendment."
Conclusion
The JOLT Mini Rechargeable LED Triple Stun Gun provides the most bang for your buck. It's small yet robust, affordable, and extremely powerful.
It can't quite compete with the TASER® Pulse Shooting Stun Gun when it comes to power, but it's easier to use and much harder for an assailant to snatch and use against you.
You can also purchase one without leaving a huge hole in your bank account.