At Primal Survivor, I've talked about protecting your home from theft and intruders before.
If you haven't already, I encourage you to read this article about home security.
Even if you take these proactive steps, there is still a chance that burglars could get into your home.
As an added layer of caution, keep your valuables and money in these secret hiding places in your home.
Three Questions to Ask When Choosing a Hiding Place
There are a lot of places to hide things in your home. But not all of these hiding spots are going to be suited to your needs. To narrow it down to good hiding spots, you've got to ask yourself these 3 questions:
1. What are you trying to hide?
The main thing to consider here is SIZE. It is a lot easier to hide a roll of money or some jewelry than it is to hide your guns.
2. How accessible does it need to be?
If you rely on your gun for home defense, it is stupid to hide it somewhere, like in a mattress safe. Good luck getting to it in time if an intruder enters!
The same also applies to things like jewelry.
If it is a big hassle to put the jewelry back in its secret hiding spot, you probably won't do it, meaning it will be there waiting to be found by the thieves.
3. Does it need to be safeguarded against fire and flooding?
If you are going to hide a lot of money in your home, then this is something that you've got to consider.
Do you want to risk all of your hard-earned money going up in smoke because it was someplace like a secret wall compartment?
Options for protecting your items include fireproof document bags and fireproof safes. Also, read do fireproof bags really work?
Secret Containers for Hiding Money and Small Valuables
Use these hiding places for small items and when you aren't worried about fire or flood damage. Read more about the best diversion safe and ways to hide money in your home.
Deodorant Safe
You can buy or make soda can safes, and many people use shampoo bottles to hide their money.
I've even seen a lettuce safe that you keep in your fridge. But I DO NOT like these food-type safes. What if someone comes over and wants to drink a coke? They are going to find your hidden valuables instead!
But I do love the idea of a deodorant safe. Absolutely no one is going to borrow your deodorant!
You can buy it on Amazon here.
Hairbrush Safe
This secret safe is perfect for hiding money, jewelry, or other small valuables that you need to access frequently.
You can buy it on Amazon here.
Wall Outlet Safe
It is pretty easy to make this yourself. In case you don't want to, you can buy one online.
Hidden Book Safe
Straight out of the movies, this is actually a great option and very easy to conceal in plain sight. Check Price.

Secret Drawers and Compartments for Your Hidden Cache
Back in the 1800s and 1900s (before people used banks), it was common for furniture to have secret compartments like hidden drawers.
Now, this trend is coming back, and you can find a lot of furniture online with built-in secret hiding places. There are especially some good ones for guns.
When choosing furniture with secret compartments, pay attention to how accessible it is. The sofa bunker is great – but it would take a while to get to your valuables. That could be critical if you are using it to hide your guns and need them quickly.
Under-Table Hidden Compartment
This is a great place to hide your gun in case an intruder comes. The great thing about it is that it is so accessible, which isn't something that can be said about most hiding places for guns.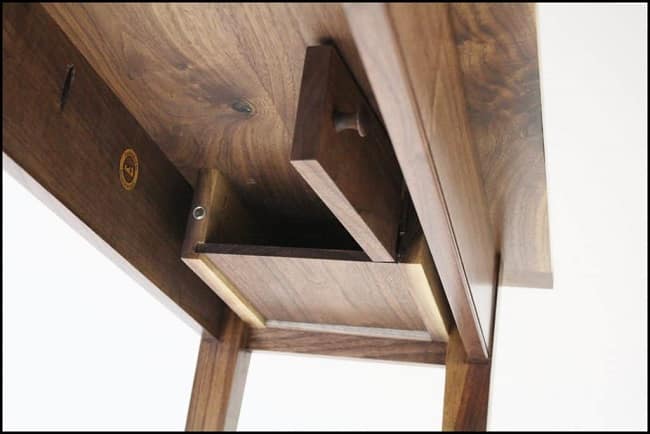 Tea Caddy Secret Drawer
I can imagine my wife using this as a jewelry box. Then she wouldn't have to worry about annoyingly hiding her valuable jewelry in some inaccessible spot each time she takes it off.
I've never heard of a thief taking an entire jewelry box, so he'd be rifling through it without even realizing that the good stuff was below his nose!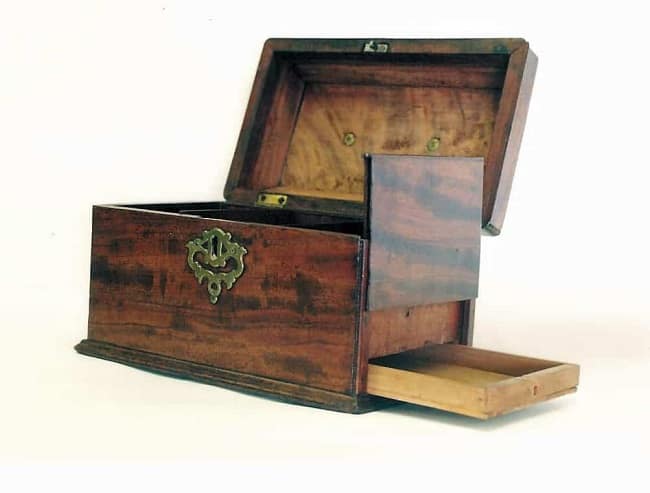 BedBunker
This friggin' awesome hidden safe is built into a bed and can hold up to 60 rifles. They've got a twin bed option too.
You can also take out the gun rack and use the BedBunker to store other things too. It is made by the company Safety and Security, and you can check them out here.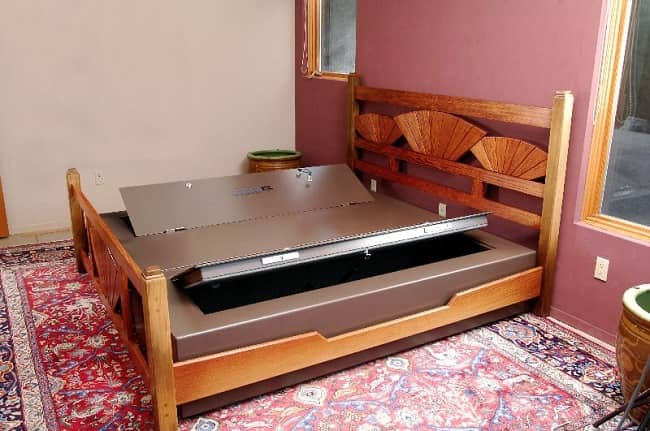 CouchBunker
Safety and Security also make the CouchBunker. I've never tried it out, so don't know if it is comfortable. If you have, let us know!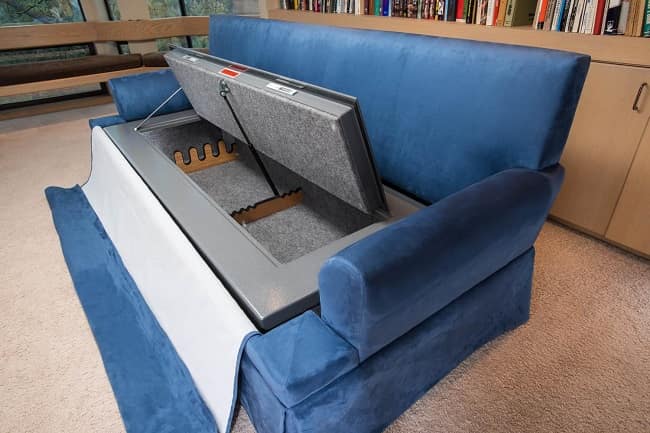 Secret Stairs
You can now find all sorts of plans online on how to make hidden stair drawers. But I like this idea for a secret hiding spot in your home best.
The "secret stairs" are made by Smart Product Technology and are suitable for hiding guns or other large caches. It can also serve as a safe room for your family in the event of a home invasion.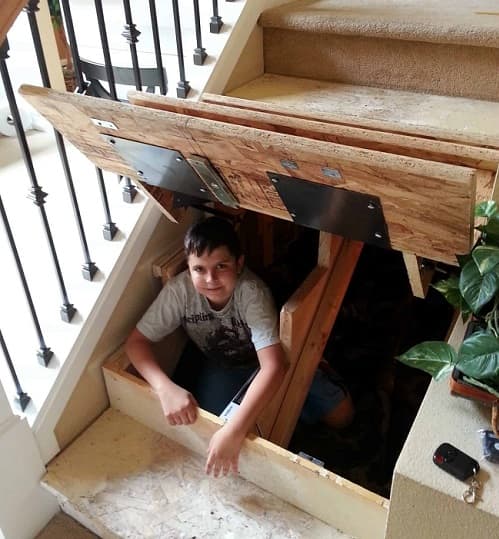 Curio Cabinet Hidden Gun Cache
A very observant person might notice that the cabinet is a lot deeper than its interior shelves. However, I doubt a thief is going to realize that while burglarizing your home. Plus, the slide-out door means your guns are quickly accessible.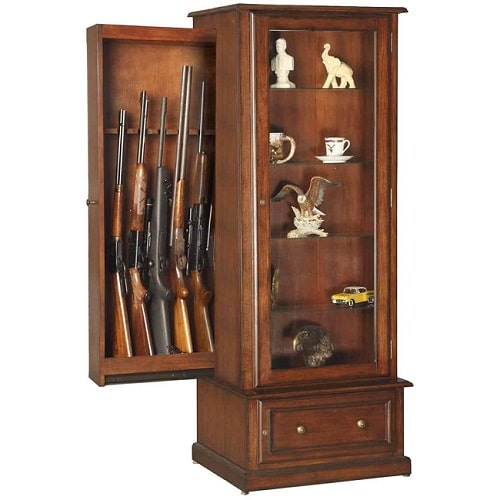 Waterproof Underground PVC Pipe
If you need to hide a lot of money or valuables which could get destroyed by fire or flooding, then the PVC cache is one of the best options.
With some sealant, it can easily be made waterproof. The PVC isn't fireproof, but you can always bury it in the backyard somewhere where fire won't get to it.
I've seen people who have done cool things with the PVC – like "installing" it in their basement or under the bathroom sink, so it looks like part of their regular plumbing.
The only downside to this secret hiding place is that your valuables aren't readily accessible, but they will be there when you need them. You can check out the YouTube video below to find out how to make it.
Which of these hiding places do you think is best? Let us know in the comments.